Neuromonitoring Devices Market Research, 2030
The global neuromonitoring devices market was valued at $5.6 billion in 2021, and is projected to reach $10.3 billion by 2030, growing at a CAGR of 7.24% from 2022 to 2030.
The COVID-19 pandemic has severely affected the business sector, across the world. During the pandemic, where healthcare sector experienced a positive growth, neuromonitoring devices market experienced a major setback due to decreased demand in the hospitals and clinics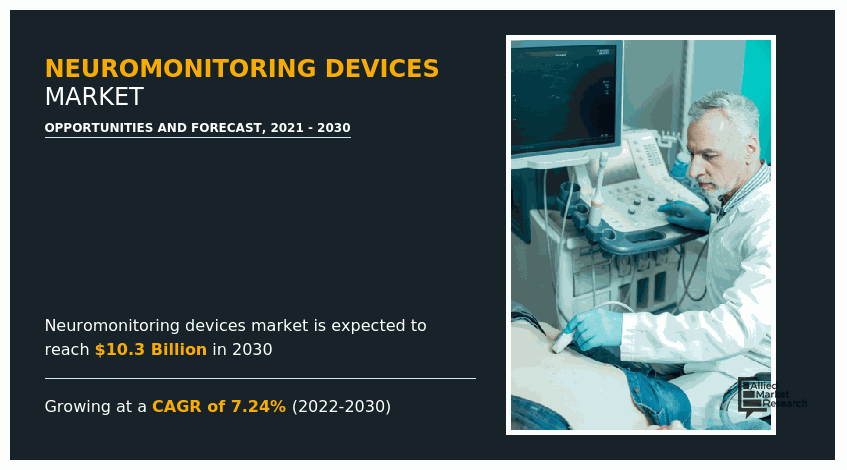 The neuromonitoring devices market is segmented into and Product.
Neuromonitoring is the monitoring of central and peripheral nervous system neurophysiological functions during surgical procedures. Thus, is expected to drive the Neuromonitoring Devices market share. In the field of medicine, technology has advanced significantly, with newer and more complex technologies being developed to assist physicians in their daily practices. Many of these devices have become less invasive or noninvasive in recent years. Such is the situation with neuromonitoring device's market size, where multimodality noninvasive monitoring may now be used to extract a wealth of information useful for both therapeutic and predictive purposes.
Neuromonitoring devices are medical devices that can display or monitor the vital signs of a patient's brain by recording data such as electrical impulse rate, blood flow, and oxygen level and display the results instantly. These devices are commonly used in hospitals, clinics, and other similar settings. There are several types of neuromonitoring devices in the market including doppler ultrasound, computed tomography (CT scan), and magnetic resonance imaging (MRI).
Increasing medical tourism is a major trend for neuromonitoring products and service providers as spine surgery is one of the fastest-growing specialties in medical tourism. Using neuromonitoring as part of medical tourism would improve surgery results all around the world. Patients who travel for medical treatment frequently function as both consumers and decision-makers. As a result, the need for neuromonitoring devices in hospitals may increase as a result of increased demand from medical tourism patients. Furthermore, medical tourism would raise knowledge about the need of  neuromonitoring and how to use it during surgeries. 
The rising prevalence of neurological diseases such as epilepsy, Parkinson's disease, and Alzheimer's disease, particularly among the geriatric population, is expected to drive the global market for neuromonitoring devices. The growing prevalence of neurological diseases, the emergence of neurodegenerative disorders, the increase in the number of brain injuries, and the recent expansion of brain tracking in clinical studies will drive the neuromonitoring devices market opportunity over the forecast period..
However, the high cost of neuromonitoring devices, as well as a scarcity of skilled technicians and personnel, are expected to stymie market growth. Furthermore, there is a scarcity of qualified professionals for device performance and high process costs associated with neuromonitoring devices deployment, which are expected to present a challenge to the market expansion of neuromonitoring devices all through the period of analysis.
The global neuromonitoring devices market is segmented on the basis of product and region. By product, the market is classified into intracranial pressure monitoring, cerebral oximeter, near infrared spectroscopy, speckle imaging, doppler ultrasound, EEG, fetal/neonatal neuromonitoring devices, micro ultrasound, and others. By region, the market is analyzed across North America, Europe, Asia-Pacific, and LAMEA.
The key players profiled in this report include GE Healthcare, Koninklijke Philips N.V., Medtronic Plc, Nihon Kohden Corporation, Natus Medical Incorporated., Nuvasive, Inc., Advanced Brain Monitoring, Inc., Intranerve Neuroscience Holdings, Llc, Specialtycare, and RIMED Ltd.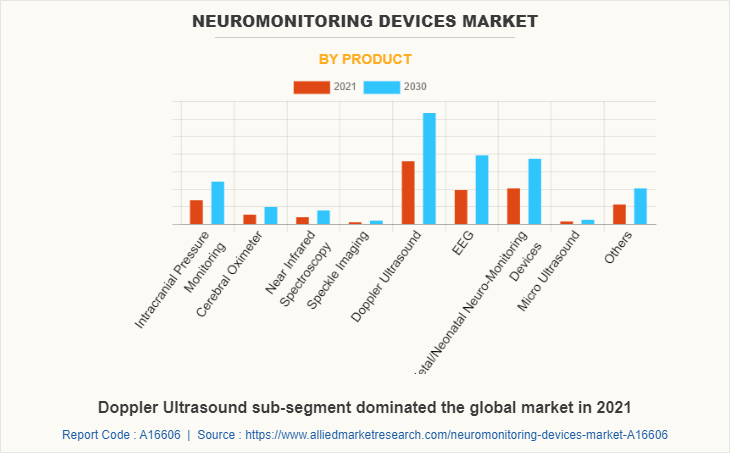 By product, doppler ultrasound sub-segment is projected to generate the maximum revenue during the forecast period. Doppler ultrasounds employ sound waves to create images of how blood flows through veins and arteries in the body. Often, the purpose is to check blood flow in the arms and legs. A handheld instrument creates sound waves that bounce off moving things like blood cells during a doppler ultrasonography. The reflected sound waves generate a representation of blood flow. The growth is attributed to increasing cases of neurological disorders among people of all age groups, especially geriatric population. These factors are anticipated to propel the neuromonitoring devices market growth in the recent years.
By region, North America dominated the global neuromonitoring devices market in 2021. The growth is attributed to the rising demand for better and advanced healthcare facilities among patients. Also, adoption of new and advanced technologies might further increase the market revenue of North America. Major market players have focused on launching new products in the market to cater the rising demand for neuromonitoring devices amid rising cases of neurological disorders such as epilepsy.The Asia-Pacific region is expected to grow at a healthy pace. Over the projected period, emerging economies such as Japan, China, South Korea, and India are expected to rise significantly. The existence of a number of local players in China and Japan could help the industry flourish. Furthermore, the local market is likely to be driven by the growing senior population and the rising prevalence of traumatic brain injuries in the approaching years. According to national 2020 census predictions, b By 2025, China country's old population is predicted to reach 300 million, and by 2033, it will surpass 400 million.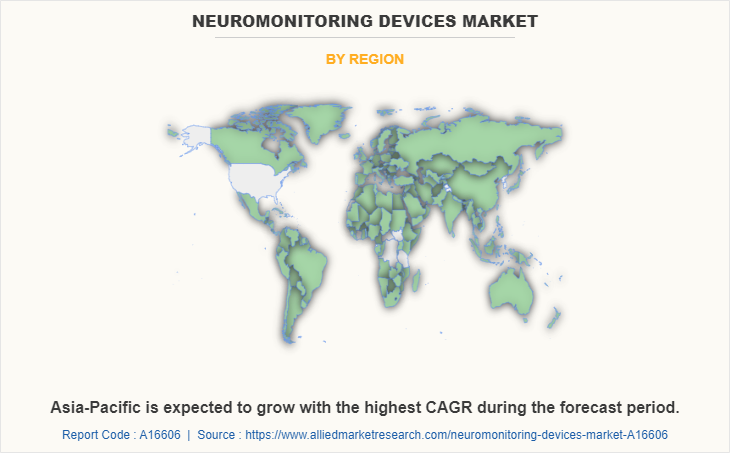 IMPACT OF COVID-19 ON THE GLOBAL NEUROMONITORING DEVICES MARKET
Key Benefits For Stakeholders
This analysis provides indepth analysis regarding neuromonitoring devices market size, market segments, current trends, estimations, and dynamics of the neuromonitoring devices market analysis from 2021 to 2030 to identify the prevailing neuromonitoring devices market opportunities.
The market research is offered along with information related to key drivers, restraints, and opportunities.
Porter's five forces analysis highlights the potency of buyers and suppliers to enable stakeholders make profit-oriented business decisions and strengthen their supplier-buyer network.
In-depth analysis of the neuromonitoring devices market forecast on the basis of segmentation that assists to determine the prevailing market opportunities.
Major countries in each region are mapped according to their revenue contribution to the global market.
Market player positioning facilitates benchmarking and provides a clear understanding of the present position of the market players.
The report includes the analysis of the regional as well as global neuromonitoring devices market trends, key players, market segments, application areas, and market growth strategies.
 Neuromonitoring Devices Market Report Highlights
Aspects
Details
By Product

Intracranial Pressure Monitoring
Cerebral Oximeter
Near Infrared Spectroscopy
Speckle Imaging
Doppler Ultrasound
EEG
Fetal/Neonatal Neuro-Monitoring Devices
Micro Ultrasound
Others

By Region

North America (U.S., Canada, Mexico)
Europe (Germany, United Kingdom, France, Spain, Italy, Rest of Europe)
Asia-Pacific (China, Japan, India, South Korea, Australia, Rest Of Asia Pacific)
LAMEA (Brazil, Saudi Arabia, UAE, South Africa, Rest of LAMEA)

Key Market Players
Advanced Brain Monitoring, Inc., SpecialtyCare, Nuvasive, Inc., GE Healthcare, RIMED Ltd., Natus Medical Incorporated, Medtronic Plc, Nihon Kohden Corporation, Intranerve Neuroscience Holdings, LLC, Koninklijke Philips N.V.