Neuroprosthetics Industry Statistics:
Neuroprosthetics Market is expected to garner $14 billion by 2020, registering a CAGR of 15.8% during the forecast period 2014-2020. High prevalence of chronic diseases and growing healthcare awareness has boosted the neuroprosthetics market growth for neuroprosthetic devices/implants. This research report provides pin-point analysis of the global neuroprosthetics market, including market estimates and trends through 2020. The report contains an in-depth analysis of different segments such as neuroprosthetics technologies, types, applications and geography. This report is focused on four major neuroprosthetics technologies namely, deep brain stimulation, spinal cord stimulation, vagus nerve stimulation and sacral nerve stimulation.
The report provides intellect regarding the application of neuroprosthetic devices/implants in the treatment of different diseases such as, parkinson's disease, Alzheimer's disease, visual impairment and blindness, severe depression, epilepsy, auditory disorders, cardiovascular disorders and kidney disorders. The report confers various value chain entities such as Conventional drug therapy/devices, External/wearable devices, Neurostimulators (brain-machine interfaces), embedded systems. However, the report excludes external stimulation technologies such as transmagnetic stimulation (TMS).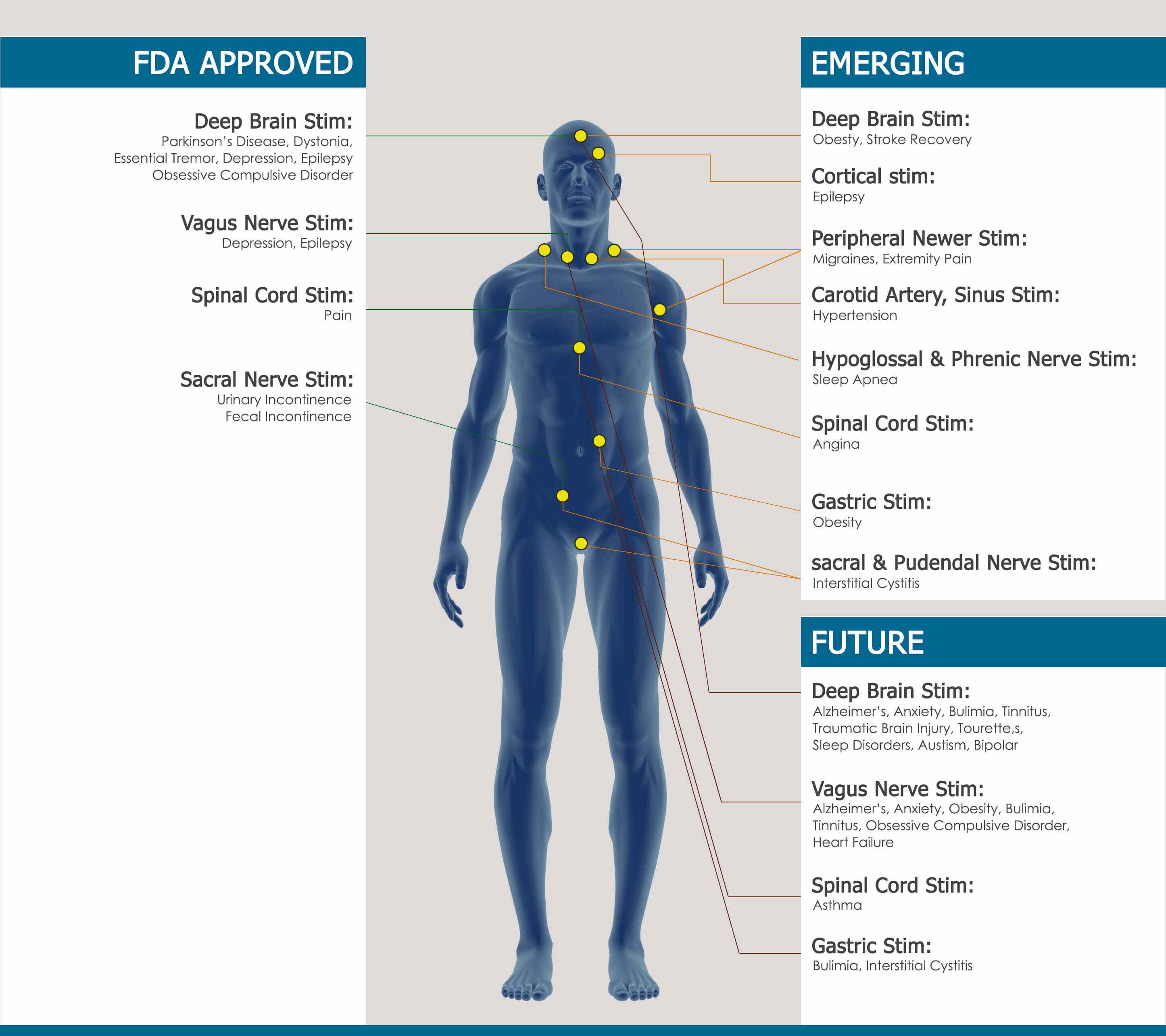 Get more information on this report : Request Sample Pages
Neuroprosthetic devices/implants are technically advanced products that involves different technologies for its manufacturing/functioning such as local field potential, automated movable electrical probes, MRI, image guided surgical technique etc. These technological developments have occupied neuroprosthetics arena with innumerable replacement strategies, rehabilitation procedures and neuromodulation therapies to improve the quality of life for patients with neuromotor disorders. Advancement in technology has assisted to develop the personalize neurotechnologies and rehabilitation for patient specific neural impairments to accomplish the timely dissemination of neuroprosthetic treatment Cochlear implants and retinal implants are the examples of technologically advanced neuroprosthetic products that have helped deaf and blind population respectively. Argus II retinal prosthesis is EU and USFDA approved commercial available visual prosthesis that improves the vision in patient with retinitis pigmentosa. Thus, with continually advancing technologies, the impact of this factor is expected to augment in near future.
Neuroprosthetics implants/devices are the costlier products that can be afforded by the consumers with high disposable incomes. Moreover, these devices require the training and skills for their use. In developed countries, can afford neuroprosthetics treatments due to presence of high income groups and awareness of these therapies amongst people. However, in emerging neuroprosthetics market people are not much aware about these therapies and requires rigorous training sessions to improve the literacy of people about these therapies to gain the considerable neuroprosthetics market share. Though, emerging market are the lucrative opportunities for neuroprosthetics manufacturers, much focus is needed to improve the knowledge of people about these therapies Increasing government initiative to improve healthcare conditions is assisting patients in emerging economies to achieve the advantage from such therapies. Moreover, in emerging regions, disposable incomes are rising; which has benefited the healthcare industry through expanding healthcare expenses; thus, impact of this factor would grow in future.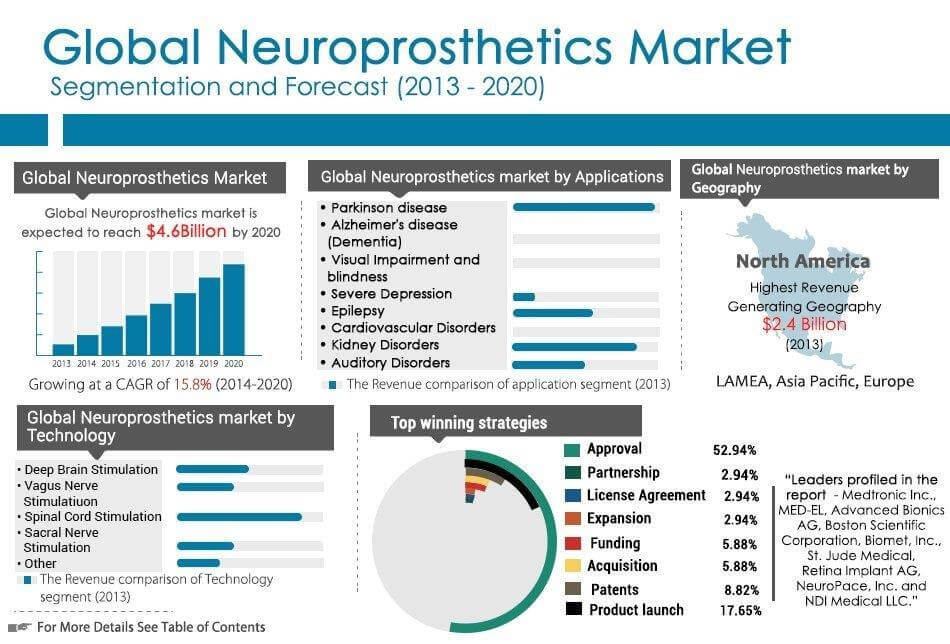 Get more information on this report : Request Sample Pages
Many companies have launched products in different application areas such as, motor neuron disorders, physiological disorders, and other diseased/traumatic neural conditions. Physiological disorders include auditory disorders, ophthalmic disorders, cardiovascular disorders, chronic pain and kidney disorders. Motor neuron disorders includes Parkinson's disease, epilepsy, dystonia and other movement disorders. Amongst these different application segments, a large number of product approvals, have occurred in the physiological disorders segment, which is shown to be the dominating application for product approval strategy. Numerous products have been approved that uses deep brain stimulation technology for the treatment of different physiological disorders.
Stereotactic implantation refers to minimally invasive procedure that uses 3D co-ordinate system to locate small targets inside the brain and performs certain actions such as biopsy, radiosurgery, ablation, stimulation, injection and implantation on these targeted sites. This technology relay on needle like electrodes that are implanted in the skull through burr holes and reaches into the depths of particular brain areas for recording electroencephalogram. This technology has proved to be vital importance in diagnosis and treatment of neurological disorders such as localization of seizure focus in epileptic patients or assist in controlling tremors by implanting a brain stimulator in the thalamus region. Brain surgery has critical problem of target location as target cannot be located visually. Hence, there is a need of a particular method that can assist in precise target location for neuroprosthetics. Stereotactic implantation involves precise and accurate localization of brain implants. This method is based on devised spatial relationships of brain structures to their landmarks which are visible and expressed by using set of 3 coordinates such as Anterior ‐ Posterior (AP), Medial ‐ Lateral (ML) and Dorsal ‐ Ventral (DL) which is similar to Cartesian coordinate system.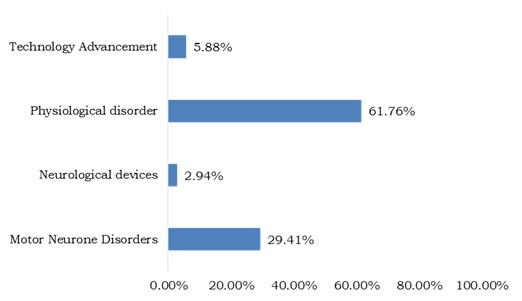 Get more information on this report : Request Sample Pages
The growth of neuroprosthetics market in Europe is primarily attributed to the increasing burden of chronic neurological conditions. In established European countries the growth of neuroprosthetics market is expected to remain stable, whereas, faster growth is expected in new European Union member states due to considerable funding and modernization of healthcare facilities. Germany, Italy, UK, France and The Netherlands are the biggest market in the European region for neuroprosthetics.
Brain disorders exhibits a considerable social and economic burden in Europe. According to WHO survey, brain disorders are responsible for 35% of Europe's total disease burden. This burden is increasing due to increasing number of aging population in Europe, and requires a considerable attention to address the treatment issues as all the cases does not respond to medication therapy. Due to this fact scientist have focused on new and advanced treatment options such as neuroprosthetics or brain implants to treat the chronic neurological conditions including Alzheimer's, Parkinson's and memory loss due to traumatic brain injury. The prevalence of deafness is high in UK specifically in children (about 350 children per year born deaf, ear foundation, UK) and United Kingdom government has more than 20 well established cochlear implant programs to benefit the deaf population by providing auditory implants. According to BCIG (British Cochlear Implant Group) survey in 2011, about 12,000 people use implants in UK.
Neuroprosthetics Market Research Study Key Benefits:
An in-depth analysis of the current market scenario, future neuroprosthetics market estimates and trend-analysis to reveal holistic picture that in turn facilitates decision making
Quantitative analysis of the current market and estimations through 2013-2020 - to assist corporate strategists to design business strategies to capitalize on the current and future (possible) opportunities in the neuroprosthetics market
Strategic analysis of key market players and business strategies within the global market provided - would assist stakeholders to make informed business decisions
Pinpoint intelligence of key investment pockets are illustrated from the manufacturers point of view
Report emphasizes on the key strategies adopted by the giants operating in the neuroprosthetics market.
Technological trends of neurological devices are critically analyzed and validated through primaries
Identification of key product segments based on current and potential growth prospects - to reveal most profitable segments that can be catered to by the neuroprosthetics market players
​​​​​​​The global neuroprosthetics market is segmented base on technology, type, application, and geography.
 Key Market Segments
By Technology

Deep Brain Simulation (DBS)
Vagus Nerve Stimulation (VNS)
Spinal Cord Stimulation (SCS)
Sacral Nerve Stimulation (SNS)

By Type

Motor Neuroprosthetics
Auditory Neuroprosthetics/ Cochlear implants
Visual Neuroprosthetics/ Retinal implants
Cognitive Neuroprosthetics

By Application

Motor Neuron disorders

Parkinson's disease
Epilepsy

Physiological disorders

Auditory disorders
Ophthalmic disorders
Neurocardiac disorders
Over Active Bladder syndrome (kidney disorders)

Cognitive disorders

Alzheimer's disease
Severe depression

By Geography

North America
Europe
Asia-Pacific
LAMEA

Key Players of Neuroprosthetics Market:

Medtronic plc,
Cochlear Ltd., Abbott Laboratories,
Boston Scientific,
LivaNova,
Second Sight Medical Products,
Retina Implant AG,
Sonova,
Neuropace