Neurotrophic Keratitis is a neurodegenerative disorder which affects the cornea of an eye. Due to the affect on cornea, patient loses their corneal sensitivity as a result the cornea is exposed to eye injuries without curing. Injury to the trigeminal nerve can cause Neurotrophic Keratitis which lead to permanent vision loss if not diagnosed and treated properly. Diagnosis and treatment are done by a team comprising of ophthalmologists, neurologists, and corneal specialists. Various treatment are available in the neurotrophic keratitis market such as topical antibiotics, keratoplasty, bandage contact lenses, preservative artificial tears, amniotic membrane transplantation, Recombinant human nerve growth factor (rhNGF), treatments are available depending on the severity of the disease. The major parameters that are used to measure the efficacy of treatment such as corneal healing, corneal sensitivity, and duration of corneal healing, among others. The incidence of neurotrophic keratitis is low due to which, there were no approved drugs in the market to treat the rare eye disease. Researcher increasing their investments for the development and discovery of drugs that could potentially treat the rare eye disease. Progress in biotechnology has enabled the development of new biological treatments for neurotrophic keratitis. In 2018, the U.S. Food and Drug Administration has approved Oxervate, a drug developed by "Dompé". "Oxervate", was the first-ever drug to receive the approval from the FDA for the treatment of neurotrophic keratitis.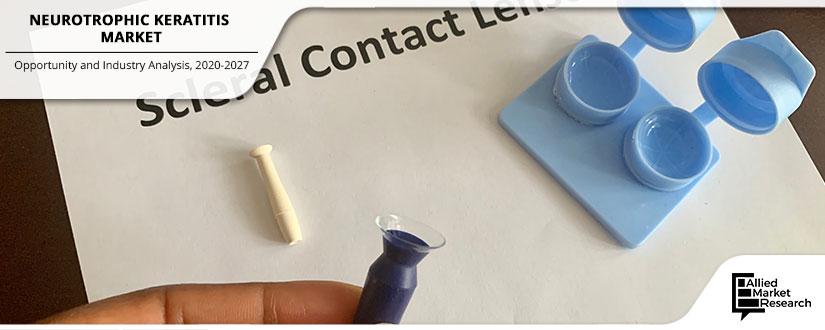 COVID-19 Scenario Analysis:
Pharmaceutical and biotech companies together with governments around the globe are working to address the COVID-19 outbreak, from supporting the development of vaccines to planning for medicines supply chain challenges. Currently, around 115 vaccine candidates and 155 molecules are in the R&D pipeline. Moreover, commonly used drugs such as Hydroxychloroquine have witnessed dramatic surge in demand for the management of COVID-19. Such high demand for these drugs has presented huge opportunity for manufacturers of COVID-19 management drugs, as many developed countries are short of these drugs. Owing to the demand for vaccine and treatment drugs for COVID-19, the pharmaceutical and biotechnology industry is expected to witness a significant growth in the future. 
The ongoing outbreak of COVID-19 pandemic impacted the pharmaceutical industry positively. It affect neurotrophic keratitis market. The demand and supply chain for the neurotrophic keratitis drug product and their associated treatment reduce which affect the business of keratitis market player. Due to the temporarily shutting down of industries in various regions affect the research and development activities which hinder the neurotrophic keratitis market growth. 
Top impacting factors: Market Scenario Analysis, Trends, Drivers and Impact Analysis:
Globally, North America hold the largest market share of the neurotrophic keratitis and dominate overall market attributed to growing healthcare industry, presence of well-developed hospital facilities, growing product approvals, rising advance technology, increasing number of well-equipped laboratories, growing research & developmental activities in neurotrophic keratitis, and presence of major market players. However, Asia Pacific is expected to increase market growth rate due to rising geriatric population, increasing interest of market players in neurotropic keratitis, increasing research & developmental activities, and growing in initiatives by governments in the healthcare sector.
As per the report of "New York Eye and Ear Infirmary", around 500,000 cases of keratitis found per year in developing countries and approximately 25,000 to 30,000 number of cases in the U.S. found every year. Keratitis is a leading causes of preventable blindness across the globe. "National Institute for Health Research" stated that, neurotrophic keratitis develops 149 per 100,000 population of herpetic keratitis patients and herpes zoster keratitis patients 26 per 100,000 population. Additionally, 1.5 per 10,000 population patients who underwent surgical procedures for trigeminal neuralgia consequently developed neurotrophic keratitis.
The factors that drive the growth of neurotrophic keratitis market such as increasing geriatric population, increasing investments in research and development activities, growing demand for advanced neurotrophic keratitis therapy, rising number of product approvals and launches, rising interest of market player and their strategies to develop the market growth, and increasing incidence of keratitis which rises the number of cases of neurotrophic keratitis. The factor that restrain the growth of neurotrophic keratitis market such ad high cost of chronic use of topical eye gels and drops such as RGTA technology based solutions. The challenges faced by neurotrophic keratitis market player including increasing demand for autologous serum drops production and low cost of treatment of neurotrophic keratitis 
New Product launch to flourish the market:
Major Key market manufacturer have been focusing on increasing research and development activities and producing new product solution for specific applications as there are varying demands based on the utilization. Leading market players have determined how improved accuracy can be influential in many applications. Market player adopted various strategies to operate global neurotrophic market. 
In 2019, "Dompé" has introduce new therapy in neurotrophic market such as "Oxervate", this therapy commonly used for the treatment of  neurotrophic keratitis (NK), which is a rare and progressive eye disease that can lead to corneal scarring and vision loss.
In 2019, "RegeneRx Biopharmaceuticals, Inc." has received U.S.FDA approval for Tβ4 with non-active ingredients patent which provide improved pharmacodynamics. This patent product used for a method of preventing or treating dry eye syndrome. 
In 2018, "Allergen" has launched new therapy such as "Acular (ketorolac tromethamine) Ophthalmic Solution" is a nonsteroidal anti-inflammatory drug (NSAID) used to relieve eye itching caused by seasonal allergies. Acular is also used to reduce swelling, pain, and burning or stinging after cataract surgery or corneal refractive surgery. It is available in generic form.
In 2017, "Santen Pharmaceutical Co., Ltd" enter into collaboration with "Singapore Eye Research Institute" for developing new technologies for unmet medical needs in key ophthalmology domain
In 2016, "Allergan plc" has launched "ForSight VISION5," a privately held, clinical-stage biotechnology company focused on eye care.
Key benefits of the report:
This study presents the analytical depiction of the global neurotrophic keratitis market along with the current trends and future estimations to determine the imminent investment pockets.
The report presents information related to key drivers, restraints, and opportunities along with detailed analysis of the global neurotrophic keratitis market share.
The current market is quantitatively analyzed to highlight the global neurotrophic keratitis market growth scenario.
Porter's five forces analysis illustrates the potency of buyers & suppliers in the market.
The report provides a detailed global neurotrophic keratitis market analysis based on competitive intensity and how the competition will take shape in coming years.
Questions answered in the Neurotrophic Keratitis Market research report:
Who are the leading market players active in neurotrophic keratitis market?
What are the current trends will influence the market in the next few years?
What are the driving factors, restraints, and opportunities in the market?
What are the projections for the future that would help in taking further strategic steps?
 Neurotrophic Keratitis Market: Global Opportunity Analysis and Industry Forecast, 2020–2027 Report Highlights
Aspects
Details
By Treatment Type

Artificial Tear
Recombinant Human Nerve Growth Factor Eye Drop
Antibiotic
Bandage Contact Lenses
Others

By Surgical Intervention

Tarsorrhaphy
Aminoitic Membrane Transplantation
Others

By Application

Stage II
Stage II
Stage III

By Region

North America (U.S., Canada, Mexico)
Europe (France, Germany, Italy, Spain, UK, Rest of Europe)
Asia-Pacific (China, Japan, India, South Korea, Australia, Rest of Asia-Pacific)
LAMEA (Brazil, South Africa, Saudi Arabia, Rest of LAMEA)

By End User

Biotechnology Company
Hospital
Clinic

Key Market Players
Bausch & Lomb Incorporated,, OHTO Pharmaceutical Co., Ltd.,, Zhejiang CONBA Pharmaceutical Co., Ltd., Neuroptika,, Johnson & Johnson,, Allergan, ReGenTree, LLC,, CONTACARE,, Santen Pharmaceutical Co., Ltd.,, Grand Pharma, Co., Ltd.,, Alcon,, Dompe farmaceutici S.p.A.,, Pfizer, Inc.,