Next Generation Storage Devices Market Outlook:2022
Next generation storage devices market was valued at $43 billion in 2015, and is expected to reach $141 billion by 2022. Next Generation Storage Technology is a state-of-the-art technology that caters to the growing need for improved data storage and management across various industry verticals, including banking, financial services, insurance (BFSI); retail; IT & telecommunication; government; healthcare; manufacturing; and others. Reduction in prices of solid-state drives, higher functionality, other cost-effective benefits of the solid-state technology, and longer life span of the storage devices are anticipated to boost the growth for the next generation storage devices market. Further, cloud storage is gaining significant recognition among world enterprises, owing to its low cost of deployment and easy availability. In addition, cloud offers complete ownership of the storage space and can be accessed from remote places.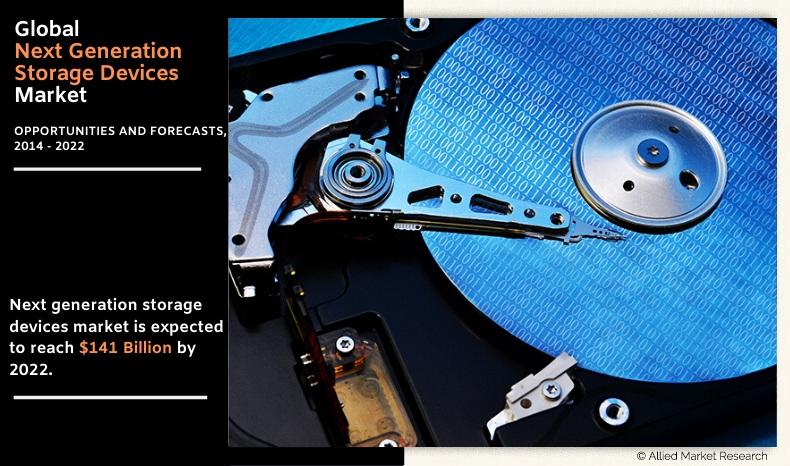 Growth in Adoption of Solid-State Drives and Cloud Storage
Solid-state drive is an emerging technology that uses electronic chips to store digital data rather than on magnetized materials. It offers numerous advantages over conventional storage devices such as high operational speed, low noise & heat production, less turnaround time, and longer lifespan.
Segmentation
Storage Technology
In the component segment, cloud-based storage segment is expected to grow at a considerable growth rate during the forecast period. Cloud storage stores the data on remote servers, which can be accessed via the internet or cloud. It is maintained, operated, and managed by the cloud storage service providers on virtually built storage servers.
Storage System
Among storage systems, cloud storage segment dominated the next generation storage devices market, and is anticipated to continue its dominance throughout the period, owing to lower costs and easy availability of cloud storage. In cloud storage, digital data is stored in an off-site storage system or a remote server maintained by a third party, and is accessible via the internet.
Over the past few years, cloud storage has gained significant adoption worldwide owing to its cost-effective benefits as compared to conventional storage systems. Cloud storage offers access to the stored data from any location, thus eliminating data portability issues.
Industry Vertical
BFSI
The BFSI segment dominated the global next generation storage devices market, and is expected to continue its dominance. North America and Europe collectively accounted for about 63.0% of the global next generation storage devices industry in BFSI in 2015, with the former constituting around 35.6%.
Increase in the number of smartphones for online transactions, rise in e-commerce activities, growth in national and international trade, and increased need to store large amount of data have fueled the growth of next generation storage devices in the BFSI sector. Further, installation of on-premise deployment and rise in adoption of private and hybrid cloud are anticipated to drive growth of this segment in future.
The government sector is expected to grow at the highest CAGR during the forecast period in the global next generation storage devices market. The public sector is in need to deliver better services within the allocated budget and with improved quality, hence organizations are focusing on the evolving cloud technology, which can be beneficial in numerous ways at lower costs. Collaboration applications such as web conferencing and emails are the top applications for cloud-based deployments in public sector organizations. In addition, next generation storage devices offer better administration of data, higher productivity, and improved project management and improved content management in the public sector.
Geography
The North American next generation storage device market is expected to show significant growth in the near future, owing to the high adoption of technology and presence of already established infrastructure. As per Forbes magazine, North America accounted for around 43% of total share in cloud adoption in 2014. Further, in the adoption of SaaS platform, North America contributed around 61% of total share in 2014, and is anticipated to grow at a significant rate of around 10-12% during the analysis period. In addition, 48% of total smartphone users in the world are from this region. These factors are key contributors to the growth of the next generation devices market in North America. The Asia-Pacific next generation storage devices market is expected to grow at a significant rate, owing to vast increase in the number of smartphone users. Another contributing factor includes proliferation of low-cost smartphones and tablets, which offers increased potential for the adoption of next generation storage devices. Furthermore, key vendors are investing in this region to capture the untapped market potential. For instance, Google, Inc. established its first data center in Singapore and Taiwan in 2013, while Amazon Web Services has built its data centers in Tokyo (Japan), Singapore, and Sydney (Australia).
 Next Generation Storage Devices Market Report Highlights
Aspects
Details
BY STORAGE TECHNOLOGY

Magnetic Storage

Hard disk drive
Others (RAM, magnetic stripe cards, magnetic tape, floppy disks)

Solid-state Storage
Cloud-based Storage
Hybrid Array

BY STORAGE SYSTEM

Network-attached Storage
Direct-attached Storage
Cloud Storage
Unified Storage
Storage Area Network
Software-defined Storage

BY INDUSTRY VERTICAL

BANKING, FINANCIAL SERVICES, AND INSURANCE (BFSI)
Retail
IT & Telecommunication
Healthcare
Government
Education
Media & Entertainment
OTHERS (CORPORATES, AEROSPACE, MANUFACTURING, ENERGY & UTILITIES)

BY GEOGRAPHY

North America
Europe

UK
Germany
France
Italy
Russia
Rest of Europe

Asia-Pacific

China
India
Japan
Australia
Rest of Asia-Pacific

LAMEA

Latin America
Middle East
Africa

Key Market Players
DELL, INC, HEWLETT PACKARD ENTERPRISE (HPE), HITACHI LTD, INETRANTIONAL BUSINESS MACHINE CORPORATION, NETAPP, INC, NUTANIX, INC, ORACLE STORAGETEK (STORAGE TECHNOLOGY CORPORATION), PURE STORAGE, INC, TINTRI, INC, TOSHIBA CORPORATION
Other key players operating
Carbonite, NetApp, SugarSync, Dropbox, Inc., JustCloud.com, Norton, SpiderOak, OpenDrive, ADrive, Reduxio, AMI StorTrends, Tegile Systems, IDrive, Inc., Microsoft Corporation.