The global night creams market size was valued at $7.1 billion in 2018, and is projected to reach $11.4 billion by 2026, registering a CAGR of 6.4% from 2019 to 2026. Night creams are a type of cosmetic product that comprises high concentration of hydrating ingredients. These are mainly used as a moisturizer, skin whitening agent, and anti-aging cream. Examples of night creams include Dove Sensitive Essentials Night Cream, Garnier Total Comfort Night Cream, Dove Face Care Essential Nutrients and others.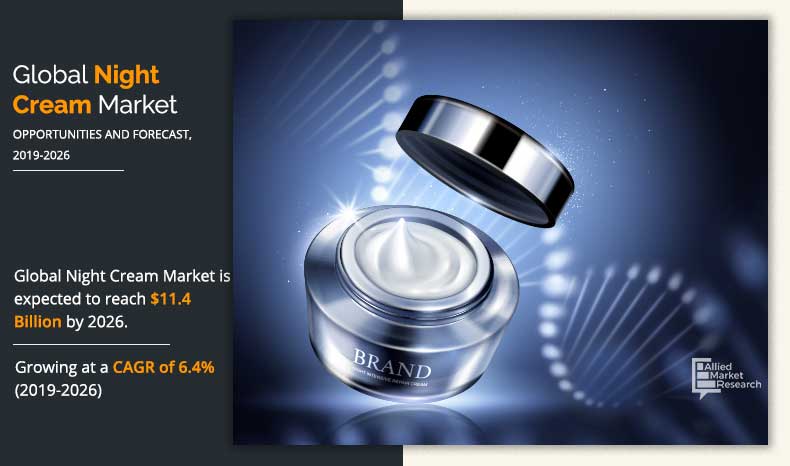 Consumers are adopting skincare products as per occasions such as different times of the days (day cream, night cream, at work cream, and others). There has been high adoption of night cream among generation Z owing to its varied benefits that help improve the skin tone and texture. The consumer base is more inclined toward purchasing premium night creams equipped with innovative and patented technologies. To fulfill the ever changing need of the customers, the companies are concentrating on R&D activities to introduce a novel product line in the night creams market. These companies are also investing into packaging and marketing activities to gain maximum visibility among consumers.
The extensive product offerings and continuous improvement in product packaging from new entrants have significantly increased the competition among companies operating in the market. Moreover, strong awareness about benefits of night cream among consumers has created a need for introducing novel product offerings from the stakeholders in the night creams market. As a result, these stakeholders are investing rigorous efforts on enhancing the benefits of night cream products. These improvements in the night cream products are expected to drive the revenue growth of the overall night creams market during the forecast period.
Night Creams Market

---
By Product Type
Moisturizing Cream segment dominates the global market and is expected to retain its dominance throughout the forecast period.
Manufacturers are changing their product branding and advertising strategies to accelerate their sales across various countries. Innovative strategies such as new product launches with natural ingredients, regular cosmetic products, and appealing packaging, have been adopted by the manufacturing companies to boost the sales of their cosmetic products. As cosmetics have become an integral part of individual's lives, consumers especially women, prefer to use these cosmetic products, which are handy and easy to use while travelling or attending social meetings. Use of natural ingredients for manufacturing cosmetics products that do not have any adverse effect on the skin, is a popular strategy of manufacturers to attract more customers. This also helps in increasing the revenue of companies operating in this industry. Collectively, all the strategies adopted by the manufacturers are driving the global night creams market share.
Night Creams Market

---
By Distribution Channel
E-commerce segment is expected to grow at a highest CAGR of 8.6% during the forecast period.
Night cream products are mainly used as moisturizers, skin whitening agents, and skin toner. The end users purchasing night cream products are also looking for multi-functional skin care benefits. There is an increase in the demand for multi-functional cosmetic products in the market and companies dealing in this industry are focusing on combining several ingredients in one single product to increase the applications of the products. The manufacturers are also focusing on advanced product packaging to increase usability of skin care products. Wide product offerings with integrated personal care features are offering lucrative night creams market opportunities for the companies. The rise in demand for such multi-function products has paved the way for new entrants in the market. As a result, new players are entering the markets in Asia-Pacific and Europe regions through their innovative product offerings. Products such as anti-aging night creams, are incorporated with daily moisturizer to recover from skin damage during nighttime while maintaining skin aging. The wide-spread product offerings and entry of new players in the market with innovative packaging and multi-functional attributes are anticipated to fuel the demand for the night creams market during the forecast period.
Night Creams Market

---
By Region
North America dominates the market and is expected to grow with a CAGR of 5.8% during the forecast period
According to a report by the Financial Times, the online distribution of non-grocery goods has increased by 12.5% that contributes to around 24.1% of the total sales. The cosmetic industry has been strongly hit by counterfeit activity due to large number of consumers purchasing the products through mail order channels and online sales channel. In addition, lack of brand loyalty among consumers purchasing night creams and other cosmetic products, is also responsible for decreased penetration in the overall market. Companies operating in the night creams market are facing challenges in fake product distribution and witnessing reduction in terms of sales volume. Such increased counterfeit activities due to lack of effective supply chain management is expected to hamper the revenue growth of personal care and cosmetic products market in the long run.
The night creams market is segmented on the basis of product type, distribution channel, and region. By product type, it is categorized into moisturizing cream, anti-aging cream, and skin whitening cream. By distribution channel, night creams market is categorized into retail pharmacies, convenience stores, supermarket/hypermarket, and E-commerce. Region-wise, it is analyzed across North America (the U.S., Canada, and Mexico), Europe (Germany, France, Spain, Italy, and Rest of Europe), Asia-Pacific (China, India, Japan, Australia, South Korea, and Rest of Asia-Pacific), and LAMEA (the Middle East, Latin America, and Africa).
The night creams market report is analyzed across North America, Europe, Asia-Pacific, and LAMEA. North America and Europe have strong revenue opportunity in the market. These regions offer lucrative opportunities for new entrants as well as established manufacturers owing to increased spending on skin care products. In addition, extra initiatives from stakeholders to introduce novel products in the night creams market analysis are expected to further enhance the revenue opportunity, especially across Asia-Pacific.
The key players operating in the global nights cream industry  include Shiseido Co. Ltd., Solstice Holding, Estee Lauder Companies, Clinique Laboratories, L'Oreal S.A., Procter & Gamble, Unilever PLC, VLCC Health Care, Himalaya Global Holdings, Beiersdorf AG and Guerlain. Other key vendors analyze in the study are Elizabeth Arden, Clarins and Nivea, Lancome, Avon, Revlon, among others.
Key Benefits for Stakeholders
The report provides detailed qualitative and quantitative analysis of the current night creams market trends and future estimations that help evaluate the opportunities.
The key drivers, restraints, opportunities, and detailed market analysis are elucidated in the study.
The market analysis is conducted by following key product positioning and monitoring the top competitors within the industry.
The report provides extensive qualitative insights on the potential and niche segments or regions exhibiting favorable night creams market growth.
Industry player positioning segment facilitates benchmarking and provides a clear understanding of the present position of players along with the night creams market forecast.
 Night Creams Market Report Highlights
Aspects
Details
By Product Type

MOISTURIZING CREAM
ANTI-AGING CREAM
SKIN WHITENING CREAM

By DISTRIBUTION CHANNEL

RETAIL PHARMACIES
CONVENIENCE STORES
HYPERMARKETS/SUPERMARKETS
E-COMMERCE

By Region

NORTH AMERICA (US, CANADA, MEXICO)
EUROPE (GERMANY, UK, FRANCE, ITALY, SPAIN, REST OF EUROPE)
ASIA-PACIFIC (CHINA, INDIA, JAPAN, AUSTRALIA, SOUTH KOREA, REST OF ASIA-PACIFIC)
LAMEA (LATIN AMERICA, MIDDLE EAST, AFRICA)

Key Market Players
BEIERSDORF AG, SHISEIDO CO., LTD, UNILEVER PLC, JOHNSON & JOHNSON SERVICES, INC. (J&J), DERMA E, THE ESTÉE LAUDER COMPANIES INC, Olay (P&G), Himalaya Global Holdings Ltd, L'ORÉAL SAS, Guerlain S.A