The global nitrogen generators market size was valued at $ 11,234.6 million in 2020, and is projected to reach $17,762.3 million by 2030, registering a CAGR of 4.4% from 2020 to 2030. Nitrogen generation system or nitrogen generator is a machine that separate nitrogen molecules from compressed air. Nitrogen gas generators can offer purity of up to 99.999%. Nitrogen generators are one of the most efficient tool of supplying nitrogen as they can provide a consistent supply of high purity of gas.
The nitrogen generator market was hampered during the outbreak of COVID-19 pandemic, owing to restrictions on manufacturing activities, which also affected sales sector.
Rise in global population has significantly increased the demand for products such as processed food & beverages, medicines, and electronic. This has fueled the use of nitrogen as it is extensively used in food processing, chemical processing, and electronic manufacturing industry, thereby boosting the demand for nitrogen generators. Furthermore, nitrogen generators market growth in the operational efficiency of manufacturing & processing facilities owing to its advanced energy saving technologies, reduced downtime, and extended operating life. Nitrogen generators provide increased reliability, profitability, and sustainability as compared to nitrogen cylinders. In addition, the availability of nitrogen cylinders in a wide range of capacities increases its applicability.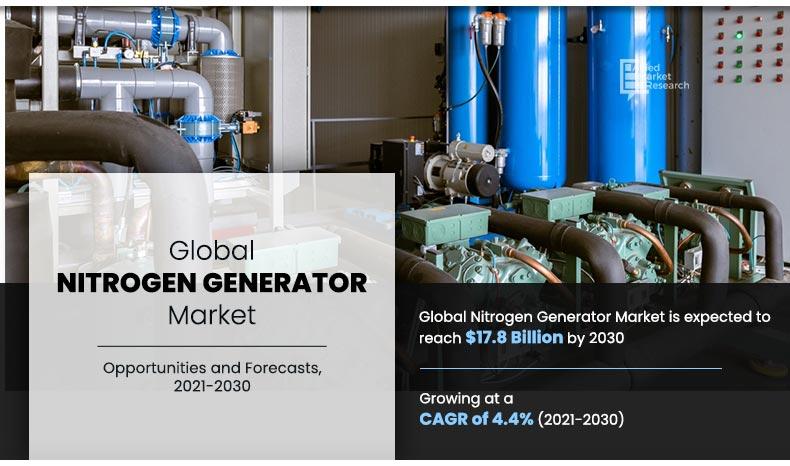 Major developing countries across the global focus on boosting the manufacturing sector for development of the economy. For instance, Government initiative such as "Make in India" and "Made in China 2025" have positively influenced the manufacturing sector in the Asia-Pacific. Thus, India and China have emerged as major manufacturing hubs Other countries in the Asia Pacific such Vietnam and Bangladesh experience rapid growth of manufacturing sector. The rapid growth of manufacturing sector increases the use of nitrogen generators as nitrogen is extensively used in various manufacturing processes. Rise in global population has in addition led to increase in the consumption of pharmaceutical products. According to The Congressional Budget Office, of the U.S., in 2019, the pharmaceutical industry invested $83 billion on R&D of new pharmaceutical products and between the years 2010 and 2019, the total number of new drugs that were approved for sale increased by 60% compared to the previous decade, and reached a peak of 59 new drugs approved in 2018. This fuels the use of nitrogen as it is used to preserve pharmaceutical ingredients and products. However, requirement of frequent maintenance to prevent wear and tear of air compresses and decreased performance of generators over time is a major restraint in the growth of the nitrogen generators  market. 
Nitrogen Generators Market

---
By End-user Industry
Food and Beverage is expected to hold a majority share of the market
The novel coronavirus has rapidly spread across various countries and regions, causing an enormous impact on the lives of people and the overall community. It began as a human health condition and has now become a significant threat to global trade, economy, and finance., The COVID-19 pandemic has halted the production of many components in the nitrogen generator business due to the lockdown. Furthermore, the number of COVID-19 cases are expected to reduce in the near future as the vaccine for COVID-19 is introduced in the nitrogen generators market. This has led to the reopening of nitrogen generator manufacturing companies at their full-scale capacities. This will help the market to recover by the start of 2022. After COVID-19 infection cases will start declining, nitrogen generator manufacturers must focus on protecting their staff, operations, and supply networks to respond to urgent emergencies and establish new methods of working.
Furthermore, increase in demand for electronics and other products fueled by rise in population and increase in purchasing capacity of masses in anticipated to boost the global manufacturing industry. In addition, increase in use of nitrogen in shipping industry for preserving flammable chemicals has fueled the demand for nitrogen generators. These factors are anticipated to positively influence the market throughout the forecast period. 
Nitrogen Generators Market

---
By Generator Type
Membrane nitrogen generator is projected to grow at a significant CAGR
The nitrogen generators market is segmented on the basis of type, end user, and region. On the basis of type, the market is categorized into PSA nitrogen generator, membrane nitrogen generator, and cryogenic nitrogen generator. On the basis of end user, it is categorized into food & beverage, transportation, medical & pharmaceuticals, electrical & electronics, chemicals, and others. On the basis of region, the market is analyzed across North America, Europe, Asia-Pacific, and LAMEA. North America dominated the market in 2020, accounting for the highest share, and is anticipated to maintain this trend throughout the forecast period. This is attributed to increase in population, and industries.
Competition Analysis
Key companies profiled in the nitrogen generators market report include Air Liquide, Air Products and Chemicals, Inc., Atlas Copco AB, Hitachi Industrial Equipment Systems Co., Ltd., Linde, NOVAIR S.A.S, On Site Gas Systems, Inc., Oxymat A/S, Parker-Hannifin Corporation, and Peak Gas Generation.
Nitrogen Generators Market

---
By Region
North America held a dominant position in 2020 and would continue to grow at a significant CAGR during the forecast period.
Key Benefits For Stakeholders
The report provides an extensive analysis of the current and emerging Nitrogen generators market trends and dynamics.  
In-depth nitrogen generators market analysis is conducted by constructing market estimations for key market segments between 2021 and 2030. 
Extensive analysis of the nitrogen generators market is conducted by following key product positioning and monitoring of top competitors within the market framework.
A comprehensive analysis of all the regions is provided to determine the prevailing opportunities.
The global nitrogen generators market forecast analysis from 2021 to 2030 is included in the report.
The key players within nitrogen generators market are profiled in this report and their strategies are analyzed thoroughly, which help understand the competitive outlook of the Nitrogen generators industry. 
 Nitrogen Generators Market Report Highlights
Aspects
Details
BY TYPE

PSA Nitrogen Generator
Membrane Nitrogen Generator
Cryogenic Nitrogen Generator

BY END USER

Food & Beverage
Transportation
Medical & Pharmaceuticals
Electrical & Electronics
Chemicals
OthersBY REGION

By Region

North America
Europe

UK
Germany
France
Spain
Italy
Rest of Europe

Asia-Pacific

China
Japan
India
Australia
South Korea
Rest of Asia-Pacific

LAMEA

Latin America
Middle East
Africa