Non-fused Switch Disconnectors Market Overview:
Global Non-fused Switch Disconnectors Market was valued at $6,229.90 million in 2016, and is projected to reach at $9,556.20 million by 2023, growing at a CAGR of 6.0% from 2017 to 2023. Non-fused switch disconnectors de-energizes electric circuit for service and maintenance. The use of non-fused disconnectors provides technicians with high level of safety and convenience. These disconnectors have different applications in power distribution, buildings, and several industry verticals, such as construction & manufacturing, automotive, and others.
The scope of non-fused switch disconnectors market is derived from high, medium, and low voltage. The report includes a micro-level study of different regions adopting non-fused switch disconnectors among various applications. In addition, it discusses the potential opportunities for market players to enter the market. Moreover, it provides an in-depth market analysis of non-fused switch disconnectors, outlining current trends, key driving factors, and potential areas for product investments.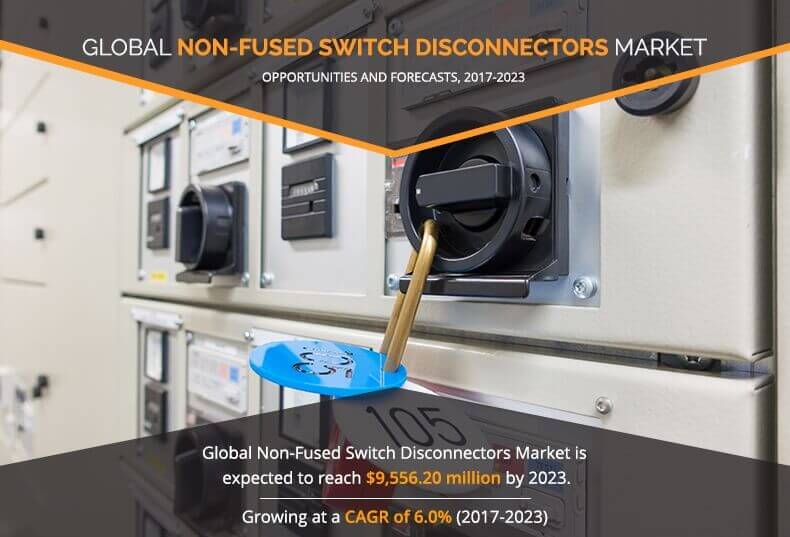 Siemens AG, Schneider Electric SE, ABB Ltd., General Electric Company, Eaton Corporation, WEG SA, Havells India Ltd., Littelfuse Inc., Mitsubishi Electric, and Delixi Electric Co. Ltd are some of the key players operating in the global non-fused switch disconnectors market.
Segment Overview
The report segments the non-fused switch disconnectors market based on electric phase, voltage, application, and region. Based on electric phase, the market is bifurcated into single phase and three phase. Based on voltage, it is classified into high, medium, and low voltage. Based on application, the market is categorized into commercial and residential. Based on region, the market is analyzed across North America, Europe, Asia-Pacific, and LAMEA.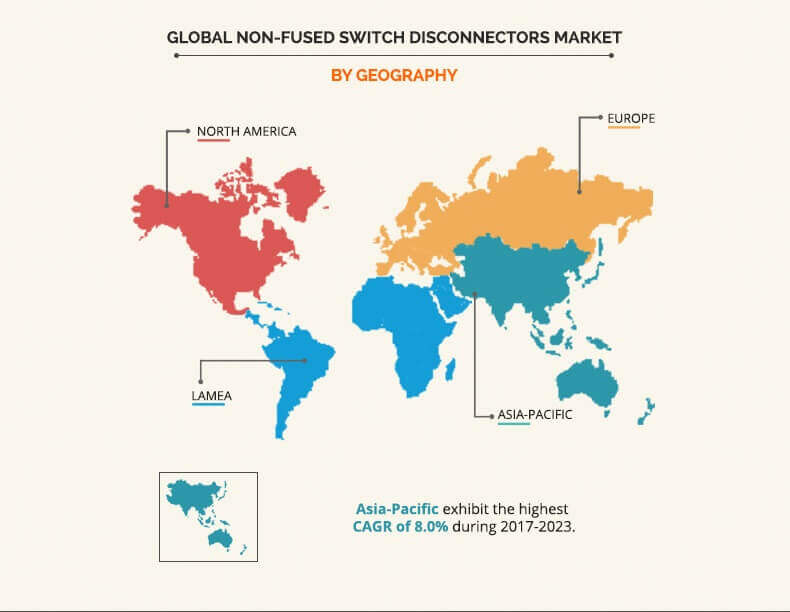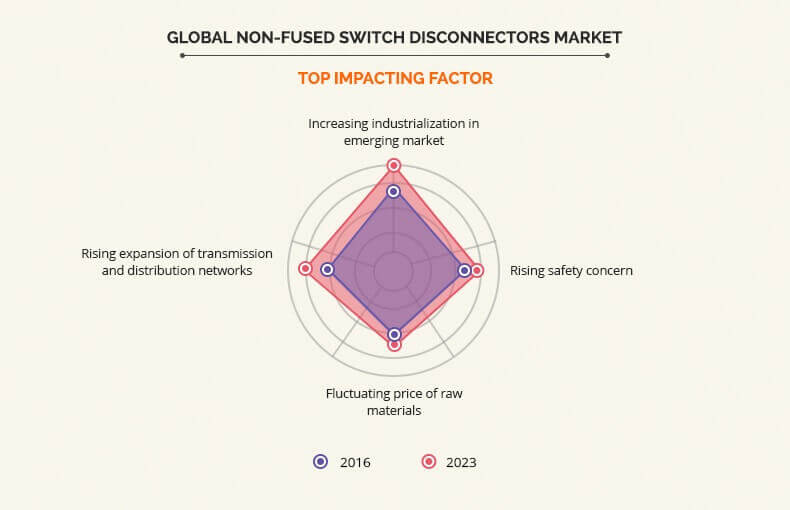 Increase in Industrialization in the Emerging Market
Rise in working population and increase in urbanization leads to rise in industrialization in the emerging market such as India, China, Brazil, and others. Further, with the increase in industrialization, the demand for non-fused switch disconnectors is also expected to increase in the market, as it provides an easy means to open and close a circuit. It also offers protection against overcurrent, circuit overloads, short circuiting, and other advantages. Moreover, the growth in demand among commercial applications, such as food processing, electrical machinery, material handling operation, automotive, official buildings, and others drive the growth of the non-fused switch disconnectors market globally.
Rise in Expansion of Transmission and Distribution Networks
As electric power is a crucial infrastructure for any developing and developed region, power system is being acquired globally under every segment and regions. Further, transmission and distribution industry has been expanding in Asia-Pacific and Middle East regions resulting in higher opportunities owing to the rapid urbanization and industrialization. Moreover, increase in investments in transmission and distribution networks globally provides ample of growth opportunities for the market.
Key Benefits for Stakeholders
This study comprises analytical depiction of the global non-fused switch disconnectors market with current trends and future estimations to portray the imminent investment pockets.
The overall market potential is determined to understand the profitable trends to gain a stronger foothold.
The report presents information related to key drivers, restraints, and opportunities with a detailed impact analysis.
The current market is quantitatively analyzed from 2016 to 2023 to highlight the financial competency of the market.
Porter's Five Forces analysis illustrates the potency of the buyers and suppliers in the industry.
 Non-fused Switch Disconnectors Market Report Highlights
Aspects
Details
By Electric Phase
By Voltage

High Voltage
Medium Voltage
Low-Voltage

By Application
By Region

North America (U.S., Canada, Mexico)
Europe (UK, France, Germany, Russia)
Asia-Pacific (China, South Korea, India, Japan, Rest of Asia-Pacific)
LAMEA (Latin America, Middle East, Africa)

Key Market Players
EATON CORPORATION, Delixi Electric Co.Ltd., Havells India Ltd., Siemens AG, WEG SA, ABB Ltd., Schneider Electric SE, Mitsubishi Electric, Littelfuse Inc., GENERAL ELE CTRIC COMPANY