North American Electrosurgical Devices Market Overview
The North American Electrosurgical Devices Market size is estimated to grow at a CAGR of 8.0% during the forecast period. Increase in baby boomer population, high demand for minimally invasive surgeries across North America, implementation of Obama care act, and rise in demand for technologically advanced products in the electrosurgical devices market drives the North America electrosurgical devices market. However, pitfalls such as stringent government policies limit the North America electrosurgical devices market industry growth.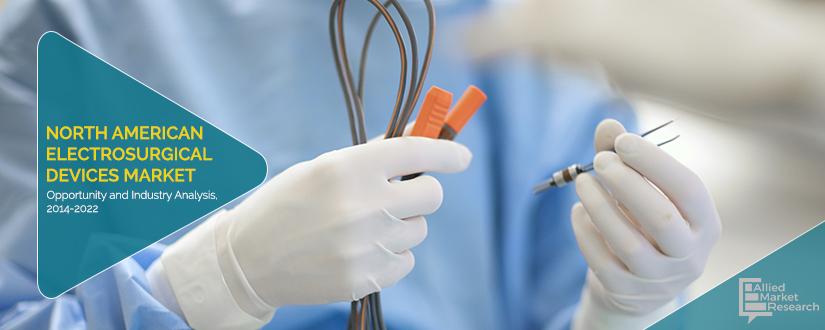 Segment review
Electrosurgical instruments & accessories is the top potential target for investment by key players in this market. The demand for these accessories is expected to increase with rise in adoption of electrosurgical devices in all types of surgical procedures performed across North America and increase in demand for innovative & customized electrosurgical instruments & accessories, which corresponds to the needs of surgeons.
By country, U.S. accounted for the largest share of the North America electrosurgical devices market in 2015, driven by ample investment in healthcare sector to advance surgical methodologies and surgical products, with improved focus of healthcare organizations on better quality and accuracy of surgical procedures to maximize the patient health. In addition, the other factors supplementing the market growth include rise in healthcare expenditure; high incidence of various chronic diseases such as diabetes, cardiovascular diseases, and obesity; and related rise in volume of surgeries. For instance, according to the American Society for Metabolic and Bariatric Surgery, the annual number of bariatric surgical procedures were nearly doubled from 1,03,000 in 2003 to 2,05,000 procedures in 2007. In addition, it is estimated that up to 13% of the U.S. population is expected to be eligible for bariatric surgery by 2020.
The key players profiled in the report include B. Braun Melsungen AG (Germany), Bovie Medical Corporation (U.S.), Megadyne Medical Products Inc. (U.S.), CONMED Corporation (U.S.), Medtronic plc. (Ireland), Johnson & Johnson (U.S.), ERBE Elektromedizin GmbH (Germany), KLS Martin Group (Germany), Olympus Corporation (Japan), and Utah Medical Products, Inc. (U.S.).
Market drivers and restrains
Technological advancement
North America electrosurgical devices market forecasts the growth of the market due to the technological advancements in electrosurgical devices that comes with added features, higher success rate, and newer applications of the device depending on its usage in various surgical procedures. High demand for such technologically innovative products among medical professionals is due to their ease in operation, improved surgical results, and improved quality of treatment. Key players have invested heavily on R&D to introduce advanced surgical products in the market and to gain a competitive edge.
Stringent rules & regulations for product approval
Stringent U.S. reforms for electrosurgical devices are expected to restrain the market growth during the analysis period. The guidances, Premarket Notification (510(k)) submissions for electrosurgical devices for general surgery and premarket notification (510(k)) submissions for bipolar electrosurgical vessel sealers for general surgery were firstly introduced in 2014. For example, JustRight Surgical (U.S.) was the first and only company that was able to secure clearance from the FDA for an electrosurgical device to be used specifically for pediatric patients.
KEY MARKET BENEFITS
The study provides an in-depth analysis of the North American electrosurgical devices market, with current trends and future estimations to elucidate the investment pockets.
The report provides a quantitative analysis from 2014 to 2022 that is expected to enable the stakeholders to capitalize on prevailing market opportunities.
Extensive analysis of the market, by product and application, helps in understanding the various types of product used for different applications.
Key market players are profiled and their strategies are analyzed thoroughly, which predicts the competitive outlook of the market.
NORTH AMERICAN ELECTROSURGICAL DEVICES MARKET KEY SEGMENTS
By Product Type:
Electrosurgical Generators
Electrosurgical Instruments & Accessories

Electrosurgery Instruments

Bipolar Instruments

Advanced Vessel Sealing Instruments
Bipolar Forceps

Monopolar Instruments

Electrosurgical Pencils
Electrosurgical Electrodes
Suction Coagulators
Monopolar Forceps

Electrosurgery Accessories

Patient Return Electrodes or Dispersive Electrodes
Cords, Cables, and Adapters
Others (Foot Switches, Carts, and Tip Cleaners)

Argon & Smoke Management Systems
By Application:
General Surgery
Gynecology Surgery
Urologic Surgery
Orthopedic Surgery
Cardiovascular Surgery
Cosmetic Surgery
Neurosurgery
Others (ENT, Dermatology, and Ophthalmic Surgeries)
By Country: