North America Fire Protection Systems Market Overview:
Advanced technologies, such as smart building, building automation, Internet of Things (IoT), wireless sensory networks, nanotechnology, and human machine interface solutions are being introduced in the fire protection system market. Intelligent sensors with networking capabilities, and sensors and detectors can communicate easily through control units leading to increased efficiency in the fire protection systems.
Strict government regulations and infrastructural developments drive the market for North American fire protection systems. As multistory, high rise buildings are in need for fire protection systems, strict fire and safety codes are being implemented to minimize the risks and losses that would be caused by fire. The U.S. and Canada have witnessed major infrastructural developments owing to the high population growth rates in these regions.
Prominent players profiled in the study are Honeywell International Inc., Johnson Controls, Inc., Siemens AG, Orcus Fire & Risk, Inc., Halma PLC, Robert Bosch GmbH, United Technologies Corporation, Amerex Corporation, Gentex Corporation, and HOCHIKI Corporation. Company overview, business performance, strategic moves and developments, and other key points are provided for the aforementioned companies. These players have expanded their market presence by adopting various business strategies such a s acquisition, geographical expansion, product development, strategic alliance, and collaboration.
Segment Review: North America Fire Protection Systems Market
The North American fire protection system market report is segmented based on product, services, industry vertical, and country. The product segment is further sub-segmented into fire detection systems, fire management systems, fire response systems, fire analysis & software, and others. By services, the market is bifurcated into consulting & design services and installation & maintenance services. The fire protection systems are implemented in various industry verticals that include BFSI, automotive & transport, manufacturing, energy & power, healthcare, oil & gas and mining, and other vertical. The North American market is further analyzed across countries such as the U.S., Canada, and Mexico.
The North American fire protection system market is categorized based on product into fire detection systems, fire management systems, fire response systems, fire analysis & software, and others. The fire detection systems segment includes sensors, detectors, and RFID systems. The fire management systems segment includes fire sprinklers and extinguishers. The fire response systems segment covers voice evacuation system, fire alarm devices, and emergency lighting systems. The fire analysis & software segment includes fire mapping, analysis, and simulation software. The other product segment covers control systems and notification systems.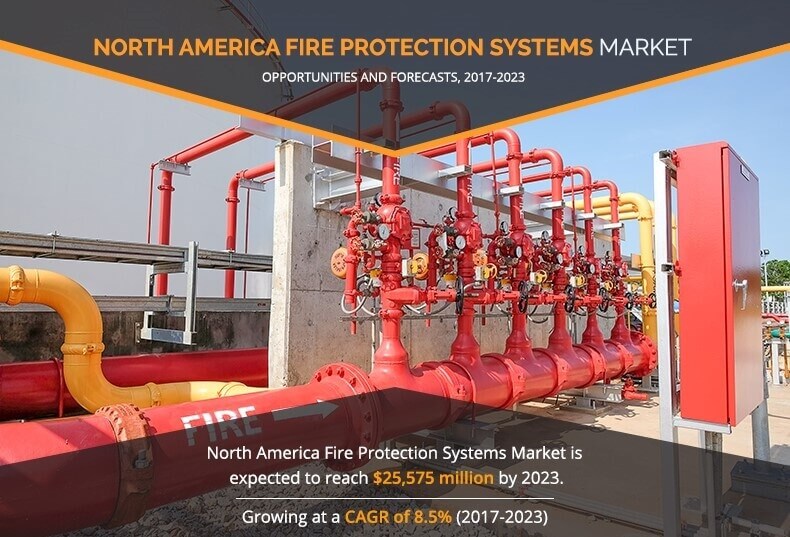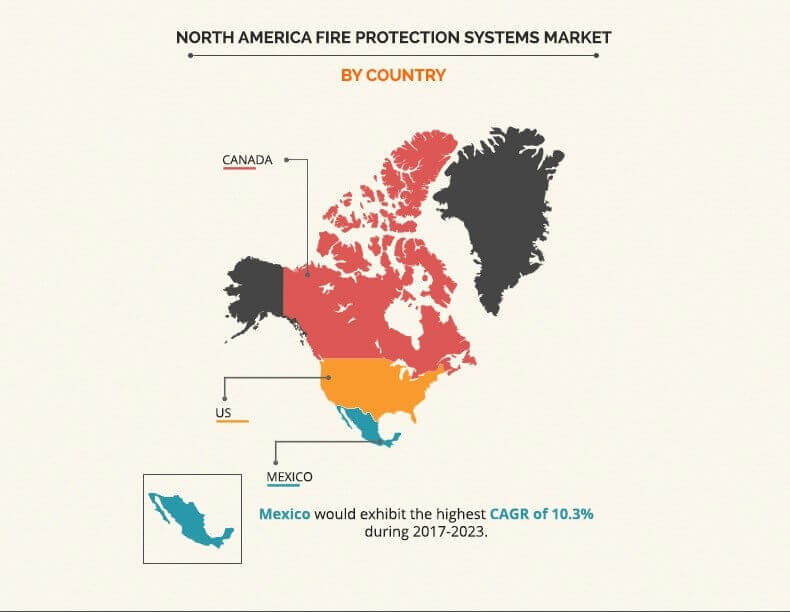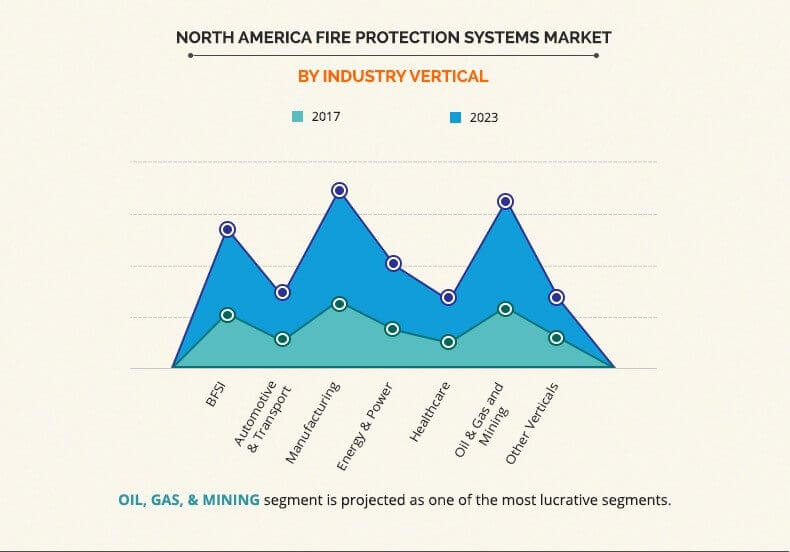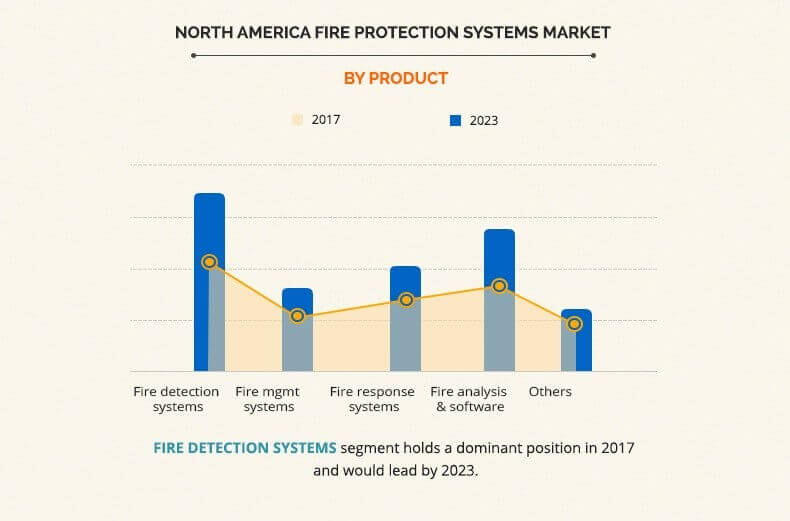 Top Winning Strategies: North America Fire Protection Systems Market
Top winning strategies are analyzed by performing a thorough study of the leading players in the North America fire protection systems market. Comprehensive analysis of recent developments and growth curves of various companies have helped understand the growth strategies adopted by them and their potential effect on the market. The companies are evaluated based on annual reports, SEC filings, and press releases. The key strategies traced from the analysis of recent developments of the key players in the fire protection system market are as follows:
Agreement: This strategy enhances market players' capabilities and improves market outreach
Acquisition: This move is adopted by companies to take ownership stakes of other companies and control it. It also expands owners' geographical presence and cater to new customers as well as them.
Product Launch: This includes introduction of new and unique rental plans in the market
Partnership: This strategy is adopted when two or more companies agree to cooperate to advance their mutual interests
Expansion: These strategies are adopted to enhance product portfolios, effective operations, expand geographical reach, and increase customer base
Collaboration: This includes two or more companies agree to cooperate each other for a specific purpose or achieving a common goal
Top Winning Strategies, by Development 2015-2017 (%)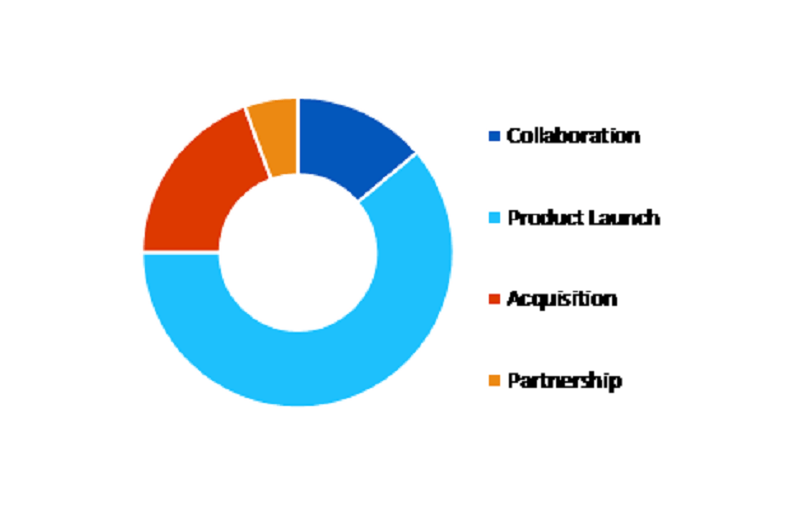 Drivers, Restraints, & Opportunities: Fire Protection Systems Market
Need for fire Protection Systems Across Various Industry Domains
Various sectors have witnessed the requirement for fire protection systems, especially industrial, as there is a greater risk of fire hazard in this sector due to the presence of various flammables such as oil and gas, and operations such as mining, fuel, manufacturing, and others. Fire protection systems offer safety and reduce damage and loss that can be caused by fire hazard. Increase in incident of fire and government mandates for workplace safety drive the market for fire protection systems in this region.
Increase in Automation in rEsidential and Commercial Buildings
Integration of fire and safety systems with the automated buildings is critical to save or reduce loss during fire hazard. A fire safety system provides high level of coordination, which is required between the active fire system, building wide communications, and interactive smoke control systems in case of a fire. This system minimizes the loss caused during fire. North America recorded a fire loss of ~14.3 billion in 2015; thus, fire safety is an important and one of the mandatory feature in the upcoming commercial & residential buildings.
Higher Installation & Maintenance Costs
Fire protection systems are more complex as they comprise several additional components, especially the fire detection system. This adds to the system cost and increases the overall cost for the safety system. Owing to such complexity, experienced and skilled professionals are required for installation of the system. Moreover, the maintenance cost is also a concern for these systems. These systems require regular maintenance checks to ensure the functionality of the system and reliability.
Key Benefits for Stakeholders
In-depth analysis of the North America fire protection systems market along with its dynamics is provided to understand the market scenario.
Quantitative analysis of the current trends and future estimations from 2017 to 2023 is provided to assist strategists and stakeholders to capitalize on prevailing opportunities.
Porter's Five Forces analysis examines the competitive structure of the Fire protection systems market and provides a clear understanding of the factors that influence the market entry and expansion.
A detailed analysis of the geographical segments enables identification of profitable segments for market players.
Comprehensive analysis of the trends, sub-segments, and key revenue pockets are provided in the report.
Detailed analysis of the key players and their business strategies are anticipated to assist stakeholders to take informed business decisions.
Profile analysis of leading players that operate in the fire protection systems market are provided in the report, which highlight the major developmental strategies such as mergers & acquisitions, expansions, and new product launches adopted by these companies.
North America Fire Protection Systems Market Key Segments:
Fire Protection Systems Market by Product
Fire detection systems
Fire management systems
Fire response systems
Fire analysis & software
Others
Fire Protection Systems Market by Services
Consulting & design
Installation & maintenance
Fire Protection Systems Market by Industry Vertical
BFSI
Automotive & Transport
Manufacturing
Energy & Power
Healthcare
Oil & Gas and Mining
Other Verticals
Fire Protection Systems Market by Country
The Key Players Profiled in the Report are as Follows:
Honeywell International Inc.
Johnson Controls, Inc.
Siemens AG
Orcus Fire & Risk, Inc.
Halma PLC
Robert Bosch GmbH
United Technologies Corporation
Amerex Corporation
Gentex Corporation
HOCHIKI Corporation
 North America Fire Protection Systems Market Report Highlights
Aspects
Details
BY PRODUCT

Fire detection systems
Fire management systems
Fire response systems
Fire analysis & software
Others

BY SERVICES

Consulting & design
Installation & maintenance

BY INDUSTRY VERTICAL

BFSI
Automotive & Transport
Manufacturing
Energy & Power
Healthcare
Oil & Gas and Mining
Other Verticals

BY COUNTRY
Key Market Players
AMEREX CORPORATION (MCWANE, INC.), GENTEX CORPORATION, HALMA PLC, HOCHIKI CORPORATION, HONEYWELL INTERNATIONAL INC., JOHNSON CONTROLS INTERNATIONAL PLC, ORCUS FIRE & RISK, INC (ORCUS), ROBERT BOSCH GMBH (BOSCH), SIEMENS AG, UNITED TECHNOLOGIES CORPORATION (UTC)