The North America furniture market size was valued at $ 249,406.5 million in 2020 and is projected to reach $ 400,068.8 million by 2030, registering a CAGR of 4.9% from 2021 to 2030.
Furniture are objects used to support various human activities such as seating, eating, sleeping, and others. They are made from various materials such as wood, plastic, and metals, and are also used to hold and position an object at certain required height either to store things or for aesthetic appeal. In addition, the recent trend of modular furniture in urban cities has provided the consumer with various options to decorate the residential apartment.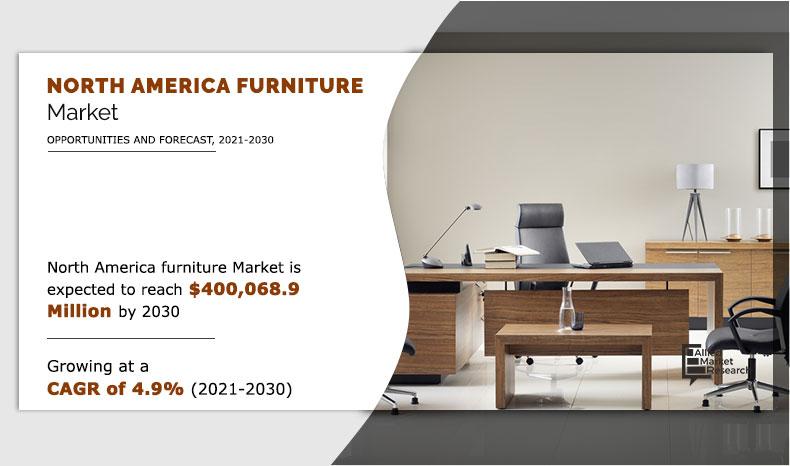 The rapid growth in the real estate sector due to 100% foreign direct investment for township, smart cities, commercial buildings, and settlement development project is attracting investors in the real estate sector, which increase the quality of residential apartments. Growth in both, housing and commercial development will have a positive effect on furniture demand, driven by the need to furnish new constructions. Tourism has been on a rapid increase across the region. The rise in tourism sector is helping to cater the demand for various furniture products such as beds, sofas, and tables with the increase in number of hotel rooms. The furniture industry is projected to benefit through the subsequent demand from the hotel furniture. 
The growth in knowledge process outsourcing (KPO) and business process outsourcing (BPO) in countries such as the U.S. and Canada and others is expected to boost the demand for office furniture in the North America region. 
Furniture manufactures are facing various problems and challenges due to high cost of wood as well as non-availability of quality wood in required quantity. The high cost of the furniture has hampered the sector as a whole. The prices of raw materials used in making furniture such as chipboard, timber, foam, polish chemical materials, color paints, and hardware have increased. Timber production on the other hand has gone down drastically because of unchecked deforestation. 
The coronavirus outbreak had a significant impact on the North America furniture market. Due to lockdown, the new trend of work from home came into existence. The sales of home office furniture increased during the pandemic. Consumers are increasingly purchasing furniture online as they want to modify their houses to accommodate life in the modern era. In fact, according to combined research from Emarsys and GoodData, online orders for all products, from necessities to home repair and furnishings, have increased by over 80% in North America since January, 2020. 
North America Furniture Market

---
By Type
RTA segment is expected to grow at highest CAGR of 5.6% during the forecast period
According to North America furniture market analysis, the North America furniture market is classified on the basis of type, distribution channel, and country. By type, the North America furniture market is segmented into RTA, residential, and commercial. The residential segment holds the highest North America furniture market share in 2020, duethe rise in trend of home furnishing and home decor with stylish and modular furniture. By distribution channel, the North America furniture market is categorized into supermarkets/hypermarkets, specialty stores, e-commerce, and others. The specialty stores was the highest revenue contributor in 2020, as the specialty store outlet focuses on furniture that contains a wide range of products and various associated items. Country wise, the North America furniture market is segmented intoU.S., Canada, and Mexico. U.S. contributed the highest revenue in 2020 and is expected to dominate the market during the North America furniture market forecast.
The development of eco-friendly raw materials such as bamboo, cork, and felt are used in manufacturing of furniture and other products such as shoes. Bamboo is a good replacement for wood in manufacturing of furniture due to its advantages over timber wood such as low-carbon raw material. Therefore, it is being adopted for furniture manufacturing on a larger scale. Cork material offers properties such as buoyant, insulation, impermeable, elastic, and fire resistant and it is harvested from the cork oak forests of western U.S. region. Cork is used in manufacturing of sofas, chair, table, and other furniture products. Felt is manufactured using recycled polyethylene terephthalate (PET) bottles and it can be used to manufacture chair, desk, and cabinet. Warming has made consumers inclined toward eco-friendly furniture products that have less environmental impact due to the growth in awareness of deforestation and its effects such as North America. 
North America Furniture Market

---
By Distribution Channel
E-commerce segment is expected to grow at highest CAGR of 5.5% during the forecast period.
Moreover, the cost of eco-friendly raw material is much lower than timber wood and other forest wood used in manufacturing of furniture, which is expected to further boost the demand for eco-friendly raw material application in the North America furniture industry. 
The prominent North America furniture industry players include Ralph Lauren Home, Knoll, Inc., Bassett Furniture Industries, Inter Ikea Systems BV, Kimball International, Inc., HNI Corporation, Haworth, Inc., Durham Furniture Inc., Steelcase Inc., and Stickley Furniture. Product launch is the most important growth strategy used by North America furniture market players, followed by collaboration and agreement, expansion, and acquisition. Several businesses have created innovative products to diversify their product offerings. Various companies use product launches to expand their market reach and serve customers.
North America Furniture Market

---
By Country
U.S. dominates the market and is expected to grow at highest CAGR of 5.1% during the forecast period.
Key Benefits For Stakeholders
This report provides a quantitative analysis of current North America furniture market trends, estimations, and dynamics of the North America furniture market from 2021 to 2030 to identify the prevailingNorth America furniture market opportunities.
Porter's five forces analysis highlights the potency of the buyers and suppliers to enable stakeholders to make profit-oriented business decisions and strengthen their supplier–buyer network.
In-depth analysis of the North America furniture market segmentation assists to determine the prevailing market opportunities.
Major countries in each region are mapped according to their revenue contribution to the industry. The market player positioning segment facilitates benchmarking while providing a clear understanding of the present position of the key market players.
The report includes analyses of the regional as well as regional market, key players, market segments, application areas, and North America furniture market growth strategies.
 North America Furniture Market Report Highlights
Aspects
Details
By Type

RTA
Residential
Commercial

By Distribution Channel

Supermarkets & hypermarkets
Specialty Stores
E-commerce
Others

BY COUNTRY
Key Market Players
BASSETT FURNITURE INDUSTRIES (BASSETT), DURHAM FURNITURE, HAWORTH, INC, HERMAN MILLER, INC. (KNOLL, INC.), HNI CORPORATION, INTER IKEA SYSTEMS B.V., KIMBALL INTERNATIONAL INC., RALPH LAUREN CORPORATION (RALPH LAUREN HOME COLLECTION, INC.), STEELCASE INC., STICKLEY FURNITURE, INC.