The global nuclear bombs and missiles market was valued at $72.64 billion in 2020, and is projected to reach $126.34 billion by 2030, growing at a CAGR of 5.4% from 2021 to 2030.
Nuclear bombs and missiles can be referred to as the weapons of mass destruction that use nuclear fission, fusion, or a combination of both to release huge amounts of heat and energy. These weapons use fissile materials as raw materials. The effects of nuclear weapons are not limited to the initial blast. These weapons release a huge amount of nuclear radiation such as gamma radiation, neutron radiation, and ionizing radiation for a long timeframe after detonation. The first nuclear weapon was tested by the U.S. in 1946, followed by other nations. Soviet Union tested its first weapon in 1949, the UK in 1952, France in 1960, China in 1964, India in 1974, Pakistan in 1998, and North Korea in 2006. Such destructive ability of these weapons has allowed several nations and international organizations to put a ban on the design, development, and testing of nuclear bombs and missiles. Active efforts are being made to dismantle the existing nuclear arsenal by major countries. Despite such efforts, a notable budget is allocated toward acquisition, maintenance, and renewal of these weapons, backed by defense think tanks and military leaders.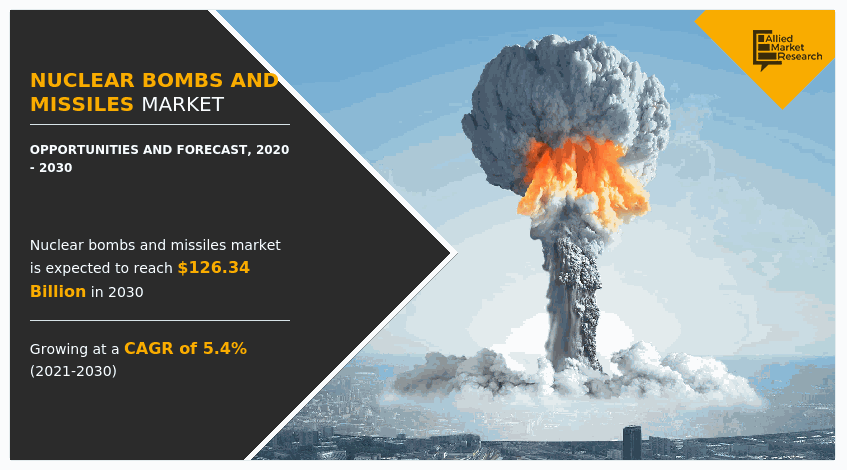 Get more information on this report : Request Sample Pages
The COVID-19 outbreak moderately impacted the defense sector on a global level, which in turn led to a slight impact on the global nuclear bombs and missiles market. Delayed delivery dates, postponement of review conferences, and complete pause of operations are the major impacts of COVID-19. The global events such as cross-border conflicts, implications on Chinese government by other nations and increase in activity of consortiums and groups of nations have come into consideration during COVID-19, impacting the market demand across the globe. Delayed gathering and establishment of treaties to limit nuclear expansion and increase in tension across the globe have supported the market. The major factor hampering business opportunities within the nuclear bombs and missiles market is a temporary reallocation of budgets due to COVID-19. The budget that was allocated to research, development, or new product launched was put on hold and re-allocated toward managing the COVID-19 crisis. Major countries such as the U.S. and Russia donated millions to aid several countries in the pandemic situation. Apart from the budget crunch, limited logistics support, labor force, and operations of OEM have also posed a disruptive impact on the market.
Nuclear Bombs and Missiles Market

---

By Type
Aircraft bombers is projected as the most lucrative segments
Factors such as rise in geopolitical conflicts and increase in defense budget allocation toward nuclear expenditure, are expected to support the nuclear bombs and missiles market growth. For instance, the U.S. allocated 5.7% of the total defense budget toward nuclear weapon spending in 2021, which is expected to reach 8.0% of total defense spending in 2030. There is expected to be a nuclear arms acquisition race by superpowers such as the U.S. and Russia, to accelerate business opportunism within coming years. In 2021, the U.S. and Russia had 5,550 and 6,255 nuclear warheads and are expected to reach 6,380 and 6,734 in 2030 respectively. The expenditure done by major companies such as Lockheed Martin, BAE Systems, Airbus, and Boeing toward research, development, management, conducting exhibitions and seminars to conduct importance and feasibility of nuclear weapons will encourage nations to increase their budget allocation. In 2021, the lobbyists engaged in conducting seminars, exhibitions, and business meetings along with think tanks responsible for future planning and management received around $120 million from corporate bodies and defense organizations, supporting business potential over the coming years.
Nuclear Bombs and Missiles Market

---

By Status
Reserve and retired is projected as the most lucrative segments
The global nuclear bombs and missiles market is segmented on the basis of type, range, and status. By type, the market is divided into aircraft bombers/land missiles, intercontinental ballistic missiles (ICBM), submarine-launched ballistic missiles (SLBM), and others. The others segment includes reserve or retired nuclear warheads within the type segment. By range, the market is segmented into less than 1,000km, 1,000Km to 5,000km, and greater than 5,000km. The status segment is divided into active and reserve/retired. By region, the market is analyzed across North America, Europe, Asia-Pacific, and LAMEA.
Companies have adopted collaboration, long term agreements, joint ventures and association with think tanks such as Atlantic council, Brookings Institution, and Carnegie Endowment for International Peace as their key development strategies in nuclear bombs and missiles market. The key players operating in the market are Airbus, Ariane group Sas, Bae Systems, Brahmos Aerospace, Lockheed Martin Corporation, Mbda, Northrop Grumman Corporation, Rafael Advanced Defense Systems Ltd, Raytheon Technologies Corporation, and The Boeing Company
Nuclear Bombs and Missiles Market

---

By Region
Asia-Pacific would exhibit the highest CAGR of 6.5% during 2021-2030
Increase in investments by government and corporate giants
The nuclear bombs and missiles market is highly regulated by investment offered by government bodies, research organizations, corporate conglomerates, and think tanks. Think tanks are research and analytical bodies that demonstrate future needs and reasons to have nuclear arsenals. These think tanks often receive funding from several sources to continue their research work. The advisory boards of these think tanks often constitute former CXOs and top management members of companies manufacturing nuclear weapons. Twelve think tanks across the globe disclosed funding of $5.5 million to $10.2 million in 2020 from corporate giants who are manufacturing nuclear weapons.
Increase in cross border conflicts
The rise in border disputes among neighboring nations, plans for territorial expansion, and efforts to establish strategic and political dominance at the global level remain primary factors that support the nuclear bombs and missiles market. The ongoing dispute between Ukraine and Russia as of March 2022 will notably impact the business dynamics in the coming years. Other nations such as India and Pakistan are entering a race to increase their nuclear arsenal to ensure political dominance. The consortium of nations such as NATO is actively participating in discussions and initiatives taken within the nuclear weaponries segment and looking to update their existing forces. The UK has one of the strongest naval forces and relies on its nuclear submarine launch ballistic missiles. The country has done notable investments in developing Dreadnought-class, capable of carrying nuclear weapons. The submarine is expected to be in service by 2030. On a similar line, China is expected to develop 200 launch silos capable of launching nuclear warheads to proximity regions.
International treaties and consortiums discouraging nuclear testing
There are number of international treaties and consortiums discouraging possession, development, acquisition, sale, testing and usage of nuclear weapons. Majority of Africa, Latin America and Middle East nations align or abide to these treaties, enforcing other nations to follow the same. The U.S., and Russia are also engaged in a treaty to maintain their nuclear weapons and do not increase their stockpiles at an exponential level.
Collaboration with government, think tanks and lobbyist
The collaboration with government bodies and defense organizations becomes the primary strategic initiative practiced by major industry players operating within the region. Nuclear spending for every nation is aligned with their defense budget allocation. The allocation is decided based on the ongoing contracts, the need for nuclear weapons and existing companies, consortiums having nuclear capabilities, and reviews provided by the advisory boards. The companies in collaboration with government bodies undergo long-term R&D contracts. These companies also sponsor think tanks and lobbyists to understand geopolitical aspects and predict the need for nuclear weapons.
Key Benefits For Stakeholders
This report provides a quantitative analysis of the market segments, current trends, estimations, and dynamics of the nuclear bombs and missiles market analysis from 2020 to 2030 to identify the prevailing market opportunities.
The market research is offered along with information related to key drivers, restraints, and opportunities.
Porter's five forces analysis highlights the potency of buyers and suppliers to enable stakeholders maket profit-oriented business decisions and strengthen their supplier-buyer network.
In-depth analysis of the nuclear bombs and missiles market segmentation assists to determine the prevailing market opportunities.
Major countries in each region are mapped according to their revenue contribution to the global market.
Market player positioning facilitates benchmarking and provides a clear understanding of the present position of the market players.
The report includes the analysis of the regional as well as global nuclear bombs and missiles industry trends, key players, market segments, application areas, and market growth strategies.
 Key Market Segments
By Type

Aircraft Bomber and Land based missiles
ICBM
SLBM
Other

By Range

<1000km
1000km-5000km
>5000km

By Status

Active
Reserve And Retired

By Region

North America
Europe
Asia-Pacific

China
India
Pakistan
North Korea

LAMEA
 
Key Market Players
Airbus Group
ArianeGroup SAS
BAE Systems
brahmos aerospace
Lockheed Martin Corporation
mbda
Northrop Grumman Corporation
Rafael Advanced Defense Systems Ltd.
Raytheon Technologies Corporation
THE BOEING COMPANY