Nutrigenomics refers to the study of the effects of diets and nutrition on the expression of an individual's genetic makeup and nutritional factors that protect the genome from damage. While, nutrigenomic testing accurately recognizes every individuals' variations in genetic protein involved in enzyme conversion, nutritional delivery and signaling pathways in the cell; to identify sites of metabolic weakness. As abnormalities in specific polymorphisms can hamper the functioning of many physiological and metabolic processes, overcoming theses metabolic weaknesses becomes essential. With appropriate supplement genetic weaknesses (SNPs) can be corrected thereby maintaining optimal health. It is a phenomenon inclining towards the industry needs for personalization in medicine with its main focus on personalized diet. Nutrigenomics testing is also advantageous for the health care industry and for the personal health of an individual. Many people invest in nutritional supplements without prior knowledge or scientific proof its need. Many of the supplements are ineffective as they aren't delivered at cellular level without genetic validation of enzyme function, hence people are spending unnecessary money. Nutrigenomic testing would be of great assistance in such cases.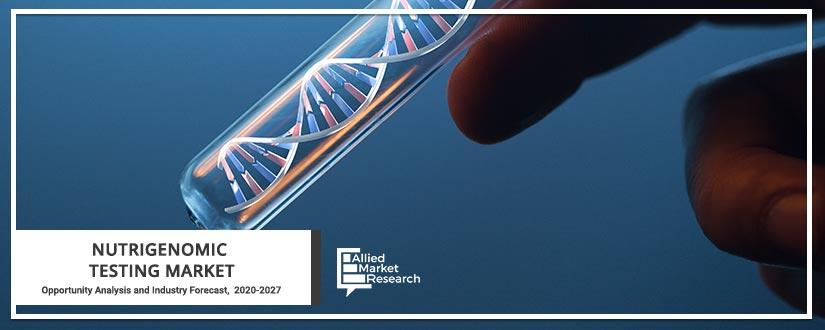 COVID – 19 scenario analysis:  
The COVID-19 pandemic has emerged as a humanitarian as well as economic crisis, creating strain on the society and affecting millions of people and businesses
Industry closures and people are asked to stay in their homes which has cause taken a huge toll in terms of money and economic growth
Over 4 million people affected globally, with 300 thousand losing their lives due to SARS-CoV-2
Healthcare organizations are already working in battle mode, preparing new plans to respond growing COVID-19 patients, right from sourcing rapid diagnosing kits to sufficient PPE kits for workers
Due to diversion of medical field towards treating COVID-19, the funding to R&D activities related to nutrigenomic testing has been reduced and this segment have to face negligence subsequently causing negative impact on nutrigenomic testing market
Top impacting factors: Market Scenario Analysis, Trends, Drivers and Impact Analysis
Rising awareness among people and industry trend for personalized medication and nutrition especially in the developed economies, rising conscience regarding importance and perks of nutritious food including the preventive measures for obesity and related ailments, growing cases of various cardiovascular diseases, and malnutrition are the factors that would amplify the market growth for nutrigenomic testing. Research emphasizing on cancer and its relation with nutrition is gaining popularity as proper diet intake would reduce the susceptibility of cancer. In addition, genetic variations associated with lipid and carbohydrate metabolism disorders is one of the prominent reasons for obesity. Obesity and its rate all over the globe is increasing drastically due to high consumption of fast food and unhealthy lifestyle will prove beneficial for nutrigenomics testing industry growth over the coming years. Nutrigenomics testing aids in the detection of relation and mechanism between nutrients and genome at molecular level which is beneficial for scientists and researchers to structure and recommend nutritious diet for body weight management and managing metabolism. Hence, increasing prevalence of obesity in people will fuel the demand for nutrigenomic testing, thereby contributing to the nutrigenomic testing market growth.
 
The technological advancements due to extensive research activities in various fields like proteomics, computational biology, metabolomics, and genomics has significantly driven the nutrigenomics market globally. Some studies and research conducted by scientists and researchers have stated the use of nutrigenomics in the anti-aging industry. Personalized nutritional supplements are being launched in the market which restricts aging of cells by forming numerous free radicals. Nutrigenomic testing also assists the physicians to manage patient's cardio metabolic health and identify food intolerances. 
However, strict regulations imposed by government and regulatory authorities and lack significant evidence to explain the exact functioning of nutrigenomics may cause hindrances in the market growth of nutrigenomic testing in years to come.
Sedentary lifestyle and obesity expected to fuel the growth
The sedentary lifestyle is further expected to surge the market. According to World Health Organization (WHO), sedentary lifestyles proves to be fatal for around 5.3 million people every year globally, with minimum 300,000 premature deaths and US$90 billion are spent in directly as healthcare costs to reduce problems caused by obesity and sedentary lifestyle yearly in the U.S. Physical inactivity causes around 2 million deaths every year forcing WHO to issue a warning regarding sedentary lifestyle being among top ten major causes of death and disability around the world. The US Department of Health and Human Service, stated only one in three children are physically active every day in the U.S. Thus, the rising sedentary lifestyle would enhance the development and create opportunities for nutrigenomic testing market.
World Health Organization (WHO) in their report, mentioned the rate of obesity has tripled since 1975 worldwide. Year 2016 saw over 1.9 billion adults belonging to age group 18 years or above were overweight and out of them, over one third of people were obese. As a result, problems arising due to obesity would create demand for nutrigenomic testing thereby propelling the nutrigenomic testing market growth. 
Technological advances to foster market growth
The recent technological developments in global nutrigenomics market would lead to development of this market in forthcoming years. In April 2019, Nutrigenomix, a global leader in genetic testing for personalized nutrition launched genetic test for vegetarian and vegan population that gives the opportunity to consumers to opt for plant-based personalized nutrition. The company has developed first of its kind test to offer the world, plant-based diets. Advanced product launches with higher benefits will aid the company in increasing its consumer base.
Similarly, GX SCIENCES, a leading provider of complete genetic testing solutions, invested in a fully accredited nutrigenomic laboratory. GX SCIENCES also announced global partnership Thermo Fischer and Life Sciences to diversify and broaden company's work internationally. Strategic collaboration will help GX Sciences to amplify the development in laboratory and biotechnology field. Such advancements and novel products launches would ensure growth for nutrigenomic testing market.
Key benefits of the report:
This study presents the analytical depiction of the global nutrigenomic testing industry along with the current trends and future estimations to determine the imminent investment pockets.
The report presents information related to key drivers, restraints, and opportunities along with detailed analysis of the global nutrigenomic testing market share.
The current market is quantitatively analyzed to highlight the global nutrigenomic testing market growth scenario.
Porter's five forces analysis illustrates the potency of buyers & suppliers in the market. 
The report provides a detailed global nutrigenomic testing market analysis based on competitive intensity and how the competition will take shape in coming years. 
Questions answered in the Nutrigenomic testing Market research report:
What are the leading market players active in the nutrigenomic testing market?
What the current trends will influence the market in the next few years?
What are the driving factors, restraints, and opportunities in the market?
What are the projections for the future that would help in taking further strategic steps?
 Nutrigenomic Testing Market: Global Opportunity Analysis and Industry Forecast, 2020-2027 Report Highlights
Aspects
Details
By Product Type

Reagents and kits
Services

By Application

Obesity
Cancer
Cardiovascular Diseases
Diabetes
Other Chronic Diseases

By Distribution channel

Hospitals and Clinics
Online Platforms
Others

By Region

North America
Europe
Asia-Pacific
LAMEA

Key Market Players
Interleukin Genetics, NutraGene, Pathway Genomics, GX Science, Xcode Life, Cura Integrative Medicine, Metagenics, Holistic Heal, Gene Box, Nutrigenomix