The global nutritional analysis market was valued at $4.9 billion in 2021, and is projected to reach $8.2 billion by 2031, growing at a CAGR of 5.5% from 2022 to 2031.
Nutritional analysis is an important step in the process of food manufacturing to ensure the quality and nutritional standards of food products. The application of nutritional analysis is rapidly increasing amongst smaller manufacturers of food and beverages owing to an increase in the availability of methods such as database nutritional analysis, which is making the identification and classification of the nutritional component of food products more cost-effective.
Nutritional analysis consists of testing food and beverages for various components such as proteins, carbohydrates, fats, sodium, vitamins, minerals, and others in order to create nutritional labelling for the back of product packaging. This analysis provides consumers with information about the number of macronutrients and micronutrients present in their food products, allowing them to make more informed purchasing decisions for food and beverages. The nutritional content of the food products as a whole, rather than the individual components added to the food products, is examined in this market study. 
Food and beverages are necessary for human survival. Food and beverages are important in people's lives, most food security and quality regulations around the world prioritize regulatory compliance with food and beverage quality. To ensure that consumers in the region are getting the best quality food products in the region, all countries in the European region have very strict guidelines regarding the quality of the ingredients used in the food as well as the nutritional composition of the food. Similarly, the Food and Drug Administration (F.D.A) of the U.S. also imposes strict guidelines on food manufacturing practices. This necessitates a variety of food product testing by manufacturers to ensure that the food products meet the standards set by their respective food regulatory authorities. This strict adherence to food testing aids the growth of the nutritional analysis industry in developed regions around the world. 
Packaged food and beverages are becoming more popular all over the world. Many entrepreneurs are entering the food and beverage industry to capitalize on the trend of ready-to-eat food. These manufacturers are establishing manufacturing facilities and ensuring that their products are of the highest quality. There is a significant investment in the research and development process of manufacturing food, as well as an increasing investment in food testing services. In order to appeal to consumers, manufacturers are also producing food with organic and natural components and testing their food to obtain accurate nutritional information. The rise in food and beverage product manufacturers is fueling the nutritional analysis market growth. 
Food and beverage manufacturers have a significant presence all over the world. There are several manufacturers in developing countries that operate at the local level and serve a very small area. These businesses are frequently unable to conduct tests on their products to ensure their quality and safety. Furthermore, many manufacturers in the region provide inaccurate information about the formulation of their ingredients in products or manipulate test results to portray a positive image of their products. This results in inaccuracies in the nutritional value of their food products, which creates a negative image of the nutritional analysis market and impedes its growth. Furthermore, many manufacturers input nutrition data based on their assumptions, weakening the growth of the Nutritional Analysis Industry even further. 
In developing regions around the world, there are several new and emerging food manufacturers. Governments in these regions are developing and enforcing new guidelines to ensure that the quality of food produced in the region meets global standards of quality. This is forcing manufacturers in the region to step up their food testing and quality assurance efforts in order to keep their manufacturing licenses. As living standards and investments in food production rise in these regions, there is an increased emphasis on the nutritional components of food, leading to an increase in nutritional analysis of food products in the region. The chances for market growth of the nutritional analysis market size are growing along with the level of progress in these areas.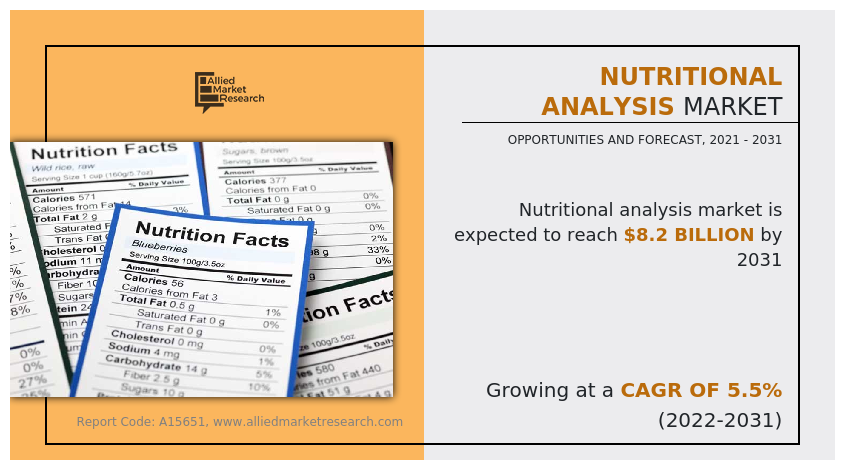 The nutritional analysis market is segmented into Analysis Type, Product Type, Nutrients, and Region. By analysis type, the nutritional analysis market is classified into laboratory testing and nutritional database testing. According to product type, the market is classified into bakery & confectionery, snacks, dairy, meat products, and others. Based on the nutrient, the market is divided into macronutrients and micronutrients. By region, the market is analyzed across North America (the U.S., Canada, and Mexico), Europe (UK, Germany, France, Italy, Spain, Netherlands, and Rest of Europe), Asia-Pacific (China, Japan, India, South Korea, Australia, and rest of Asia-Pacific), and LAMEA (Brazil, Argentina, Saudi Arabia, United Arab Emirates, South Africa, and Rest of LAMEA).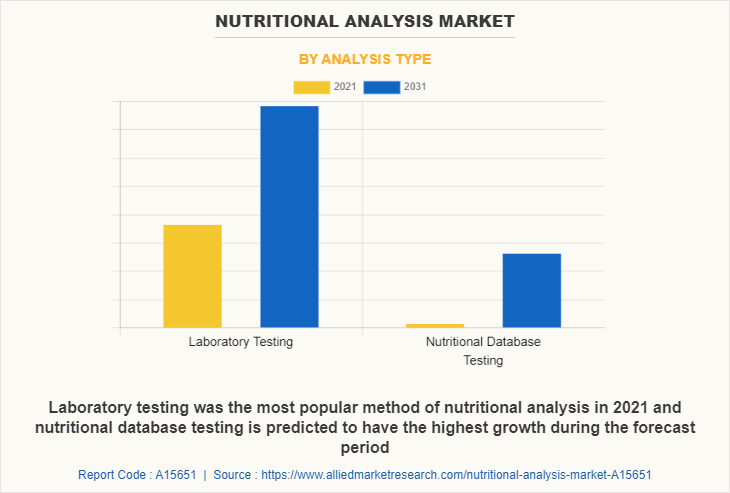 In-depth examination of the food products' constituent parts and inference of the nutritional worth of the food through examination of its chemical composition are two aspects of laboratory testing for nutritional analysis of food. It is the most precise method of nutritional analysis and is often employed to ascertain the precise nutritional benefits of food that have undergone extensive processing, thus occupying the highest nutritional analysis market share. Food products are either chemically analyzed, physically analyzed, or biologically tested in laboratories to determine the nutritional worth of the food. It contributes to the creation of accurate nutritional labels for food products that are in compliance with local food laws by helping to provide accurate values of the nutrients present in the food. The majority of food products that require laboratory analysis are highly processed food, such as sausages, dressings, frozen food, snacks, and other kinds of food cannot be approximated in terms of their nutritional worth. The nutritional value of food items is sometimes determined by nutritional database testing using pre-established nutritional values of food ingredients and components. Because it is simpler to track the ingredients and their proportions in food products, this technique is used to analyze simpler food products. Software that has a database of numerous food ingredients, additives, and components along with their nutritional worth in predetermined weight measurements is typically used to analyze nutritional databases of food. The manufacturers of the food products only need to give the nutritional analysis facilities their ingredient lists, and the quantity of the ingredients used, rather than a real sample of the food products, making this nutritional analysis technique affordable.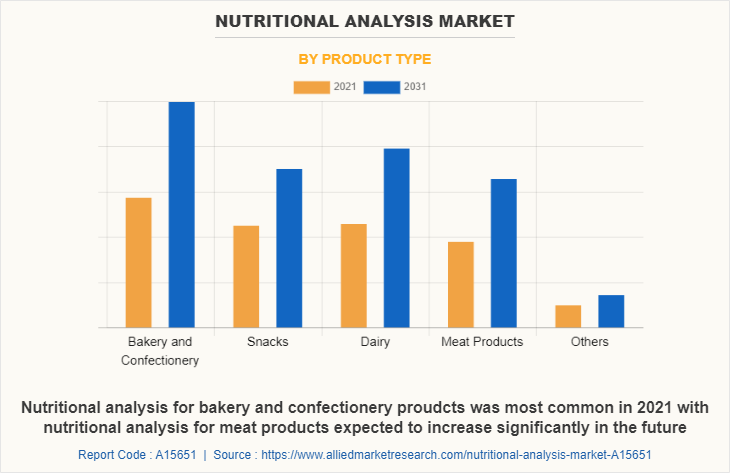 Cakes, cookies, candies, chocolates, pastries, and other products are considered as bakery and confectionery products. Confectionery products are always sweet, whereas baked goods can be either sweet or savory. These types of products are extremely popular, and large-scale production of such products is increasing, resulting in an increase in nutritional analysis of such products. Chips, crackers, popcorn, wafers, puffs, and other snacks are examples of snacks. These food are highly savory and incorporate a variety of flavors and spice combinations to create distinct tastes and flavorings. Snacks are very appealing to consumers, so they are very popular, increasing production volumes and thus increasing demand for nutritional analysis. Milk, yoghurt, cream, ice cream, cheese, butter, and other milk-derived products are examples of dairy products. These products, in one form or another, are widely consumed around the world and are extremely nutritious. Nutritional analysis is critical for dairy and dairy-based product manufacturers because it contains important information about allergens and other nutrient values. Meat products include various cuts of meat as well as processed meat products like cold cuts, sausages, meat snacks, and others. Consumption of such products is common in highly developed countries and countries with higher levels of meat consumption, necessitating the need for nutritional analysis of such food products. Baby food, sauces, dressings, condiments, spices, and others are included under other food products, as the nutritional values of such food are in similar ranges.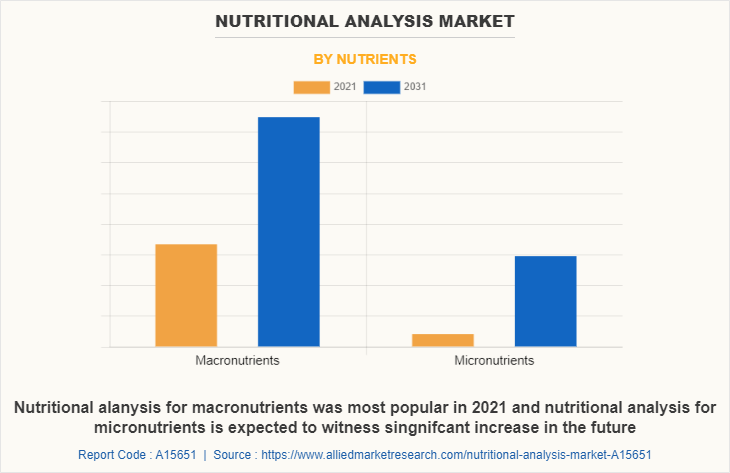 Macronutrients are the most important types of nutrients that the body requires to function normally. These nutrients include carbohydrates, proteins, fats, sodium, sugars, and fibers, which are required by the body to provide energy and to regulate all the body's proper functions. Food nutrition analysis is primarily used to examine macronutrients. Micronutrients are the minor types of nutrients that the body requires to function normally. These nutrients include vitamins, minerals, and other chemical compounds that are necessary for the body but can be harmful in high concentrations. The importance of micronutrient consumption is growing, prompting nutritional analysis for these nutrients and leading to market growth during the nutritional analysis market forecast period.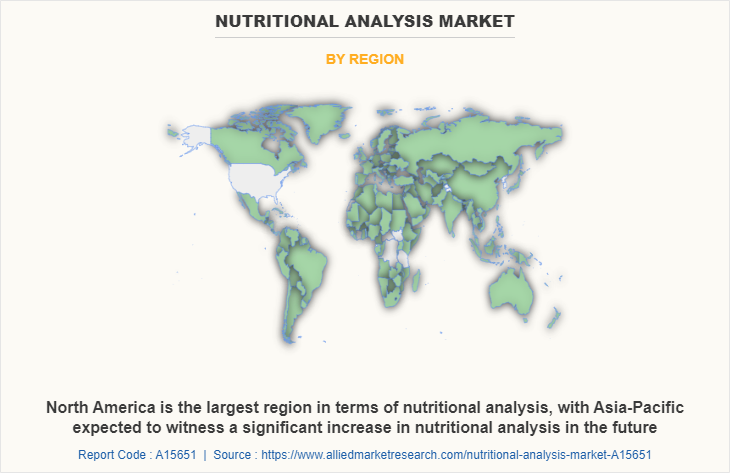 Growing consumer demand for functional food, convenience food, meal replacements, and on-the-go packaged food products is driving the growth of the North American market, as food manufacturers strive to produce accurate nutritional results on their food packaging. The nutritional analysis market in Europe is being driven by increased demand for health and nutrition products, product innovation, and strict adherence to food quality and safety guidelines. In European countries such as the UK and Germany, where the market is rapidly expanding, clean label products are paving the way. Most Asia-Pacific countries are still developing, which has resulted in an increase in the middle-class population, an increase in the standard of living, and increased health awareness among the people in this region. More emphasis is being placed on the nutritional content of food, which creates market opportunities in the region. Rapidly developing economic conditions in the LAMEA region, combined with a rapid increase in the number of food manufacturers in the region, presenting increased nutritional analysis market demand for the region. 
Some of the major players analyzed in this report are ALS Limited, Bureau Veritas SA, Compu-Food Analysis, Eurofins Scientific, Food Lab, Inc., Intertek Group PLC, Lifeasible, MENUSANO, Microbac Laboratories, Inc., Opal Research And Analytical Services, Pat-Chem Laboratories LLC, SGS SA, Test Needs Australia, Thermo Fisher Scientific, Inc., and TÜV SÜD. 
Key Benefits For Stakeholders
This report provides a quantitative analysis of the market segments, current trends, estimations, and dynamics of the nutritional analysis market analysis from 2021 to 2031 to identify the prevailing nutritional analysis market opportunities.
The market research is offered along with information related to key drivers, restraints, and opportunities.
Porter's five forces analysis highlights the potency of buyers and suppliers to enable stakeholders make profit-oriented business decisions and strengthen their supplier-buyer network.
In-depth analysis of the nutritional analysis market segmentation assists to determine the prevailing market opportunities.
Major countries in each region are mapped according to their revenue contribution to the global market.
Market player positioning facilitates benchmarking and provides a clear understanding of the present position of the market players.
The report includes the analysis of the regional as well as global nutritional analysis market trends, key players, market segments, application areas, and market growth strategies.
 Nutritional Analysis Market Report Highlights
Aspects
Details
Market Size By 2031
USD 8.2 billion
Growth Rate
CAGR of 5.5%
Forecast period
2021 - 2031
Report Pages
320
By Analysis Type

Laboratory Testing

Sub Type

Chemical Analysis
Physical Analysis
Bioanalysis

Nutritional Database Testing

By Product Type

Bakery and Confectionery
Snacks
Dairy
Meat Products
Others

By Nutrients

Macronutrients
Micronutrients

By Region

North America (U.S., Canada, Mexico)
Europe (UK, Germany, France, Italy, Spain, Netherlands, Rest of Europe)
Asia-Pacific (China, Japan, India, South Korea, Australia, Rest of Asia-Pacific)
LAMEA (Brazil, Argentina, Saudi Arabia, United Arab Emirates, South Africa, Rest of LAMEA)

Key Market Players
Compu-Food Analysis, ALS Limited, Intertek Group plc, SGS SA, Pat-Chem Laboratories LLC, TUV SUD AG, Microbac Laboratories, Inc., Opal Research And Analytical Services, Lifeasible, Eurofins Scientific
Analyst Review
According to the CXOs of several global companies, the adoption of the nutritional analysis of food products is increasing worldwide. Nutritional analysis of food products helps in providing information about the various nutritional components of the food products, which helps consumers to make informed decisions about the purchase of a particular food product or beverage. Furthermore, the addition of nutrition labels on commercially produced food products is a legal requirement in most countries across the world, which is the major reason for the growth of the market. 
Laboratory testing of food products for nutritional content helps provide the most accurate results as the food is tested at a molecular and chemical level, which is effective in tracking all the components of food samples. This method of nutritional analysis is used by all of the major food and beverage manufacturers across the world in order to ensure the quality of their food and beverage products. However, many food companies in developing regions across the world employ database nutritional analysis of their food products due to the cheaper cost of this method of nutritional analysis as well as the quicker testing duration of the method. Greater emphasis is given to the macro nutritional content of the food products as they are the major contributors to bodily functions in humans; however, there is an increase in the analysis of the micro nutritional content of food in recent years as consumers are also paying greater attention to food components such as vitamins and minerals. 
An increase in the utilization of nutritional analysis by the smaller food and beverage manufacturers in developing and underdeveloped countries across the world is leading to significant growth of the market in future. Greater consumer interest in the nutritional content of their food products and increasing awareness about the benefits of fortified and nutritional food will further lead to the market's growth.