The global nutrunner market size was valued at $789.4 million in 2020, and is projected to reach $1,168.5 million by 2030, registering a CAGR of 4.1% from 2021 to 2030. Nutrunner is a power tool, which is used for tightening nuts, bolts, and screws in tight spaces. Various types of nutrunners available in the market include electric nutrunner, pneumatic nutrunner, and hydraulic nutrunner. These nutrunners are used in various applications such as industrial, construction, automotive, and manufacturing. 
The COVID 19 outbreak has affected the growth of the nutrunner industry owing to the lockdown measure in the countries and delay in production and manufacturing of nutrunner which are utilized in construction, automotive, industrial, and others sectors.
The nutrunner market has witnessed significant growth, owing to the development of the manufacturing sector around the globe. Furthermore, increase in manufacturing and sales of passenger and commercial vehicles will be a prominent factor driving the nutrunner market growth. Furthermore, the nutrunner market is expected to benefit from the growing adoption of Industry 4.0 and the demand for efficient and adaptable fastening tools. The need for effective and safe solutions in a variety of industries, including as shipbuilding, aerospace, machinery, and engineering, is projected to boost nutrunner demand during the projected period. Moreover, high initial cost of the nutrunner as well as the availability of alternative conventional nutrunner are restraining the nutrunner market growth.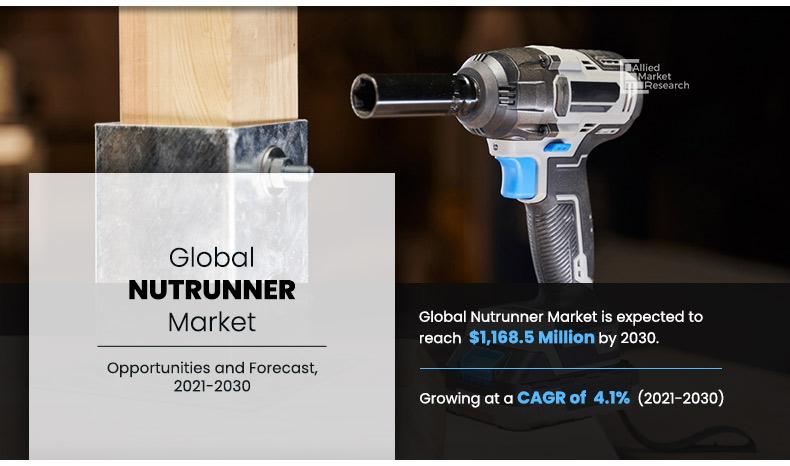 Furthermore, expansion of the automotive sector and manufacturing of automobiles have fueled the market growth. The nutrunner are used during assembly and final stage of automotive manufacturing. For instance, in 2020, the U.S. automotive sector has sold 14,471,800 million cars and light truck vehicles. Furthermore, according to first-quarter sales in 2021, the National Automobile Dealers Association (NADA) expects that new light vehicle sales will reach 16.3 million units, a 12.7% rise over 2020. Hence, increase in manufacturing of automobile will create demand for nutrunner tools and will boost the growth of nutrunner market. 
Electric Nutrunner segment is projected to grow at a highest CAGR
Furthermore, key players in nutrunner market are manufacturing advanced and lightest nutrunner to increase the production speed without hampering the efficiency of products. For instance, in June 2020, the Estic Corporation introduced its lightest 5Nm nutrunner tool, Handy 2000 Micro Series Nutrunner. This nutrunner can easily fit on robots and can be easily installed by placing tool between the metal fixtures and tightening it with bolts. Such advanced products from key players are expected to drive the nutrunner market growth forward.  
The novel coronavirus has rapidly spread across various countries and regions, causing enormous impact on lives of people and overall community. Originating as a crisis to human health, it now poses significant threat to worldwide trade, economy, and finance. Owing to the continuous lockdown in key global countries, the COVID-19 pandemic has halted production of many items in the nutrunner business. Market players can afford a complete lockdown only for a limited period, after which they would have to alter their investment plans. Furthermore, number of COVID-19 cases are expected to reduce in the near term as vaccine for COVID-19 has been introduced in the market. This is further expected to lead to re-initiation of nutrunner companies at their full-scale capacities, which would aid the nutrunner market to recover by the start of 2022. After COVID-19 infection instances start to decline, equipment and machinery producers must focus on protecting their staff, operations, and supply networks to respond to urgent emergencies and establish new methods of working.
Nutrunner Market

---
By End User Industry
Construction segment holds dominant position in 2020
The global nutrunner market is segmented on the basis of type, distribution channel, end-user industry, and region. On the basis of type, the market is segregated into electric nutrunner, pneumatic nutrunner, and hydraulic nutrunner. By distribution channel, it is categorized into in store and online. Depending on end-user industry, it is fragmented into construction, industrial, automotive, and others. Region wise, the nutrunner market analysis is conducted across North America (the U.S., Canada, and Mexico), Europe (the UK, France, Germany, Italy, and rest of Europe), Asia-Pacific (China, Japan, India, South Korea, and rest of Asia-Pacific), and LAMEA (Latin America, the Middle East, and Africa).  
Competition Analysis
Nutrunner Market

---
By Region
North America holds a dominant position in 2020 and Asia-Pacific is expected to grow at a significant rate during the forecast period.
Key Benefits For Stakeholders
The report provides an extensive analysis of the current and emerging nutrunner market trends and dynamics.  
In-depth nutrunner market analysis is conducted by constructing estimations for the key segments between 2021 and 2030. 
Extensive analysis of the nutrunner market is conducted by following key product positioning and monitoring of the top competitors within the market framework.
A comprehensive analysis of all the regions is provided to determine the prevailing opportunities.
The global nutrunner market forecast analysis from 2021 to 2030 is included in the report.
The key players operating in the nutrunner market are profiled in this report, and their strategies are analyzed thoroughly, which help understand the competitive outlook of the nutrunner industry. 
 Nutrunner Market Report Highlights
Aspects
Details
By Type

Electric Nutrunner
Pneumatic Nutrunner
Hydraulic Nutrunner

By DISTRIBUTION CHANNEL
By END USER INDUSTRY

Construction
Industrial
Automotive
Others

By Region

North America (U.S., Canada, Mexico)
Europe (Germany, France, UK, Italy, Rest of Europe)
Asia-Pacific (China, India, Japan, South Korea, Rest of Asia-Pacific)
LAMEA (Latin America, Middle East, Africa)

Key Market Players
Dai-Ichi Dentsu Ltd., Stanley Engineered Fastening, Atlas Copco AB, ITH bolting Technology, Ingersoll Rand Inc., Bosch Rexroth AG, Aimco Global, Estic Corporation, Maschinenfabrik Wagner GmbH & Co.AG, Sanyo Machine Works Ltd.