Oil & Gas Security Market Outlook: 2023
The Oil & Gas Security Market was valued at $ 23,141 million in 2016, and is projected to reach $36,012 million by 2023, growing at a CAGR of 6.7% from 2017 to 2023. The security of the operational technology (OT) such as supervisory control and data acquisition (SCADA) and distributed control system (DCS) of the infrastructure of the oil & gas industry from cyber-attacks and data theft is known as oil & gas security. The increase in cyber-attacks on the OT of oil & gas companies increases the requirement for security in the market. The protection from various cyber threats and data security breaches are the major advantages. However, huge capital cost and the constant demand for security upgrade are the disadvantages of the system.
The increased expenditure by the oil & gas companies on network & OT security and increased trend of security & vulnerability management boosts the growth of the oil & gas security market. In addition, growth in trend of bring your own device (BYOD) and political chaos in the Middle East also fuels the market growth. Increase in regulatory compliances, which challenges the technical implementation restrains the market growth. Rise in adoption of Internet of Things (IoT) and demand for security-as-a-service (SaaS) create ample opportunities in the market. Lack of awareness about oil & gas security, difficulties in implementation of cyber security for complicated OT, and the vulnerabilities associated with cloud technologies challenge the growth of the oil & gas security market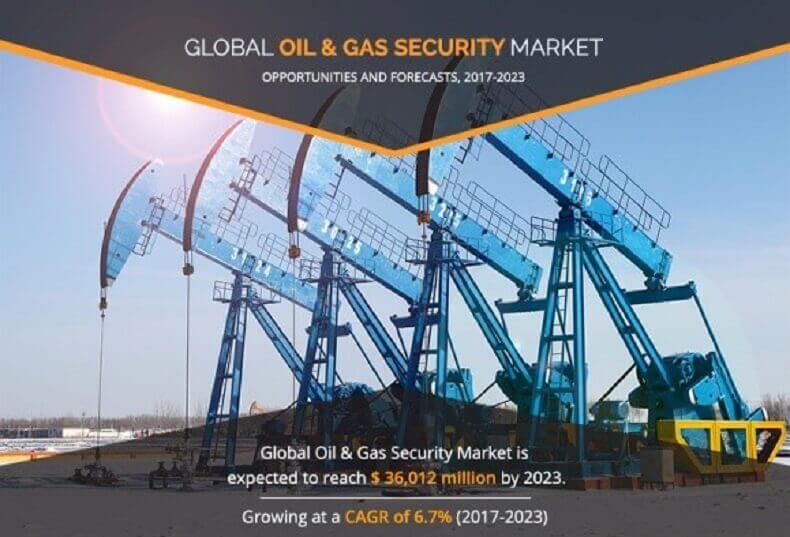 Prominent players profiled in the study are Cisco Systems, Inc., Siemens AG, Symantec Corporation, Honeywell Corporation, Inc., Corporation, Intel Corporation, General Electric, Microsoft Corporation, ABB Ltd., and Lockheed Martin Corporation. Company overview, business performance, strategic moves and developments, and other key points are provided for the aforementioned companies. These players have expanded their market presence by adopting various business strategies such as acquisition, geographical expansion, product development, strategic alliance, and collaboration.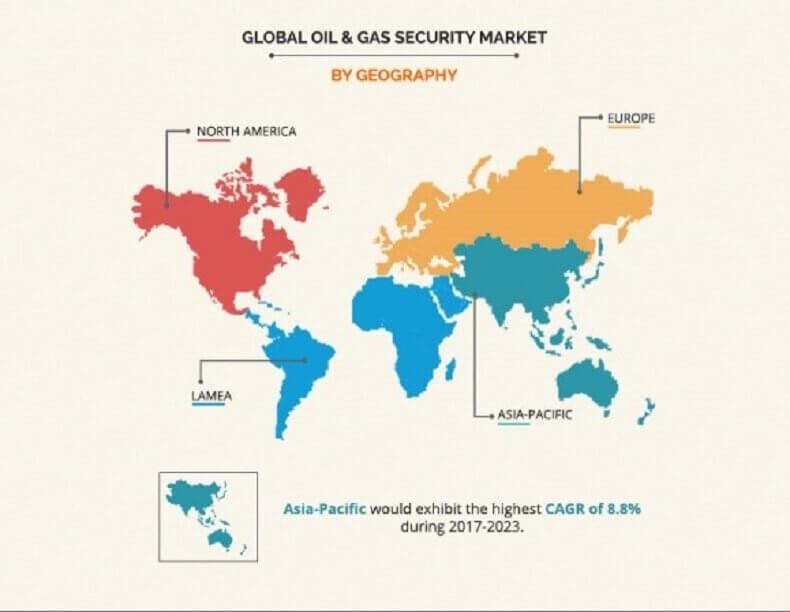 Segment Review: Oil & Gas Security Market
The global Oil & Gas Security Market is segmented based on component, security system, application, and region. Based on component, the market is bifurcated into software and services. Services segment is further studied across professional and managed services. Based on security system, the market is divided into cyber security, security services, command & control, screening & detection, surveillance, access control, and perimeter security. By application, it is segmented into exploring and drilling, transportation, pipelines, distribution and retail services, and others. Further, the oil & gas security market is analyzed across North America, Europe, Asia-Pacific, and LAMEA.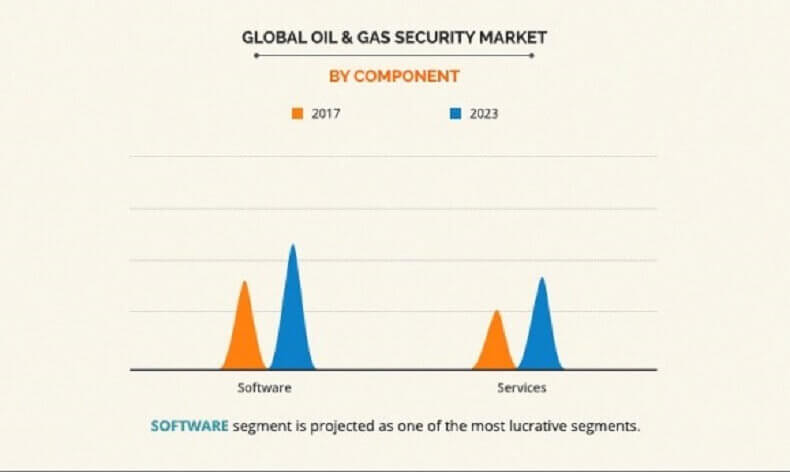 Top Winning Strategies: Oil & Gas Security Market
Top winning strategies are analyzed by performing a thorough study of the leading players in the Oil & Gas Security Market. Comprehensive analysis of recent developments and growth curves of various companies have helped understand the growth strategies adopted by them and their potential effect on the market. The companies are evaluated based on annual reports, SEC filings, and press releases. The key strategies traced from the analysis of recent developments of the key players in the oil & gas security market are as follows:
Agreement: This strategy enhances the capabilities of the market players and improves market outreach
Acquisition: This move is adopted by companies to take ownership stakes of other companies and control it. It also expands the geographical presence.
Product Launch: This includes introduction of new and unique rental plans in the market
Partnership: This strategy is adopted when two or more companies agree to cooperate to advance their mutual interests
Expansion: This strategy is adopted to enhance product portfolios, effective operations, expand geographical reach, and increase customer base
Collaboration: This strategy is adopted when companies agree to cooperate with each other for a specific purpose or achieving a common goal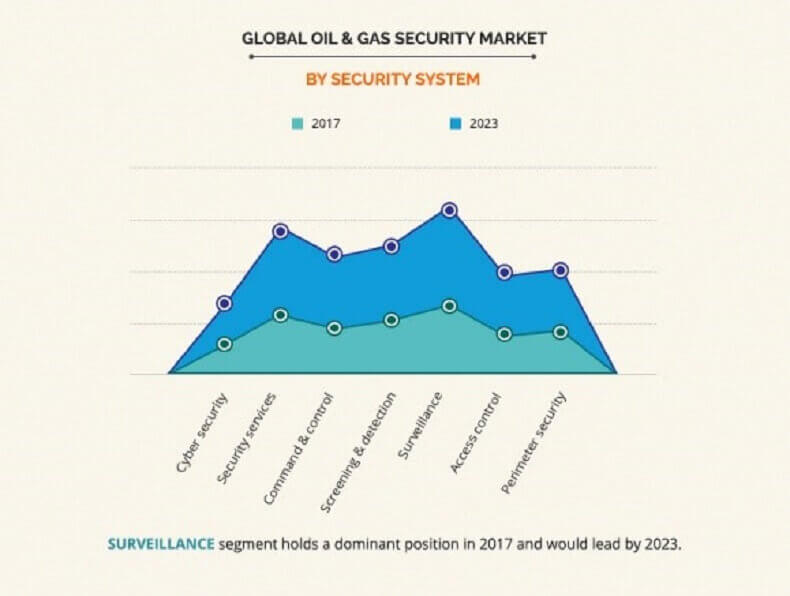 Drivers, Restraints, & Opportunities: Oil & Gas Security Market
Increase in Trend Toward Enterprise Mobility
The rise in trend toward enterprise mobility in the oil & gas sector increases the vulnerability of sensitive information and concerns of identity theft. Further, enterprises are facing huge challenges owing to the large amount of data generated on a daily basis. The need to efficiently manage critical data in the oil & gas sector encourages the enterprises to adopt effective security solutions. Further, the proliferation of mobile devices and smartphones within the oil & gas sector has increased as it helps improve operational efficiency as well as real-time decision-making capabilities. However, managing several devices in this environment is quite challenging for enterprises, and hence there is a need for an efficient security solution such as video surveillance, access control, and intrusion detection solutions.
Top Winning Strategies, by Development 2015-2017 (%)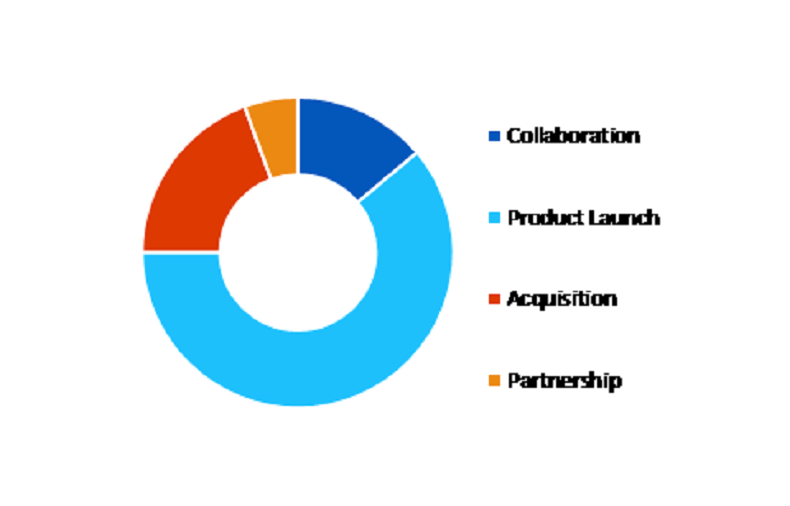 Rise in Cyber-threats in the Oil & Gas Sector
The increase in digitization in the oil & gas industry is giving rise to cyber-attacks such as denial of service, malware, and phishing. Globally, cyber-attacks in the oil & gas sector have caused massive disruptions to the entire network including upstream, midstream, and downstream processes. Further, the various types of cyber-attacks such as insider misuse, cyber espionage, web application attacks, denial of service, physical risk/loss of property, and payment card skimmers have affected the oil & gas industry Most enterprises are implementing effective security solutions such as intrusion prevention, access control, and incident response to combat them.
Security Issues Linked to Cloud Software Deployment
Most enterprises are deploying software on cloud, which poses a high risk to the data stored in the oil & gas industry. Even though the benefits of deploying the software on cloud is high, there are security issues linked to this deployment model. Cloud model is entirely dependent on the internet and therefore is prone to outages and service interruptions at any time. In a Software-as-a-Service (SaaS) model of a cloud environment, the end users use the services provided by the cloud providers without knowing accurately where the resources for such services are located.
Rise in Investments in the Oil & Gas Sector Especially in Emerging Regions
The Middle Eastern region is generously endowed with oil & gas resources. At the end of 2001, the Middle East and North Africa (MENA) region accounted for about 69 percent of 1,050 billion barrels of the established petroleum reserves. The US$25 billion Saudi Gas Initiative, which aimed to integrate upstream gas development with downstream petrochemicals and power generation is expected to raise the Middle Eastern gas output within the coming years. Shell Exploration & Production (E&P) is also serving a regional boom in upstream activity, with major ongoing projects in Saudi Arabia, Oman, Egypt, Qatar, Kuwait, Libya, and Syria.
Key Benefits for Stakeholder
In-depth analysis of the global oil & gas security market along with its dynamics is provided to understand the market scenario.
Quantitative analysis of the current trends and future estimations from 2017 to 2023 is provided to assist strategists and stakeholders to capitalize on prevailing opportunities.
Porter's Five Forces analysis examines the competitive structure of the oil & gas security industry and provides a clear understanding of the factors that influence the market entry and expansion.
A detailed analysis of the geographical segments enables identification of profitable segments for market players.
Comprehensive analysis of the trends, sub-segments, and key revenue pockets are provided in the report.
Detailed analysis of the key players and their business strategies are anticipated to assist stakeholders to take informed business decisions.
Profile analysis of leading players that operate in the oil & gas security market are provided in the report, which highlight the major developmental strategies such as mergers & acquisitions, expansions, and new product launches adopted by these companies.
 Oil & Gas Security Market Report Highlights
Aspects
Details
By Component
By Security Systems

Cyber Security
Security Services
Command Control
Screening & Detection
Surveillance
Access Control
Perimeter Security

By Application

Exploring and Drilling
Transportation
Pipelines
Distribution and Retail services
Others Application

By Geography

North America
Europe

UK
France
Germany
Russia
Rest of Europe

Asia-Pacific

China
Japan
India
Australia
Rest of Asia-Pacific

LAMEA

Brazil
Saudi Arabia
South Africa
Rest of LAMEA

Key Market Players
SIEMENS AG, PARSONS CORPORATION, GENERAL ELECTRIC, CISCO SYSTEMS, INC., HONEYWELL CORPORATION, INC., ABB LTD., INTEL CORPORATION, MICROSOFT CORPORATION, SYMANTEC CORPORATION, LOCKHEED MARTIN CORPORATION