Oncology/Cancer Drugs Market Growth Overview:
The global oncology drugs market size was valued at $135,494.17 million in 2020, and is projected to reach $274,400.63 million by 2030, registering a CAGR of 7.5% from 2021 to 2030. Cancer is the third most lethal disease in the world after cardiovascular, parasitic and infectious diseases. Chemoprevention is defined as pharmacological intervention with synthetic or naturally occurring compounds that may inhibit or prevent carcinogenesis. Cancer treatment involves surgery, radiation and drugs. The surgery is the first line of therapy that is used for early stage of cancer. Radiotherapy is most often applied in a localized setting and conjunction with surgical procedures. The last one, drugs are implemented with chemotherapy (CTX), which employs a wide group of drugs that have cytotoxic effects. Targeted therapy is a type of cancer treatment that targets the changes in cancer cells that help them grow, divide, and spread. 
Immunotherapy is a type of cancer treatment that helps the immune system to fight cancer. Hormone therapy is a treatment that slows or stops the growth of breast and prostate cancers that use hormones to grow. The anticancer drugs inhibit cell division and proliferation and are less selective toward cancer cells. Thus, these drugs not only destroy cancer cells but also destroy normal cells. Anticancer or chemotherapy drugs are chemicals that can denature cancer cells by arresting their growth. Though anticancer drugs affect division of cancer cells, normal cells are also affected in the course of the event.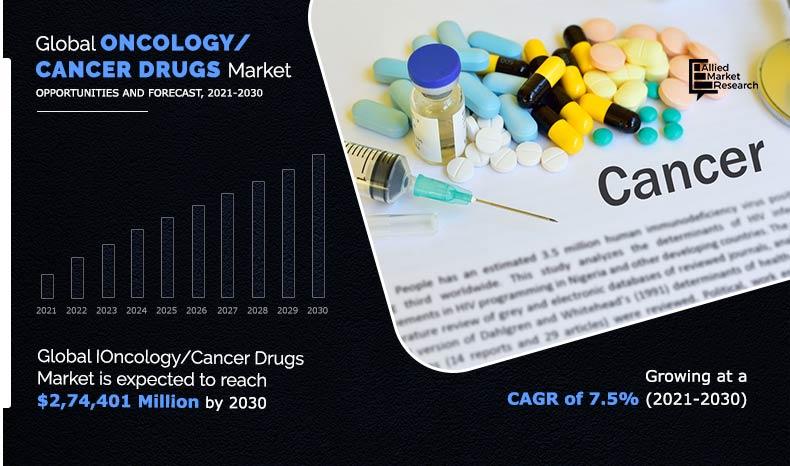 Cancer is more likely to respond to effective treatment when identified early, resulting in a greater probability of surviving as well as less morbidity and less expensive treatment.  
The growth of the oncology/cancer drugs market is driven by increase in prevalence of cancer disease and rise in incidence of various cancer conditions, increase in popularity of advance therapies (biological and targeted drug therapies), and surge in geriatric population worldwide. In addition, rise in cancer awareness, early screening of the cancer also contributes toward growth of the oncology drugs market. However, high cost involved in new drug development coupled with threat of failure & adverse effects associated with cancer drugs therapies pose to restrain the growth of the oncology/cancer drugs market. Conversely, high potential of emerging economies and higher number of potential drugs in the pipeline are expected to offer lucrative opportunities during the forecast period.  
Coronavirus (COVID-19) was discovered in late December in Hubei province of Wuhan city in China. The disease is caused by a virus, namely, severe acute respiratory syndrome coronavirus 2 (SARS-CoV-2), which is transmitted from humans to humans. Supply chains were disrupted due to restrictions on trade of pharmaceutical ingredients and products across countries. In addition, COVID 19 is an infectious disease with flu-like symptoms including fever, cough, and difficulty in breathing. In its disruption to clinical trials and drug supply to patients, the COVID-19 pandemic has impacted the most crucial areas of the oncology drugs market. Pandemic has directly affected the supply of oncology drugs to cancer patients; not only is it difficult to administer chemotherapy and certain other treatments outside of a clinic, but the spread of coronavirus has reduced patients' willingness and ability to access not just treatments, but trials for new medicines. COVID-19's interference with the research and development of new treatments is one of the most significant blows that has been dealt to the oncology drugs market. However, this situation is expected to change post COVID-19 pandemic in the coming years.
The global oncology drugs market is segmented on the basis of drug class type, indication, and region. Depending on drug class type, the market is divided into chemotherapy, targeted therapy, immunotherapy (biologic therapy), and hormonal therapy. By indication, it is categorized into lung cancer, stomach cancer, colorectal cancer, breast cancer, prostate cancer, liver cancer, esophagus cancer, cervical cancer, kidney cancer, bladder cancer, and other cancers. By region, the oncology/cancer drugs market is analyzed across North America, Europe, Asia-Pacific, and LAMEA.
Drug Class Type Segment Review
By drug class type, the oncology drugs market is segregated into chemotherapy, targeted therapy, immunotherapy (biologic therapy), and hormonal therapy. The targeted therapy generated the highest revenue in 2020. This is attributed to the benefits that targeted therapy offers like it interferes with specific proteins involved in tumorigenesis focusing on specific molecular changes which are unique to a particular cancer. Major factors that influenced the oncology/cancer drugs market growth include the fewer adverse effects of the therapy and availability of number of targeted therapeutics.
Oncology-Cancer Drugs Market

---
By Drug Class Type
Targeted Therapy segment is projected as one of the most lucrative segment.
Indication Segment Review
By indication, the breast cancer segment was the major revenue contributor in 2020, and is anticipated to continue this trend during the forecast period, due to increase in number of affected population with early screening on the disease. On the other side, lung cancer is projected to exhibit the fastest market growth during the forecast period, owing to higher incidence, increase in geriatric population, changes in lifestyle of people, and rise in smoking of tobacco that includes passive smoking, which may lead to lung cancer.
Oncology-Cancer Drugs Market

---
By Indication
Breast Cancer segment held a dominant position in 2020 and will continue to maintain the lead over the forecast period.
Region Segment Review
North America accounted for the largest share of revenue in 2020, and is anticipated to maintain its dominance from 2021 to 2030, owing to presence of large patient population, strong presence of key players, ease of drug availability, well developed healthcare infrastructure, favorable reimbursement policies in healthcare system, higher number of research, development, & innovation activities and higher adoption of advanced therapeutics. However, Asia-Pacific is expected to grow at the highest CAGR, owing to increase in number of cancer affected population and rise in awareness related to different cancers.
Oncology-Cancer Drugs Market

---
By Region
North America would exhibit the highest CAGR of 6.8% during 2020-2030.
Key Benefits for Stakeholders
This report provides a detailed quantitative analysis of the current oncology drugs market trends and forecast estimations from 2020 to 2030, which assists to identify the prevailing market opportunities. 
An in-depth market analysis includes analysis of various regions, which is anticipated to provide a detailed understanding of the current trends to enable stakeholders formulate region-specific plans.
A comprehensive analysis of factors that drive and restrain the growth of the global oncology drugs market is provided.
The projections in this report are made by analyzing the current trends and future market potential from 2020 to 2030, in terms of value.
An extensive analysis of various regions provides insights that are expected to allow companies to strategically plan their business moves.
Key market players within the market are profiled in this report and their strategies are analyzed thoroughly, which help in understanding competitive outlook of the oncology drugs market.
 Oncology-Cancer Drugs Market Report Highlights
Aspects
Details
By DRUG CLASS TYPE

Chemotherapy
Targeted Therapy
Immunotherapy (Biologic Therapy)
Hormonal Therapy

By INDICATION

Lung Cancer
Stomach Cancer
Colorectal Cancer
Breast Cancer
Prostate Cancer
Liver Cancer
Esophagus Cancer
Cervical Cancer
Kidney Cancer
Bladder Cancer
Other Cancers

By Region

North America (U.S, Canada, Mexico)
Europe (Germany, France, Uk, Italy, Spain, Rest of Europe)
Asia Pacific (Japan, China, Australia, India, South Korea, Rest of Asia Pacific)
LAMEA (Brazil, Saudi Arabia, South Africa, Rest of LAMEA)

Key Market Players
AMGEN, INC., JOHNSON & JOHNSON, BRISTOL-MYERS SQUIBB COMPANY, NOVARTIS INTERNATIONAL AG, PFIZER, INC., ASTRAZENECA PLC, ASTELLAS PHARMA INC., F. HOFFMANN-LA ROCHE AG, MERCK & CO., INC., ABBVIE INC.