Online Clothing Rental Market Overview:
Online clothing rental market size is estimated to reach $1,856 million by 2023, growing at a CAGR of 10.6% from 2017 to 2023.The rental market works to address clothing needs of the consumers who cannot afford or do not want to spend money on the clothes to be worn for one or two occasions, making it more affordable. Online clothing rental portals offer a wide range of clothes, which can be characterized based on size, color, type of outfits, brands, and prices.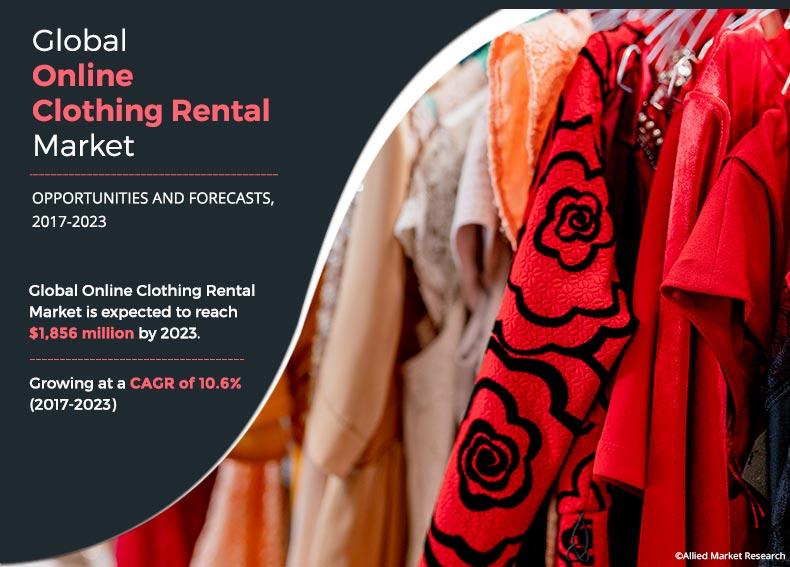 The global online clothing rental market is segmented based on end-users, clothing styles, and geography. Based on end-users, it is classified into women, men, and kids. For clothing styles, it is categorized into ethnic, western, and others. Geographically, it is analyzed into, North America (U.S., Canada, and Mexico), Europe (UK, Germany, France, and Rest of Europe), Asia-Pacific (India, China, Japan, and Rest of Asia-Pacific), and LAMEA (Latin America, Middle East, and Africa). With regards to the market competition, online renting and re-commerce companies are expanding the pre-owned product market with pioneering solutions to cater to different segments.
Market Segmentation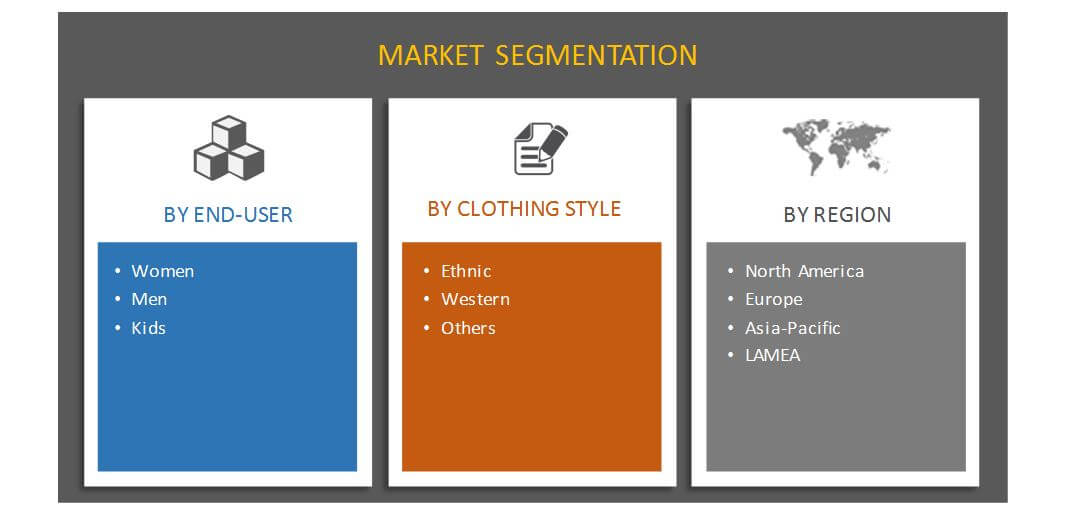 Innovations in Technology and Deeper Market Penetration
North America already has an established structure for online rentals, here the influx of startup in clothing rentals started five years back. While in Asia-Pacific, increase in internet penetration in developing countries, such as India, China, and Brazil, helps the online clothing rental market post a strong growth rate. As, broadband internet increases, so will the demand for online shopping and online rental services. Additionally, increase in use of mobile technology in these countries are further expected to boost the market.
Convenient and Value for Money
The convenient way of shopping and value for money is one of the key driver for this market. Other driver of the global online clothing rental market is the increase in ease of use of online retail. There has been major shift in social acceptance of buying and renting pre-owned products. Various online rental enterprises have initiated great efforts to enhance their market reach with the help of internet and various advertising innovations for instance rebate on overall costings for booking a month prior to its use. This has been observed to be attempts to stay competitive and increase the specialized production that leads to more online rentals.
Internet usage for shopping apparels online has become commonplace norm for many people, the added benefits of convenience, easy research ability, and price comparison tools outweigh the effort required to physically visit the traditional bricks-and-mortar store. With online rental platforms, available the consumers are expected to purchase and rent any type of clothing with less economic expenditure and long term use. The impact of social network sites, such as Facebook, Instagram, and online communities have a great impact on the expansion and growth of the market as these social network sites and online communities helps to spread the knowledge about companies and startups in online clothing rental market.
Fast Changing Online Clothing Trends and Rise in Thrifty Fashion Lovers
Rapid growth and rise in urbanization have spawned consumers with more expenditure in the market and an urge for fashion. Significant new growth opportunities for foreign and domestic players are observed, owing to high-growth and fast-changing retail and online clothing market in the Asia-Pacific region.
The online clothing rental is mainly suitable for people who dont want to purchase an expensive dress for a one-time event neither can borrow every time from a friend. Designer gown & accessory rentals that were the exclusive territory of celebrities are becoming a norm common to all. Women prefer variations in new designer brands and decide about the investment. With the usage of these online rental platforms one can now easily experiment with fashion or try a new designer brands. In addition, budget conscious end-users in the millennials age group are a great target market for the online rental industry, but another ideal customer base consists of individuals going through temporary stages of rapid size change, such as pregnant women.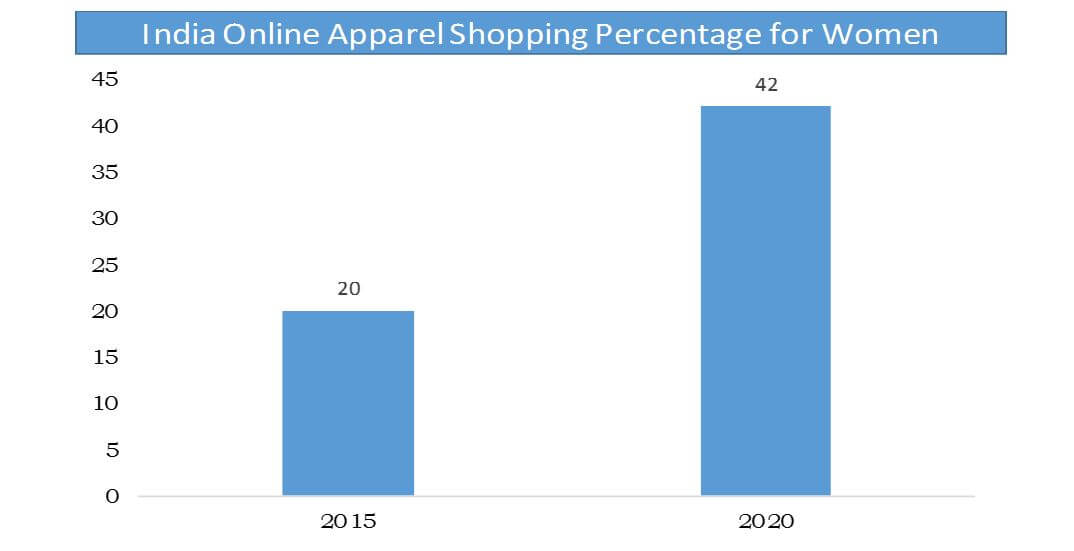 Key Benefits
A comprehensive analysis of the current trends and future estimations in the market are provided.
The report elucidates on key drivers, restraints, and opportunities and a detailed impact analysis from 2016 to 2023.
Porters Five Forces model of the industry illustrates the potency of the buyers and suppliers in the market.
A quantitative analysis of the current scenario and the forecast period highlights the financial competency of the market.
The report provides a detailed analysis of the market with respect to end-users, clothing styles, and geography.
 Online Clothing Rental Market Report Highlights
Aspects
Details
By END-USERS
By CLOTHING STYLES
By GEOGRAPHY

North America
EUROPE

UK
Germany
France
Rest of Europe

Asia-Pacific

China
China
Rest of Asia-pacific

LAMEA

Latin America
Middle East
South Africa

Key Market Players
Lending Luxury, Secret Wardrobe, Glam Corner Pty ltd, SecoHoldings Limited, Dress & Go, Le Tote, Gwynnie Bee, Rent the Runway, Chic by Choice, Share Wardrobe
Other players in the value chain include:
Girls Meet Dress (UK), Dress Hire (UK), Swapdom (U.S.), Style Lend (U.S.), Rentez-Vous (UK)