Online Coaching Market Research, 2032
The global online coaching market was valued at $3.2 billion in 2022, and is projected to reach $11.7 billion by 2032, growing at a CAGR of 14% from 2023 to 2032.
Online coaching is also known as virtual coaching or remote coaching. It is a form of coaching that takes place over the internet or through digital communication channels. It involves a coach who provides guidance, support, and expertise to individuals or groups in various areas of personal or professional development. Moreover, online coaching covers a wide range of topics and goals, such as fitness & health coaching, life coaching, business coaching, career coaching, academic coaching, and financial coaching among others. It involves virtual meetings through video calls, phone calls, or chat messaging platforms. In addition, coaches and clients connect from anywhere across the globe which makes it a convenient and accessible option for those who seek personal or professional development. Online coaching allows for flexibility in scheduling and eliminates geographical barriers which enables individuals to work with coaches who best suit the needs of consumers, regardless of physical location. 
MARKET DYNAMICS
Globally, the need for online coaching has expanded according to Online Coaching Market Forecast. The increase in the number of internet users has accelerated the demand for online coaching and thus increasing Online Coaching Market Share. Moreover, the landscape of education has been completely transformed by digitalization. As a result, the online coaching industry has grown drastically. According to research, 5.19 billion people globally used the internet in 2023, which makes up 64.5% of the global population. Local and national colleges have switched to the online education sector, along with increased online education giants and smaller nondegree providers. In addition, online coaches have made specialized training easier and there are no issues with remote users as they have access to a large number of pupils across the globe. The footfall of consumers in online segment has increased, as a result of the COVID-19 pandemic, and digital coaching allows for flexibility, convenience, and equal access to the tools and insights offered by the digital coach.  Furthermore, the long list of commitments connected with traditional one-on-one tutoring is removed due to the internet, which makes transitioning between points easier. Owing to the accessibility of internet resources, and the affordability, flexibility, and convenience of online coaching, there is a growth in Online Coaching Market Demand. 
Moreover,  students have adapted to the constant change in the company management environment by developing their own management talents. Online coaching has given students the chance to stay current with changes in business and industry that occur constantly. In addition, specialization refers to several course types that are easily accessible on one or two platforms, such as elective courses in social, business, creative, and financial education as well as health and wellness. For instance, life coaches also assist customers in achieving their professional and personal objectives, strengthening personal bonds, and enhancing their general well-being. Knowledgeable instructors assist company executives and professionals in the development of leadership, decision-making, and professional skills. Entrepreneurs and business owners improve the performance, communication, and teamwork of their organization with the aid of leadership and business coaches. Moreover, online courses provide students with a head start to gain the critical abilities required to progress in their careers or break into a new and more promising profession. Furthermore, it is now simple to transition between programs due to  convenient location of the platform. All these factors have driven the Online Coaching Market Growth. 
However, not all students and teachers have access to laptops and computers due to distance learning and a lack of adequate IT infrastructure. Although many students have access to technology, they lack the digital literacy needed to efficiently use online learning systems. Furthermore, the technology required to take part in online education, such as smartphones, computers, and frozen secure internet connections, are not available in rural and underdeveloped communities. In addition, online instruction needs a dependable and quick Internet connection, but the network infrastructure in many deserted locations is still subpar which creates issues and prevents access to online content. A proper learning environment is required at home, and a lack of privacy and a calm setting has an impact on all of the material and learning to sustain the effectiveness of the lesson. Many online courses occasionally encounter problems including device failure, software bugs, or server breakdowns. This interferes with online classes, adds stress, and eats up crucial study time, thus hampering the growth and adoption of online coaching.  
Furthermore, careful protection of the personal data of employees or students registered in the course is required when teaching online. One of the concerns of a consumer is the unauthorized access to, reuse of, or sale of personal information of a user to third parties. In addition, phishing and social engineering, theft, or misuse of personal or card information, malware, and hacker attempts are some of the most prevalent security and privacy risks. Social engineering assaults and phishing scams are two risks that harm personal information of the customer. For instance, the University of Michigan took down its network in August 2023 in response to a potential cyberattack, which had a severe negative impact on the availability of online services such as Google, Canvas, Wolverine Access, and email. It makes it necessary for platforms to offer secure passwords or sophisticated authentication methods while ensuring that users are aware of when to set a password. The concern of consumers regarding the privacy  and security have also raised the issue for secure authentication. Numerous occurrences that put users or visitors in insecure environments, including free online lessons provided by businesses that run the danger of a data breach, have occurred throughout the online coaching sector. 
A variety of methods are used in collaborative learning to encourage learning and collaboration by allowing audiences or users to support one another during the whole learning journey. It enables staff members to impart information and skills to one another while also learning from them, and it aids in understanding the group more thoroughly than the individual. Moreover, employees  grow in a variety of knowledge and skill areas. Online tutoring helps employees improve their current talents while also giving them the chance to pick up new ones from other workers. Coordinating training offers a way to improve knowledge retention since people frequently forget half of the information they learn. It enhances connection and collaboration in remote work contexts, aids in the formation of new relationships, and shows individuals how to work together effectively by utilizing their respective skills. In addition, by taking advantage of the credibility that other coaches have built in their networks, coaching networks offer the chance to win over more potential clients more quickly. A Silicon Valley-based EdTech business that produces courses and other online content that may be sold announced a strategic alliance with Microsoft and G7 CR Technologies in May 2023. Furthermore, Utobo offers businesses, educators, and course developers simple-to-use tools and resources to enable them to create profitable online coaching brands at greatly reduced operational expenses. As a result, the increase in partnerships and collaborations has opened up attractive potential for market expansion. 
The increase in the importance of diverse specialization in education and skill enhancement are some of the major factors that had a positive impact on the online coaching market. Greater efforts are taken by the younger generation who seek customized and personalized online coaching according to their tailored needs.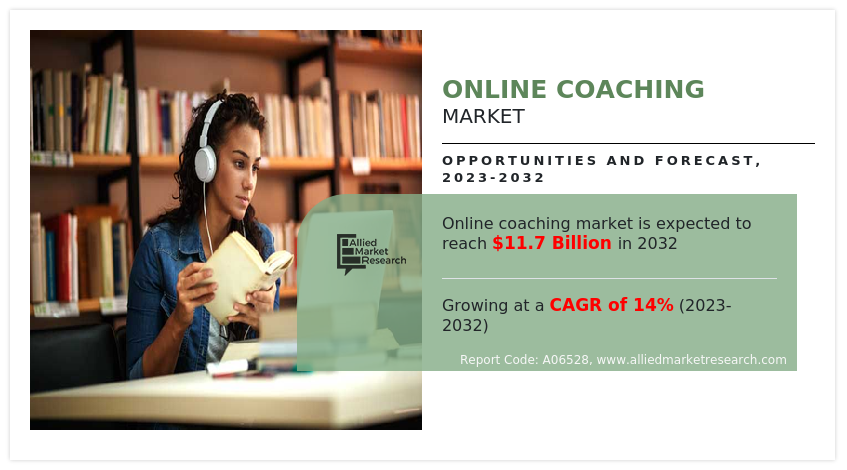 The online coaching market is segmented into Type, Age Group and Provider.
SEGMENTAL OVERVIEW
 The online coaching market is analyzed on the basis of type, age group, provider, and region. On the basis of type, it is divided into academic, corporate, and others.‐¯ On the basis of the age group, it is categorized into below 10 years, 10-17 years, 18-30 years, and above 30 years. On the basis of provider, it is divided into professor/ faculty, educational institution, freelancer, and others. On the basis of region, it is analyzed across North America, Europe, Asia-Pacific, and LAMEA.‐¯ 
BY TYPE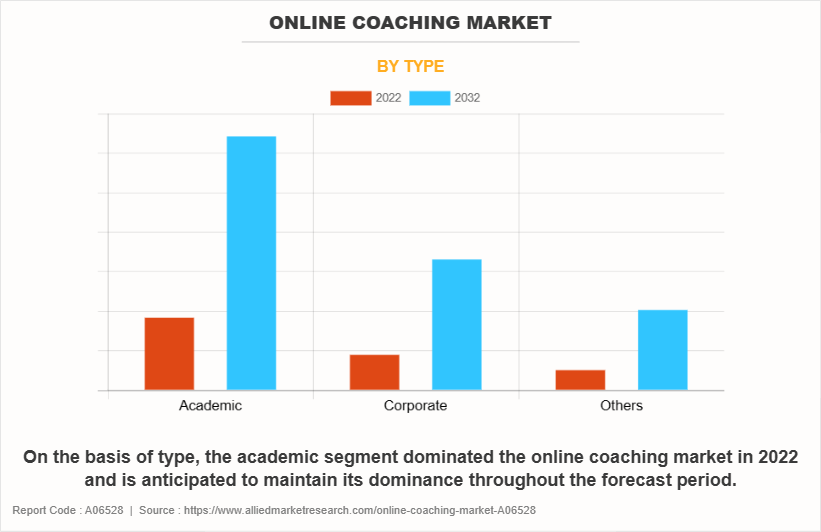 On the basis of type, the academic segment dominated the online coaching market in 2022 and is anticipated to maintain its dominance throughout the forecast period. The need for online coaching in the academic sector has grown dramatically over the past several years. The growth of the online coaching market and the opportunities it has created for market expansion are due to the fact that online coaching enables educators and institutions to access a larger and more diversified audience regardless of geographic limitations. In addition,  decline of the COVID-19 pandemic has sped up the development of online coaching, forcing many educational institutions to operate remotely. Owing to the convenience and flexibility of online coaching programs, the desire for online and remote learning has continued to increase even after the pandemic. The need for online coaching for standardized examinations such as the SAT, GRE, GMAT, and others has surged as a result of the increased hustle and competition in the academic world. 
BY AGE GROUP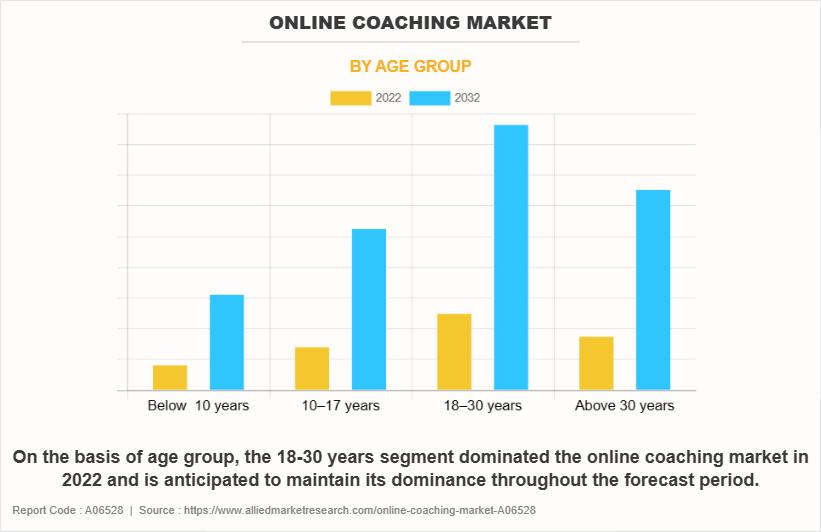 On the basis of age group, the 18-30 years segment dominated the online coaching market in 2022 and is anticipated to maintain its dominance throughout the forecast period. The pursuit of education and career goals, entrepreneurial aspirations, financial independence, and growth in awareness of mental health amidst young generation are the driving factors in the expansion of the online coaching industry for young adults (18 to 30). In addition, it offers young adults a global platform through which they access a wealth of knowledge and resources,  which fosters personal and professional development at this crucial juncture in life. Moreover, need for customized coaching has grown as a result of its ability to meet particular requirements, take advantage of digital transformation, and emphasize overall well-being. The need for online coaching programs has been further increased by partnerships with employers, data-driven coaching uptake, and collaboration with online learning platforms. Furthermore, the market offers opportunities for the various and changing demands of young adults on their path to success in their personal and professional lives. The aforementioned factors have accelerated market expansion. 
BY PROVIDER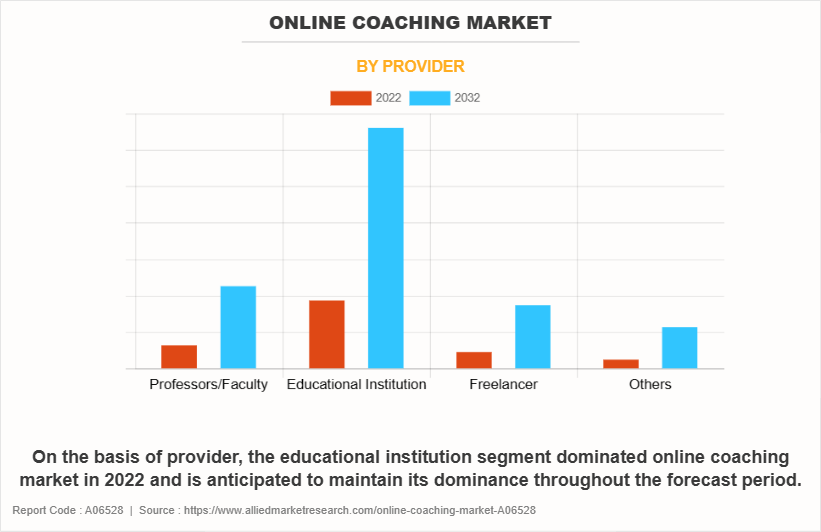 On the basis of provider, the educational institution segment dominated online coaching market in 2022 and is anticipated to maintain its dominance throughout the forecast period. The market has grown as a result of the accessibility and convenience offered by online coaching institutions to a variety of students in order to obtain education and coaching services, regardless of the geographic location. Moreover, a variety of courses and subjects are offered by online educational institutions, which further meets a wide spectrum of educational needs. As a result, the total effectiveness and legitimacy of online education are increased by educational institutions provision of online coaching. Educational institutions also create course materials, syllabi, and curriculum plans for online coaching programs, making sure the content is in line with academic standards and fulfills learning objectives of the program. Moreover, institutions develop assessment techniques and instruments to gauge student achievement. The appropriate authorities or accrediting agencies accredit or certify educational institutions. 
BY REGION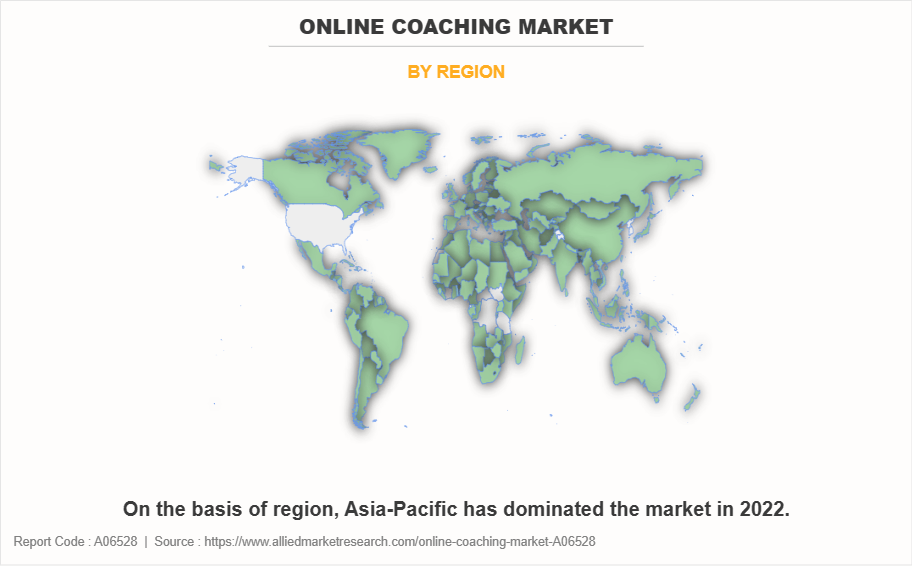 On the basis of region, Asia-Pacific  is predicted to dominate the market with the largest share during the forecast period (2023-2032). In North America, the COVID-19 pandemic has sped up the growth of online coaching. Moreover, due to the cultural diversity of Asia-Pacific  , there is a wide range of demand for coaching services, including executive coaching, wellness coaching, career coaching, and life coaching. Finding instructors with specialized knowledge in this area is made simpler by online coaching platforms and directories. In addition, a sizeable section of the population in the Asia-Pacific  is technologically educated and at ease using it for a variety of purposes. The demand for online coaching in Asia-Pacific  is influenced by this openness to use of  internet services.  
COMPETITION ANALYSIS
The major players analyzed for online coaching market include Udemy, Inc., CourseraInc., LinkedIn Corporation, Skillsoft Corporation, Skillshare, Inc., Udacity, Inc., Yanka Industries, Inc., Think and Learn Private Limited, 2U, Inc., and Khan Academy, Inc.  
The market for online coaching is anticipated to expand due to a rise in the number of internet users, surge in hybrid model of professionals, and a shift toward skill development. In addition, factors such as innovation, collaboration, product launch, partnership and expansion are opportunistic for market growth.
Key Benefits For Stakeholders
This report provides a quantitative analysis of the market segments, current trends, estimations, and dynamics of the online coaching market analysis from 2022 to 2032 to identify the prevailing online coaching market opportunities.
The market research is offered along with information related to key drivers, restraints, and opportunities.
Porter's five forces analysis highlights the potency of buyers and suppliers to enable stakeholders make profit-oriented business decisions and strengthen their supplier-buyer network.
In-depth analysis of the online coaching market segmentation assists to determine the prevailing market opportunities.
Major countries in each region are mapped according to their revenue contribution to the global market.
Market player positioning facilitates benchmarking and provides a clear understanding of the present position of the market players.
The report includes the analysis of the regional as well as global online coaching market trends, key players, market segments, application areas, and market growth strategies.
 Online Coaching Market Report Highlights
Aspects
Details
Market Size By 2032
USD 11.7 billion
Growth Rate
CAGR of 14%
Forecast period
2022 - 2032
Report Pages
290
By Type

Academic
Corporate
Others

By Age Group

Below 10 years
10–17 years
18–30 years
Above 30 years

By Provider

Professors/Faculty
Educational Institution
Freelancer
Others

By Region

North America (U.S., Canada, Mexico)
Europe (UK, Germany, France, Italy, Spain, Russia, Rest of Europe)
Asia-Pacific (China, Japan, India, Australia, Malaysia, Thailand, Indonesia, Rest of Asia-Pacific)
LAMEA (Brazil, United Arab Emirates, South Africa, Saudi Arabia, Rest of LAMEA)

Key Market Players
Think and Learn Private Limited, Skillsoft Corporation, 2U, Inc., Udacity, Inc., LinkedIn Corporation, Skillshare, Inc., Yanka Industries, Inc., Khan Academy, Inc., Udemy, Inc., Coursera, Inc.
Analyst Review
The online coaching industry is anticipated to experience considerable growth in the coming years due to the rise in demand for online education in both private and public education systems. The online coaching system has grown majorly due to the rapid growth in the adoption of portable devices that make it easy to gain knowledge and engage in social activities. Moreover, mobile devices have become popular for smart learning. However, for students, e-learning systems are more time- and money-efficient. Learners now have the convenience of education regardless of time or place owing to e-learning systems. These factors are expected to significantly drive the online coaching market growth during the forecast period. In addition, students arrange their class schedules to suit their needs and lifestyles. This factor motivates people of all ages to adopt e-learning systems. This factor offers enormous growth prospects for the key players operating in the online coaching sector. 
Europe is anticipated to grow at the fastest CAGR during the forecast period frame, followed by Asia-Pacific. The online coaching sector has expanded quickly in this region as the students mostly preferred online learning. The education sector in several countries such as China, India, Indonesia, and Malaysia have made their online coaching curriculum available online. 
?