Lottery Market Research, 2031
The global lottery market was valued at $300.6 billion in 2021, and is projected to reach $430.4 billion by 2031, growing at a CAGR of 3.8% from 2022 to 2031. A lottery is a well-liked game of chance whose winners are determined by the drawing of particular numbers. A lottery is a low-odds process or game of chance in which winners are chosen at random. Lotteries can be utilized in decision-making circumstances, such as the distribution of seats in educational institutions and the selection of sports teams.
The COVID-19 pandemic caused economic losses to people around the globe. This in turn, negatively impacted the offline lottery market, as there was significantly less demand for the lottery. Online lotteries, however, acquired substantial popularity during the pandemic as people mostly relied on online entertainment such as the online lottery.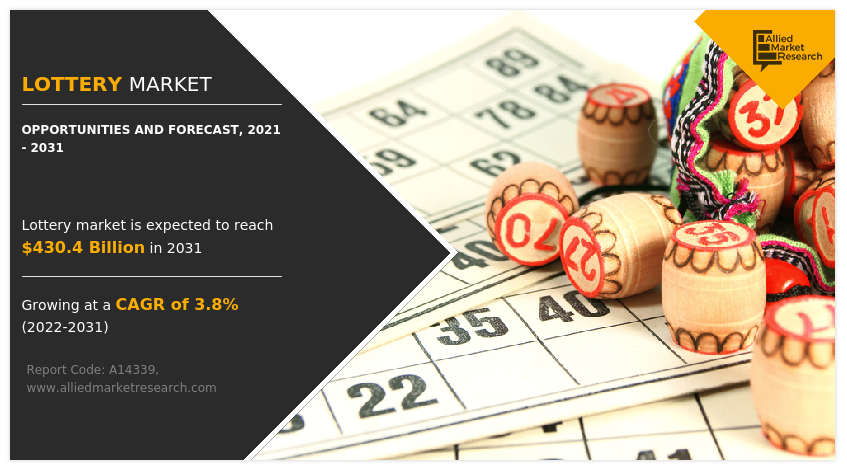 Lotteries, which are frequently run by state or central governments, are another well-liked type of gambling, encouraging people to spend a small amount of money to have a chance of winning a large reward. Some of the more well-known lotteries are financial, in which players wager a small amount of money in exchange for the opportunity to win a significant jackpot.
Technological advancements have mostly concentrated on devising new ways to boost human beings' audio visual and tactile stimulation. The digital world has invented numerous techniques for capturing and managing human emotions through the inventive use of touch, sound, and visual effects. One of the first industries to use this technology is the gaming sector. The lottery business has created experiences that thrill the senses by inventively utilizing audio-visual technologies such as touch displays, actuators, and augmented reality, among others. The lottery sector has increased its customer base by using digital tools like the internet, online games, and mobile phone technology due to how simple it is to access lottery platforms with these tools. Therefore, it is expected that the rapid development of technology, the introduction of lottery apps for smartphones, and the integration of mobile payment methods with lottery apps would all contribute to the expansion of the lottery business.
However, the government's rules and regulations regarding the online gambling are likely to restrain the market growth. Due to the rise in online gambling, the government is coming up with new laws regarding mobile-based apps, which are anticipated to restrain the market.
Adoption of advanced technologies like blockchain by the major market players in lottery sector is anticipated to drive the lottery market growth in the future. Blockchain is quickly becoming one of the key technologies affecting how we live our daily lives. It is an obscure financial technology that functions as a database made up of data structures that enables the creation of records in a secure and transparent manner as well as the decentralized verification of any form of transaction. Any completed transaction is permanently unchangeable, entirely verifiable, and transparently stored in these blocks.
The market is expected to increase significantly as a result of the many distinct and well-defined advantages that blockchain record keeping has over conventional database systems. The use of blockchain technology systems aims to eliminate the middlemen from the process by using a ring signature scheme that would enable the participants to fairly choose and to make the current system transparent by using a blockchain network.
The key players profiled in this report include INTRALOT, MDJS, Camelot Group, Florida Lottery, Francaise des Jeux, Mizuho Bank Ltd., Loterías y Apuestas del Estado, Hong Kong Jockey Club, Singapore Pools, and California Lottery.
The lottery market is segmented into Type and Application.
The lotto sub-segment held the highest market share in 2021
By type, the lotto sub-segment dominated the lottery market share in 2021. A national lottery called Lotto is accessible both within country and from other parts of the globe. It is an online lottery that provides three additional tiers of fantastic rewards, Free Bet Bonuses for matching simply the Joker Ball, and the chance to win jackpots, which is higher than several lotteries offered by numerous countries around the globe. The lotto lotteries are available on online mode and any one can buy lotto lotteries for single use, monthly or on a three-month subscription basis. These are predicted to be the major factors anticipated to boost the lottery market size during the forecast period.
Lottery Market

---
By Application
The online store sub-segment is projected to grow with the highest CAGR from 2022-2031
By application, the online lottery sub-segment is projected to observe the fastest growth in the lottery market forecast time period. A lottery is a way to raise money that entails the sale of numbered tickets and the awarding of rewards to owners of numbers drawn at random. An online lottery is a website where people can earn money. Players can play these games and earn tickets through their connection to a computer system that is connected to a telecommunications network. As demand swings away from conventional lotteries and toward online platforms, the market for online lotteries is growing at a significant rate.
The Asia-Pacific region is estimated to grow at a fastest CAGR during the forecast period
By region, North America dominated the global lottery industry in 2021 and is projected to remain the fastest-growing sub-segment during the forecast period. The greater acceptance of technology and the high levels of consumer disposable income in the area are both responsible for this expansion. Furthermore, customers are drawn to playing lottery games because of the profitable advantages associated with them, such as minimal investments and huge returns.
Impact of COVID-19 on the Global Lottery Market
COVID-19 has negatively impacted the lottery business, which has led to a drastic decline in sales. As people were suffering from economic losses around the world, there was significant reduction in the lottery demand.
Suspension of non-essential activities during the COVID-19 pandemic has put the lottery business under stress and uncertainty due to impact of COVID-19 pandemic on personal and professional lives.
Traditional lottery product sales have decreased due to government rules and regulations regarding the social distancing and closing of non-essential activities.
Key Benefits For Stakeholders
This report provides a quantitative analysis of the market segments, current trends, estimations, and dynamics of the lottery market analysis from 2021 to 2031 to identify the prevailing lottery market opportunities.
The market research is offered along with information related to key drivers, restraints, and opportunities.
Porter's five forces analysis highlights the potency of buyers and suppliers to enable stakeholders make profit-oriented business decisions and strengthen their supplier-buyer network.
In-depth analysis of the lottery market segmentation assists to determine the prevailing market opportunities.
Major countries in each region are mapped according to their revenue contribution to the global market.
Market player positioning facilitates benchmarking and provides a clear understanding of the present position of the market players.
The report includes the analysis of the regional as well as global lottery market trends, key players, market segments, application areas, and market growth strategies.
 Lottery Market Report Highlights
Aspects
Details
Market Size By 2031
USD 430.4 billion
Growth Rate
CAGR of 3.8%
Forecast period
2021 - 2031
Report Pages
283
Type

The Lotto
Quizzes Type Lottery
Numbers Game
Scratch-off Instant Games
Others

Application

Online Store
Lottery Offline Store

By Region

North America (U.S., Canada, Mexico)
Europe (United Kingdom, Germany, France, Spain, Italy, Rest of Europe)
Asia-Pacific (China, India, Japan, South Korea, Australia, Rest of Asia-Pacific)
LAMEA (Brazil, UAE, Saudi Arabia, South Africa, Rest of LAMEA)

Key Market Players
INTRALOT, MDJS, the camelot group, Florida Lottery, Francaise des Jeux, Mizuho Bank Ltd., Loterías y Apuestas del Estado, the hong kong jockey club, singapore pools, California Lottery.