Online Voting System Market Research, 2031
The global online voting system market was valued at $292.7 million in 2021, and is projected to reach $736.8 million by 2031, growing at a CAGR of 9.8% from 2022 to 2031.
The COVID-19 pandemic proved out to have an overall beneficial influence on the online voting system market, owing to its raising number of applications and increasing penetration in new sectors and markets. Furthermore, the telecom sector, in particular, played a vital role across the globe to support digital infrastructure of countries amid the COVID-19 pandemic. In addition, with the advent of the global pandemic, majority of corporations embraced work-from-home model to maintain their productivity
Online voting system is a coding platform that is used to conduct votes and elections firmly. It is a digital platform that conducts elections without using paper or a ballot. In addition, many secure choice platform vendors offer supportive vote management consulting services that facilitate organization's style and implement their choice procedures
High adoption rate of using mobile devices and enhanced voter experience with less infrastructure propels growth of the global online voting system market. In addition, ease in counting and advantages provided to physically disabled people are boosting the online voting system market size. However, lack of understanding about voting software and increase in security concerns of online voting is expected to impede the online voting system market growth. On the contrary, increase in adoption of technological advancements in the government sector, coupled with effective government policies is expected to provide lucrative opportunities for the online voting system market during the forecast period.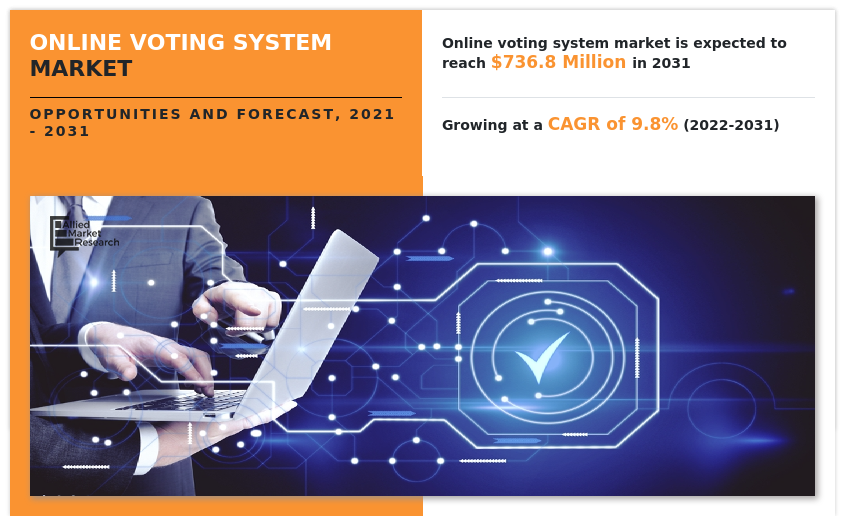 The online voting system market is segmented into Offering, Deployment Model and End-user.
The global online voting system market is segmented on the basis of component, deployment model, end user, and region. By component, it is divided into solution and service. In terms of deployment model, it is segregated into on-premise and cloud. In terms of end user, it is classified into government, universities & colleges and enterprise. By region, the market is analyzed across North America, Europe, Asia-Pacific, and LAMEA.
Major players operating in the online voting system market include Avante International Technology, Inc., Australian Electoral Commission, benel Solutions, Clear Ballot Inc, Dominion Voting Systems Corporation, ElectionBuddy Inc, ezvote, Hart InterCivic Inc, Insightrix Research Inc, POLYAS, Skypunch Technology Inc, Smartmatic, nVotes, Votebox, Votem Corp, BallotReady, and Democracy Live Inc. These players have adopted various strategies to increase their market penetration and strengthen their position in the industry.
In terms of component, the solution segment holds the highest online voting system market share as it provides high secure and trustworthy elections. However, the service segment is expected to grow at the highest rate during the forecast period. These services reduce time and costs associated with optimizing systems.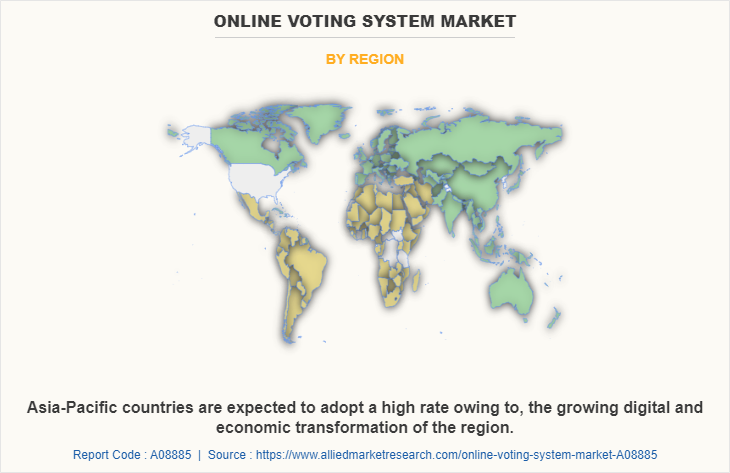 Region wise, the online voting system market was dominated by North America in 2021, and is expected to retain its position during the forecast period, owing to rise in adoption of online voting in academic, political, and corporate sectors. However, Asia-Pacific is expected to witness significant growth during the forecast period, owing to rise in trend of online voting pilot projects and demand for fair & safe counting.
COVID-19 Impact Analysis
The online voting system industry has witnessed stable growth during the COVID-19 pandemic, owing to rise in digital support, fraud detection solutions, and various other solutions. In addition, sudden onset of the COVID-19 pandemic has also encouraged adoption of an online voting system. In addition, responding to the COVID-19 crisis, many countries are considering scaling up their special voting arrangements. In addition, countries that have already adopted online voting system before COVID-19 increased their investment to provide online voting solution to more population. Furthermore, many countries have started adopting online voting as many governments had to reschedule their voting multiple times, owing to rise in number of COVID-19 cases such as the UK and France.
Top Impacting Factors
High adoption rate of using mobile devices
High adoption rate of mobile devices such as laptops, smartphone, and tablets among younger generation has gradually increased over past few years, which is making it easier to launch online solutions. In addition, consumers across the globe are adopting advanced and smart innovative technologies to upgrade lifestyle and increase productivity. Furthermore, rise in penetration of the internet around the world, along with numerous conveniences associated with the voting system, such as reduction in transport cost as well as time of voters and benefits for voters with medical conditions as they can easily vote without moving to the polling booth. For instance, in May 2022, the U.S. Election Assistance Commission (EAC) approved an Engineering Change Order (ECO) that addresses a voting machine anomaly reported to the EAC by Unisyn Voting Solutions. Moreover, continuous evolution in online voting system technology, coupled with rise in number of industrial organizations and government parties worldwide that compete for different types of polls and growing population, increasing globalization and awareness for voting systems among consumers. These are some of the additional factors anticipated to drive growth of the global online voting system industry.
Enhanced voter experience with less infrastructure
Non-requirement of physical infrastructure such as printing ballots, booths, and allocating staff reduces not only monetary investments but also dependency on manpower. The industry is expected to witness new opportunities for online voting as well as new types of alternative technologies. In addition, online voting systems include increased efficiency, improved accuracy, and greater online voter engagement compared to paper ballots. Moreover, rise in internet penetration and rapid urbanization across the globe, coupled with numerous factors accompanied with voting systems, such as easy accessibility and introduction of smart devices, propels the market growth. Furthermore, many companies are adopting technologies to increase easy and enhanced voter experience. For instance, in October 2021, IBM collaborated YMCA of metropolitan Los Angeles to empower and inform voters with new tech solutions for underrepresented communities. Therefore, companies are enabling online voting solutions to have a less physical infrastructure during the pandemic, which propels growth of the online voting system market.
Key Benefits For Stakeholders
This report provides a quantitative analysis of the Online Voting System Market Forecast, current trends, estimations, and dynamics of the online voting system market analysis from 2021 to 2031 to identify the prevailing online voting system market opportunities.
The market research is offered along with information related to key drivers, restraints, and opportunities.
Porter's five forces analysis highlights the potency of buyers and suppliers to enable stakeholders make profit-oriented business decisions and strengthen their supplier-buyer network.
In-depth analysis of the online voting system market segmentation assists to determine the prevailing market opportunities.
Major countries in each region are mapped according to their revenue contribution to the global market.
Market player positioning facilitates benchmarking and provides a clear understanding of the present position of the market players.
The report includes the analysis of the regional as well as global online voting system market trends, key players, market segments, application areas, and market growth strategies.
 Online Voting System Market Report Highlights
Aspects
Details
By Offering

Solution
Service

Service Type

Professional Service
Managed Service

By Deployment Model
By End-user

Government
Universities and Colleges
Enterprises

By Region

North America (U.S., Canada)
Europe (UK, Germany, France, Spain, Italy, Switzerland, Rest Of Europe)
Asia-Pacific (China, India, Japan, South Korea, Australia, Rest Of Asia-Pacific)
LAMEA (Latin America, Middle East, Africa)

Key Market Players
Clear Ballot Inc, BallotReady, nVotes, ezvote, Votem Corp, POLYAS, Insightrix Research Inc, Australian Electoral Commission, Hart InterCivic Inc, Dominion Voting Systems Corporation, Democracy Live Inc, Skypunch Technology Inc, benel Solutions, Avante International Technology, Inc., Votebox, ElectionBuddy Inc, Smartmatic