Operating Room Equipment Market Research, 2030
The global operating room equipment market was valued at $16.4 billion in 2020, and is projected to reach $27.4 billion by 2030, growing at a CAGR of 5.3% from 2021 to 2030.
Operating room (OR) is a facility wherein surgical interventions and procedures are performed on patients to treat various pathological and physiological conditions. The OR acts as a safe, inert, and sterile environment to perform surgeries. Therefore, it is vital that sound equipment is provided, which leads to successful surgical interventions. The operating room equipment has evolved significantly in the past decade; improved equipment such as surgical navigation systems have streamlined OR procedures. An operating room equipped with technically advanced equipment empowers surgeons and interventionalists with greater flexibility and ease of handling. ORs equipped with precise instruments and equipment ensure better patient care and enhanced operational efficiency.
The overall impact of COVID-19 remains positive on the operating room equipment market, owing to increasing in number of ventilation and operations performed in hospitals & clinics as doctors are the frontline warriors in the battle against the COVID-19. Furthermore, owing to the outbreak of COVID-19, OR equipment market experiencing a increase in demand, especially anesthesia and ventilation in the OR equipment market.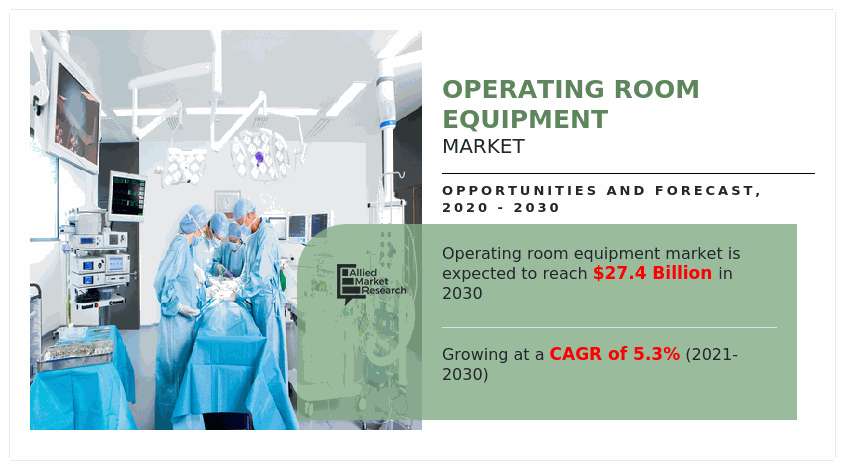 The OR equipment market is expected to exhibit significant growth during the forecast period, owing to increase in number of hospitals, rise in investment in OR equipment, and surge in global geriatric population. In addition, the key factors driving the operating room equipment market growth are regulatory approvals for different OR equipment and rise in patient preference for minimally invasive surgeries. However, in operating room equipment market size high costs associated with OR equipment and unfavorable healthcare reforms in the U.S. restrict the market growth. Conversely, untapped potential of emerging markets, such as Asia-Pacific and LAMEA, is anticipated to provide lucrative opportunities to key market players during the forecast period.
The global operating room equipment market share is segmented into product type, end user, and region. According to product type, the market is categorized into anesthesia machines, electrosurgical devices, multi-parameter patient monitors, surgical imaging devices, operating tables, operating room lights, and surgical navigation system. On the basis of end user, it is segregated into hospitals, outpatient facilities, and ambulatory surgical centers. Region wise, it is analyzed across North America, Europe, Asia-Pacific, and LAMEA.
Operating Room Equipment Market

---
By Type
Operating Tables segment held a dominant position in 2020 and would continue to maintain the lead over the forecast period.
By Product Type Segment Review
By product type, electrosurgical devices segment was the major revenue contributor in 2020, and operating room equipment market opportunity is anticipated to continue this trend during the operating room equipment market forecast period, owing due to increase in number of surgical procedures. However, the surgical imaging devices segment is projected to exhibit the fastest growth during the forecast period, owing to sheer usage of surgical imaging devices and availability in surgical settings.
Operating Room Equipment Market

---
By End User
Hospitals segment is projected as one of the most lucrative segment.
End-user Segment Review
On the basis of end user, the ambulatory surgical centers segment presently dominates the market, and is expected to remain dominant during the forecast period. This segment is expected to exhibit a prominent growth rate, owing to the fact that these centers enable a safe, cost-effective, and patient-friendly environment for the endowment of medical services such as colonoscopy and colorectal cancer screening for patients of all age groups.
Operating Room Equipment Market

---
By Region
North America was holding a dominant position in 2020 and would continue to maintain the lead over the analysis period.
Region Segment Review
Region wise in operating room equipment industry, North America dominated the market in 2020, accounting for the highest share, and is anticipated to maintain this trend throughout the forecast period. Technological advancements in OR equipment, increase in availability of OR equipment in this region, and availability of affordable medical treatments for several disease conditions are anticipated to drive the market growth.
This report provides comprehensive competitive analysis and profiles of prominent operating room equipment industry players such as key players operating in the Steris Corporation, Stryker Corporation, Koninklijke Philips N.V., Getinge Group, Hill-Rom Holdings, Inc., Drägerwerk AG & Co. KGaA, General Electric Company, Medtronic, Plc., Mizuho SOI, and Karl Storz GmbH & Co. Kg.
Key Benefits For Stakeholders
This report provides a quantitative analysis of the market segments, current trends, estimations, and dynamics of the operating room equipment market analysis from 2020 to 2030 to identify the prevailing operating room equipment market opportunities.
The market research is offered along with information related to key drivers, restraints, and opportunities.
Porter's five forces analysis highlights the potency of buyers and suppliers to enable stakeholders make profit-oriented business decisions and strengthen their supplier-buyer network.
In-depth analysis of the operating room equipment market segmentation assists to determine the prevailing market opportunities.
Major countries in each region are mapped according to their revenue contribution to the global market.
Market player positioning facilitates benchmarking and provides a clear understanding of the present position of the market players.
The report includes the analysis of the regional as well as global operating room equipment market trends, key players, market segments, application areas, and market growth strategies.
 Operating Room Equipment Market Report Highlights
Aspects
Details
By Type

Electrosurgical Devices
Multi-parameter Patient Monitors
Surgical Imaging Devices
Operating Tables
Operating Room Lights
Surgical Navigation Systems
Anesthesia Machines

BY END USER

Hospitals
Outpatient Facilities
Ambulatory Surgical Centers (ASCs)

By Region

North America (U.S., Canada, Mexico)
Europe (Rest of Europe, Germany, France, U.K., Italy, Spain)
Asia-Pacific (Japan, China, India, Australia, South Korea, Rest of Asia-Pacific)
LAMEA (Brazil, Saudi Arabia, South Africa, Rest of LAMEA)

Key Market Players
MIZUHO OSI, KONINKLIJKE PHILIPS N.V., GENERAL ELECTRIC COMPANY, KARL STORZ GMBH & CO. KG, MEDTRONIC PLC, STERIS PLC, STRYKER CORPORATION, HILL ROM HOLDING INC. (WELCH ALLYN, DRÄGER SAFETY AG & CO. KGAA, GETINGE GROUP