Optical Ceramics Market Outlook - 2021–2030
The global optical ceramics market was valued at $189.3 million in 2020, and is projected to reach $603.4 million by 2030, growing at a CAGR of 12.4% from 2021 to 2030.
The COVID-19 outbreak has impacted negatively on the global optical ceramics market. This is attributed to temporary shutdown of manufacturing and import & export activities across the globe which further disrupted the supply chain of optical ceramics market.
One of the varieties of transparent ceramics is optical ceramics. They are polycrystalline transparent materials that can be used instead of single crystal scintillators. Polycrystalline materials are solids made up of a collection of crystallites (grains) separated by grain borders, which are areas of relative disorder. Optical ceramics are high-tech industrial materials designed for use in optical applications. The ability to produce competitively priced and large-sized materials for large-area detection is a benefit of optical ceramics.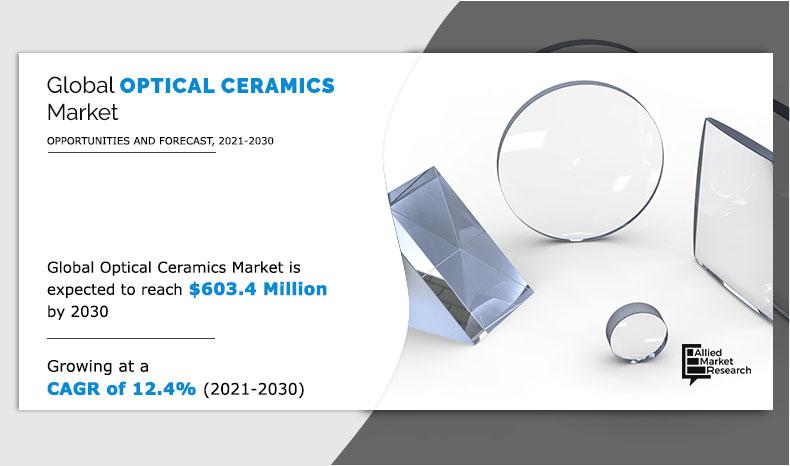 Optical ceramics are used in a wide range of industries, including aerospace and optoelectronics. Technological improvements and inventions in the military & security industry, such as body armors and helmets, as well as vehicles and aircrafts, have been key market drivers. Continuous research and development in this discipline has resulted in improved efficiencies by broadening the spectrum of applications and developing new products. One of the driving forces has been on the rise, owing to use of optical ceramics in the aerospace, defense, and security industries. However, the high cost of optical ceramics is projected to hinder growth of the market during the forecast period. Increase in demand in the medical sector is expected to act as an opportunity in the future.
The global optical ceramics market is segmented into material, end use, and region. By material, the market is segregated into sapphire, aluminum oxynitride, spinel, yttrium aluminum garnet, and others. On the basis of end use, it is fragmented into optics & optoelectronics, aerospace & defense, and security, energy, and others. Region wise, the market is analyzed across North America, Europe, Asia-Pacific, and LAMEA.
The key players profiled in this report include American Elements, CeraNova, CeramTec, CoorsTek, Konoshima Chemicals, Kyocera, Saint- Gobain, Schott AG, Surmet Corporation, and II-VI Aerospace & Defense. The global optical ceramics market report provides in-depth competitive analysis as well as profiles of these major players.
Global optical ceramics market, by material
By type, the sapphire segment accounted for around 27.4% of the optical ceramics market share in 2020. Optical ceramics made from sapphire are optically transparent from near-ultraviolet through mid-wave infrared frequencies with mid-IR transmittance comparable to that of Sapphire itself. The continuous research and development in this field has led to achieving better efficiencies.
Optical Ceramics Market

---
By Materials
Sapphire is projected as the most lucrative segment.
Global optical ceramics market, by end-use
On the basis of application, the optics & optoelectronics segment is projected to grow at the highest rate during the optical ceramics market forecast period, owing to increase in aerospace, the defense & security application segment is likely to hold tremendous opportunities for the growth.
Optical Ceramics Market

---
By End-use
Optics & Optoelectronics is projected as the most lucrative segment.
Optical ceramics market, by region 
Region wise, Asia-Pacific is expected to have the highest growth during the forecast period, owing to growth in the optics and optoelectronics industry in emerging economies. Asia-Pacific is expected to register the highest CAGR of 13.7%.
Optical Ceramics Market

---
By Region
Asia-Pacific holds a dominant position in 2020 and would continue to maintain the lead over the forecast period.
Key Benefits For Stakeholders
Porter's five forces analysis helps to analyze the potential of buyers & suppliers and the competitive scenario of the industry for strategy building.
It outlines the current trends and future estimations from 2020 to 2030 to understand the prevailing opportunities and potential investment pockets.
The major countries in the region have been mapped according to their individual revenue contribution to the regional market.
The key drivers, restraints, & optical ceramics market opportunities and their detailed impact analysis are explained in the study.
The profiles of key players and their key strategic developments are enlisted in the report.
Impact of COVID-19 on the global optical ceramics market
The outbreak of COVID-19 pandemic had led to partial or complete shutdown of production facilities, which do not come under essential goods, owing to prolonged lockdown in major countries such as the U.S., China, Japan, India, and Germany. It has led to either closure or suspension of their production activities in most of the industrial units across the world. Construction & infrastructure is one of the most affected sectors, owing to lockdown announced in several countries. Lockdown has affected several construction and infrastructure projects due to supply chain disruptions and unavailability of workers.
Since the advent of the pandemic, the optics & optoelectronics, aerospace & defense and security, and energy sectors witnessed a severe decline. As a result, demand for optical ceramics in the construction sector is decreasing, thereby affecting the optical ceramics market growth.
 Optical Ceramics Market Report Highlights
Aspects
Details
By Material

Sapphire
Aluminum Oxynitride
Spinel
Yttrium Aluminum Garnet
Others

By End-Use

Optics & optoelectronics
Aerospace & defense and security
Energy
Others

By Region

North America (U.S, Canada, Mexico)
Europe (Germany, UK, Spain, Italy, France, Rest of Europe)
Asia-Pacific (India, China, Japan, South Korea, Australia, Rest of Asia-Pacific)
LAMEA (Brazil, Saudi Arabia, South Africa, Rest of LAMEA)

Key Market Players
Surmet Corporation, Konoshima Chemicals, CoorsTek, II-VI Aerospace & Defense, Kyocera, Schott AG, CeraNova, CeramTec, Saint- Gobain, American Elements