Optical Detector Market Research, 2030
The global optical detector market was valued at $3.6 billion in 2021, and is projected to reach $9.8 billion by 2030, growing at a CAGR of 11.82% from 2022 to 2030.
The COVID-19 pandemic has negatively impacted the growth photoelectric sensor market which comprises optical detectors. Several manufacturing plants, including those in the packaging, automotive, and logistics industries, went out of business during the pandemic.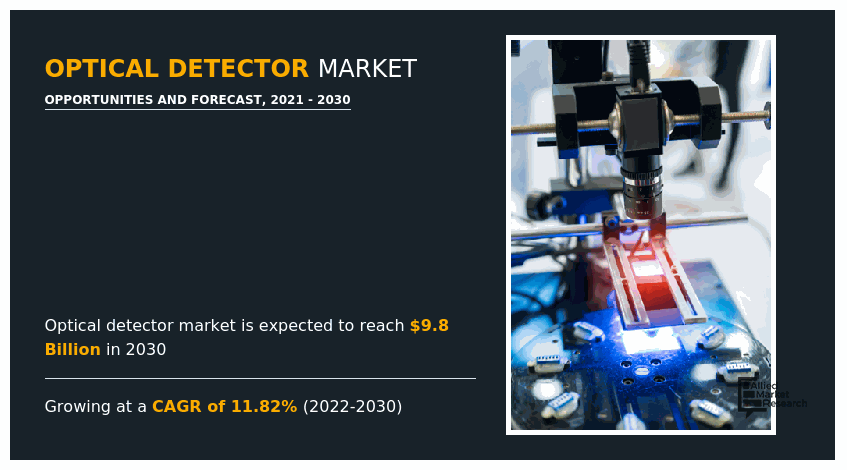 The optical detector market is segmented into Type, Sensor Type and End-use.
Optical detectors function as transducers by converting the physical quantity light to electric signals that instruments can interpret, measure, analyse, and manipulate. They are specifically designed to detect changes in light wavelength. The optical sensor, which is linked to a sensor, responds to changes in the light within the sensor and displays the result. Basic optical sensors include photoconductive, photodiodes, photovoltaic, and phototransistors.
The increasing use of photodetectors in various sectors is expected to drive optical detector optical detector market size during the forecast period. Currently, the demand for sensors that provide precise output is increasing across industries. These sensors should be able to detect objects of various sizes and materials. They must have a long sensing range, be cost-effective, and last a long time. Demand for these photoelectric sensors is increasing as manufacturers strive to increase production efficiency without sacrificing product quality. A flaw in the manufacturing process can result in massive losses. As a result, manufacturers are incorporating photoelectric sensors into their production or assembly lines.
Various industrial sectors, including aerospace and defense, healthcare, and others, require sensing devices that can withstand harsh environments while also providing high accuracy. All of these features are provided by optical sensors, resulting in exponential optical detector market share during the forecast period. They improve lighting and heating systems while also lowering costs.
The global optical detector industry is segmented on the basis of type, sensor type, end-use and region. By type, the market has been divided into extrinsic and intrinsic. By sensor type, the analysis has been divided into fiber optic sensor, image sensor, photoelectric sensor, ambient light & proximity sensor. By end-use the market is further divided into automotive, medical, consumer electronics, industrial, and others. By region, the market is analyzed across North America, Europe, Asia-Pacific, and LAMEA.   
The key players profiled in this report include ams AG., ROHM Semiconductor, Hamamatsu Photonics K.K., Analog Devices Inc., STMicroelectronics, Vishay Intertechnology, Inc., Excelitas Technologies Corp., Leuze electronic GmbH + Co. KG, Semiconductor Types Industries, LLC., and Fotech Extrinsics Limited.
Optical Detector Market

---
By Type
Extrinsic is the most lucrative segment
By type, the market has been divided into extrinsic and intrinsic. Extrinsic sub-segment accounted for the highest revenue share in 2021. Optical health sensor ICs for body-wearable applications measure health and wellness with full biosensing solutions for continuous heart-rate tracking, heart variability, and oxygen saturation. The extrinsic optical sensor sub-segment is the most popular because it has more industrial applications which is projected to boost the optical detector market growth in the upcoming years.
Optical Detector Market

---
By Sensor Type
Fiber optic sensor is fastest growing segment
By sensor type, the image sensor sub-segment accounted for the highest revenue share in 2021. The increasing number of cameras used in mobile devices such as smartphones and tablets is one of the primary factors driving image sensor growth. Increased adoption of cameras in artificial intelligence (AI), augmented reality (AR), and virtual reality (VR) applications, as well as autonomous automobiles, is likely to open up new revenue streams for image sensor manufacturers as camera features and image quality become more important in smartphones. The growing popularity of optical photodetector and optical sensor detector across electronics and semiconductors is anticipated to boost the optical detector market demand.
Optical Detector Market

---

By End-use
Medical is fastest growing segment
By end-use, the consumer electronics sub-segment is anticipated to have a dominant share during the forecast period. The increasing use of photo detectors in various sectors is expected to drive the market during the forecast period. According to the Consumer Technology Association (CTA), consumer enthusiasm for technology items is expected to grow in the coming year, with 39 percent of U.S. households saying they are more inclined to buy digital products as a result of the epidemic, in June 2021. The growing use of LED street lighting and the increasing adoption of smart devices across the country are becoming more common.
Optical Detector Market

---

By Region
Asia-Pacific is the most lucrative region
By region, North America dominated the global optical detector market in 2021 and is forecasted to remain the dominant region during the forecast period. To meet the growing demand for light management extrinsics, many North American companies are already innovating products and developing futuristic sensors. Analog Devices, for example, purchased Maxim Integrated Devices in August 2021. Maxim stockholders received 0.63 percent of a share of ADI common stock for each share of Maxim common stock, according to the terms of the definitive agreement. Maxim's common stock will no longer be traded on the NASDAQ. One of the major factors for the market to become dominant among all regions is the increasing number of partnerships and acquisitions in this region among the major players.
IMPACT OF COVID-19 ON THE GLOBAL OPTICAL DETECTOR MARKET
The pandemic of COVID-19 has had a significant impact on the semiconductor industry, limiting demand for optical sensors. Global semiconductor sales fell by 3.6 percent in the first quarter of 2020, according to the Semiconductor Industry Association, due to major disruptions in international supply-chain activities caused by the COVID-19 pandemic.
Furthermore, as a result of the lockdown scenario imposed by various governments, several major automotive and consumer electronics OEMs have ceased manufacturing operations, resulting in a decline in optical sensor sales.
Automotive and transportation are also significant end-use industries for industrial sensors. Many countries, including the United States, China, Japan, and South Korea, have halted automotive production as a result of the COVID-19 epidemic.
This is expected to reduce optical sensor demand and have a significant impact on optical detector market forecast.
Key Benefits For Stakeholders
This report provides a quantitative analysis of the optical detector market outlook, segments, current trends, estimations, and dynamics of the optical detector market analysis from 2021 to 2030 to identify the prevailing optical detector market opportunities.
The market research is offered along with information related to key drivers, restraints, and opportunities.
Porter's five forces analysis highlights the potency of buyers and suppliers to enable stakeholders make profit-oriented business decisions and strengthen their supplier-buyer network.
In-depth analysis of the optical detector market segmentation assists to determine the prevailing market opportunities.
Major countries in each region are mapped according to their revenue contribution to the global market.
Market player positioning facilitates benchmarking and provides a clear understanding of the present position of the market players.
The report includes the analysis of the regional as well as global optical detector market trends, key players, market segments, application areas, and optical detector market opportunity.
 Optical Detector Market Report Highlights
Aspects
Details
By Type
By Sensor Type

Fiber Optic Sensor
Image sensor
Photoelectric Sensor
Ambient Light and Proximity Sensor

By End-use

Automotive
Medical
Consumer Electronics
Industrial
Others

By Region

North America (U.S., Canada, Mexico)
Europe (U.K., Germany, France, Spain, Italy, Rest of Europe)
Asia-Pacific (China, Japan, India, South Korea, Australia, Rest Of Asia Pacific)
LAMEA (Brazil, Saudi Arabia, UAE, South Africa, Rest of LAMEA)

Key Market Players
ams-OSRAM AG, rohm semiconductor, Hamamatsu Photonics K.K., Analog Devices Inc., STMicroelectronics, Vishay Intertechnology, Inc., Excelitas Technologies Corp., leuze electronic gmbh + co. kg, Semiconductor Types Industries, LLC., Fotech Extrinsics Limited