Global optical imaging market was valued at $1,386.8 million in 2020, and is projected to reach $3,865.7 million by 2030 registering a CAGR of 10.8% from 2021 to 2030. Optical imaging is the technique for taking images of the internal body parts non-invasively. Visible light and photons are used to take the detailed image of internal organs and tissues. It further captures images of smaller structures includes cells and molecules. These images are used by doctors for diagnosis and treatment of diseases and by scientists for different research work.
The growth of the global optical imaging market is majorly driven by rise in government initiatives to control visual impairment and surge in geriatric population, which is more prone to wide array of diseases such as neurology disorders, ophthalmic conditions, and cardiovascular conditions. In addition, surge in prevalence of eye disorders such as glaucoma and cataract boost the growth of the market. However, lack of access to optical imaging in underdeveloped countries and decrease in demand of optical imaging product, owing to COVID-19 outbreak hamper the growth of market. On the contrary, developing nations show a potential of high growth during forecast period, owing to surge in investments related to healthcare infrastructure and rise in awareness related to optical imaging, which is expected to create opportunity for manufacturers to capitalize in the market.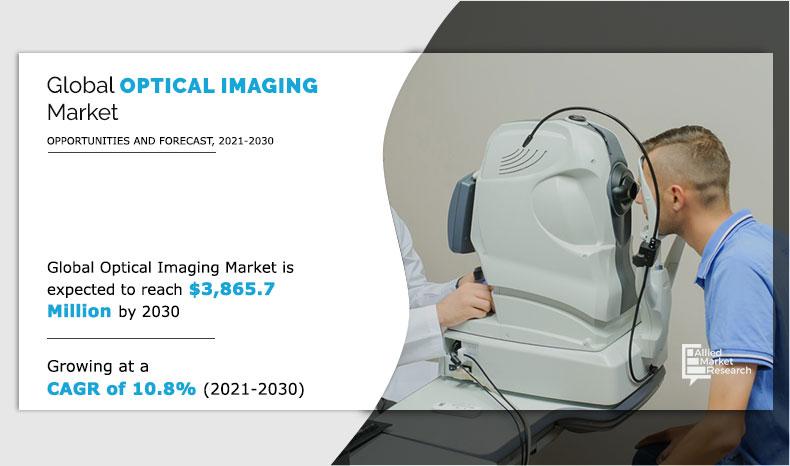 The COVID-19 pandemic surged the need for social distancing among physicians & other healthcare professionals. Owing to COVID-19, many imaging & diagnostic departments have faced a rapid decrease in optical imaging case volumes. The decrease in optical imaging case has significant implications on the short-term & long-term economic stability for all practice settings. For instance, according to a study provided by the Journal of the American College of Radiology (JACR), nearly 28% decrease in the total imaging volume was observed over a seven week-period during this global health crisis, compared to 2019, including all patient service locations & imaging modality types. The impact the pandemic on the optical imaging market is still seen in 2021 as hospitals & imaging facilities strive to manage under the situations of the world slowly reopening post isolation of almost a year. In addition, nonessential imaging procedures were postponed till further notice in almost all countries. Moreover, the key vendors in this market such as Abbott Laboratories, Canon, Koninklijke Philips, Carl Zeiss, and PerkinElmer, Inc. faced severe issues due to mismanagement in the supply chain of their solutions. Thus, decrease in demand for these optical imaging services due to the COVID-19 pandemic negatively impacted the growth of optical imaging market. 
Optical Imaging Market Segmentation  
The optical imaging market is segmented into product type, therapeutic area, end user, and region. On the basis of product type, the market is divided into imaging systems, illumination systems, camera, software, and lenses. The imaging systems segment is further bifurcated into optical imaging systems and spectral imaging systems. By therapeutic area, the market is segregated into ophthalmology, oncology, cardiology, neurology, others. Depending on end user, it is fragmented into hospitals & clinics, research laboratories and pharmaceuticals & biotechnology companies. Region wise, the market is analyzed across North America (U.S., Canada, and Mexico) Europe (Germany, France, UK, Italy, Spain, and rest of Europe), Asia-Pacific (China, Japan, India, Australia, South Korea, and rest of Asia Pacific), and LAMEA (Brazil, Saudi Arabia, South Africa, and rest of LAMEA.
Segment Review
By product type, the imaging systems segment dominated the global market in 2020, and is anticipated to continue this trend during the forecast period. This is attributed to increase in demand of imaging system, owing to benefits of imaging systems provide over other imaging modalities such as noninvasive nature of optical imaging systems. Furthermore, optical imaging systems significantly reduces patient exposure to harmful radiation. In addition, other factors such as key players are focusing on developing advanced portable devices, which are easier to handle and can be used in various clinical settings. Hence, availability of advanced imaging systems is expected to surge their demand, thereby driving the growth of the market. 
On the basis of therapeutic area, the ophthalmology segment exhibited the highest growth in 2020, and is expected to remain dominant throughout the forecast period. This is attributed to extensive application of optical imaging in field of ophthalmology and increase in prevalence of ophthalmic conditions such as macular degeneration and glaucoma, which require the use of optical imaging.
Optical Imaging Market

---
By Product
Imaging Systems segment holds a dominant position in 2020 and would continue to maintain the lead over the forecast period.
Depending on end user, the hospitals & clinics segment acquired the largest share in 2020, and is expected to continue this trend throughout the forecast period. This is attributed to increase in adoption of optical imaging services by hospitals & clinics as they help in diagnosis of various disease conditions. 
Region wise, North America acquired a major share, owing to the presence of major key players in the region, which leads to easy availability of optical imaging systems, thereby driving the growth of the market.
Optical Imaging Market

---
By End User
Hospitals and Clinics segment is projected as one of the most lucrative segment.
Snapshot of the Asia-Pacific Optical Imaging Market  
Asia-Pacific is expected to exhibit the highest growth during the forecast period, owing to number of initiatives and enhanced investments from governments for the overall research and development of advanced optical imaging systems. In addition, rise in applications of optical imaging techniques in drug discovery processes & preclinical research and increase in need of optical imaging to minimize the use of radiation technologies strengthen the growth of the market.
Optical Imaging Market

---
By Region
North America is expected to experience growth at the highest rate, registering a CAGR of 9.80 % during the forecast period.
Key Benefits For Stakeholders
The study provides an in-depth analysis of the global optical imaging market along with the current trends and future estimations to explain the imminent investment pockets.
A comprehensive analysis of the factors that drive and restrict the market growth is provided in the report.
Comprehensive quantitative analysis of the industry from 2020 to 2030 is provided to enable the stakeholders to capitalize on the prevailing market opportunities.
Extensive analysis of the key segments of the industry helps to understand the application and services of optical imaging used across the globe.
Key market players and their strategies have been analyzed to understand the competitive outlook of the market.
 Optical Imaging Market Report Highlights
Aspects
Details
BY PRODUCT TYPE

Imaging systems

Optical imaging systems
Spectral imaging systems

Software
Lenses
Camera
Illumination systems

BY THERAPEUTIC AREA

Ophthalmology
Oncology
Cardiology
Neurology
Others

BY END USER

Hospitals & clinics
Research Laboratories
Pharmaceuticals & Biotechnology companies

BY REGION

North America (U.S, Canada, Mexico)
Europe (Germany, France, UK, Italy, Spain, Rest of Europe)
Asia-Pacific (Japan, China, Australia, India, South Korea, Rest of Asia-Pacific)
LAMEA (Brazil, Saudi Arabia, South Africa, Rest of LAMEA)

Key Market Players
ABBOTT LABORATORIES, CANON INC., CARL ZEISS FOUNDATION (CARL ZEISS MEDITEC AG), CYLITE PTY LTD., DANAHER CORPORATION (LEICA MICROSYSTEMS GMBH), HEIDELBERG ENGINEERING GMBH (HEIDELBERG ENGINEERING INC.), KONINKLIJKE PHILIPS N.V, MICHELSON DIAGNOSTICS LTD., OPTOVUE, LTD., TOPCON CORPORATION (TOPCON HEALTHCARE)