Organic Dinnerware Market Research, 2030
The global organic dinnerware market was valued at $1.2 billion in 2021, and is projected to reach $2.0 billion by 2030, growing at a CAGR of 5.84% from 2022 to 2030.
The organic dinnerware market has been affected by the pandemic in terms of demand, production, and supply chain & market disruption.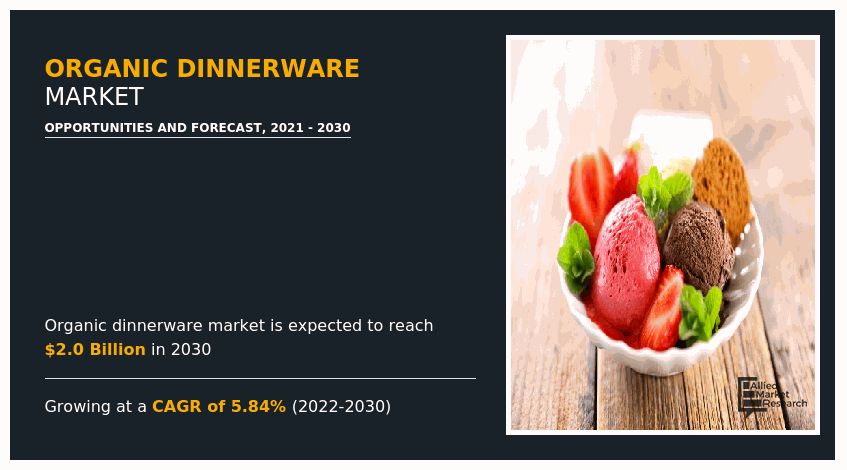 The organic dinnerware market is segmented into Type and Distribution Channel.
Natural, eco-friendly, or sustainable materials such as porcelain, clay, stoneware, and earthenware are used in organic dinnerware. Dinnerware of this sort is commonly found in hotels, houses, and restaurants. Plates, bowls, cup sets, spoons, trays, and other organic dinnerware are available. Furthermore, organic tableware is simple to keep because it is easy to clean, inexpensive, and durable. One of the variables that may boost the global market for organic dinnerware is the increasing acceptance of eco-friendly merchandise around the world.  Strategic alliances among market players, along with growing preferences towards eco-friendly products in dinnerware, is expected to accelerate the organic dinnerware market size in the upcoming years.
The emergence of the organic dinnerware has already compelled market participants to devise new strategies for attracting customers. For example, West Elm, a global design company based in the United States, announced in May 2021 that they are collaborating with Heather Taylor, a Los Angeles-based designer. The main goal of this collaboration is to offer 100 one-of-a-kind products, including dinnerware that is either original or has a modern twist. These types of initiatives from market leaders are also expected to drive the organic dinnerware market share in the analysis timeframe. Organic dinnerware is gaining significant popularity as most of the dinnerware available in the market today are made of plastics. The plastic dinnerware is manufactured from fossil fuel which is not an eco-friendly material. This leads to waste disposal issues as the plastic waste end-up in landfill causing pollution. These factors are anticipated to have a positive impact on the market share in the upcoming years. Some of the major benefits of organic dinnerware is that it produces low-waste products with either zero waste solutions or significantly less waste than other alternatives. In addition, these products are biodegradable so that you an easily compost them and they do not lead to pollution.   
The global organic dinnerware industry is segmented on the basis of type and distribution channel. By type the market is classified into plates, bowls, cup sets, and others and by distribution channel segment it is further divided into home and commercial. By region, the market is analyzed across North America, Europe, Asia-Pacific, and LAMEA.
The key players profiled in this report include Hermes, Royal Doulton, Wedgwood, Guy Degrenne, Corelle, EKOBO, Royal Worcester, Lenox, Herend, and Meissen.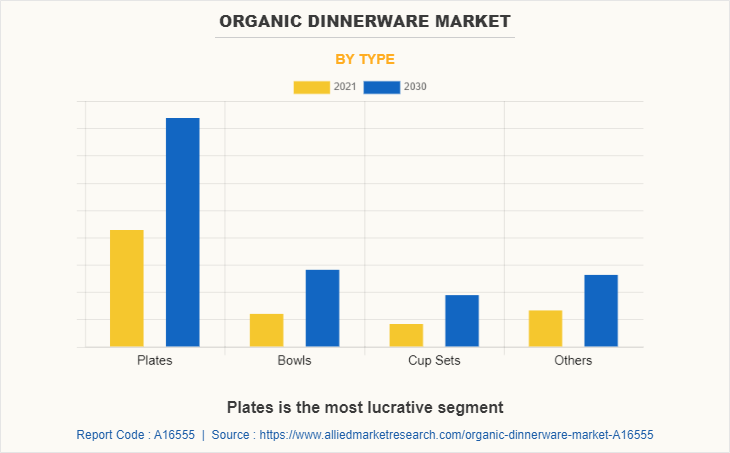 By type, the plates sub-segment dominated the market in 2021, and it is projected to remain the dominant and fastest-growing sub-segment during the forecast period. Organic dinnerware plates are gaining popularity among the restaurants and hotels due to increasing trends of organic plates and bowls that are chemical free, eco-friendly, and are made with natural elements. Moreover, the growing audience that are adopting organic foods are mainly demanding for plates that are organic too. Furthermore, key players operating in the market are adopting strategic collaborations to offer best type of organic plates and bowls to attract customers.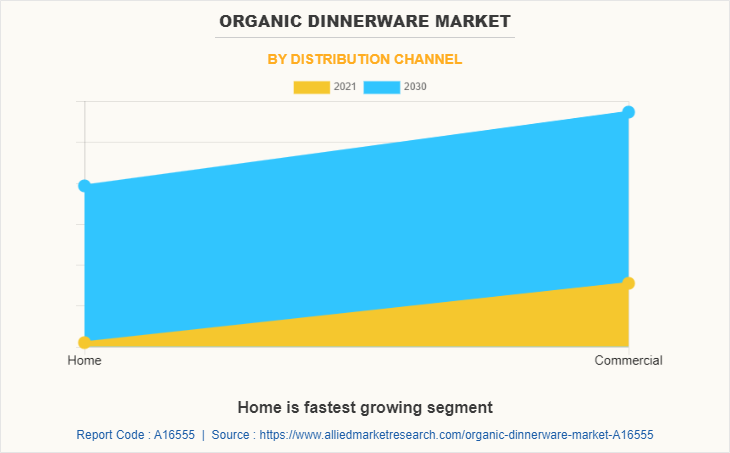 By distribution channel, the commercial sub-segment dominated the global market in 2021 and is projected to remain the fastest-growing segment during the forecast period. This is attributed to expanding commercial sectors, particularly the hospitality industry. Growing demand for organic dinnerware in hotels and restaurants is also contributing to the market's growth. Furthermore, as the number of startups such as Fabhotels and OYO rooms has grown in recent years, so has the use of organic dinnerware.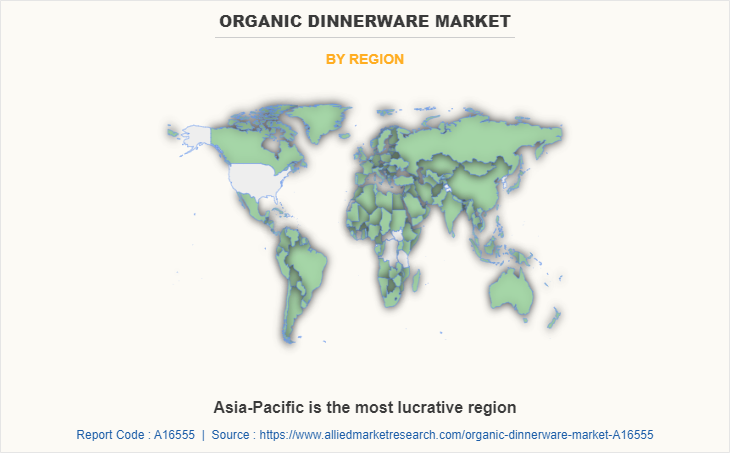 By region, Asia-Pacific dominated the global market in 2021 and is forecasted to remain the fastest-growing region during the forecast period. Furthermore, increasing customer adoption of e-commerce for shopping is one of the factors supporting market growth in the Asia-Pacific. Furthermore, the hospitality sector across the region is increasingly using organic dinnerware, thereby boosting the market in the North America region.
KEY BENEFITS FOR STAKEHOLDERS
The report provides an in-depth analysis of the global organic dinnerware market

trends along with the current and future market forecast.

This report highlights the key drivers, organic dinnerware market

opportunities, and restraints of the market along with the impact analyses during the forecast period.

Porter's five forces analysis helps analyze the potential of the buyers & suppliers and the competitive scenario of the global organic dinnerware market growth

for strategy building.

A comprehensive global organic dinnerware market segmentation covers factors that drive and restrain the market growth.

Also, in-depth analysis of the global market is studied in this research report.

The qualitative data in this report aims on organic dinnerware market analysis in terms of market dynamics, trends, and developments with organic dinnerware market forecast

.
IMPACT OF COVID-19 ON THE GLOBAL ORGANIC DINNERWARE MARKET
During the COVID-19 pandemic, the worldwide market for organic tableware is expected to develop at a moderate rate. This moderate growth is due to a disruption in the organic dinnerware supply chain as well as market disruption

.

People at home, on the other hand, are focusing more on cooking and home repairs, as well as online shopping, which could lead to a rise in demand for organic tableware

.

Furthermore, certain key organic dinnerware vendors are optimistic in the aftermath of the pandemic. For example, in December 2020, Garbo Tableware, a Chinese tableware business, stated that because people are remaining indoors during the pandemic, they are making more effort to stay connected to nature. As a result, in 2021, natural design tableware styles such as ocean blue cups, leaf-shaped dinnerware, and others are projected to be popular.
 Organic Dinnerware Market Report Highlights
Aspects
Details
By Type

Plates
Bowls
Cup Sets
Others

By Distribution Channel
By Region

North America (U.S., Canada, Mexico)
Europe (Germany, U.K., France, Spain, Italy, Rest of Europe)
Asia-Pacific (China, Japan, India, South Korea, Australia, Rest of Asia-Pacific)
LAMEA (Brazil, Saudi Arabia, UAE, South Africa, Rest of LAMEA)

Key Market Players
Degrenne, Herend, Royal Worcester, Meissen, Corelle, Royal Doulton, Libbey Inc, Lenox Corporation, Wedgwood, Hermès International S.A.