Organic LED Market Outlook - 2027
The global organic LED market was valued at $32,463.5 million in 2019, and is projected to reach $203,069.9 million by 2027, registering a CAGR of 21.7% from 2020 to 2027.
OLED, also known as organic light emitting diode is a flat light emitting diode technology developed by placing thin organic films between two conductors. OLED is one of the most promising display and lighting technologies that has the capability of offering power efficiency lighting and is superior compared to the fluorescent tubes and incandescent bulbs. OLED technology helps the end user to create flexible display and lighting panels.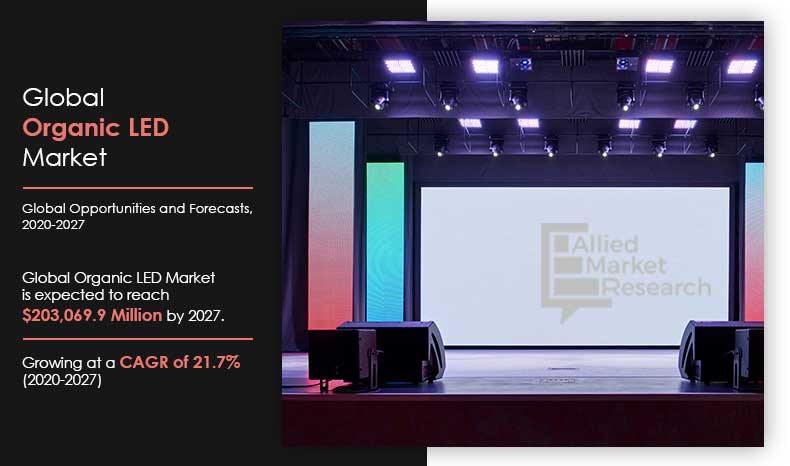 According to organic LED market trends, OLED technology is garnering more acceptance among end users since they are thinner, brighter, lighter in weight, more power efficient, and offer higher contrast as compared to LCDs. OLEDs offer wide viewing angles, faster response time, higher contrast ratios and more saturated colors to enhance viewing experience of end users. They are expensive as compared to LED and LCD products. However, the price of these products is expected to decrease once the products get more acceptance in the organic LED market. 
Various emerging and developed economies around the world are working towards switching to energy efficient lighting solutions. Experts have predicted that OLED technology would meet the required performance and pricing targets in the future, which would facilitate smooth transition from conventional to efficient lighting solutions. Moreover, government and industry funding for R&D is expected to boost the process of addressing the technological challenges for the OLED lighting solution.
As per organic LED market analysis, Xiaomi has announced the launch of its product Mi 10 and Mi 10 pro which has incorporated AMOLED display. The company has incorporated OLED display to ensure flexible and image efficient display feature for its devices. In addition, Samsung has also announced its launch of its second foldable OLED phone with the name Samsung Galaxy Z flip. The company has also incorporated AMOLED display due to its efficiency.
Rising application of PMOLED displays in smart watches, music players, automobile, digital healthcare devices and others can act as a major driving factor for the PMOLED segment. Hence, increase in demand for smart watches, fitness trackers, and mobile healthcare devices is expected todirectly boost the growth of PMOLED display segment in future.
Factors such as high demand for cost effective and energy-saving OLED lighting, increasing government initiatives toward OLED adoption, and growth in display and large screen backlight market act as major drivers, driving the organic LED market growth globally. However, problems pertaining to high cost of the technology and various technological limitations hampers the organic LED market to a certain extent. Furthermore, increase in demand for eco-friendly lighting solutions and surge in adoption of smart lighting system is expected to offer lucrative organic LED market opportunity globally.
Segmentation
The global organic LED market analysis is based on product type, technology, end use, and geography. On the basis of product type, the market is bifurcated into displays and lightings. Based on technology, the organic LED market share is analyzed across PMOLED, AMOLED, transparent OLED, top-emitting OLED, foldable OLED, and white OLED. On the basis of end use, the organic LED market size is analyzed across consumer electronics, automotive, retail, industrial, commercial, aerospace & defense, healthcare and others. By region, the market is analyzed across North America, Europe, Asia-Pacific, and LAMEA, along with its prominent countries.
The key organic LED Industry leaders profiled in the report include LG Electronics, Philips, OSRAM, Samsung Electronics, Panasonic Corporation, AU Optronics, CREE, GE Lighting, Eaton, and Universal Display Corporation. These key players have adopted strategies, such as product portfolio expansion, mergers & acquisitions, agreements, geographical expansion, and collaborations, to enhance their market penetration.
Top Impacting Factors
The significant factors impacting the growth of the global organic LED market forecast include high demand for cost-effective and energy-saving OLED lighting, increase in government initiatives toward OLED adoption and growth in display and large screen backlight market. However, high cost associated with organic LED market and various technological limitations act as the major barriers for early adoption, thereby hampering the growth of the market. On the contrary, increase in demand for eco-friendly lighting solutions and rise in adoption of smart lighting systems are anticipated to provide lucrative opportunities for organic LED market during the forecast period.
Organic LED Market

---
By Product Type
Lighting segment is projected as one of the most lucrative segments.
High-demand for cost-effective and energy-saving OLED Lighting
Lighting consumes approximately 15% of the total global power consumption. Moreover, lights produce around 5% of global carbon emission. Thus, the United Nations Environment Programme (UNEP) has released certain guidelines on energy-saving lighting solutions to reduce carbon emissions. With rapid urbanization and rapid economic growth in Europe and Middle East countries, the lighting industry the regions are expected to grow exponentially over the next two decades, resulting in more high demand for OLED based lighting. Thus, need for more LED-based lighting for effective energy saving and cost saving is expected to drive the growth of the OLED lighting market globally in the coming years.
Organic LED Market

---
By Technology
Foldable OLED segment is projected as one of the most lucrative segments.
Increase in government initiatives towards OLED adoption
Governments from various countries have focused on deploying OLED technology-based lights to curb cost and pollution. The positive attitude of various countries toward the adoption of OLED lighting technology propels the growth of the global market. For instance, the German Government provides subsidies to municipalities to replace lightings in publicly owned facilities such as old street lighting with new OLED technology. Furthermore, the Middle East countries have the presence of "The Middle East Lighting Association (MELA)", which is an international non-profit association formed by the partnership of Gulf Advanced Lighting, GE Lighting, Osram, Philips Lighting and Tridonic. MELA principle aims to represent the interests of the leading lighting product manufacturers in their support to legislators across the region in drafting and implementing policy, standards, and regulations for lighting related products and services across the Middle East region. In addition, the association is dedicated toward promoting energy efficient lighting practice for the benefit of global environment, human comfort, and health & safety of consumers. Therefore, all these increasing government mandates and initiatives toward the adoption of OLED lighting system significantly fuel the growth of the OLED market globally.
Organic LED Market

---
By End Use
Commercial segment is expected to secure leading position during forecast period.
High cost of the technology
OLEDs are considered costly because of the high initial capital cost in comparison to conventional lighting technologies. Further, cost includes circuitry and power supplies required. However, this is the perspective for the initial investment, the total cost (considering the lifetime of OLED) would be lower than conventional technologies. The total cost of ownership of OLEDs including the maintenance and energy cost is lower than that of the LED and LCD sources. Also, the high investments in initial level restricts initial acceptance of OLEDs. In addition, OLED is material intensive product; hence manufacturing of OLED display or lighting is expensive. Moreover, large capital and government approval are required to set up new manufacturing plants. As the technology is comparatively new and highly skill intensive, setting up completely new manufacturing plants require large capital. This is expected to hamper the growth of the OLED market to a certain extent.
Organic LED Market

---
By Geography
Asia-Pacific region would exhibit the highest CAGR of 26.7%% during 2019-2026
Key Benefits For Stakeholders
This study includes the analytical depiction of the organic OLED market forecast along with the current trends and future estimations to determine the imminent investment pockets.
The report presents information regarding the key drivers, restraints, and opportunities in the organic LED market.
The organic LED market growth is quantitatively analyzed from 2019 to 2027 to highlight the financial competency of the industry.
Porter's five forces analysis illustrates the potency of the buyers and suppliers in the industry.
 Organic LED Market Report Highlights
Aspects
Details
By Product Type
By Technology

PASSIVE-MATRIX OLED (PMOLED)
ACTIVE-MATRIX OLED (AMOLED)
TRANSPARENT OLED
TOP-EMITTING OLED
FOLDABLE OLED
WHITE OLED

By End Use

CONSUMER ELECTRONICS
AUTOMOTIVE
RETAIL
INDUSTRIAL
COMMERCIAL
AEROSPACE & DEFENSE
HEALTHCARE
OTHERS

By Region

North America (U.S., Canada, Mexico)
Europe (UK, Germany, France, Russia, Rest of Europe)
Asia-Pacific (China, Japan, India, South Korea, .Rest of Asia-Pacific)
LAMEA (Latin America, Middle East, Africa)

Key Market Players
GENERAL ELECTRIC, EATON CORPORATION, AU OPTRONICS CORPORATION, SAMSUNG ELECTRONICS CO. LTD., OSRAM (AMS AG), UNIVERSAL DISPLAY CORPORATION, PANASONIC CORPORATION, KONINKLIJKE PHILIPS N.V., LG INNOTEK CO. LTD, CREE, INC.