Organic Pet Food Market Research, 2031
The global organic pet food market size was valued at $18.7 billion in 2021, and is projected to reach $29.2 billion by 2031, growing at a CAGR of 4.8% from 2022 to 2031.
There is a rise in popularity of organic pet food as a result of the greater humanization of pets and results high spending on pet products. Pet owners who buy organic products are adopting the same buying habits as people. They want clean label organic pet foods in order to avoid the negative effects of the synthetic and chemical ingredients included in commercial pet food.
The COVID-19 pandemic had a both positive and negative impact on global organic pet food market due to supply chain disruptions. But the removal of lockdowns is expected to expand the market in the coming years.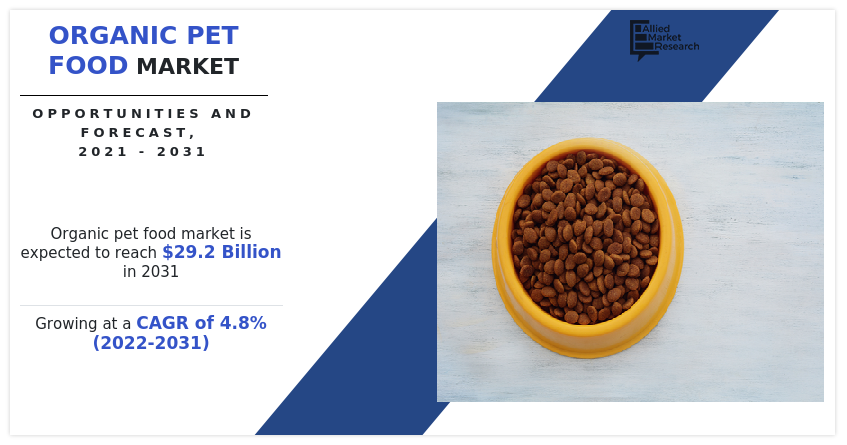 Due to the rise in pet ownership, North America and Europe now hold a significant share of the market for products and will continue to expand. Adopting pets is a popular trend globally, including in Europe. Due to the dietary benefits of organic food, the market in Asia Pacific is also anticipated to expand rapidly. There are many cat owners in nations including the U.S., Russia, and France, which has led to a rapid expansion of the product market. The regional market for organic pet food is being driven by rise in advertisements, campaigns to raise pet health awareness, and celebrity endorsements.
The organic pet food market is classified on the basis of pet type, food type, sales channel, and region. On the basis of pet type, the market is segmented into dogs, cats, and other pets. On the basis of food type, the organic pet food market is segregated into dry food, wet food, treats & snacks, and others. The treats & snacks segment is further bifurcated into liquid and solid. On the basis of sales channel, the market is categorized into supermarkets & hypermarkets, specialized pet shops, online sales channel, and others. On the basis of region, the market is analyzed across North America, Europe, Asia-Pacific, and LAMEA.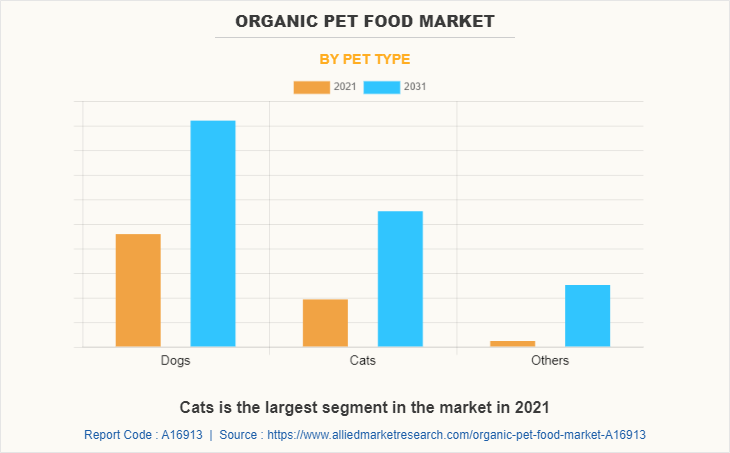 The dogs segment, as per product type, dominated the global medical market in 2021 and is anticipated to maintain its dominance during the organic pet food market forecast period. This is due to the rise in popularity of nuclear households and  increasing preference of the customers for dogs as companions and security. Dogs also require a variety of nutrients to stay healthy. Dog owners, as a result, have been concentrating on giving their pets quality pet food that has essential nutrients in order to keep them healthy. This is expected to increase  organic pet food market demand in the near future.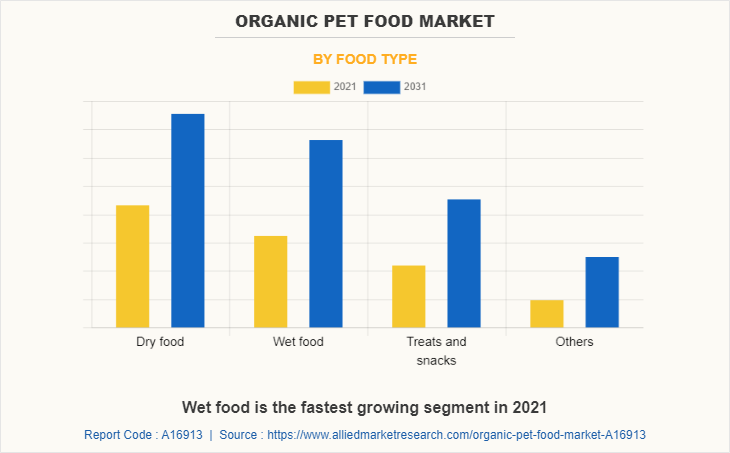 The dry food segment dominates the global organic pet food market. the dry organic pet food market has experienced significant development due to factors like an increased emphasis on premiumization by manufacturers of pet food. In addition, the leading competitors in the organic dry pet food segment have a substantial market opportunity due to increased propensity of the consumer to consider their dogs as members of the family and rise in investments in high quality pet food products along with new product advancements.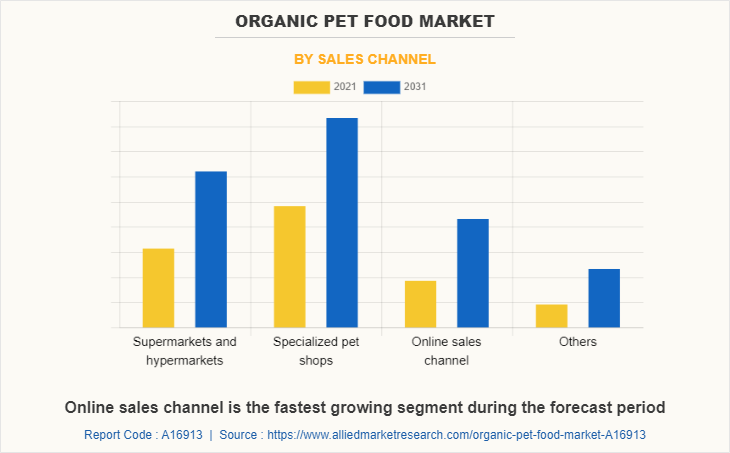 The online sales channel segment exhibits the fastest growth in the global organic pet food market. The simple accessibility of organic pet food over a range of sites, from modern trade to online sales channels, has led to an expansion of the global market. In addition, the organic pet food market growth has been aided by rise in retail sales penetration. Buyers now enjoy the ease of shopping without any physical restrictions due to the availability of organic pet food on e-commerce platforms complementary to this. In addition, to comfort and convenience, e-commerce enables buyers to thoroughly research products, compare costs and benefits, and assess the overall value of a purchase before making a decision.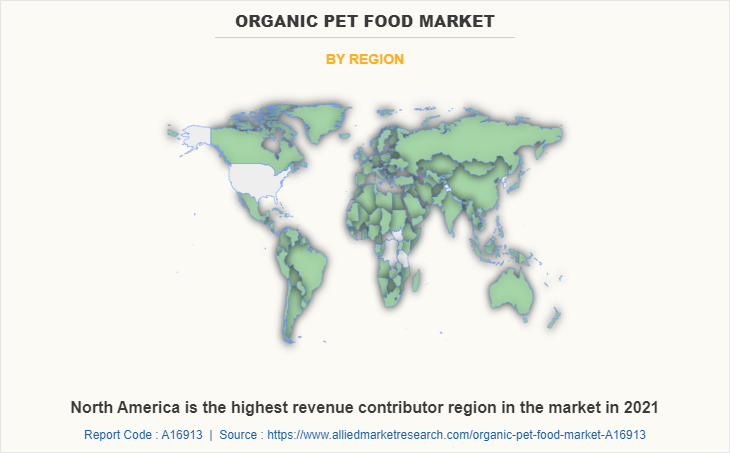 On the basis of region, North America dominated the market with the largest share during the forecast period. The regional demand for organic pet food is primarily being fueled by growth in consumer knowledge of the positive effects on pet health as well as the trend toward humanizing pets. Market expansion is also anticipated to be supported by the growth in trend of pet adoption among millennials.
Restraints on the availability of organic pet food include high prices, strict organic regulations, and a lack of supply. It is challenging to sell organic products because there are not many established suppliers in this industry. Organic products are more expensive due to the premium components used in the production of organic pet foods. Manufacturers struggle to secure the "natural" designation for their products because organic regulations are so complex. The market penetration of organic pet food in large retailers is impacted by all of these factors.
There is a rise in the popularity of pet ownership in developing nations like India, Bangladesh, Iran, and other places as well, outside of established nations like the U.S., the UK, and Australia. People in these countries are able to own pets and give them the highest quality of life because to the rapid rise in personal disposable income. Pet food sales climbed by 9% in 2018 due to the 28 million pets owned by Mexico alone. In addition, the market for organic pet food in South East Asia is expanding significantly due to the rise in pet ownership. For instance, the pet population of India increased from 10 million in 2010 to more than 17 million in 2018. The acceptability of pets has grown across all economic categories as a result of improvement in the lives of the consumers and rise in incomes in developing nations.
Obesity has been seen in pets, especially dogs and cats due to the ignorance amongst pet owners about organic food. According to the Association for Pet Obesity Prevention (APOP), high-calorie pet food is also responsible for the obesity of around 54% of dogs and 58% of cats in the U.S. These animals are becoming obese and developing ailments including cancer, high blood pressure, diabetes, and arthritis as a result of this. One way to treat the rise in ailments in dogs is through weight loss programs administered by licensed veterinary nutritionists, workouts, and a sufficient supply of vitamins, minerals, and fatty acids.
In both developing and developed countries, there has been a rapid humanization of pets, according to the organic pet market. More and more pet owners raise their cats, dogs, birds, and other animals as members of their own families. pet food producers place a strong emphasis on providing wholesome food that suits tastes and preferences of the owner, since organic pet food accounts for over 76% of the organic pet care market.. Around 95% of pet owners consider their animals to be members of the family, according to the Pet Food Industry. For this reason, while buying organic pet food, everything from the ingredients to the quality is taken into consideration.
The Food and Drug Administration (FDA), which controls the proper listing of names, order, and format of declared components on the packaged product, implemented an ingredient declaration after seeing the deaths of some pets from eating tainted food. A standardized set of labels on packaging was developed in accordance with FDA and Association of American Feed Control Officials (AAFCO) regulations following a significant number of pet food recalls. In addition, manufacturing companies must submit harmful food ingredients during investigations to rapidly identify the contaminants, in accordance with the Human and Pet Food Safety Act. Furthermore, according to the Food and Drug Administration, all additives like as flavors, preservatives, and colors must be approved before final products can be produced. The introduction of such elements would lessen their impact in upcoming years.
There is a rise in demand for organic and natural pet food as a result of shifting consumer perceptions towards pet health. One of the factors which drive the growth of the organic pet food market is the rise in trend of the nuclear family. Another factor influencing the rise in demand for organic pet meals is an increased knowledge of pet health. Besides, there is a rise in demand for organic pet meals as pet adoption and humanization rates rise throughout the world. The market for organic pet foods is expanding due to rise in advertisements, campaigns to raise awareness of pet health issues, and celebrity endorsements. The demand for and expansion of the global organic pet food market are also being fueled by rise in disposable income and shifting consumer lifestyles.
The major players analyzed for the organic pet food industry are Avian Organics, Biopet Australia, Cargill, Diamond Pet Foods, Evanger's Dog & Cat Food Company, Inc., Harrison's Bird Foods, Hill's Pet Nutrition, Lily's Kitchen, Mars Inc., Natural Pet Food Group, Nestle, Newman's Own, Oxbow Animal Health, Party Animal, and PetGuard. Key players operating in the organic pet food market have adopted product launch, business expansion, and mergers & acquisitions as key strategies to expand their organic pet food market share, increase profitability, and remain competitive in the market.
Key Benefits For Stakeholders
This report provides a quantitative analysis of the market segments, current trends, estimations, and dynamics of the organic pet food market analysis from 2021 to 2031 to identify the prevailing organic pet food market opportunities.
The market research is offered along with information related to key drivers, restraints, and opportunities.
Porter's five forces analysis highlights the potency of buyers and suppliers to enable stakeholders make profit-oriented business decisions and strengthen their supplier-buyer network.
In-depth analysis of the organic pet food market segmentation assists to determine the prevailing market opportunities.
Major countries in each region are mapped according to their revenue contribution to the global market.
Market player positioning facilitates benchmarking and provides a clear understanding of the present position of the market players.
The report includes the analysis of the regional as well as global organic pet food market trends, key players, market segments, application areas, and market growth strategies.
 Organic Pet Food Market Report Highlights
Aspects
Details
Market Size By 2031
USD 29.2 billion
Growth Rate
CAGR of 4.8%
Forecast period
2021 - 2031
Report Pages
198
By Pet Type
By Food Type

Dry food
Wet food
Treats and snacks
Others

By Sales Channel

Supermarkets and hypermarkets
Specialized pet shops
Online sales channel
Others

By Region

North America (U.S., Canada, Mexico)
Europe (UK, Germany, France, Poland, Italy, Russia, Spain, Rest Of Europe)
Asia-Pacific (China, Japan, India, South Korea, Australia, Rest Of Asia-Pacific)
LAMEA (Brazil, Argentina, South Africa, Saudi Arabia, Rest Of LAMEA)

Key Market Players
oxbow animal health, Nestle, Evanger's Dog & Cat Company, Inc., Avian Organics, Mars Inc., PetGuard, Diamond Pet Foods, newman's own organics, Harrison's Bird Foods, party animals, Cargill, Incorporated, BIOpet Australia, Hill's Pet Nutrition, Natural Pet Food Group, Lily's Kitchen