Organic Pigments Market Research, 2031
The global organic pigments market was valued at $5.6 billion in 2021, and is projected to reach $8.4 billion by 2031, growing at a CAGR of 4.2% from 2022 to 2031.
Report key highlighters
The global organic pigments market has been analyzed in terms of value ($Million) and volume (Tons). The analysis in the report is provided on the basis of type, application, 4 major regions, and more than 15 countries.

The global organic pigments market report includes a detailed study covering underlying factors influencing the industry opportunities and trends.

The organic pigments market is fragmented in nature with few players such as BASF SE, Clariant, DIC Corporation, Ferro Corporation, LANXESS, which hold significant share of the market.

The report facilitates strategy planning and industry dynamics to enhance decision making for existing market players and new entrants entering the organic pigments industry.

Countries such as China, U.S., India, Germany, and Brazil hold a significant share in the global organic pigments market.
Organic pigments are non-toxic, cost-effective, and have high color power, making them an excellent choice for usage in a variety of industries. The availability of organic pigments in a variety of hues makes them appealing for use in visual arts as well. Increasing usage of organic pigments in high-tech applications such as photo-reproduction, optoelectronic display, and optical data storage is driving the demand for organic pigments.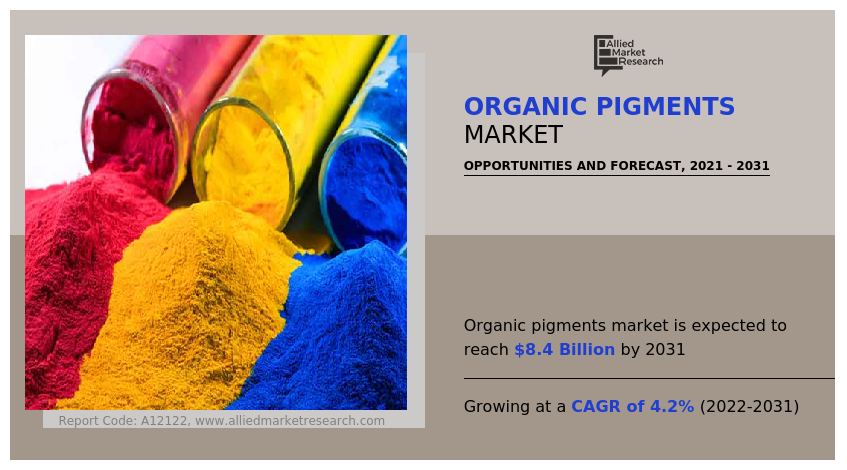 Organic pigment-colored substance is generated from a plant with pigment properties. It is a class of insoluble organic compounds with a high coloring strength and qualities such as resistance to sunlight & flooding, resistance to acids & alkalis, resistance to organic solvents, resistance to heat, and excellent dispersion properties. They are utilized in ink, paint, and the production of polymers & rubber. As a filler and reinforcing agent, it is utilized in numerous applications, such as coloring agents for plastics and synthetic fibers and in the rubber sector.
Organic pigments are classified as organic solids and are used to color paints, rubber products, inks, plastic products, and coated printing sizes. They are available in a variety of hues, including blue, orange red, violet, white, brown, yellow, black, pink, and green. They are tinctorial, light, heat-resistant, weather-resistant solvent, insoluble, and are unaffected physically and chemically by the substrate, where pigments are incorporated. The factors such as the increasing need for organic pigments in the pharmaceuticals industry, the growing demand for bio-based paints & coatings, and the rise in the number of color shades are the driving forces behind the organic pigments market's expansion.
Owing to laws and regulations such as the FFDCA, Code of Federal Regulations (CFR), and Generally Regarded as Safe (GRAS), organic pigments are commonly utilized in the printing inks application. Organic pigments used in jet inks and UV inks contribute optical density, rub resistance, and flow qualities to printing inks. Owing to digitalization, the printing inks market for newspaper and periodical applications has been seeing a decline in growth; nevertheless, the demand for printing inks in the packaging films is expanding at a rapid rate and is driving the demand for organic pigments market.
Increased demand for organic pigments in the plastic packaging industry
Increasing demand for aesthetically pleasing designs in plastic packaging is expected to drive market expansion during the forecast period. High levels of competition increase the demand for product distinctiveness, which in turn increases the significance of aesthetics in plastic packaging. The increasing demand for organic pigments is a result of the need to make items more appealing to attract customers. The strong coloring strength of organic pigments enables the provision of bespoke colors and a wide range of color tones, thereby enhancing the aesthetics and desirability of the product.
In addition, stringent laws surrounding the use of printing inks in food packaging are increasing the demand for organic pigments that are favorable to the environment. Food packaging safety has become a global problem, and there is a growing awareness among concerned communities over the potential transfer of package color into food products. High-quality organic pigments are color and viscosity stable. These are readily printable on a variety of media. Increasing demand for a vast range of FDA-approved pigments, such as yellow, green, and other coloring agents, is expected to drive market expansion during the forecast period.
The automotive industry is the main industry for high-performance pigments due to the use of HPPs in coatings for luxury ships & automobiles, traditional plug-in vehicles, high-end hybrid vehicles, and other vehicles. As a result of the global automotive industry's rapid expansion, there is a growing demand for high-performance pigments, driving the demand for the organic pigments market. For example, the automotive motor market was valued at around $35 billion in 2020. Automobile paints and varnishes utilize high-performance pigments to provide durability & corrosion prevention and to cover underlying metals and components from harsh weather conditions. This factor is driving the demand for organic pigments market.
To produce organic colors, toluene, benzene, xylene, ethylene, and naphthalene are the essential ingredients. As a result of their negative impact on human health, these compounds are subject to stringent controls and limits in industry. Exposure to these substances causes stumbling, drowsiness, fainting, irregular pulse, and occasionally death. REACH is the regulatory body that oversees the use of chemicals in Europe. Another issue with organic pigments is that these raw ingredients are predominantly produced in Asia-Pacific, particularly China, resulting in a growth in relying on a single region for global supply. These factors can restrain the organic pigment market.
Organic pigments are costlier than inorganic pigments, which is a significant market restraint. The market is growing rapidly; however, it is far smaller than the market for inorganic pigments. Organic pigments are produced in tiny quantities, however the manufacturing of inorganic pigments benefits from economies of scale. Consequently, production costs are increased, which causes the price of the final product to rise. Organic pigments are generally 1.5 times more expensive than inorganic pigments, which restricts their use in paints & coatings and other non-regulated applications.
The furniture industry is expected to offer significant opportunities for growth. Organic pigments can safeguard wood against moisture and spills. These organic colors can provide this furniture with lasting attractiveness and decorative appeal. This growth potential is expected to boost the market's total supply rate. Even the rate of market increase is significant.
The use of intelligent technologies by manufacturers to provide environmentally friendly coatings with improved scratch resistance and abrasion resistance is increasing the demand for high-performance pigments, which is anticipated to provide the organic pigments market with numerous lucrative opportunities during the forecast period. In addition, industry participants have undertaken considerable initiatives to manufacture high-performance pigments using only bio-based goods due to consumer satisfaction with bio-based products, which is projected to provide growth opportunities for the market for organic pigments.
The organic pigments market is segmented into type, end-use industry, and region. Depending on type, the market is divided into azo pigments, phthalocyanine pigments, high-performance pigments, alizarin, arylide, and others. On the basis of end-use industry, it is categorized into paints & coatings, automotive, plastics, printing inks, packaging, textile, and others. Region-wise, the market is studied across North America, Europe, Asia-Pacific, and LAMEA.
The major players operating in the global organic pigments market are BASF SE, Clariant, DIC Corporation, Ferro Corporation, LANXESS, Sudarshan Chemical Industries Limited, Sun Chemical, Synthesia a.s., TOYOCOLOR CO., LTD, and Trust Chem Co. Ltd. Other players operating in the market are Heubach GmbH, Dainichiseika Color & Chemicals Mfg. Co. Ltd, Changzhou Longyu Pigment Chemical Co. Ltd, Pidilite Industries Ltd and Sensient Technologies Corporation.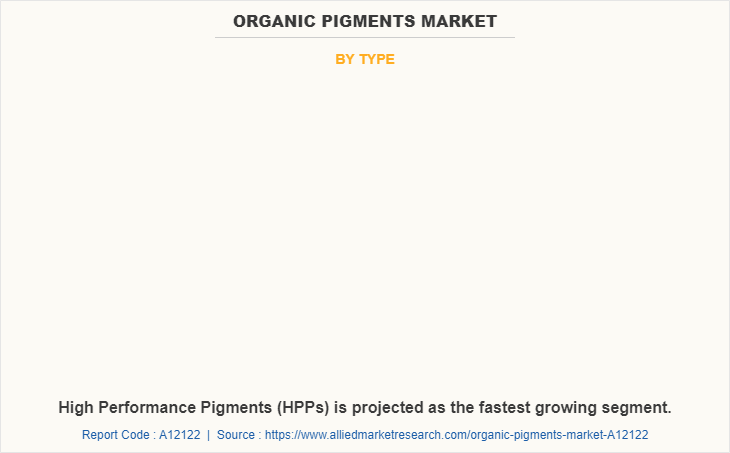 The high-performance pigments (HPPs) segment accounted for the largest share i.e., 41.1%. This is due to its advantageous qualities such as high insolubility, glossy effect, high brightness, heat stability, chemical resistance, and color strength. Increasing demand for HPPs as coatings for trains, automobiles, aircraft, and ships also contributes to the segment's expansion. Among the volatility in the automobile industry, the rise of next-generation automobiles and the development of global transportation networks provide high-performance pigments with extensive market penetration. High-performance pigments can be utilized in traditional plug-in autos, luxury automobiles, and high-end hybrid vehicles.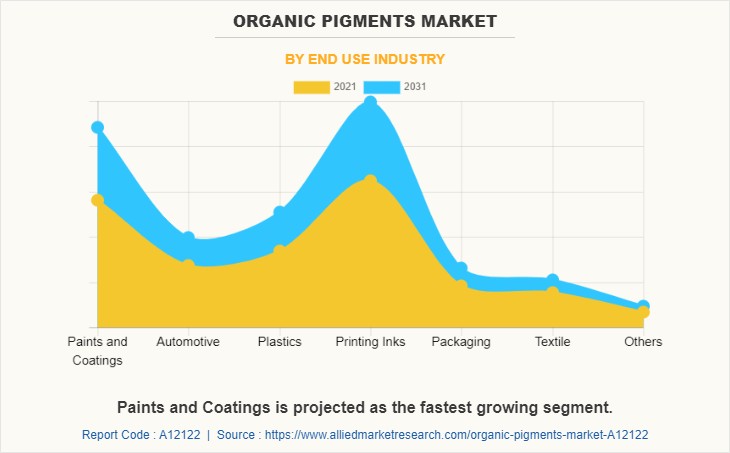 The printing inks segment accounted for the largest share i.e., 29.1% due to laws and regulations, such as the Food and Drug Administration Modernization Act (FFDCA), the Code of Federal Regulations (CFR), and Generally Recognized as Safe (GRAS), in the context of the application of food packaging. Organic pigments are utilized in printing inks due to their rub resistance, optical density, rheological qualities, and flow properties. These pigments are utilized in jet inks and UV inks. The paints and coatings is the fastest growing segment with CAGR 4.7%, this is due to the need for ornamental coatings, marine coatings, automotive coatings, textile paints, and industrial coatings, which is growing rapidly. In addition, the rising use of organic pigments in decorative coatings, particularly in the construction industry, as a result of their cost-effectiveness and eco-friendliness, is adding to the expansion of the market.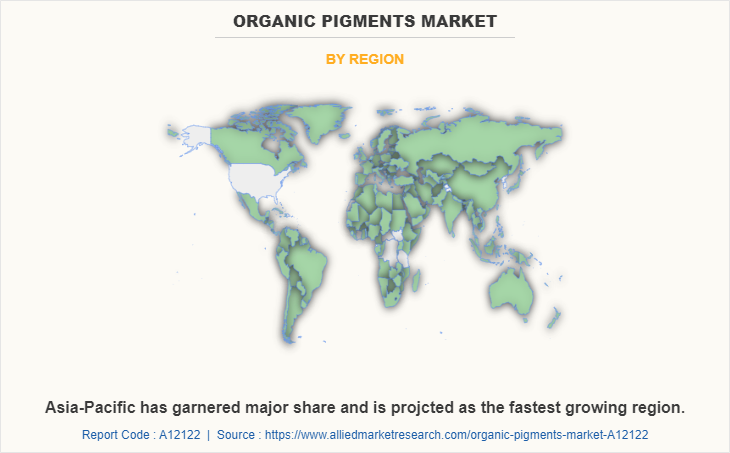 During the forecast period, Asia-Pacific is expected to grow at a robust rate and account for the largest market share of 46.5%. Increasing demand for organic pigments from various end-use sectors, such as automotive, construction, and packaging, is anticipated to fuel market growth in the Asia-Pacific during the forecast period. Construction industry applications of organic pigments are expected to increase as a result of the expansion of the construction sector in developing countries and rising infrastructure spending. Major players such as Toyocolor Co., Ltd. Hangzhou Heubach Pigment Co., Ltd., Trust Chem Co., Ltd., DIC Corporation and Sudarshan Chemical Industries are persistently investing to provide a comprehensive range of high-quality organic pigments for plastic, printing inks, textile, and paints & coatings applications. The automotive sector in Asia-Pacific is progressively incorporating organic pigments into protective automobile coatings for exterior and interior car components.
Key potential factors that drive the organic pigments market demand
The automobile industry is a significant market for organic pigments. In the recent past, the demand for automobiles has increased rapidly, and this trend is anticipated to continue during the forecast period. It is estimated that increasing population and disposable income, particularly in developing regions such as Latin America, the Middle East & Africa, and Asia-Pacific, are expected to fuel vehicle demand over the projection period.
Organic pigments are distinguished from their conventional counterparts by a number of advantageous features. These characteristics include weather fastness, higher light fastness, low solubility, extended operational life, high heat stability, improved resistance to natural elements & chemicals, and decreased migration. These characteristics make them indispensable for a variety of applications in a wide range of sectors, especially outdoor applications. Major outdoor uses include vehicle coatings and building exterior coatings. In addition, organic pigments have photochromatic, fluorescence, and luminescence qualities.
These excellent qualities can be divided into distinct categories, such as environment, efficacy, and economics. Effectiveness refers to the technical performance of these pigments in diverse applications. Economy incorporates a variety of financial advantages for the buyer. Despite the fact that these organic pigments are more expensive than conventional pigments, they need a greater initial investment and pay off in the long run for a number of reasons. These characteristics consist of less maintenance, a longer operational life, and fewer coating applications. Ecology includes reduced toxicity and reduces environmental impact.
"Pigments are governed by a variety of regulations due to stringent environmental rules and rising concerns. These restrictions are in place to protect both the environment and the interests of customers. Organic pigments are projected to be low in toxicity and have little environmental impact. These pigments are essential for a variety of applications."
Pricing disparity is projected to have a negative impact on the market
Organic pigments are more expensive than conventional colors. This price difference is attributable to the improved characteristics and higher production costs of certain pigments. This pricing disparity is projected to have a negative impact on the market for organic pigments during the forecast period, particularly in developing regions such as Asia-Pacific, the Middle East & Africa, and Central & South America. Even though these markets provide considerable growth opportunities for industry participants, they are highly price sensitive. Such emerging regions are also distinguished by a weak regulatory framework, causing end-use companies to choose conventional pigments over organic pigments to save money.
These pigments have a high price since they are the result of intensive R&D and require raw materials of the highest grade. Bio-based pigments are in high demand due to the recent movement in customer preferences toward bio-based products and the growing awareness of the toxic impacts of pigments. This pattern is predicted to continue in the coming years. Several initiatives have been undertaken by businesses to manufacture eco-friendly and superior products, resulting in a price increase. The enormous R&D expenditure is passed on to the customers.
Competitive Trends
The global market for organic pigments is considerably smaller than the market for inorganic pigments due to higher production costs. Organic pigments cost around twice as much as inorganic colors, limiting their market. Key market players are concentrating on the creation and development of new products with applications in a variety of end-use industries. In April 2017, BASF introduced Xfast® Easy Color, a new organic, environmentally friendly dry stir-in pigment for POS in the professional and DIY industries. The product was designed for a variety of uses, including exterior and interior architectural paints, artist paints, wood glazes and coatings, plaster, and concrete coatings.
Latest development strategies undertaken by key players
On August 12, 2021, Sun Chemical launched a leadfree Paliotan VIU pigments range that replaces the lead components present in coatings formulations. The lead-free Paliotan VIU organic pigments come along with new technical services offering. The new portfolio includes several shades, including mid-yellow, red, and lemon yellow. This new product may lead to the growth of revenue.

On June 30th, 2021, Clariant entered into an agreement with Heubach to sell its organic pigments business. Heubach and SK Capital with acquire the company by 2022, with Clariant owning 20% of the stock.

On June 30th, 2021, DIC Corporation and Sun Chemical finalized the acquisition of BASF's global pigments business, popular as BASF Colors and Effects (BCE). This acquisition is expected to help enlarge Sun Chemical's pigments range, including those of cosmetics, electronic displays, inks, coatings, plastics, and specialty applications, by offering an even broader range of versatile solutions.

On June 30, 2021, DIC Corporation acquired BASF Colors & Effects (BCE), the global pigments business of BASF SE. This acquisition helped to broaden DIC's product portfolio of organic and inorganic pigments for electronic displays, cosmetics, coatings, plastics, inks, and specialty applications
COVID-19 Impact
The COVID-19 pandemic had a significant impact on the manufacturing and distribution of organic pigments. Several governments have instituted stringent lockdowns to prevent the spread of COVID-19. Numerous manufacturing enterprises are either inactive or producing at capacity. The market for organic pigments has been affected by a disrupted global supply chain and a decline in demand from a variety of end-user industries, including paints & coatings, plastics, textiles, and others. The paints and coatings industry is the greatest consumer of organic pigments; however, during lockdowns, factories ceased production, resulting in a decline in demand for organic pigments. Future demand growth for dependable commercial products, such as 3D printing materials, is anticipated to create an opportunity for market participants.
Key Benefits For Stakeholders
This report provides a quantitative analysis of the market segments, current trends, estimations, and dynamics of the organic pigments market analysis from 2021 to 2031 to identify the prevailing organic pigments market opportunities.
The market research is offered along with information related to key drivers, restraints, and opportunities.
Porter's five forces analysis highlights the potency of buyers and suppliers to enable stakeholders make profit-oriented business decisions and strengthen their supplier-buyer network.
In-depth analysis of the organic pigments market segmentation assists to determine the prevailing market opportunities.
Major countries in each region are mapped according to their revenue contribution to the global market.
Market player positioning facilitates benchmarking and provides a clear understanding of the present position of the market players.
The report includes the analysis of the regional as well as global organic pigments market trends, key players, market segments, application areas, and market growth strategies.
 Organic Pigments Market Report Highlights
Aspects
Details
Market Size By 2031
USD 8.4 billion
Growth Rate
CAGR of 4.2%
Forecast period
2021 - 2031
Report Pages
350
By Type

Azo Pigments
Phthalocyanine Pigments
High Performance Pigments (HPPs)
Alizarin
Arylide
Others

By End Use Industry

Textile
Others
Paints and Coatings
Automotive
Plastics
Printing Inks
Packaging

By Region

North America (U.S., Canada, Mexico)
Europe (Germany, UK, France, Spain, Italy, Rest of Europe)
Asia-Pacific (China, India, Japan, South Korea, Australia, Rest of Asia-Pacific)
LAMEA (Brazil, Saudi Arabia, South Africa, Rest of LAMEA)

Key Market Players
dic corporation, TOYOCOLOR CO., LTD, Clariant, LANXESS, BASF SE, Trust Chem Co. Ltd, Ferro Corporation, Sun Chemical, Sudarshan Chemical Industries Limited, Synthesia a.s.
Dainichiseika Color Co. Ltd, Company 2, Company 3