Osseointegration Implants Market Overview:
The global osseointegration implants market size in 2017 is $5,645 million, and is projected to reach $9,844 million by 2025, growing at a CAGR of 7.1% from 2018 to 2025.
Osseointegration is an implant that contains pores into which osteoblasts and supporting connective tissue can migrate. It is a complex process, which can be affected by various factors such as biocompatibility, surface topography, and loading conditions. Osseointegration implant provides support to the prosthesis till that part of the body becomes stronger and supports firmly. The processes of osseointegration is extremely complex, and several factors influence the formation and maintenance of bone at the implant surface. Some of the factors that affect osseointegration are the implant oxide layer contamination and poor temperature control during drilling.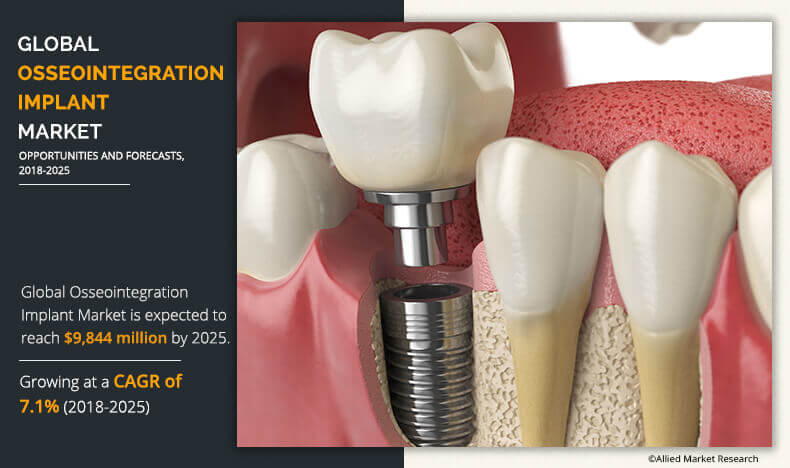 Osseointegration process involves an initial interlocking between bone and implant, and subsequently, biological fixation through continuous bone apposition and remodeling toward the implant. This implant can be used for various applications such as dental implants, joint replacement procedures, and amputee implants. It is made from materials such as metal, ceramic, and polymeric.
The major driving factors of the global osseointegration implants market are supportive reimbursement policies provided by insurance companies, rise in number of joint replacement surgeries among geriatric population, and increase in adoption of minimally invasive surgeries. Moreover, surge in adoption rate of advanced implant technologies such as osseointegration and rise in the occurrence of accidents that could lead to use of amputees are expected to fuel the osseointegration implants market growth. Furthermore, the rise in prevalence of orthopedic injuries or diseases, increase in the rapid growth in geriatric population, technological innovations in the osseointegration implants, and acceptance for implantable medical devices helps in increasing the global osseointegration implants market share. However, risks and complications associated with the implant are the factors anticipated to hamper the market growth during the forecast period. Conversely, improvement of healthcare infrastructure in the emerging countries further is anticipated to offer remunerative opportunities for market players.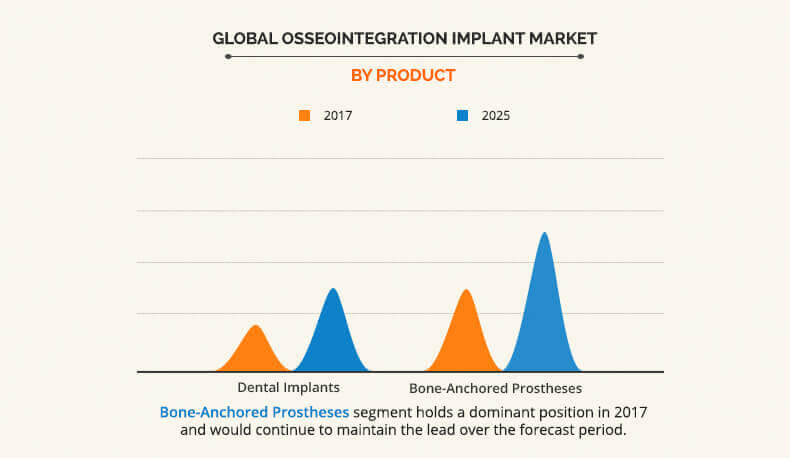 Product segment review
By product, the osseointegration implants market is bifurcated into dental implants and bone-anchored prostheses. Bone-anchored prostheses was the major contributor toward the osseointegration implants market in 2017, due to rise in number of amputations, increase in prevalence of spinal disorders, and surge in aging population with hearing loss. The dental implants segment is expected to grow at the highest rate during the forecast period. This is attributable to increase in prevalence of dental disorders, ongoing R&D on dental implant techniques, and rise in awareness toward the availability of dental implants as a tooth loss solution.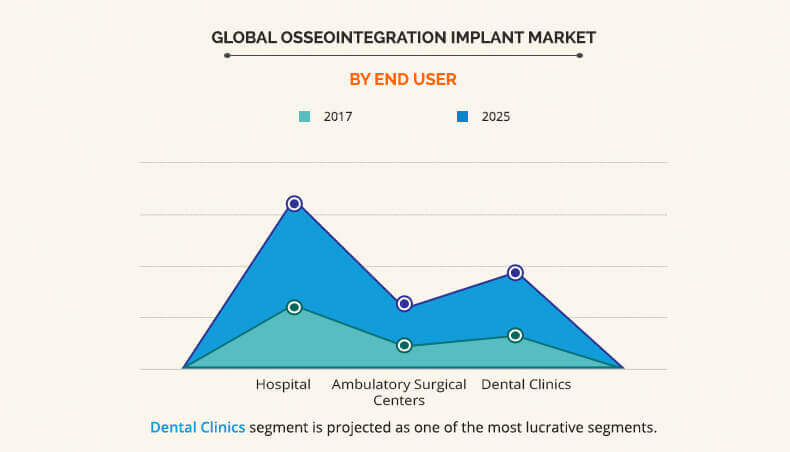 End user segment review
Based on end user, the osseointegration implants segment is categorized into hospital, ambulatory surgical centers, and dental clinics. The hospitals segment is expected to be the largest contributor to the osseointegration implants market during the forecast period owing to the purchase of large number of bone-anchored prostheses that is conducted in hospitals. The dental clinics segment is expected to gain a significant share in the market in the near future, owing to increase in demand for dental implants for tooth replacement surgeries and strong development of the cosmetic dentistry. Other factors contributing toward segment growth include rise in R&D expenses in dentistry and increase in usage of dental 3D printing by key players.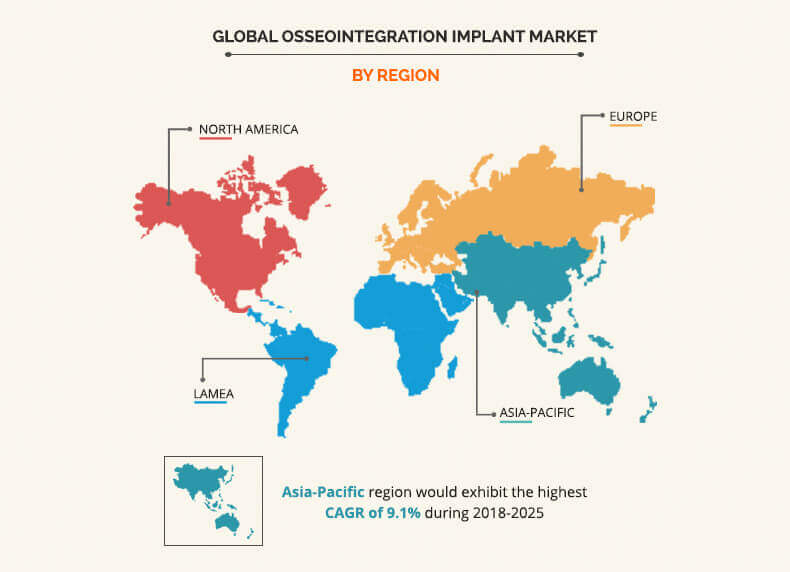 Key geographical segment
Region wise, the osseointegration implants market is analyzed across North America, Europe, Asia-Pacific, and LAMEA. North America accounted for the largest market share in the market in 2017, and is expected to retain its dominance throughout the forecast period. This is attributable to presence of large geriatric population, occurrence of large number of serious accidents that could lead to disability, rise in incidence of bone-related disorders, and favorable reimbursement scenario. The osseointegration implants market in Asia-Pacific is expected to witness a significant growth during the forecast period, owing to presence of highly populous countries such as India & China, presence of large geriatric population, increase in the number of accidents, rise in disposable income levels coupled with favorable government initiatives.
The key players operating in the global osseointegration implants market include Bicon, LLC, Danaher Corporation, Dentsply Sirona, Henry Schein, Inc., Integrum SE, Osstem Implant, Smith and Nephew Plc., Straumann AG Group, Stryker Corporation, and Zimmer Biomet Holdings. Other prominent players in the value chain include NuVasive, Inc., Southern Implants, William Demant Holding A/S, Cochlear Ltd., and Medtronic Plc.
Key Benefits forOsseointegration Implants Market:
This report entails a detailed quantitative analysis of the current osseointegration implants market trends and osseointegration implants market forecast estimations from 2018 to 2025 to identify the prevailing opportunities.
An in-depth osseointegration implants market analysis includes analysis of various regions is anticipated to provide a detailed understanding of the current trends to enable stakeholders formulate region-specific plans.
Market estimations are based on comprehensive analysis of the key developments in the osseointegration implants industry.
The global osseointegration implants market is comprehensively analyzed with respect to product, material, application, and region.
In-depth analysis based on geography assists to understand the regional market to assist in strategic business planning.
The projections in this report are made by analyzing the current trends and future market potential from 2018 to 2025 in terms of value.
Key market players within the osseointegration implants market are profiled in this report and their strategies are analyzed thoroughly, which helps in understanding competitive outlook of global osseointegration implants market.
 Osseointegration Implants Market Report Highlights
Aspects
Details
By Product

Dental Implants
Bone-Anchored Prostheses

By Material

Metallic
Ceramic
Polymeric
Biomaterials

By End User

Hospital
Ambulatory Surgical Centers
Dental Clinics

By Region

North America (U.S., Canada, Mexico)
Europe (Germany, France, UK, Italy, Spain, Rest of Europe)
Asia-Pacific (Japan, China, Australia, India, South Korea, Taiwan, Rest of Asia-Pacific)
LAMEA (Brazil, Saudi Arabia, South Africa, Rest of LAMEA)

Key Market Players
BICON LLC., Danaher Corporation, Dentsply Sirona Inc., Henry Schein, Inc., Integrum SE, Osstem Implant, Smith and Nephew Plc., Straumann AG Group, Stryker Corporation, Zimmer Biomet Holdings