Outdoor Fitness Equipment Market Research, 2030
The global outdoor fitness equipment market size was valued at $1.5 billion in 2020, and is projected to reach $1.8 billion by 2030, growing at a CAGR of 4.3% from 2021 to 2030.
The COVID-19 outbreak has disrupted the fitness market across the globe. Furthermore, the impact of the pandemic on society and the economy has been witnessed as a result of global lockdowns. Restrictions on travel, airline suspensions, and most importantly, slowdown in the economy have affected the business of fitness equipment manufacturers across the globe. Consumers' outdoor fitness routine has changed by the growing perception of the risk associated with COVID-19. Consumers are avoiding the use of commercial and outdoor gym to reduce the risk of infection, which has had a direct impact on the growth of the overall fitness sector, thus hindering the outdoor fitness equipment market growth.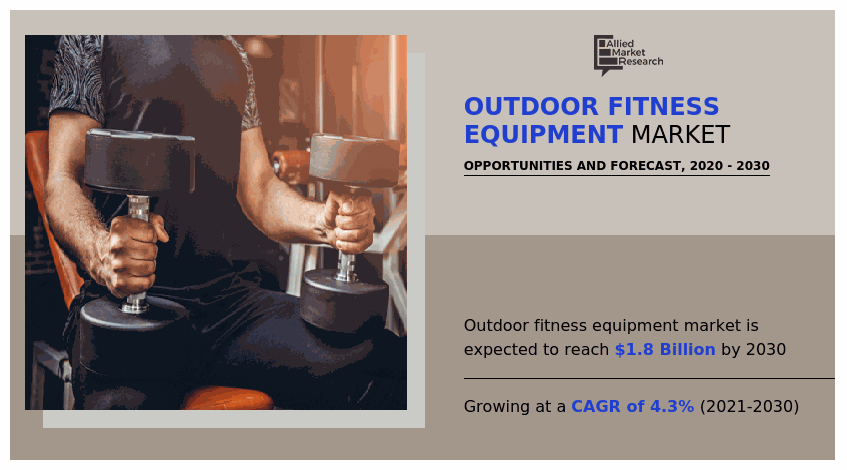 Outdoor fitness equipment is any piece of equipment or instrument that is used during regular exercise to change total mass, boost cardiovascular endurance, and build framework muscle mass & tolerance. It further serves to reinforce the strength or conditioning benefits of physical workout programs by providing either continuous or variable amounts of resistance, hence increasing the enjoyment or end results of a training routine. Outdoor training equipment comes in a variety of shapes and sizes, each with its own set of characteristics for working on different parts of the human frame. Outdoor fitness equipment is intended for use in public or private open areas.
The outdoor fitness equipment market is segmented into product type, application, and region. On the basis of type, the market is categorized into action series, heavy duty series, and regular series. Depending on application, it is segregated into public institutions, fitness parks & trails, government fitness centers, outdoor gyms, and others. Region wise, it is analyzed across North America (the U.S., Canada, and Mexico), Europe (Germany, the UK, France, Italy, Spain, and rest of Europe), Asia-Pacific (China, Japan, Australia, South Korea, India, and rest of Asia-Pacific), and LAMEA (Brazil, Argentina, Chile, Saudi Arabia, and rest of LAMEA).
On the basis of product type, the action series segment gained a major share in the global market in 2020, and is expected to sustain its market share during the outdoor fitness equipment forecast period. The action series segment was growing, with a CAGR of 3.6%. The growth of this segment is attributed to the usage of action series equipment by global consumers to exercise daily and maintain their fitness. Action series equipment are the most common type of equipment chosen by consumers as they offer appropriate results and is easy to use, which boosts the outdoor fitness equipment market demand.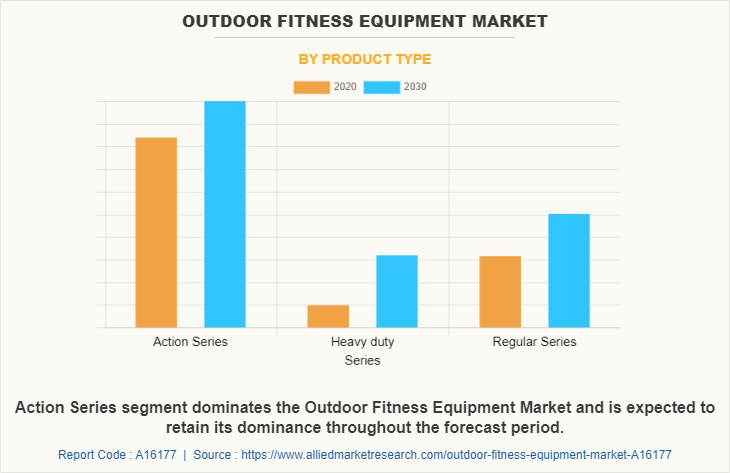 According to the outdoor fitness equipment market analysis, by application, the outdoor gym gained a major share in 2020, and is expected to sustain its market share during the outdoor fitness equipment market forecast period, with a CAGR of 4.1%. As outdoor gyms are the most common place that consumers prefers to work out and the outdoor gym offers an access to heavy weight equipment that are used by the bodybuilders to train, which fuels the outdoor fitness equipment market growth.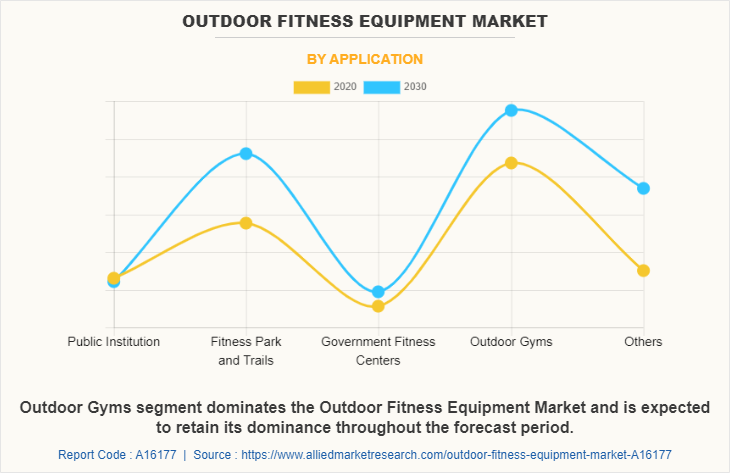 Region wise, North America dominated the outdoor fitness equipment market in 2020, and is estimated to exhibit a CAGR of 3.8%, as a higher percentage of population prefers to visit outdoor gym and workout in North American countries.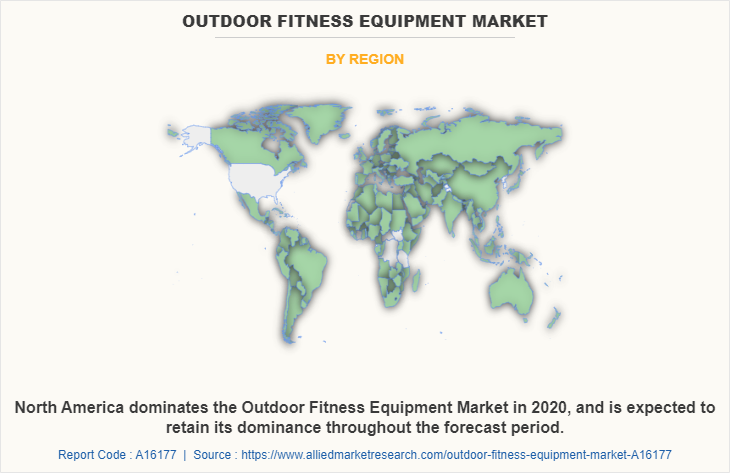 The players operating in the global outdoor fitness equipment industry have adopted various developmental strategies to expand their outdoor fitness equipment market share, increase profitability, and remain competitive in the market. The key players profiled in this report include Landscape Structures Inc., Beckmann, SportsPlay Equipment, Inc., Wicksteed Leisure Ltd, PlayCore Inc., Outdoor Fitness, Inc., Proludic Ltd., Xccent, Inc., the Great Outdoor Gym Company Ltd., and Kompan, Inc.
Key Benefits For Stakeholders
This report provides a quantitative analysis of the market segments, current trends, estimations, and dynamics of the outdoor fitness equipment market analysis from 2020 to 2030 to identify the prevailing outdoor fitness equipment market opportunity.
The market research is offered along with information related to key drivers, restraints, and opportunities.
Porter's five forces analysis highlights the potency of buyers and suppliers to enable stakeholders make profit-oriented business decisions and strengthen their supplier-buyer network.
In-depth analysis of the outdoor fitness equipment market segmentation assists to determine the prevailing market opportunities.
Major countries in each region are mapped according to their revenue contribution to the global market.
Market player positioning facilitates benchmarking and provides a clear understanding of the present position of the market players.
The report includes the analysis of the regional as well as global outdoor fitness equipment market trends, key players, market segments, application areas, and market growth strategies.
 Outdoor fitness equipment Market Report Highlights
Aspects
Details
By Product Type

Action Series
Heavy duty Series
Regular Series

By Application

Public Institution
Fitness Park and Trails
Government Fitness Centers
Outdoor Gyms
Others

By Region

North America (U.S., Canada, Mexico)
Europe (Germany, U.K., France, Italy, Spain, Rest of Europe)
Asia-Pacific (China, Japan, Australia, South Korea, India, Rest of Asia-Pacific)
LAMEA (Brazil, Argentina, Chile, Saudi Arabia, Rest of LAMEA)

Key Market Players
Proludic Ltd, PlayCore Inc., Wicksteed Leisure Ltd, Kompan. A/S, Xccent, Inc, Stayfit Health and Fitness World Private Limited, Landscape Structures Inc., SportsPlay Equipment, Inc, Outdoor Fitness, Inc., The Great Outdoor Gym Company Ltd