Outdoor Lighting Market Research, 2031
The global outdoor lighting market size was valued at $12.5 billion in 2021, and is projected to reach $22.6 billion by 2031, growing at a CAGR of 5.6% from 2022 to 2031.
Outdoor lighting is described as the permanent artificial lighting used to illuminate outdoor spaces (areas without roofs). The objective of outdoor lighting is to maintain or enhance the visual performance of those engaging in human activity by illuminating the space. 
The sale of outdoor lighting has been hampered by the Covid-19 outbreak. The market for electronic devices has been significantly impacted by China, which is a major supplier of both assembled and raw electronic items and is also the origin of this pandemic. Additionally, the entire industrial sector has been impacted by changes in pricing, supply disruptions, and output losses. The lack of necessary raw materials is a major obstacle, even though these challenges might encourage local companies to improve their businesses and procedures.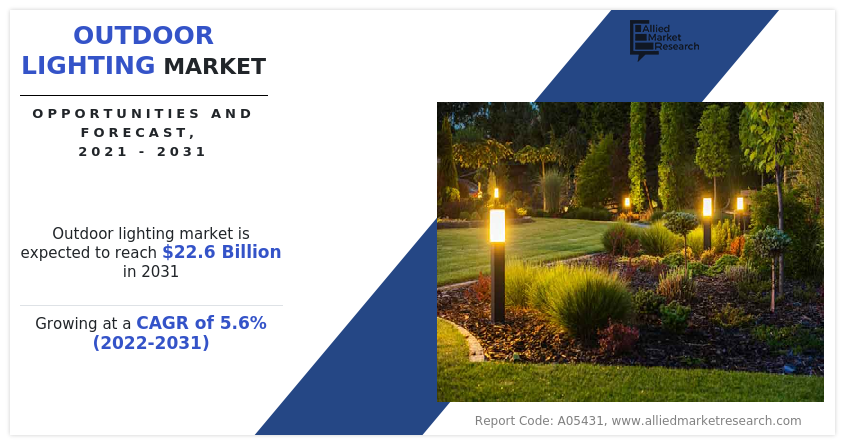 One of the current trends in the market include energy-efficient lighting involves replacing incandescent and other conventional bulbs with fluorescent, CFL, and LED lights that use less energy. Products in the outdoor lighting market also feature timers, PIR, and ultrasonic sensor-based lighting controls, among other suitable lighting controls. The primary factor such as energy efficiency is expected to fuel the growth of the global market for energy-efficient outdoor lighting during the forecast period. It also involves the rising acceptance of efficient lighting due to its benefits, including increased energy savings and long product life. The market is also growing as a result of efforts made by different governments in various countries to adopt light-emitting diodes (LEDs) to increase efficiency. In addition, it is expected that rising consumer interest in smart LED lighting solutions would provide the market with enormous growth potential. Therefore, the market for outdoor lighting will grow as a result of the growing trend of using energy-efficient lighting solutions.  
In recent years, LED lighting adoption in Asia-Pacific region has increased significantly. Moreover, LEDs have emerged as one of the most popular lighting solutions for both household and industrial settings, due to their reduced demand on power grids, reduced energy consumption, and environmental friendliness.  
Moreover, Improvements to the physical and non-physical infrastructure are essential to a nation's economic success, and this process is referred to as infrastructural development. In addition, infrastructure growth is a major force behind economic development and a vital productivity booster. Hence, rise in infrastructural development will require more amenities such as outdoor lighting which aids in safety and security. In addition, the proper exterior lighting at night allows for safe nighttime movement. Driveways and stair railings are ideal locations for outdoor post-mounted lanterns. Outdoor wall lights illuminate entrances and aid in identifying gateways and exits. Moreover, lights make it simple for people to locate homes and establishments, and step lights and path lights brighten stairs and paths. Moreover, the home is better protected against burglars when outdoor illumination is timed. Outdoor wall lights have a sophisticated design that increases protection without compromising aesthetic appeal. Hence, the rise in infrastructural development is likely to boost the outdoor lighting market demand across the globe.
A smart lighting system combines sensor, control, communication, and information technologies, for real-time information and to help maximize lighting applications. It also has a substantial and growing impact on safety, productivity, and well-being. Lighting is currently playing a critical role in enhancing the livability, sustainability, and resource efficiency of communities, especially with Artificial Intelligence and Human Centric Lighting solutions at the forefront.  A smart indoor solution's objective is to combine many different subsystems and enhance overall indoor performance. An intelligent lighting control system that adapts the lighting level based on occupancy, daylight, location, and other factors is possible with connected lighting. A smart and connected lighting solution is also a must for establishing the foundation for a smart city. The lighting business is not an exception to the fast growing popularity of the Internet of Things (IoT). Therefore, it is likely that the adoption of various technologies will increase outdoor lighting market growth.  
However, living in a world where artificial light is present has serious negative effects on humans, animals, and the environment. Furthermore, only remote regions of the planet such as Siberia, the Sahara, and the Amazon are fully dark, according to national geography and large expanses of North America, Europe, the Middle East, and Asia are ablaze with light. Some of the countries in the world with the greatest levels of light pollution include Singapore, Qatar, and Kuwait. Sky glow is also considered as the brightening of the night sky arising in metropolitan cities formed due to electric lights from cars, streetlamps, businesses, industries, outdoor billboards, and buildings. After sunset, the sky glow transforms night into day for individuals who continue to work and have fun. Furthermore, it is challenging to see more than a few stars at night in a metropolis with a lot of sky shine. Moreover, the intensity of light pollution is growing at a fast pace even astronomers are also facing issues to perceive celestial objects in the sky.  . More than 80% of people on Earth, including 99 percent of Americans and Europeans, live under sky glow. Sky glow caused by human activity is one of the most pervasive forms of light pollution. Consequently, light pollution has the propensity to inhibit the market for outdoor lighting from expanding.  
On the other hand, the outdoor sector offers a sizable potential as well as a choice for wireless technologies. Wireless lighting control also refers to the remote-control management of lights or other lighting fixtures utilizing wireless communication technologies. Wireless control not only simplifies the design, installation, commissioning, and operation of lighting systems but also provides users with a way to adapt a single space to various visual needs.  
Due to the lockdowns, production of outdoor lighting and other lighting accessories has ceased, although pre-produced supplies of the products are still being sold, mostly through online channels of sale, in order to offset any potential losses from the production standstill. However, within three to four months of the lockdown's implementation, industrial activities were resumed, which restarted the manufacture of outdoor lighting. Additionally, it is expected that the need for outdoor lighting will continue to expand in the post-pandemic period. The industry's active stakeholders' innovations will aid provide newer features for outdoor lighting products, attracting consumer interest and fostering the expansion in the outdoor lighting market forecast period. 
The outdoor lighting industry is segmented on the basis of type, application, distribution channel, and region. By type, the market is categorized into LED lights, high-intensity discharge (HID) lamps, fluorescent lights, and plasma lamps. By application, the outdoor lighting market is fragmented into street lighting, tunnel lights, highways, parking lots/decoration, parks and stadium, building exteriors, and others. By distribution channel, the market is divided into direct sales and retail sales. Moreover, the outdoor lighting market is further classified into third-level segmentation through the distribution channel. Based on retail sales, the market is bifurcated into hypermarket/supermarket, specialty store, and others. Region-wise, the market is analyzed across North America (the U.S., Canada, and Mexico), Europe (Germany, France, UK, Italy, Spain, Russia, and the rest of Europe), Asia-Pacific (China, India, Japan, South Korea, Australia, and the rest of Asia-Pacific), and LAMEA (Brazil, South Africa, Saudi Arabia, UAE, Argentina and the rest of LAMEA).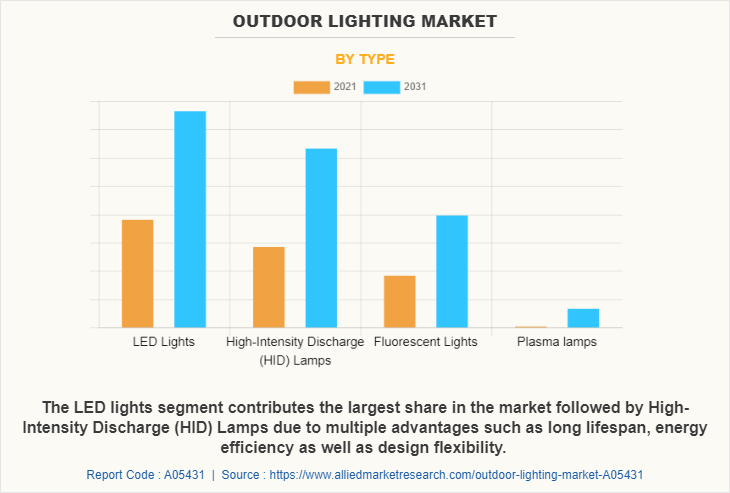 By type, the LED lights segment had the largest outdoor lighting market share in 2021 with a CAGR of 5.6%. Moreover, small LEDs provide unique design opportunities, and some LED bulb substitutes may physically resemble standard light bulbs and more nearly resemble them. Some LED lighting fixtures could include a permanent light source. Comparing LED lighting products' can be used for a longer period of time to those of other light sources like incandescent or compact fluorescent lighting, they provide more luminous to the consumers across the globe. There are hybrid techniques as well, which use the format of a non-standard bulb or switchable light source made especially for a certain fixture. LEDs have a far wider range of uses than traditional lighting technologies and offer tremendous possibilities for innovation in lighting form factors.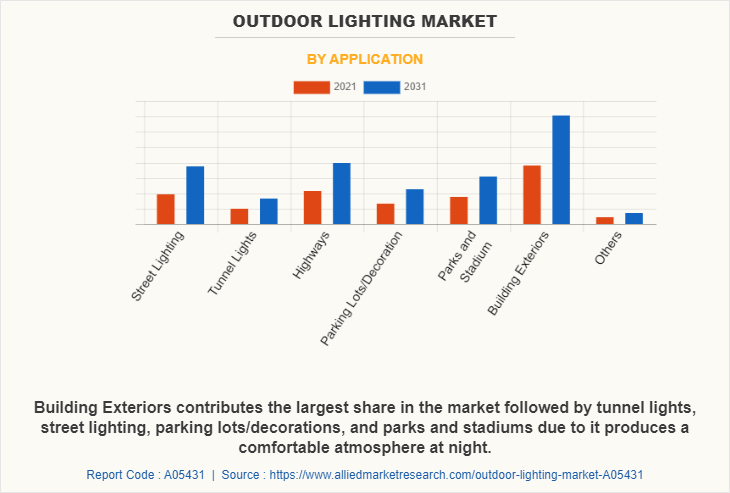 By application, the building exteriors segment was the highest revenue contributor in 2021 i.e., $3,791.4 million in 2021, and is expected to reach $7,080.2 million by 2031 at a CAGR of 6.0%. Major modern thoroughfares that connect crowded cities in established and developing nations frequently have components that, to varying degrees, capacity, efficiency, and safety. The advantages of using lighting on highways include improved speed, greater safety, comfort, and convenience for both drivers and passengers, as well as cheaper vehicle operating expenses.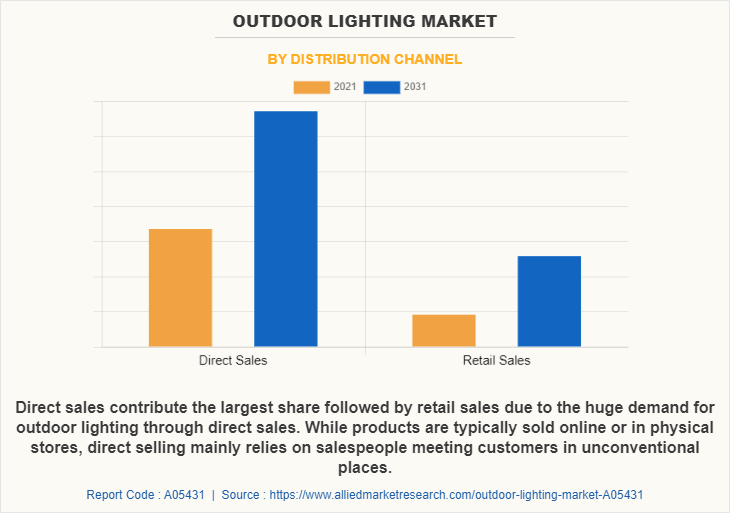 By distribution channel, the direct sales segment held the largest share in 2021 and is expected to hold the largest market share in 2031 due to outdoor lighting being widely available to consumers through retail sales, which cover big sets of lights. In addition, it has organized stores with a broad selection of outdoor lighting and a presence both domestically and internationally. Customers can find several kinds of outdoor lighting at these kinds of shops, including LED lights and plasma lamps that are popular in the market.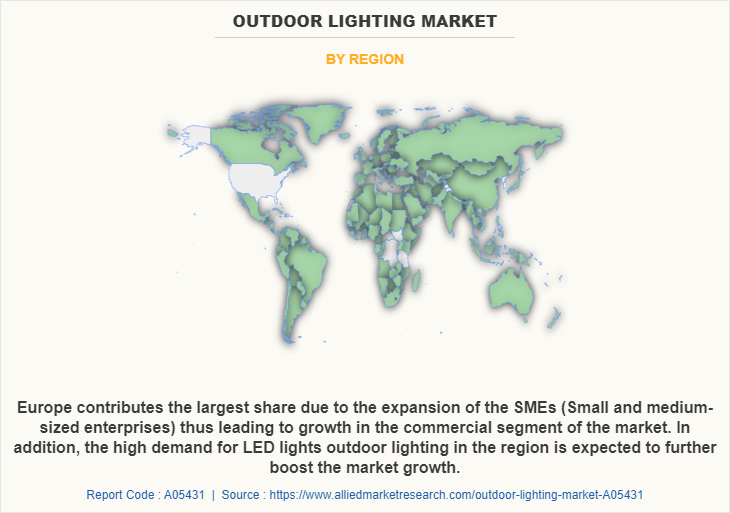 By region, Europe held the largest share in 2021 i.e., $3,764.8 million in 2021, and is expected to reach $6,831.3 million by 2031 at a CAGR of 5.7%. The outdoor lighting market is expected to increase in the European region due to the prevalence of micro-firms and small- and medium-sized enterprises in the sector. In addition, key companies will increase their investments in innovation, creativity, and modern technologies to meet changing consumer demands. This is projected to boost the growth of the Europe outdoor lighting market.  
The market is being driven by factors such as rapid growth in infrastructural development as well as technological advancement in developing countries. The major players operating in the global outdoor lighting are Outdoor Lighting Company, Kichler, ERCO, Havells India Limited, Iwasaki Electric Co. Ltd., Endo Lighting Corporation, Stanley Electric Co. Ltd., Dialight Plc, Syska Led Lights Private Limited, Acuity Brands Inc., Samsung Electronics Co. Ltd., SMART Global Holdings Inc., Hubbell Incorporated, Zumtobel Group AG, OSRAM Licht AG, anchor (Panasonic), Vonn lighting, Roger Pradier, Nordlux, and Linea Light. 
Key Benefits For Stakeholders
This report provides a quantitative analysis of the market segments, current trends, estimations, and dynamics of the outdoor lighting market analysis from 2021 to 2031 to identify the prevailing outdoor lighting market opportunities.
The market research is offered along with information related to key drivers, restraints, and opportunities.
Porter's five forces analysis highlights the potency of buyers and suppliers to enable stakeholders make profit-oriented business decisions and strengthen their supplier-buyer network.
In-depth analysis of the outdoor lighting market segmentation assists to determine the prevailing market opportunities.
Major countries in each region are mapped according to their revenue contribution to the global market.
Market player positioning facilitates benchmarking and provides a clear understanding of the present position of the market players.
The report includes the analysis of the regional as well as global outdoor lighting market trends, key players, market segments, application areas, and market growth strategies.
 Outdoor Lighting Market Report Highlights
Aspects
Details
Market Size By 2031
USD 22.6 billion
Growth Rate
CAGR of 5.6%
Forecast period
2021 - 2031
Report Pages
361
By Type

LED Lights
High-Intensity Discharge (HID) Lamps
Fluorescent Lights
Plasma lamps

By Application

Street Lighting
Tunnel Lights
Highways
Parking Lots/Decoration
Parks and Stadium
Building Exteriors
Others

By Distribution Channel

Direct Sales
Retail Sales

Sub Type

Hypermarket/Supermarket
Specialty Store
Others

By Region

North America (U.S., Canada, Mexico)
Europe (Germany, France, UK, Italy, Spain, Russia, Rest of Europe)
Asia-Pacific (China, Japan, India, Australia, South Korea, Rest of Asia-Pacific)
LAMEA (Brazil, South Africa, Saudi Arabia, UAE, Argentina, Rest of LAMEA)

Key Market Players
Iwasaki Electric Co., Ltd., Trade Gear Ltd., Acuity Brands Inc., Stanley Electric Co. Ltd., Syska Led Lights Private Limited, Samsung Electronics Co. Ltd., Dialight plc, ams-OSRAM AG, Masco Corporation, Vonn, LLC., Hubbell Incorporated, ENDO Lighting Corporation, SMART Global Holdings, Inc., Zumtobel Group AG, Havells India Limited