The outdoor vacation market size is valued at $500.3 billion in 2020, and is estimated to reach $3,326.4 billion by 2030, registering a CAGR of 16.2 % from 2021 to 2030.          
Outdoor vacation includes tours ranging from food and history to factory tours, bike tours, bicycling, camping, fishing, paddling, snow sports, and wildlife viewing. People are increasingly planning for outdoor vacations to get away from daily hectic schedules and gain valuable experiences. Improve physical and mental health, improve family relationships and boosted happiness are some of the benefits of taking vacation, which encourage people to plan for the outdoor vacation.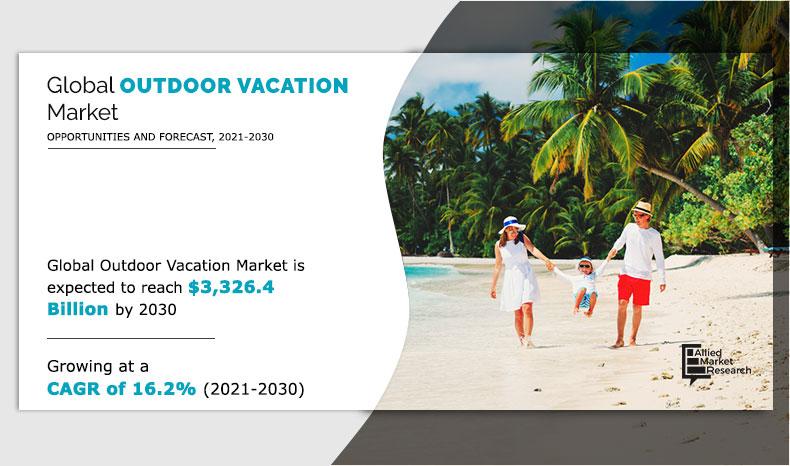 Online travel service providers aim to ease travel planning and bookings for travelers as consumers are gradually shifting from traditional reservation to online reservation. Furthermore, technology is disrupting the established market with advent of web-based booking and use of AI and IoT in operation optimizations. Technology-driven players such as online hotel aggregators and metasearch engines have heavily invested on big data analytics to make analytics-driven business decisions. 
Growth in middle class spending and zeal to explore unique locations has led to emergence of new destinations in the country. Travelers prefer to spend hefty amount of money on traveling to new places to immerse into the local culture thereby adding meaningful and memorable experience in their vacation. Thus, rise in disposable income, emergence of new exotic destinations, and combined use of AI, IoT, and smartphones majorly drive growth of the outdoor vacation market during the forecast period.   
COVID-19 pandemic has impacted all the industries globally. The outdoor vacation industry has been hit hard all over the world, impacting its associated sectors such as travel agencies, hospitality, tour operators, and all kinds of transportation services. The pandemic is having a profound impact on the world and is still affecting many parts of the world. It is unlikely that the global tourism industry will recover any time soon.
It takes at least two to three years to rebuild the global tourism industry, so countries that have been traditional tourist destinations must take appropriate measures to cope with the difficult times.
According to the outdoor vacation market analysis, the outdoor vacation market segmented into tour type, traveler type, age group, mode of booking, and region. On the basis of tour type, the market is categorized into volunteering trips, culinary tour, leisure tour, heritage trip, and others. By traveler type, it is segregated into couple, family, solo, and group. Depending on age group, it is divided into generation z, millennial, and baby boomers. On the basis of mode of booking, it is segregated into travel agent and OTA. Region wise, it is analyzed across North America (the U.S., Canada, and Mexico), Europe (Germany, France, UK, Spain, Italy, Russia, Sweden, Switzerland, and Rest of Europe), Asia-Pacific (China, Japan, India, Australia, New Zealand, South Korea, Thailand, Malaysia, Philippines, Indonesia, and Rest of Asia-Pacific), and LAMEA (Brazil, Argentina, South Africa, Saudi Arabia, the United Arab Emirates, Turkey, and Rest of LAMEA).
On the basis of tour type, the leisure tour segment gained major share in the global market, and is expected to sustain its share during the forecast period. Leisure tour is often characterized by experiencing local tourist attractions, relaxing on beaches, or staying in congenial resorts and hotels. Travel for leisure started in the nineteenth century, however present leisure tourism industry has evolved multidimensionally.
People have now extensively become more inclined to unwind and release stress. As a result, travelers are looking for different ways to enhance their travel experience, which includes recreational activities, spiritual activities, and cultural activities. Thus, the outdoor vacation industry is expected to have lucrative growth opportunities through the leisure tour segment.  
According to the traveler type, the family segment was valued at $180.7 billion in 2020, and is expected to grow to $1,243.9 billion by 2030 at a compound annual growth rate of 17.6%. The segment is majorly comprises couples with children and other family members in some cases. People are increasingly spending and willing to spend some qualitative time with their families which is why they opt and plan for outdoor vacations. People majorly prefer heritage, pilgrimage, and ecofriendly places to go with their families. Rise in disposable income and physical and mental benefits of outdoor vacations are expected to support growth of the family outdoor vacation market during the forecast period.
According to age group, the generation Z segment is valued at $194.2 billion in 2020, and is expected to grow to 1,389.4 billion by 2030 at a CAGR of 18.1%. The generation Z, also known as the gen z is a demographic cohort born after the year 1995. Gen z is budget conscious and look for immersive travel experiences. Generation Z spends a significant amount of time online and are extremely tech savvy. Nearly 85% of generation Z travelers get trip planning inspiration from online social networks such as Facebook, Instagram, and Snapchat. They are highly influenced and are often inspired to travel due to social media. Thus, generation Z in outdoor vacation is expected to witness robust growth during the forecast period.
By mode of booking, the travel agent segment was the highest contributor to the market, with $276.7 billion in 2020, and is estimated to reach $1,646.2 billion by 2030, at a CAGR of 15.9% during the forecast period. Majority of travelers prefer for direct booking with the travel agent to cut down the expenses. With the advent of online portals, numerous service operators directly get in touch with their prospecting clients. In addition, numerous travel blogs & feedback of the clients help other travels to take right decision in choosing new activity, places, and other related services. Booking through travel agent channel has witnessed a decline in its overall attractiveness due to rise in popularity of online travel booking. However, still a significant number of consumers believe in booking their travels through travel agents. Travel agents who explain about the whole trip to the customers and also aid them in planning for trip to some extent. A number of old first-time travelers require such services, so they prefer physical centers for the purpose of booking.
Region wise, Asia-Pacific has been holding major share in the global outdoor vacation market, and is expected to sustain its share throughout the outdoor vacation market forecast period.  Asia-Pacific is the second largest and one of the fastest growing regions in the outdoor vacation market. Presence of large number of millennials supported by increased disposable income supplemented by expanding infrastructure have resulted in large market share of the outbound travelers from Asia-Pacific. Furthermore, Asian millionaires now possess more wealth than their peers in North America. In terms of future spending options, travel is at top priority and within travel; unique luxury experiences and adventurous activities are regarded of utmost importance. Thus, growing government support and adoption IoT and artificial intelligence-based technology is expected to spur growth of the Asia-Pacific outdoor vacation market during the forecast period. 
The players operating in the global outdoor vacation market have adopted various developmental strategies to expand their outdoor vacation market share, increase profitability, and remain competitive in the market. The key players profiled in this report include Abercrombie & Kent USA LLC, Butterfield & Robinson, Cox & Kings Ltd, Kensington Tours, Micato Safari, Scott Dunn Ltd, Tauck, Inc., Thomas Cook India Ltd, Travcoa Corporation, TUI Group, American Express Travel, Carlson Wagonlit Travel, Expedia Group, Inc, JTB Americas, Ltd., Priceline, Travel Leaders Group, and World Travel, Inc.  
Key Benefits For Stakeholders
The report provides a quantitative analysis of the current outdoor vacation market trends, estimations, and dynamics of the market size from 2020-2030 to identify the prevailing opportunities.
Porter's five forces analysis highlights the potency of buyers and suppliers to enable stakeholders to make profit-oriented business decisions and strengthen their supplier–buyer network.
In-depth analysis and the market size and segmentation assist to determine the prevailing Outdoor vacation Market opportunities.
The major countries in each region are mapped according to their revenue contribution to the market. 
The market player positioning segment facilitates benchmarking and provides a clear understanding of the present position of the market players in the Outdoor vacation Market.
Key Market Segments  
By Tour Type
Volunteering trips
Culinary Tour
Leisure Tour
Heritage trip
Others 
Traveler Type
By Age Group
Generation Z
Millennial
Baby Boomers
By Mode of Booking
By Region
North America
Europe

Germany
France
UK
Italy
Spain
Russia
Sweden
Switzerland
Rest of Europe

Asia-Pacific

China
India
Japan
Australia
South Korea
New Zealand
Thailand
Malaysia
Philippines
Indonesia
Rest of Asia-Pacific

LAMEA

Brazil
Argentina
South Africa
Saudi Arabia
United Arab Emirates
Turkey
Rest of LAMEA