Ozone sterilizer is a disinfectant used to sterilize clinical gadgets due to its antibacterial, antiviral, and antifungal properties. This sterilizer does not leave any chemical residues, which are common in synthetic sterilizers, and it can be converted ozone molecules to medical grade oxygen. It is broadly utilized in medical clinics, facilities, nursing homes, and other medical units. Ozone sterilizer has its own oxidizing properties, thus, it does not need any extra work by professionals. It delivers just oxygen and water vapours into the climate as by-products.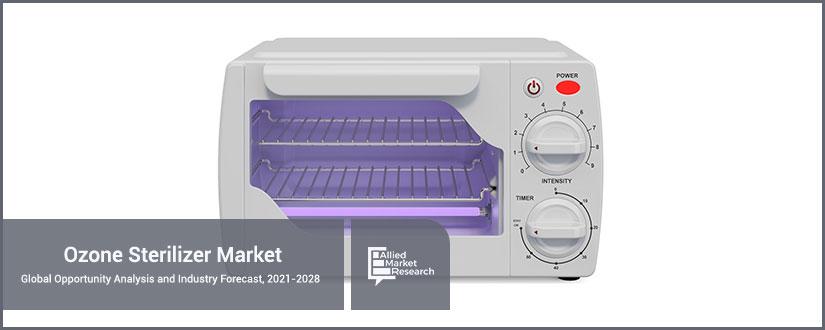 COVID-19 Impact Analysis
COVID-19 is an infectious disease that originated in Hubei province of the Wuhan city in China in late December. The highly contagious disease, caused by a virus, severe acute respiratory syndrome coronavirus 2 (SARS-CoV-2), is transmitted from human to human. Since the outbreak in December 2019, the disease has spread to almost 213 countries around the globe with the World Health Organization declaring it a public health emergency on March 11, 2020.
Increase has been witnessed in the demand for medical supplies to take care of infected population. Respiratory support devices such as atomizers, life support machines, oxygen generators, and monitors are among the majorly used medical devices in primary clinical treatment. Moreover, COVID-19 has led to a huge surge in demand for medical supplies such as personal protective equipment including masks, gloves, and protective eyeglasses. The need for medical supplies has increased among both from healthcare professionals and civil population for precautionary measures, owing to rise in number of COVID-19 cases worldwide. Manufacturers of these products have a chance to capitalize this increased demand for medical supplies to ensure adequate and continuous supply of personal protective equipment in the market. Therefore, COVID 19 is expected to have a significant impact on the ozone sterilizer market.
Top Impacting Factors
Increase in cases of infections and effective sterilization properties for example strong oxidative properties & sterilization of clinical gadgets are the key factors that drive the growth of ozone sterilizer market.
In addition, the development of pharmaceutical companies is expected to have positive impact on the market growth, due to rise in utilization of ozone sterilizers by pharmaceutical companies to sterilize research centers apparatuses engaged with delicate investigations or examines, biopharmaceutical water frameworks, and equipment.
However, prolong contact with ozone sterilizers and inhalation of ozone gas may give short term health issues, which hinder the growth of the market.
Contrarily, ozone sterilizer acts as an evolving technology as compared to traditional sterilization methods, which is expected to offer lucrative opportunities for the expansion of the market.
Market Trends
New Development to Flourish the Market
Companies are entering into the joint efforts, consolidations, key associations, and acquisitions. For instance, in June 2019, TSO3 Inc. had gone into the provider concurrence with Capstone Health Alliance to supply individuals with sterilizers, consumables, and administration at favored costs for the term of the agreement which stretches out until 2021.
In March 2018, TSO3 received approval from the U.S. Food and Drug Administration (USFDA) for its Sterizone VP4 sterilizer for the terminal cleansing of multi-diverted adaptable endoscopes.
Surge in Demand of Sterilizers
Rise in demand for minimally invasive procedure and advance procedures drives the growth of the ozone sterilizer market. Ozone sterilization market is expected to witness rapid development, due to factors such as increase in prevalence of hospital-acquired infections & contamination, rise in operational methods, and increase in awareness about sterilization of food productions & related sterilization. In addition, increase in healthcare expenditure, availability of skilled professionals, collaborations & partnerships between key players to facilitate drug development, and rise in R&D activities to improve quality of ozone sterilizers in market are some factors, which augment the market growth.
Key Benefits of the Report
This study presents the analytical depiction of ozone sterilizer market industry along with the current trends and future estimations to determine the imminent investment pockets.
The report presents information related to key drivers, restraints, and opportunities along with detailed analysis of the market share.
The current market is quantitatively analyzed to highlight the market growth scenario.
Porter's five forces analysis illustrates the potency of buyers & suppliers in the market.
The report provides a detailed market analysis depending on competitive intensity and how the competition will take shape in coming years
Questions Answered in the Ozone Sterilizer Market Report                          
Which are the leading players active in the ozone sterilizer market?
What are the current trends that will influence the market in the next few years?
What are the driving factors, restraints, and opportunities of the market?
What future projections would help in taking further strategic steps?
What is "ozone sterilizer"?
What is "ozone sterilizer" market prediction in the future?
Who are the leading global players in the "ozone sterilizer" market?
What are the current trends and predicted trends?
What are the key benefits of the "ozone sterilizer" market report?
 Ozone Sterilizer Market Report Highlights
Aspects
Details
By Product Type
By Application
By End Users

Hospitals
Clinics
Pharmaceutical Companies
Others

By Region

North America (U.S., Canada, Mexico)
Europe (France, Germany, Italy, Spain, UK, Rest of Europe)
Asia-Pacific (China, Japan, India, South Korea, Australia, Rest of Asia-Pacific)
LAMEA (Brazil, South Africa, Saudi Arabia, UAE, Rest of LAMEA)

Key Market Players
WEIFANGSHI XINKE Technology Co., Ltd., SS Technomed, Aeroqual, GenlantisWeihua Dike Beijing Science and Technology Co., Ltd., Guangzhou Jiahuan Electrical Technology Co. Ltd., TSO3, KWJ Engineering, Aqua Logic Incorporated, Shenzhen Welleer Pacific Ozone Technology Co., Ltd.