A pacemaker is a small, battery-operated gadget that is placed under the skin close to the heart to help control the heartbeat. It is a small device used to treat  arrhythmias. During an arrhythmia, the heart can beat excessively quick, excessively slow, or with irregular heartbeats. Pacemaker sends electrical heartbeats to help heart beat at a typical rate. Primary purpose of pacemaker is to maintain proper heartbeats. The principle types include single-chamber pacemaker, which has one wire associated with either the exact chamber (upper heart chamber) or right ventricle (lower heart chamber) double chamber pacemaker, which contains two wires associated with the exact heart chamber and right ventricle of heart.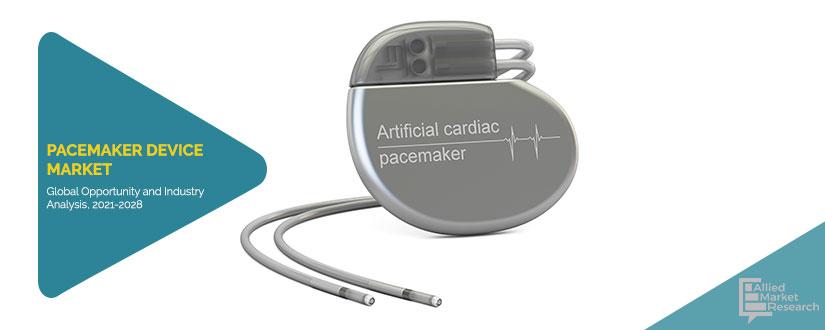 COVID-19 Impact Analysis
COVID-19 is an infectious disease that originated in Hubei province of the Wuhan city in China in late December. The highly contagious disease, caused by a virus, severe acute respiratory syndrome coronavirus 2 (SARS-CoV-2), is transmitted from human to human. Since the outbreak in December 2019, the disease has spread to almost 213 countries around the globe with the World Health Organization declaring it a public health emergency on March 11, 2020.
Increase has been witnessed in the demand for medical supplies to take care of infected population. Respiratory support devices such as atomizers, life support machines, oxygen generators, and monitors are among the majorly used medical devices in primary clinical treatment. Moreover, COVID-19 has led to a huge surge in demand for medical supplies such as personal protective equipment including masks, gloves, and protective eyeglasses. The need for medical supplies has increased among both from healthcare professionals and civil population for precautionary measures, owing to rise in number of COVID-19 cases worldwide. Manufacturers of these products have a chance to capitalize this increased demand for medical supplies to ensure adequate and continuous supply of personal protective equipment in the market. Therefore, COVID 19 is expected to have a significant impact on the global pacemaker device market.
Top Impacting Factors
Increase in cases of cardiovascular diseases and rise in demand for minimally invasive procedure & advanced cardiovascular treatment & procedures are factors that drive the growth of global pacemaker device market.
In addition, improvement in technology of pacemaker with the help of collaboration, rise in R&D activities to improve quality of pacemakers, launch of newly advanced pacemakers in market, and technological development such as MRI safe pacemakers & leadless pacemakers boost the market growth of the market.
However, increase in the awareness in patients regarding cardiovascular diseases and unskilled professionals hinder the market growth.
On the contrary, surge in a geriatric population and the support from government for regulatory approvals are expected to offer lucrative opportunities for the expansion of the market.
Market Trends
Regular Advancement in Technologies
Rise in mechanical progressions in the medical services area boosts the growth of the pacemaker device market. In addition, rise in use of medical devices has led to the development of the market. Companies such as Abbott, Medtronic, Pacetronix, and Microport Scientific Corporation are contributing in innovations.
For instance, Medtronic offers technologically advanced pacemaker devices for the treatment of heart beat problems and cardiovascular breakdowns. The company offers a broad range of pacemaker devices through its cardiac and vascular group segments. It offers the Advisa and Ensura SR MRI SureScan Single-chamber Pacemaker Devices, Viva CRT-P Pacemaker, and Advisa DR MRI SureScan Pacing System.
In October 2020, Medtronic launched "Azure" pacemaker device. It is designed to detect accurate cardiac rhythm and heart failure and it can communicate with patient's smartphone or tablet.
Surge in Prevalence of Cardiovascular Diseases
Rise in cases of cardiovascular diseases, increase in aging populations, surge in demand for minimally invasive procedure, and availability of advanced cardiovascular treatment & procedures such as MRI safe pacemaker & leadless pacemakers drive the growth of pacemaker device market. For instance, as per Centers for Disease Control and Prevention (CDC), nearly 18.2 million adults age 20 and older were suffering from coronary artery disease (CAD) and about 2 in 10 deaths were recorded among adults less than 65 years old due to CAD in the U.S in 2020. Furthermore, according to the British Heart Foundation, nearly 2.3 million people in the UK suffered from CADs in 2018. In addition, rise in healthcare expenditure, availability of skilled professionals, and surge in R&D improved the quality of pacemaker, which are some of the key factors augmenting the growth of the global pacemaker device market.

Key Benefits of the Report
This study presents the analytical depiction of pacemaker device market industry along with the current trends and future estimations to determine the imminent investment pockets.
The report presents information related to key drivers, restraints, and opportunities along with detailed analysis of the market share.
The current market is quantitatively analyzed to highlight the market growth scenario.
Porter's five forces analysis illustrates the potency of buyers & suppliers in the market.
The report provides a detailed market analysis depending on competitive intensity and how the competition will take shape in coming years.
Questions Answered in the Pacemaker Device Market Report
Which are the leading players active in the pacemaker device market?
What are the current trends that will influence the market in the next few years?
What are the driving factors, restraints, and opportunities of the market?
What future projections would help in taking further strategic steps?
What is "pacemaker device market"?
What is "pacemaker device market" market prediction in the future?
Who are the leading global players in the "pacemaker device" market?
What are the current trends and predicted trends?
What are the key benefits of the "pacemaker device market" market report?
 Pacemakers Device Market Report Highlights
Aspects
Details
By Product Type

Implantable pacemakers

Single Chamber
Dual Chamber
Biventricular Chamber

External Pacemakers

By Application

Congestive Heart Failure
Arrhythmias
Bradycardia
Tachycardia
Others

By End User

Hospitals
Cardiac Centers
Ambulatory Surgical Centers
Others

By Region

North America (U.S., Canada, Mexico)
Europe (France, Germany, Italy, Spain, UK, Rest of Europe)
Asia-Pacific (China, Japan, India, South Korea, Australia, Rest of Asia-Pacific)
LAMEA (Brazil, South Africa, Saudi Arabia, UAE, Rest of LAMEA)

Key Market Players
Osypka Medical, Medtronic, Pacetronix, Sorin, Boston Scientific Corporation, Abbott, OSCOR Inc., Microport Scientific Corporation., BIOTRONIK, Lepu Medical, Zoll Medical Corporation