Packaging Resins Market Research, 2032
The global packaging resins market size was valued at $288.9 billion in 2022, and is projected to reach $587.3 billion by 2032, growing at a CAGR of 7.4% from 2023 to 2032.
Report Key Highlighters:
The packaging resins market study covers 20 countries. The research includes a segment analysis of each country in terms of both value ($million) and volume (kilotons) for the projected period 2023-2032.
The study integrated high-quality data, professional opinions and analysis, and critical independent perspectives. The research approach is intended to provide a balanced view of global markets and to assist stakeholders in making educated decisions in order to achieve their most ambitious growth objectives.
Over 3,700 product literature, annual reports, industry statements, and other comparable materials from major industry participants were reviewed to gain a better understanding of the market.
The packaging resins market share is highly fragmented, with several players including BASF SE, Borealis AG, Braskem, China Petrochemical Corporation, Mitsubishi Chemical Corporation, Exxon Mobil Corporation, INEOS, LyondellBasell Industries Holdings B.V., Reliance Industries Limited, and SABIC. Also tracked key strategies such as acquisitions, product launches, mergers, expansion etc. of the players operating in the packaging resins market.
The packaging resin industry is experiencing significant trends driven by a growing emphasis on environmental sustainability and the imperative to decrease plastic waste. This is leading to a notable shift towards the adoption of eco-friendly and biodegradable packaging alternatives.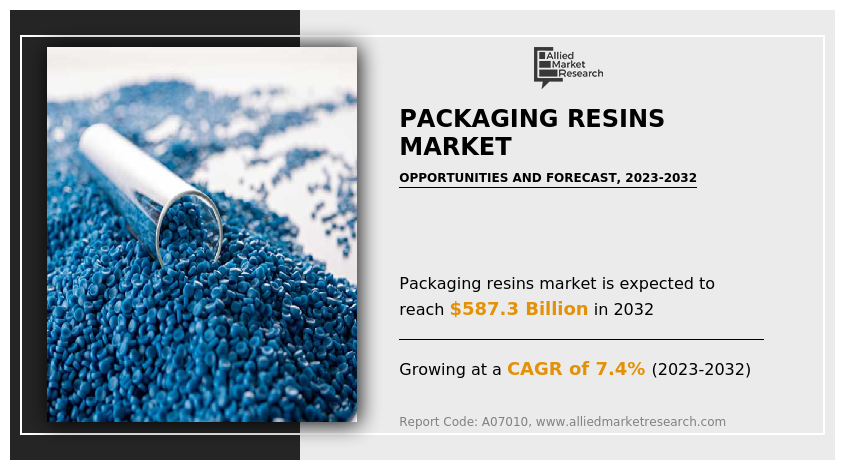 Packaging resin performs a pivotal position in various industries, serving as a fundamental factor in the introduction of numerous packaging materials. Packaging resin encompasses a wide array of polymers that contribute to the manufacturing of packaging options used globally. These resins are chosen for their versatility, durability, and potential to meet the various desires of distinct industries.
Packaging resin refers to a polymer fabric that can be molded, extruded, or solid into a number of shapes and varieties to create packaging products such as bottles, containers, films, and more. These resins are characterized by using their chemical composition, molecular structure, and bodily properties, which are cautiously engineered to go well with the necessities of specific applications.
Packaging resin finds extensive use throughout numerous industries due to its versatile applications. In food and beverage, packaging resins play an imperative function in producing meal containers, beverage bottles, and bendy packaging films. Packaging resins have varying ranges of barrier residences towards moisture, gases, and other exterior factors. This is in particular necessary when packaging products that are sensitive to these factors.
The pharmaceutical industry heavily depends on packaging resins to shield medicines and medical devices. Resins with high chemical resistance and low reactivity are preferred in this sector, as they stop interactions between the packaging material and the contents, keeping the efficacy of the pharmaceutical products. Moreover, packaging resins are instrumental in the cosmetics and non-public care industry, enabling the introduction of attractive and purposeful packaging for quite a number beauty products.
Packaging resins find utility in the manufacturing of defensive casings for electronic devices. These resins often possess heat-resistant and insulating properties, safeguarding subtle electronic factors from exterior elements that ought to compromise their functionality. The car enterprise also advantages from packaging resins, the usage of them to craft durable and lightweight substances for vehicle interiors, exteriors, and components.
Packaging resin has evolved to tackle the want by using offering biodegradable and compostable selections that decrease the environmental influence of packaging materials. These sustainable resins are used in functions ranging from meals packaging to single-use items, decreasing the accumulation of plastic waste in landfills and oceans.
The purposes of biodegradable and compostable packaging resins are diverse, spanning various industries. For instance, these resins are used for packaging perishable goods such as fruits, vegetables, and prepared foods in the food industry. Since food packaging regularly ends up as waste, the use of biodegradable and compostable materials reduces the environmental effect and contributes to a greater sustainable food supply chain.
A surge in demand for packaged goods across various industries drives the packaging resins market growth.
The packaging resin industry is swiftly expanding due to its usage throughout various sectors like food, beverages, and purchaser goods. Packaging resin furnishes quite a number of benefits, leading to massive use. The food and beverage area is a key driver, requiring efficient packaging for perishable items and liquids. Packaging resins extend shelf life, preserve quality, and prevent contamination. In April 2022, Mondi unveiled new food packaging at Anuga FoodTec, Cologne. The use of advanced polypropylene improves food protection, reduces waste, and maintains fantastic in the grant chain, highlighting the imperative function of packaging in retaining food and decreasing waste.
Emerging trends in sustainable packaging materials propel the growth of packaging resins market.
The rise of eco-friendly packaging materials, in particular packaging resins, is a significant trend for sustainable packaging. Packaging resins are used in making objects like plastic bottles and containers. Traditional resins from fossil fuels damage the environment, whilst eco-friendly ones are biodegradable, compostable, or made from renewable sources like corn starch. Bioplastics, derived from sources such as sugarcane, can substitute common plastics with a decreased environmental impact. Regulations against single-use plastics and client demand for sustainable products force this shift. Companies are actively in search of alternatives. Innovations like plant-based materials are helping manufacturers limit their impact. Ardagh Metal Packaging's new facility in France expands eco-friendly packaging production, supported by way of Sud Attractivité and Bpifrance.
The packaging resins market is segmented into type, application, and region. On the basis of type, the market is classified into low-density polyethylene (LDPE), polypropylene (PP), high-density polyethylene (HDPE), polystyrene (PS), and others. On the basis of application, the market is divided into food and beverage, consumer goods, healthcare, and others. On the basis of region, the market is studied across North America, Europe, Asia-Pacific, and LAMEA.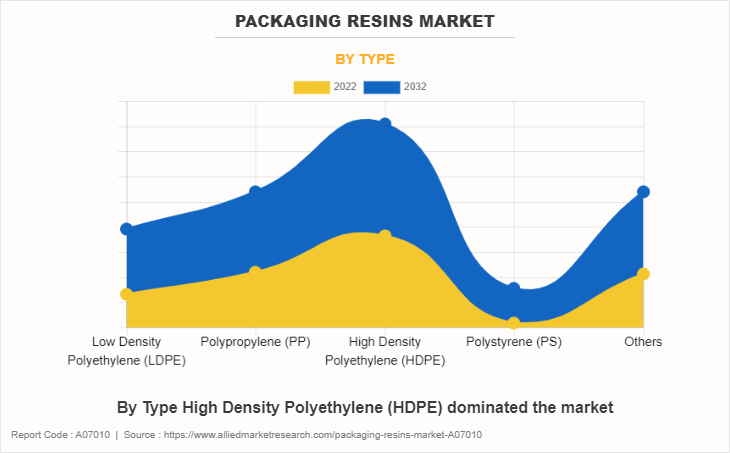 HDPE is frequently used to produce bottles, containers, and caps for an extensive vary of products such as beverages, cleansing products, personal care items, and more. Its durability and chemical resistance make it appropriate for storing a range of types of beverages and substances. HDPE is used to create pallets, crates, and different varieties of inflexible packaging. Its sturdy nature and resistance to impact make it ideal for transporting and storing items securely. HDPE has super resistance to a vast variety of chemicals, acids, and bases. This makes it a perfect choice for packaging products that may also come into contact with quite a number of substances.
Packaging resins help defend food and beverages from exterior elements such as moisture, oxygen, and light, which can lead to spoilage and degradation. This upkeep extends the shelf existence of products, lowering food waste and ensuring that customers acquire fresh and high-quality products. Since polypropylene can stand up to high temperatures, it can be used to package warm ingredients such as soups and ready-to-eat foods as well as food containers that can be microwaved. The packaging can withstand the strain of both microwave heating and transit due to the fact to its resilience.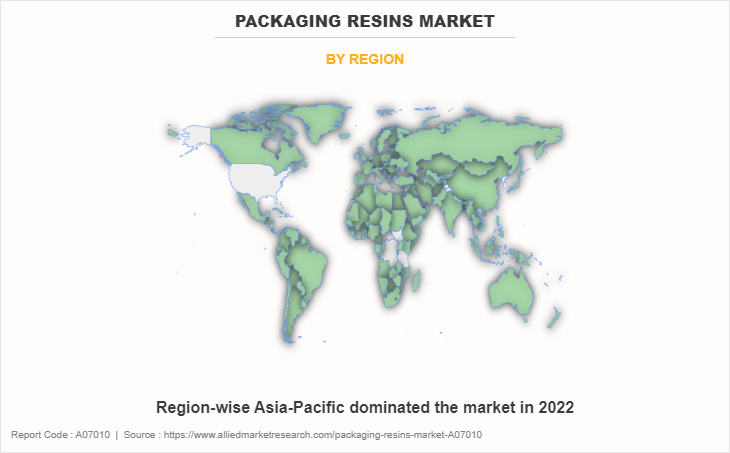 The Asia-Pacific region has seen a super surge in the use of packaging resin, an essential ingredient in growing a number of products like bottles, containers, and films. This growth can be attributed to urbanization, greater incomes, evolving customer choices, and increased industrial activity. In response to the demand for eco-friendly packaging, many countries in the place are focusing on looking for biodegradable materials, recycling techniques, and circular financial system concepts. Regulatory actions and industry-led efforts are being applied to reduce single-use plastics and encourage accountable application of packaging resin.
Historical Trends
In 1800s, natural materials such as glass, wood, and steel were frequently used for packaging. Glass containers have been used for storing a range of products, wood was used for crates and boxes, and metal was employed for cans and containers.
1950s, the development of quite a number plastics, together with polyethylene (PE), polypropylene (PP), and polyethylene terephthalate (PET), paved the way for artificial polymer-based packaging resins. HDPE grew to be extensively used for packaging containers, bottles, and other merchandise due to its sturdiness and chemical resistance.
The 1990s noticed the expansion of recycling packages in many regions. Governments, municipalities, and groups started imposing curbside recycling applications to encourage the separation and series of recyclable materials, inclusive of packaging.
In the 2010s, the improvement of smart packaging with aspects such as monitoring freshness and temperature monitoring revolutionized the way merchandise is saved and transported, ensuring better great and safety for consumers. Smart packaging options have been designed to reveal the freshness of perishable gadgets such as food and pharmaceuticals. Sensors may want to become aware of adjustments in fuel concentrations, temperature, and humidity, offering real-time statistics to buyers and suppliers.
In 2021, the packaging industry was influenced by a number of factors, along with sustainability concerns, developments in material science, and altering consumer preferences. Many companies have been focusing on developing extra environmentally friendly packaging solutions, along with biodegradable and recyclable resins. Increasing customer awareness about the environmental influence of packaging resin led to higher demand for sustainable alternatives, encouraging further research and innovation in this field.
Key Benefits For Stakeholders
This report provides a quantitative analysis of the market segments, current trends, estimations, and dynamics of the packaging resins market analysis from 2022 to 2032 to identify the prevailing packaging resins market opportunities.
The market research is offered along with information related to key drivers, restraints, and opportunities.
Porter's five forces analysis highlights the potency of buyers and suppliers to enable stakeholders to make profit-oriented business decisions and strengthen their supplier-buyer network.
In-depth analysis of the packaging resins market forecast to determine the prevailing market opportunities.
Major countries in each region are mapped according to their revenue contribution to the global market.
Market player positioning facilitates benchmarking and provides a clear understanding of the present position of the market players.
The report includes the analysis of the regional as well as global packaging resins market trend, key players, market segments, application areas, and market growth strategies.
 Packaging Resins Market Report Highlights
Aspects
Details
Market Size By 2032
USD 587.3 billion
Growth Rate
CAGR of 7.4%
Forecast period
2022 - 2032
Report Pages
312
By Application

Food and Beverage
Consumer Goods
Healthcare
Others

By Type

Low Density Polyethylene (LDPE)
Polypropylene (PP)
High Density Polyethylene (HDPE)
Polystyrene (PS)
Others

By Region

North America (U.S., Canada, Mexico)
Europe (Germany, France, UK, Spain, Italy, Rest of Europe)
Asia-Pacific (China, Japan, India, South Korea, Australia, Rest of Asia-Pacific)
LAMEA (Brazil, South Africa, Saudi Arabia, Rest of LAMEA)

Key Market Players
Borealis AG., BASF SE, China Petrochemical Corporation, INEOS, Reliance Industries Limited, SABIC, Mitsubishi Chemical Corporation, Exxon Mobil Corporation, Braskem, LyondellBasell Industries Holdings B.V.
Analyst Review
According to the opinions of various CXOs of leading companies, the packaging resin market is driven by rise in demand for high-density polyethylene (HDPE). HDPE has excellent resistance to chemicals, making it suitable for use in environments where exposure to harsh chemicals is a concern. has good impact strength and can withstand exposure to ultraviolet (UV) rays, making it suitable for outdoor applications such as playground equipment, outdoor furniture, and pipes.
Technological advancements in resin manufacturing drive the growth of the packaging resin market. Packaging solutions extensively utilize resins as the foundational material for producing various packaging items such as containers, bottles, films, and more. Advanced polymerization processes have transformed resin production, boosting quality, efficiency, and versatility. Resin Design specializes in technology for manufacturing LEDs, optical displays, image sensors, and more. Resin 3D printing is gaining traction in fields such as medicine, dentistry, and jewelry due to resin technology advancements. Epoxy chemistry advancements, particularly responding to regulations and user expectations, have greatly improved industrial maintenance coatings.
Fluctuating raw material prices of packaging resin is expected to hinder the growth of the packaging resin market. Fluctuating raw material prices have a notable influence on the entire value chain, especially for packaging resin producers. Striking a balance between cost management and competitive pricing is crucial for them. When prices rise, sustaining profit margins becomes difficult, impacting overall competitiveness. For instance, the cost of polypropylene resin surged from 13.5 to 96.5 cents per pound in January 2021 due to shortages and import slowdowns, leading to 30% increase in the producer price index (PPI) for resin and raw materials in Q1 2021. However, prices of polyethylene and polypropylene declined in July 2022.
The Asia-Pacific region is projected to register robust growth during the forecast period. China's packaging industry has also been influenced by sustainability concerns. As environmental awareness grows, there is increasing interest in developing and using more eco-friendly packaging solutions. This has led to efforts to reduce plastic waste and promote the use of recyclable materials in packaging.