The global packaging robots market size was valued at $4,352.1 million in 2020 and is projected to reach $14,475.0 million by 2030, growing at a CAGR of 12.3% from 2021 to 2030. 
The COVID-19 outbreak had affected the manufacturing of robotic systems in the first and second quarter of 2020. However, owing to adoption of touch-less operations in industries such as automotive, food & beverage and electronics the demand for packaging robots increased in the third and fourth quarter of 2020.
Packaging robots refers to the use of automated systems, robots, and specialized software to move various tasks, and streamline automate packaging process. Packaging robots systems are used in various industry verticals such as pharmaceuticals, consumer products, logistics, food & beverages, and others. Vacuum grippers are widely used in picking up flat materials such as glass sheets or metal sheets. Such types of grippers use suction caps to grip multiple objects at once, during packaging and palletizing processes. Objects such as big crates, boxes, cans, and bottles are handled by vacuum grippers and hence have observed a significant usage in the packaging industries.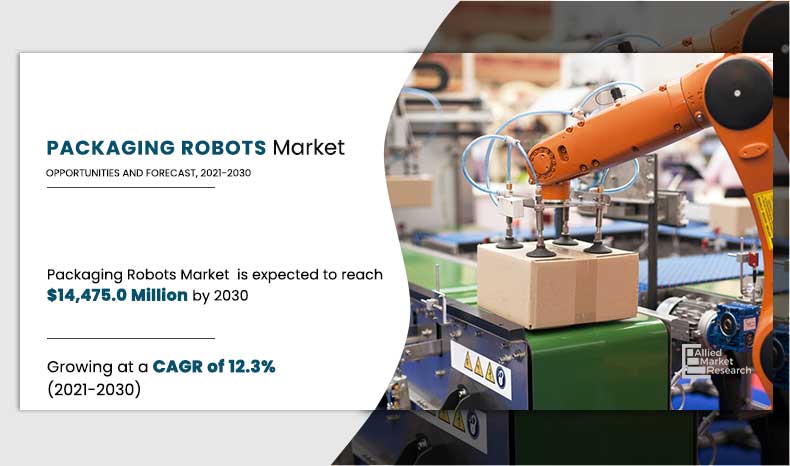 The global packaging robot industry is driven by factors such as growth in need for automation in industry verticals, increased usage of robots for maximum efficiency, and cost reduction benefits. In addition, with evolving global robotics industry and continuous growth in retail & e-commerce industry, the packaging robots market is likely to spur during the forecast period. 
Packaging robots have reduced the time & effort required to scan & update inventory, pack packages, arrange items on the shelves, and other related tasks in a short amount of time. Increase in collaboration of packaging robots with e-commerce drives the packaging robots market growth.
The packaging robots industry is classified on the basis of application into picking, packing, and palletizing. Picking & placing is the fastest growing application owing to rapid growth in e-commerce sector as the majority of demand for packaging robots come from e-commerce industry. E-commerce industries majorly utilize picking robots for order fulfillment process since manual item picking is a labor-intensive and tough task. Therefore, automation on item picking improves efficiency and saves cost. The utility of robotic systems has increased in food & beverage, e-commerce, healthcare, and automotive industries to meet their requirements and increase efficiency. Growth in industrialization and need for automation to reduce costs & waste, and improved production efficiency drive the demand for these systems in the market. In addition, high accuracy, superior efficiency, and reduction in product damage offered by pick & place robot systems also fuel this demand.
Major players such as ABB Ltd., Omron Corporation, Fanuc Corporation, and others have adopted the product launch strategy to improve their product portfolio to maintain competition in the market. For instance, in November 2020, Fanuc Corporation developed and launched the robot R-2000Id/210FH with cables embedded, as the latest model of the best-selling of R-2000i series. Such instances are expected to provide lucrative opportunities to the major players for the growth of the market.
The COVID-19 pandemic forced many companies in the global packaging robots market share to halt business operations for a short term to comply with new government regulations to curb the spread of the disease. This halt in operations directly impacted revenue flow of the global market. In addition, there was halt in manufacturing of industrial products, owing to lack of raw materials and manpower in the lockdown period. Further, no new consignments were received by companies that operate in this sector. Hence, halt in industrial activities and lockdowns for several months affected the global market and the market is anticipated to witness a slow recovery during the forecast period.
However, high initial cost and shortage of skilled & trained personnel restrain the market growth. Conversely, rise in automation and industrialization is anticipated to provide lucrative opportunities for the growth of the global market.
Packaging Robots Market

---
By Gripper Type
Others segment is projected to grow at a highest CAGR of 15.2%.
The packaging robots market is segmented into gripper type, application, and end user. By gripper type, the market is divided into clamp, claw, vacuum, and others.  By application, it is classified into picking & placing, packing, and palletizing. Packing, one of the key applications in the global market, is further segmented into tray packing, case packing, filling, and others, whereas palletizing involves case palletizing, bag palletizing, and de-palletizing. By end user, the market is categorized into food & beverages, pharmaceuticals, consumer products logistics, and others. The pharmaceutical industry in the global market necessitates automated packaging to ensure proper capping, labeling, and collation. Packaging in healthcare includes preservation, protection, and delivery of safe drug product. In addition, it also involves the protection of products from damaging environmental factors, such as moisture, temperature, humidity, and light. Thus, the use of robots in pharmaceutical packaging increases productivity by handling complex tasks with machine vision and is likely to grow at the fastest rate by 2030.
By region, it is analyzed across North America, Europe, Asia-Pacific, and LAMEA. Asia-Pacific is expected to hold the highest market share during the forecast period. 
Packaging Robots Market

---
By Application
Packing segment generated the highest revenue in 2020
Competition Analysis
The key players profiled in the packaging robots market  report include  ABB Limited, Krones AG, Fanuc Corporation, Schneider Electric SE, Yaskawa America Inc., Mitsubishi Electric Corporation, Bosch Packaging Technology (Robert Bosch GmbH), Brenton Engineering, Kuka Roboter GmbH, and Remtec Automation LLC.
Major players have adopted product launch and acquisition as key developmental strategies to improve the product portfolio of warehouse robots. For instance, in January 2022, ABB Ltd. announced the acquisition of EV Charging Infrastructure Solutions to strengthen its customer base and expand its fleet electrification software & digital services. This acquisition aims to improve the product portfolio of the company.
Packaging Robots Market

---
By Region
Asia-Pacific holds a dominant position in 2020 and North America is expected to grow at a significant rate during the forecast period.
Key Benefits For Stakeholders
The report provides an extensive analysis of the current and emerging global packaging robots market trends and dynamics.  
In-depth packaging robots market analysis is conducted by the global market estimations for key market segments between 2020 and 2030. 
Extensive analysis of the global packaging robots market is conducted by following key product positioning and monitoring of the top competitors within the market framework.
A comprehensive analysis of all the regions is provided to determine the prevailing opportunities.
The global packaging robots market forecast from 2021 to 2030 is included in the report.
The key market players within market are profiled in this report and their strategies are analyzed thoroughly, which help understand the competitive outlook of the global packaging robots industry.
 Packaging Robots Market Report Highlights
Aspects
Details
BY GRIPPER TYPE
BY APPLICATION

Pick & Place
Packing
Palletizing

BY END USER

Food & Beverage
Pharmaceuticals
Consumer Products
Logistics
Others

BY REGION

North America
Europe

Germany
Italy
UK
France
Spain
Rest of Europe

Asia-Pacific

China
Japan
India
South Korea
Rest of Asia-Pacific

LAMEA

Latin America
Middle East
Africa