Global Paint Roller Market Outlook- 2027
The global paint roller market size was valued at $2,384.6 million in 2019, and is projected to reach $3,182.2 million by 2027, registering a CAGR of 5.5% from 2020 to 2027. A paint roller is a painting tool, which is utilized for painting flat surfaces efficiently. It includes roller frame and a cover which absorbs the paint and applies it to the respective surface. The handle section is used by painter to hold the roller, the roller frame is connected to the roller cover. The roller cover can be cleaned and reused or disposed after use. 
The COVID 19 outbreak has affected the growth of the paint roller industry owing to the lockdown measure in different countries and delay in manufacturing and production of paint rollers which are utilized for painting walls, celiings, and others in industrial, residential, and commercial spaces.
Rise in demand for commercial infrastructure developments drives the paint roller market growth. In emerging economies, industrial infrastructural development is positively influencing the market growth. In addition, rapid surge in the urbanization and population has led to fuel the demand for paint roller. Moreover, rise in demand for commercial buildings is expected to continue to drive the market growth in developed regions. For instance, in March 2018, Ardian, a leading private investment house, has raised more than $800 million for investment in commercial property assets in Germany, France, and Italy.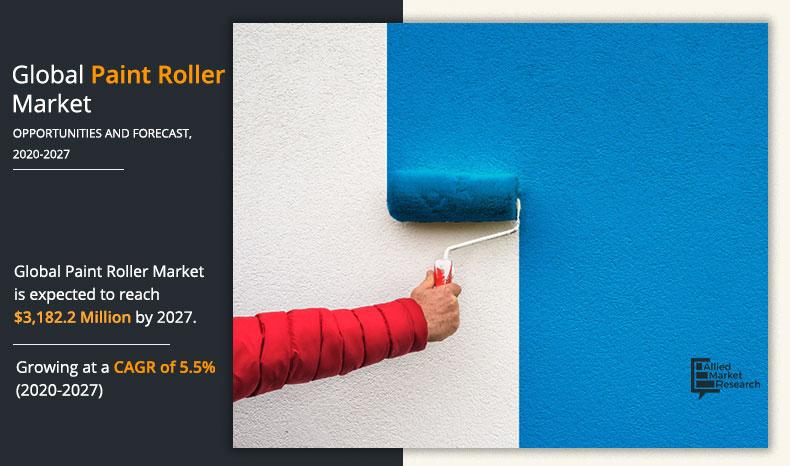 Moreover, increase in industrialization in economies, such as Asia-Pacific and LAMEA, is expected to provide lucrative opportunities for the global paint roller market development.
The growth in the demand for residential development largely drives the market growth. The U.S. Census Bureau and the U.S. Department of Housing and Urban Development collectively announced for the current residential construction statistics for the month of June 2018, which states that 1,261,000 units of housing completions are expected by July 2018. 
Moreover, the construction industry is to grow to US$8 trillion by 2030, driven by countries such as China, the U.S., and India. Hence, the construction industry is anticipated to represent a much bigger part of the global economy by 2030. Considering the growth in urban population and increase in residential construction industries, the paint roller market is projected to grow at a significant rate. 
Government is taking many initiatives related to infrastructure developments. Economic growth is one of the major drivers. At the same time, improving economies in developing countries such as India, Indonesia, and others have resulted in large-scale foreign investments, a factor that subsequently boosts the demand of construction equipment in infrastructural projects across various sectors. For instance, in December 2019, India planned to invest US$1.39 trillion infrastructure development projects over the next five years. Similarly, in April 2019, the Government of Russia has invested around $96 billion for its 6-year modernization plan for infrastructure development, which includes residential, commercial, and other infrastructure. This is expected to provide lucrative growth opportunities for the market growth.
Paint Roller Market

---
By Fabric
Synthetic segment is projected to grow at a significant CAGR
However, fluctuation in raw material prices and changing exchange rates of foreign currencies over profit margins of manufacturers may hinder the paint roller market. The novel coronavirus is rapidly spreading across various countries and regions, causing enormous impact on lives of people and overall community. Originating as a crisis to human health, it now poses significant threat to the worldwide trade, economy, and finance. The impact of lockdown, owing to COVID-19 is vague and economic recovery of paint roller manufacturers is completely based on its cash reserves. Market players can afford a complete lockdown only for a limited period, after which they would have to alter their investment plans. The paint roller manufacturers need to emphasize on protecting their staff, operations, and supply chain partners to effectively respond toward immediate crisis and discover new ways of working after coronavirus cases begins to decline. Furthermore, number of COVID-19 cases are expected to reduce in the near term as vaccine for COVID-19 is likely to be introduced by the end of 2020 or beginning of 2021. This is further expected to lead to re-initiation of paint roller companies at their full-scale capacities, which would aid the market to recover by the start of 2022.
Furthermore, the growth in paint industries across the globe is anticipated to drive the paint roller market growth during the forecast period. In addition, to improve performance, manufacturers are continuously introducing new types of paints of residential sector in the market that are environmentally friendly. Hence, the introduction of new paints and accessories has increased the performance of paint industry.
Paint Roller Market

---
By End User
Residential segment holds dominant position in 2019
The global paint roller market is segmented on the basis of fabric, frame size, end user, and region. by fabric, the market is categorized into synthetic and blended. Depending on frame size, it is fragmented into shorter, medium, and large. Based on end user, the market is categorized into residential, commercial, and industrial. Region wise, the paint roller  market is analyzed across North America, Europe, Asia-Pacific, and LAMEA. Asia-Pacific dominated the market in 2019, accounting for the highest paint roller market share, and is anticipated to maintain this trend throughout the forecast period. This is attributed to increase in population, urbanization, and industrial growth.
Competition Analysis
Key companies profiled in the paint roller market report include Anderson Products, Beorol, Gordon Brush, Marshall Brushes & Rollers, Premier Paint Roller Manufacturing, Purdy, Quali-Tech Manufacturing, Stanley Black & Decker, Inc, Roll Roy, and The Wooster Brush Company. 
Paint Roller Market

---
By Region
Asia-Pacific holds a dominant position in 2019 and is expected to grow at a significant rate during the forecast period.
Key Benefits For Stakeholders
The report provides an extensive analysis of the current and emerging paint roller market trends and dynamics.  
In-depth analysis is conducted by the constructing market estimations for the key market segments between 2019 and 2027. 
Extensive paint roller market analysis is conducted by following key product positioning and monitoring of the top competitors within the market framework.
A comprehensive analysis of all the regions is provided to determine the prevailing opportunities.
The global paint roller market forecast analysis from 2020 to 2027 is included in the report.
The key players within paint roller market are profiled in this report and their strategies are analyzed thoroughly, which help understand the competitive outlook of the paint roller industry. 
 Paint Roller Market Report Highlights
Aspects
Details
By Fabric
By Frame Size
By End-user

Residential
Commercial
Industrial

By Region

North America (U.S., Canada, Mexico)
Europe (Germany, UK, France, Italy, Rest of Europe)
Asia-Pacific (China, India, Japan, South Korea, Rest of Asia-Pacific)
LAMEA (Latin America, Middle East, Africa)