Painting Robots Market Overview:
The Global Painting Robots Market size is expected to reach $3,209.0 million in 2023, from $1,614.0 million in 2016, growing at a CAGR of 10.4% from 2017 to 2023. Painting robots are industrial robots programmed to apply paint on an object in an efficient way. Kawasaki Robotics, ABB, Fanuc, Yaskawa, Kuka Robotics, and Durr Systems are some of the leading key players of the painting robots market.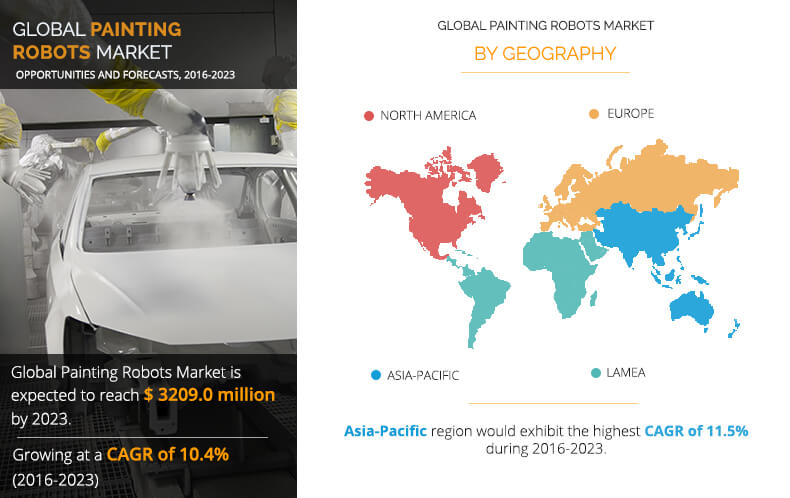 The increase in demand in automotive industry majorly drives the painting robots market, as these robots defeat the requirement of highly skilled painters eliminating the risks of leaving behind paint drips, inconsistency, and overspray. Higher rate of accuracy in painting of large components within optimized time is possible due to reliability, capability, and precision of the program. This in turn boosts the demand for painting robots. However, high product and installation cost is expected to hamper the market growth.
The painting robots market is segmented into type, application, end user, and region. By type, it is categorized into floor-mounted painting robots, wall-mounted painting robots, rail-mounted painting robots, and others. In 2016, floor-mounted painting robots segment dominated the global market, in terms of revenue, and is expected to maintain this trend throughout the coming years. Based on application, it is classified into interior painting and exterior painting. Interior painting is anticipated to dominate the global painting robot market throughout the forecast period.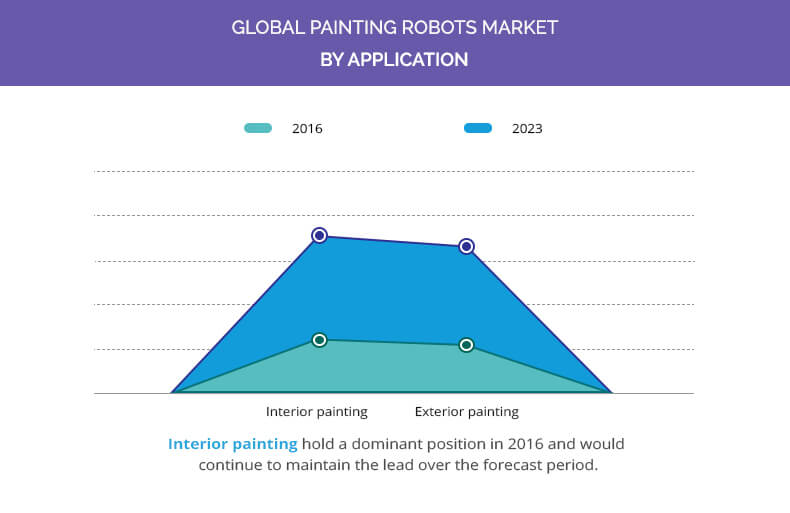 The end-user industry is divided into automotive, aerospace, construction, and others. In 2016, automotive segment accounted for the highest market share due to increased demand for automotive industry and is expected to dominate the market during the forecast period. Based on region, the market is analyzed across North America, Europe, Asia-Pacific, and LAMEA. In 2016, Asia-Pacific was the highest contributor to painting robots market and is anticipated to secure the leading position during the forecast period, due to extensive demand and strong manufacturing base of automotive sector.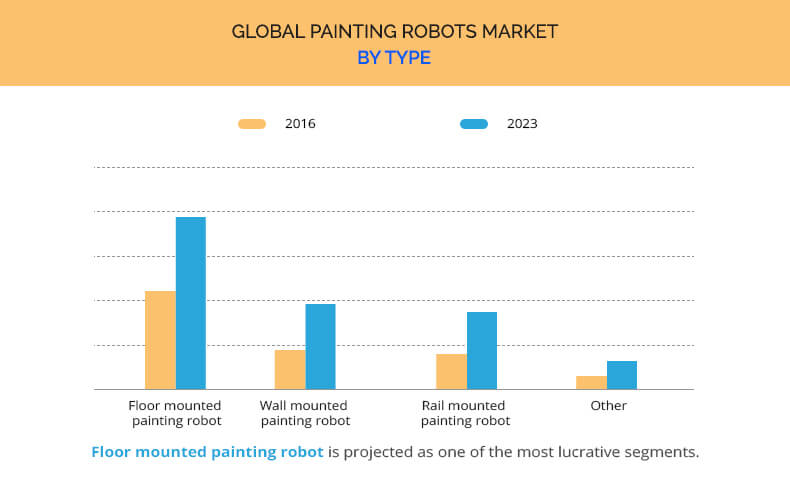 Competition Analysis
Competitive analysis and profiles of the major painting robots market players, such as Kawasaki Robotics, ABB, Durr Systems, Fanuc, Yaskawa, Kuka Robotics, CMA Robotics, Staubli, Epistolio S.r.l, and Krautzberger are provided in this report. Product launch, acquisition, and collaboration were the different key strategies adopted by key players from 2015 to 2017to establish themselves in the market.
Key Benefits
The report provides an extensive analysis of the current and emerging trends and dynamics in the global painting robots market.
In-depth analysis is conducted by constructing market estimations for the key market segments between 2016 and 2023.
Extensive analysis is conducted by following key product positioning and monitoring the top competitors within the market framework.
Comprehensive analysis of all regions is provided that determines the prevailing opportunities in these geographies.
Key market players are profiled and their strategies are analyzed thoroughly, which helps understand the competitive outlook of the market.
Painting Robots Market Key Segments:
By Type
Floor-mounted Painting Robot
Wall-mounted Painting Robot
Rail-mounted Painting Robot
Others
By Application
Interior Painting
Exterior Painting
By End User
Automotive
Aerospace
Construction
Others
By Region
North America
Europe

UK
Germany
France
Rest of Europe

Asia-Pacific

China
Japan
India
Rest of Asia-Pacific

LAMEA

Latin America
Middle East
Africa
Key Players
Kawasaki Robotics
ABB
Durr Systems
Fanuc
Yaskawa
Kuka Robotics
CMA Robotics
Staubli
Epistolio S.r.l
Krautzberger
 Painting Robots Market Report Highlights
Aspects
Details
By Type

Floor mounted painting robot
Wall mounted painting robot
Rail mounted painting robot
Others

By Application

Interior painting
Exterior painting

By End user

Automotive
Aerospace
Construction
Others

By Region

North America (U.S., Canada, Mexico)
Europe (France, Germany, Italy, Spain, UK, Russia, Rest of Europe)
Asia-Pacific (China, Japan, India, South Korea, Australia, Thailand, Malaysia, Indonesia, Rest of Asia-Pacific)
LAMEA (Brazil, South Africa, Saudi Arabia, UAE, Argentina, Rest of LAMEA)

Key Market Players
ABB, Staubli, Kawasaki Robotics, Kuka Robotics, Fanuc, Epistolio S.r.l, Yaskawa, CMA Robotics, Durr Systems, Krautzberger