Paper diagnostics are devices made of paper and cellulosic materials to recognize and quantify biomolecules and chemical agents affecting health. Paper can serve four functions in a diagnostic - transport and measurement of sample and analytes; reaction support; separation of reactants from products; and communication of results. These devices typically consist of microfluidic, chemical, and biological diagnostic components implemented on paper substrates to address the ASSURED (Affordable, Sensitive, Specific, User friendly, Rapid and Robust, Equipment free and Deliverable to end users) principles set by the World Health Organization. The simple color-change reaction can provide critical information that lets doctors know whether a patient is suffering from a disease or not. Like microfluidic chips, paper devices can segregate, filter, concentrate, and mix fluids as well as perform timed reactions and control their sequence by patterning networks of fluid-wicking channels on paper. Later, inkjet printers are used to lay down these features. The main aim of this technology is to employ high-performance, cheap, and disposable electronics to improve the quality of inexpensive tests.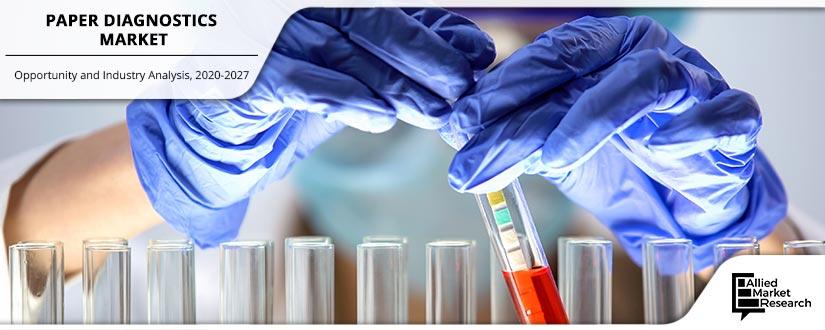 COVID-19 scenario analysis:
At the early phase of COVID-19 pandemic, there was no availability of specific diagnostic tests to detect diseases in patients. Alternative diagnostic tests were used initially but were not much effective. This unavailability of specific COVID-19 diagnostic tests presented lucrative opportunities for diagnostic manufacturers to introduce their COVID-19 diagnostic kits. 
Many leading players as well as some start-ups from various countries utilized this opportunity and introduced COVID-19 diagnostics kits into local as well as the global markets. These players achieved edge over other diagnostics players capitalizing the opportunity from demand for COVID-19 diagnostic tests, which, in turn, helped them to maintain their revenues in such a crisis. 
With recent technological advances in multiple research fields, such as materials science, micro-/nanotechnology, molecular biology, and bioengineering, much attention is shifting toward the development of new virus-based detection tools that not only address the needs for high sensitivity and specificity but also fulfill economic objectives in addition to the need for rapid point-of-care for groups and individuals with constrained resources and limited training. 
However, whether to use paper diagnostics for COVID-19 dictation is still under development and if paper diagnostics is used for detection of COVID-19 virus, then that it is expected to foster the growth of the paper diagnostics market. 
Top impacting factors: Market scenario analysis, trends, drivers, and impact analysis
Cellulose and flexible transparency paper-based assays can provide a promising direction for disease management in resource-constrained settings where current expensive diagnostic assays are not suitable. These portable devices can be very useful in disease diagnostics, environmental monitoring, food safety, and water testing at the point-of-care (POC) settings. Such wider applications are leading to the growth of the paper diagnostic market. The paper diagnostics methods are preferred over other methods as paper is cheap, widely available, easily engineered, biodegradable, combustible, biocompatible, sterilizable, hydrophilic, easy to functionalize, and can be processed into diagnostic devices. The increase in acceptance, availability, investment, and wider applications of paper diagnostics methods are the driving factors of the paper diagnostics market.
Paper-based analytical devices for clinical diagnosis
Paper has been recently utilized as a substrate to fabricate various microfluidic devices. It is biocompatible with various biological samples, provides detailed information about various paper substrates, listing their important characteristics and applications. For example, chromatography paper was utilized for the detection of proteins and glucose in artificial urine samples by creating hydrophobic lines with photoresist on hydrophilic paper. Various μPAD device fabrication methods, such as photolithography, inkjet printing, polydimethylsiloxane (PDMS) plotting, wax printing, wax dipping, wax screen printing, and plasma treatment, have been proposed for a cost-effective, simple, and portable product. Various sensing mechanisms, such as colorimetric, electrochemical, chemiluminescence (CL), electro-chemiluminescence (ECL), and fluorescence detection, have been developed to quantify the results of diagnostic tests. Paper-based dipstick assays are popularly used to detect glucose in urine. Urine is introduced to dipstick and the resulting color change is compared with standard chart to estimate the glucose levels. Latex agglutination and radio-immunoassays were also developed, followed by the introduction of lateral flow technology that was utilized in human pregnancy tests. Serological immunoassays based on lateral flow mechanisms are also developed and find applications in many areas, including food safety, environmental monitoring, and veterinary diagnostics.
Key benefits of the report:
This study presents the analytical depiction of the paper diagnostics market along with the current trends and future estimations to determine the imminent investment pockets.
The report presents information related to key drivers, restraints, and opportunities along with detailed analysis of the paper diagnostics market share.
The current market is quantitatively analyzed from 2020 to 2027 to highlight the paper diagnostics market growth scenario.
Porter's five forces analysis illustrates the potency of buyers & suppliers in the market. 
The report provides a detailed analysis based on competitive intensity and how the competition will take shape in coming years. 
Questions answered in the paper diagnostics market research report:
Which are the leading market players active in the market?
What are the current trends that will influence the market in the next few years?
What are the driving factors, restraints, and opportunities of the paper diagnostic market?
What are the projections for the future that would help in taking further strategic steps?
 Paper Diagnostics Market: Global Opportunity Analysis and Industry Forecast, 2021–2027 Report Highlights
Aspects
Details
By Type

Diagnostic Devices
Monitoring Devices

By Application

Clinical Diagnostics
Food Quality Testing
Environmental Monitoring
Others

By Product

Lateral Flow Assays
Dipsticks
Paper-based Microfluidics
Others

By Region

North America (US, Canada)
Europe (Germany, UK, France, rest of Europe)
Asia-Pacific (China, Japan, India, rest of Asia-Pacific)
Latin America (Brazil, Mexico, rest of LATAM)
the Middle East
Africa

Key Market Players
ARKRAY Inc., Acon Laboratories, Inc., Abbott, Bio-Rad Laboratories, Siemens Healthcare, Abcam Plc, Abingdon Health, GVS S.P.A., Kenosha Tapes, Micro Essential Laboratory Inc, Navigene