Paperboard Container Market Research, 2031
The global paperboard container market size was valued at $135.48 billion in 2021, and is projected to reach $207.40 billion by 2031, growing at a CAGR of 4.3% from 2022 to 2031. Paperboard is a substantial paper-based product, which is typically thicker than paper (typically above 0.30 mm, 0.012 in, or 12 points) and has certain advantages over paper, including foldability and stiffness. The sheets are either made from recycled waste paper or the fibrous material in wood. It can be manipulated, cut, and folded into various designs and shapes. Paperboard is quite commonly used for packaging food and beverage products including juices, milk, and cereal products. Paperboard packaging comes in several grades. 
The COVID 19 outbreak has affected the growth of the paperboard container industry owing to the lockdown measure in different countries and delay in manufacturing and production of paperboard containers for foods & beverages, healthcare and other industries.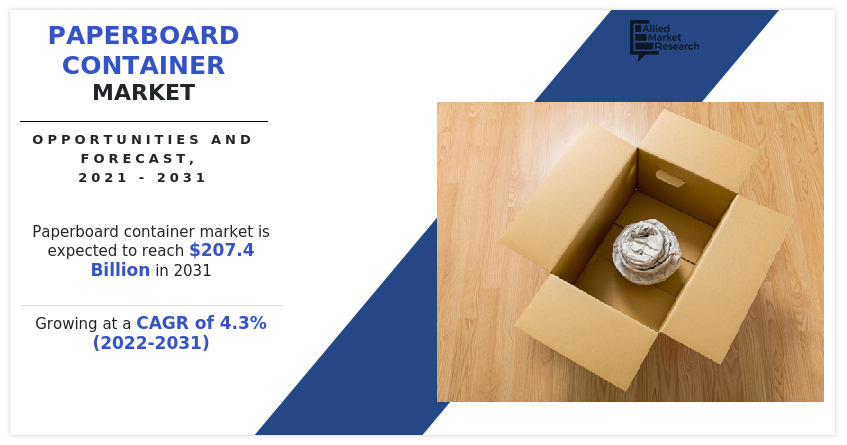 The paperboard container market is witnessing the growth due to the increase in demand from packaging, foods & beverages, and pharmaceutical sectors. Consumers that care about the environment, nowadays favor paper or paperboard container over other forms of packaging. Increase in demand for paperboard packaging containers from foods and beverages and healthcare sectors is driving the paperboard container market. In addition, with the increasing environmental issues and stringent government policies, companies are focusing on providing paper and paperboard packaging solutions. A lot of effort has been put into innovation to provide cost-effective products that have similar utility and provide satisfaction to consumers. For instance, in September 2019, Nippon Paper Industries Co., Ltd. decided on capital investment for mass production of Shieldplus, which adds barrier properties to paper.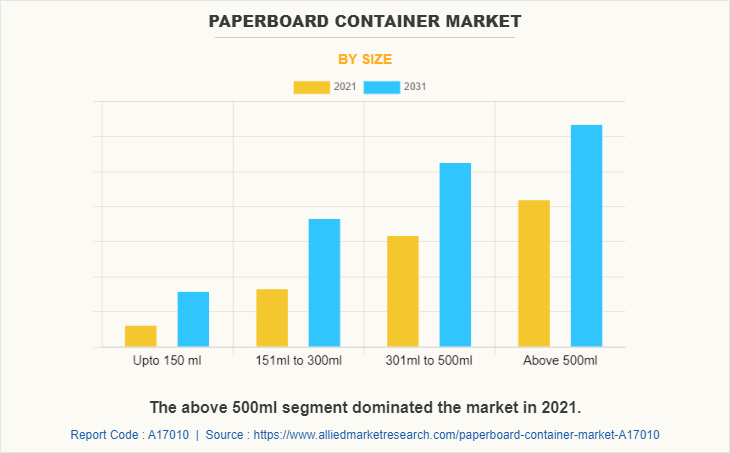 Based on size, the 500ml segment is the largest segment owing to its increase demand in food and beverage industry. In addition, the different delevelopment strategies adopted by manufacturer will boost the market growth. For instance, in December 2019, Oji Holdings Corporation announced that Oji HD and Ishizuka Glass Co., have concluded a basic joint venture agreement on paper container-related business intending further to develop the business through cooperation between the two companies.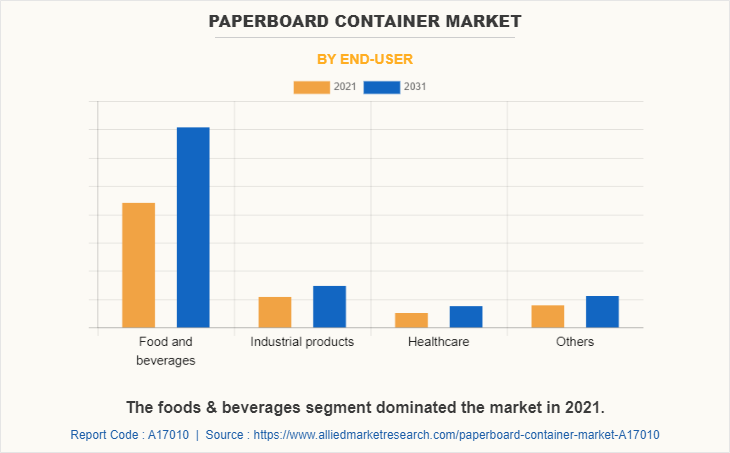 On the basis of end-user, the food & beverage segments accounted for the largest paperboard container market share in 2021, owing to the wide adoption of paper-based packaging products by the food manufacturers. Furthermore, introduction of various packaged food products coupled with growing consumer preference for packed foods is driving the paperboard container market growth.
The novel coronavirus (COVID-19) rapidly spread across various countries and regions in 2019, causing an enormous impact on lives of people and the overall community. It began as a human health condition and has now become a significant threat to global trade, economy, and finance. The COVID-19 pandemic halted production of many products in the paperboard container market, owing to lockdowns. Furthermore, the number of COVID-19 cases is expected to reduce in the future with the introduction of the vaccine for COVID-19 in the market. This has led to the reopening of paperboard container companies at their full-scale capacities. This is expected to help the market recover by the mid of 2022. After COVID-19 infection cases begin to decline, equipment & machinery producers must focus on protecting their staff, operations, and supply networks to respond to urgent emergencies and establish new methods of working.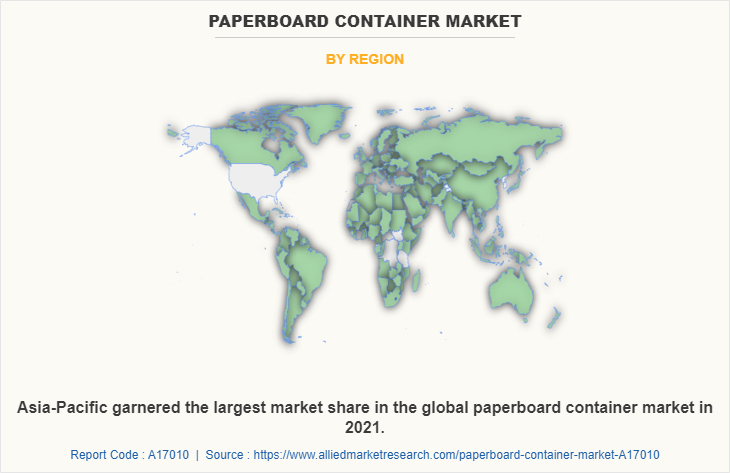 On the basis of region, Asia-Pacific registered the highest revenue in 2021 and is expected to register the highest CAGR in the paperboard container market forecast period. Owing to growth of the foods and beverages and healthcare sectors. Moreover, rising e-commerce and cosmetic & personal care industries in countries such as India, China, and Japan is likely to propel the demand for paperboard container packaging in Asia-Pacific region.
The paperboard container market is segmented into Size, End-user and Board Type. On the basis of board type, the market is divided into paperboard and containerboard. On the basis of size, the market is divided into up to 150 ml, 151 ml to 300 ml, 301 ml to 500 ml, and above 500 ml. On the basis of end users, the market is divided into food and beverages, industrial product, healthcare, and others. Region-wise, the global market analysis is conducted across North America (the U.S., Canada, and Mexico), Europe (UK, France, Germany, Italy, and Rest of Europe), Asia-Pacific (China, Japan, India, and Rest of Asia-Pacific), and LAMEA (Latin America, the Middle East, and Africa).
Competition Analysis
The key players that operating in the paperboard container industry are Amcor Plc, Cascades, DS Smith Plc, Evergreen Packaging LLC, International Paper, Keystone Folding Box, Metsä Board, Mondi Plc, Nampak Products Ltd., Nippon Paper Industries Co. Ltd., Nine Dragons Paper (Holdings), Oji Fibre Solutions (NZ) Ltd., Sappi, Stora Enso, Smurfit Kappa Group Plc., Svenska Cellulosa Aktiebolaget (SCA), and Westrock
Key Benefits For Stakeholders
This report provides a quantitative analysis of the market segments, current trends, estimations, and dynamics of the paperboard container market analysis from 2021 to 2031 to identify the prevailing market opportunities.
The market research is offered along with information related to key drivers, restraints, and opportunities.
Porter's five forces analysis highlights the potency of buyers and suppliers to enable stakeholders make profit-oriented business decisions and strengthen their supplier-buyer network.
In-depth analysis of the paperboard container market segmentation assists to determine the prevailing paperboard container market opportunity.
Major countries in each region are mapped according to their revenue contribution to the global market.
Market player positioning facilitates benchmarking and provides a clear understanding of the present position of the market players.
The report includes the analysis of the regional as well as global paperboard container market trends, key players, market segments, application areas, and market growth strategies.
 Paperboard Container Market Report Highlights
Aspects
Details
By Size

Upto 150 ml
151ml to 300ml
301ml to 500ml
Above 500ml

By End-user

Food and beverages
Industrial products
Healthcare
Others

By Board Type

Paperboard
Containerboard

By Region

North America (U.S., Canada, Mexico)
Europe (Germany, France, U.K., Italy, Rest of Europe)
Asia-Pacific (China, India, Japan, Rest of Asia-Pacific)
LAMEA (Latin America, Middle East, Africa)

Key Market Players
Svenska Cellulosa Aktiebolaget, Nine Dragons Paper, Evergreen Packaging LLC, Nippon Paper Industries Co. Ltd, Sappi, Cascades, Westrock, Meta Board, Stora Enso, DS Smith Plc, International Paper, Keystone Folding Box, Nampak Products Ltd, Mondi Plc, Amcor Plc, Oji Fibre Solutions, Smurfit Kappa Group Plc