Parametric Insurance Market Research, 2031
The global parametric insurance market was valued at $11.7 billion in 2021, and is projected to reach $29.3 billion by 2031, growing at a CAGR of 9.9% from 2022 to 2031.
The COVID-19 outbreak had a positive impact on the parametric insurance market,as it has increased the need for parametric insurance among businesses against the pandemic. Furthermore, it has also resulted in increased awareness among the people about parametric insurance.
Parametric (or index based) solutions are a type of insurance that covers the probability of a predefined event happening instead of indemnifying actual loss incurred. In addition, parametric insurance definition can be stated as an agreement to make a payment upon the occurrence of a triggering event, and as such is detached of an underlying physical asset or piece of infrastructure. The insurance cover is triggered if pre-defined event parameters are met or exceeded, measured by an objective parameter or index that is related to an insured's particular exposure.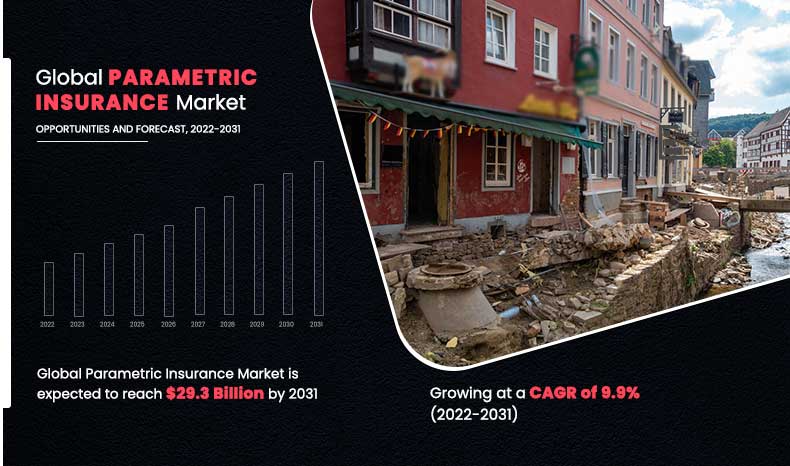 For claims, parametric insurance employs pre-defined values. As a result, insurers exclude the value of damage from the underwriting calculation, as well as the need for claim adjustment. Traditional disaster coverage can take months to pay out, while parametric claims happen in hours. In addition, the industry is growing owing to significant technological advancements and enhanced user experience in terms of digital insurance. Therefore, these are some of the factors that propel the market growth. However, high prices of parametric insurance which includes earthquake insurance cannot be bought by SMEs and other small organizations. Therefore, these are some of the major factors that limit the growth of the parametric insurance market. On the contrary, advances in technology have led to the new and exciting applications of parametric insurance principles, which is emerging and growing faster than ever. Clients, brokers, insurers, and investors have woken up to the possibilities of simpler, faster parametric insurance, and they are already experiencing the benefits. As more parametric applications are researched, companies who can find the ideal use cases and put the power of the parametrics to work for their business and customers are expected to have a wide range of opportunities. Therefore, these factors are is expected to growth tremendously in the coming years.
The report focuses on growth prospects, restraints, and trends of the parametric insurance market outlook. The study provides Porter's five forces analysis to understand the impact of various factors, such as bargaining power of suppliers, competitive intensity of competitors, threat of new entrants, threat of substitutes, and bargaining power of buyers, on the parametric insurance industry.
The parametric insurance market is segmented into Type and Industry Vertical.
Segment review
The parametric insurance market is segmented on the basis of type, end user, and region. By type, it is segmented into natural catastrophes, specialty insurance, and others. By industry vertical, it is segregated into agriculture, construction, mining, manufacturing, energy and utility, aerospace and defense, and others. By region, it is analyzed across North America, Europe, Asia-Pacific, and LAMEA.
Parametric Insurance Market

---
By Type
Natural Catastrophes Insurance segment accounted for the highest market share in 2021.
Get more information on this report :
Request Sample Pages
On the basis of type, the natural catastrophes segment attained the highest growth during 2021. This is attributed to the fact that the continuous rise in commercial insurance pricing, along with a widening risk spectrum, are piquing organizations' interests and leading many to implement parametric solutions to their insurance portfolios.
Parametric Insurance Market

---
By Region
Asia-Pacific would exhibit the highest CAGR of 13.2% during 2021-2031.
Get more information on this report :
Request Sample Pages
Region-wise, North America acquired the highest parametric insurance market share in 2021. This is attributed to the extent and severity of climate-related weather events, which have become increasingly severe and unpredictable in North America, increasing the need for parametric coverings.
The report analyses the profiles of key players operating in the parametric insurance market such as Allianz, AXA XL, Chubb, FloodFlash, Jumpstart Insurance Solutions, Inc., Berkshire Hathaway Specialty Insurance, Munich Re, Global Parametrics, Swiss Re and Zurich American Insurance Company. These players have adopted various strategies to increase their market penetration and strengthen their position in the parametric insurance industry.   
COVID-19 Impact Analysis
The COVID-19 crisis has highlighted the need for new parametric insurance products for both, traditional and new risks. The pandemic has increased the need for purchasing parametric insurance among customers due to the increase in risk from climate change and denser populations. Furthermore, without a new approach to conventional insurance, coverage for most of these costs is expected to not be recovered by those affected. Furthermore, COVID-19 has highlighted that the majority of businesses had no insurance protection against pandemics, even if they held a business interruption policy, which has created an opportunity in the market. One startup, Machine Cover, is looking to capitalize by offering parametric insurance to provide protection to businesses in future periods of major economic downturn. Therefore, the COVID-19 pandemic had a positive impact on the parametric insurance market.  
Top Impacting Factors
Affordable Cost of Policy for Client Budget
The parametric insurance policy is becoming more popular due to its more affordable costs. The low cost of policy attracts customers to purchase parametric insurance to protect the property against unforeseen monetary losses or damage. Furthermore, it is customized to a client's budget or wrapped around an indemnity insurance to fill up the gaps in protection. In addition, small and medium businesses are a major contributor to economic growth in both developing and developed countries. These are the target markets for parametric insurance. Hence, it is easier for the small & medium scale enterprises to claim the affordable policy to safeguard their enterprises against unforeseen financial losses or harm. The enterprises have been benefited from the expansion of parametric insurance to provide continuous innovation and flexibility. Therefore, these are the major growth factors for the parametric insurance market.   
Basis Risk Associated with Intensity of Events
The parametric insurance determines risk using pre-set parameters and is exposed to a greater basis risk. The concept of basis risk is crucial in insurance. The scenario, in which an insurance policy fails to cover a loss event is known as basis risk. Furthermore, parametric insurance payouts are typically defined according to indices. Thus, someone insured under it runs the risk of suffering a loss but not being indemnified due to certain criteria not being met. While it is possible that the insured will not be compensated at all, it is far more likely that compensation is expected to be provided but insufficient to cover the losses. In addition, it is also crucial that the individual looking to purchase parametric insurance has a deep understanding of the nature of the specific risk and what payment triggers would sufficiently cover the risks. Wind speeds, storm surges, rainfall, and other natural and human-caused elements, all contribute to the requirement for tailored risk parameters.  Therefore, these are the major factors that limit the parametric insurance market growth.  
Key benefits for stakeholders
This report provides a quantitative analysis of the market segments, current trends, estimations, and dynamics of the parametric insurance market analysis from 2021 to 2031 to identify the prevailing parametric insurance market opportunity.
The market research is offered along with information related to key drivers, restraints, and opportunities of parametric insurance coverage.
Porter's five forces analysis highlights the potency of buyers and suppliers to enable stakeholders make profit-oriented business decisions and strengthen their supplier-buyer network.
In-depth analysis of the parametric insurance market size segmentation assists to determine the prevailing market opportunities.
Major countries in each region are mapped according to their revenue contribution to the global market.
Market player positioning facilitates benchmarking and provides a clear understanding of the present position of the market players in parametric insurance market forecast.
The report includes the analysis of the regional as well as global parametric insurance market trends, key players, market segments, application areas, and market growth strategies.
 Parametric Insurance Market Report Highlights
Aspects
Details
By Type

Natural Catastrophes Insurance
Specialty Insurance
Others

By Industry Vertical

Agriculture
Aerospace & Defense
Mining
Construction
Energy & Utiities
Manufacturing
Others

By Region

North America (U.S., Canada)
Europe (United Kingdom, Germany, France, Italy, Spain, Rest of Europe)
Asia-Pacific (China, Japan, India, Australia, South Korea, Rest of Asia-Pacific)
LAMEA (Latin America, Middle East, Africa)

Key Market Players
Allianz, AXA XL, Chubb, FloodFlash, Jumpstart Insurance Solutions, Inc., Berkshire Hathaway Specialty Insurance, Munich Re, Global Parametrics, Swiss Re, Zurich American Insurance Company