Paving Stone Market Research, 2031
The global paving stone market was valued at $40.3 billion in 2021, and is projected to reach $86.7 billion by 2031, growing at a CAGR of 7.9% from 2022 to 2031. Paving stones are widely used for the construction of walkway, or driveway surface and patio. Pavers come in a variety of shapes, including squares, rectangles, and diamonds, to mention a few. Paving stones are constructed stones that normally come in regular sizes, making them easier to place. Pavers can be utilized both outside and within home, as well as around patios.
The COVID-19 pandemic, which caused a suspension of production and a transit to the quarantine or "lockdown" phase in the country, had a direct impact on the global market. Because these two items are its main pillars, the paving stone market nearly ran out of supply due to rising demand and new inquiries. The rule requiring a minimum 2-meter social distance prompted the construction and architectural sectors to completely halt operations, making normal operation nearly impossible. The closure of the import-export sector has had a significant impact on international natural stone sourcing, particularly high-quality imported marble from countries such as Spain, Italy, and Turkey. Export business suffered, resulting in a significant drop in demand from both domestic and international markets.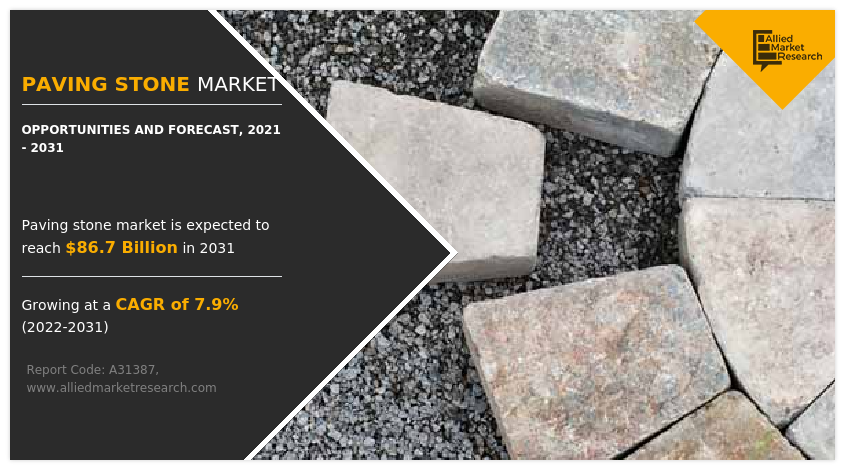 Paving stones appear to have more advantages than others; however, the choice should be based on the goals. The natural stone path is mostly motivated by aesthetics. Instead, paving stone is a less expensive option, such as asphalt or concrete. The need for long-lasting and visually appealing paving solutions for commercial and residential properties grows, so do the options accessible to builders and homeowners alike. When it comes to paving materials, there are currently many possibilities to pick from, ranging from asphalt to concrete to more unusual and sustainable and environment products.
Paving stone might be more expensive than alternative options, such as concrete or natural stone. A paving stone will cost significantly more than gravel. The construction costs will be more expensive at first, but cheaper in the long term because the pavement will cost less to maintain than other patio options. The tools and materials required to install the patio would be an additional expenditure. These factors are anticipated to drive the paving stone market size in the upcoming years.
Paving is a long-lasting and popular surfacing option constructed from a variety of materials including clay and concrete. Blocks and pavement tiles are proportioned to a specific shape, which is commonly square or rectangular, and can be set in basic or convoluted designs depending on the user's preference. Some of the factors driving the global paving market are quick installation, high durability, and low maintenance. Paving stone also improves the appearance of any property and has thus become a popular alternative to asphalt or concrete covering. The aggregate demand for concrete and clay construction bricks has pushed the paving stone market growth. 
The key players profiled in this report include Marshalls, NewLine Hardscapes, Belgard, Fendt Builder, Rosetta, King's Material, Anchor Block Company, Brock International, Midwest Manufacturing, and Wienerberger.
The global paving stone market is segmented on the basis of paving material, natural stone pavers, application, end user, and region. As per paving martial, the market is sub-segmented into concrete pavers, natural stone pavers, and clay brick pavers. According to natural stone pavers, the market is classified into granite, marble, limestone, slate, sandstone, and others. Depending on application, the market is sub-segmented into driveway, walkway, patio, pool decks, garden, and others. By end user, the market is classified into residential construction and commercial construction. Region wise, the market is analyzed across North America, Europe, Asia-Pacific, and LAMEA.
The paving stone market is segmented into Paving Material, End-use and Application.
Paving Stone Market

---
By Paving Material
Concrete Pavers held the highest revenue in 2021 and is anticipated to continue its dominating over the forecast period
By paving material, Concrete sub-segment dominated the market in 2021. Concrete pavers are paving units that look like brick or stone. Paving stone  can be made from a variety of elements, including concrete and clay. Concrete Pavers are suitable for both commercial and residential construction projects including driveways, road pavement, walkways, and decks, among others. They also have a wide range of advantages, such as being long-lasting and durable. When installed properly, concrete pavers are exceptionally smooth, making them simpler to walk on, even  barefoot.
Paving Stone Market

---

By End-use
Residential Constrution is anticipated to grow at a fastest CAGR during the forecast period
By end-use, the commercial construction sub-segment dominated the global paving stone market share in 2021. Paving stone is one of the most important building materials. It is widely utilized to construct sidewalks, patios, and other outdoor buildings. Paver block is commonly used in commercial constructions such as shopping malls, restaurants, office spaces, and other such establishments. It can be polished to make cleaning and maintenance easier, and it lasts longer than other materials.
Paving Stone Market

---

By Application
Residential Constrution is anticipated to grow at a fastest CAGR during the forecast period
By Application, the Walkway sub-segment dominated the global paving stone market share in 2021. Paving stones are an excellent method to add interest to a landscape. However, while selecting a material for a walkway or roadway, when utilized to make a walking surface, paving stones combine to form a long-lasting, low-cost exterior that looks ideal. Paving stones are suitable for almost any walking surface and are available in a large range of stones, colors, textures, sizes, and patterns; they allow homeowners to express their creativity, match to their home, or suit almost any other patio necessity. Thses factors are predicted to expand the paving stone market forecast period.
Paving Stone Market

---

By Region
Asia-Pacific held the highest market share in 2021
By region, Asia-Pacific dominated the global market in 2021 and is projected to remain the fastest-growing sub-segment during the forecast period. The Asia-Pacific region's paving stone demand is led by China, India, Japan, Australia, and Indonesia, which lead the paving  stone market. The increase in the number of cars on the road, followed by the demand for more environmentally friendly substances for paving roads in parks, the globalization of the market structure, the beginnings of the requirement for more sturdy and longer-lasting roads, and the boost in urban development are few of the major drivers behind the paving stone market's growth.
Impact of COVID-19 on the Global Paving Stone Industry
The COVID-19 crisis highlighted the paving stone industry's adaptability and ingenuity, but it was not without its challenges. The paving stone business in the country has found itself straining to traverse unfamiliar circumstances.
Comprehensive research of the paving stone and marble market takes into account a number of aspects, ranging from demography and business cycles in a single country to market-specific microeconomic consequences. The investigation discovered a shift in market paradigms in terms of key firms' local and global competitive edge.
Key Benefits For Stakeholders
This report provides a quantitative analysis of the market segments, current trends, estimations, and dynamics of the paving stone market analysis from 2021 to 2031 to identify the prevailing paving stone market opportunities.
The market research is offered along with information related to key drivers, restraints, and opportunities.
Porter's five forces analysis highlights the potency of buyers and suppliers to enable stakeholders make profit-oriented business decisions and strengthen their supplier-buyer network.
In-depth analysis of the paving stone market segmentation assists to determine the prevailing market opportunities.
Major countries in each region are mapped according to their revenue contribution to the global market.
Market player positioning facilitates benchmarking and provides a clear understanding of the present position of the market players.
The report includes the analysis of the regional as well as global paving stone market trends, key players, market segments, application areas, and market growth strategies.
 Paving Stone Market Report Highlights
Aspects
Details
Market Size By 2031
USD 86.7 billion
Growth Rate
CAGR of 7.9%
Forecast period
2021 - 2031
Report Pages
280
Paving Material

Concrete Pavers
Natural Stone Pavers

Natural Stone Pavers

Granite
Marble
Limestone
Slate
Sandstone
Others

Clay Brick Pavers

End-use

Residential Construction
Commercial Construction

Application

Driveway
Walkway
Patio
Pool Decks
Garden
Others

By Region

North America (U.S., Canada, Mexico)
Europe (Germany, UK, France, Spain, Italy, Rest of Europe)
Asia-Pacific (China, Japan, India, South Korea, Australia, Rest of Asia-Pacific)
LAMEA (Brazil, United Arab Emirates, Saudi Arabia, South Africa, Rest of LAMEA)

Key Market Players
Thomas Armstrong Group, Marshalls.co.uk, NGM Blocks, Pavestone UK Ltd, Masonary Products, LLC, ARO Granite Industries Ltd., Unilock, Polycor Inc., Dimpomar, Mumal Marbles Pvt. Ltd., Marshalls plc, Arvicon International, Aro granite industries ltd.