Pay TV Market Outlook – 2028 
The pay TV market share accounted for $182.32 billion in 2020, and is expected to reach $203.13 billion by 2028, registering a CAGR of 1.5% from 2021 to 2028. Pay TV is a subscription to a television service from a cable, satellite or telephone company. It is a service providing residential and commercial television programming. Pay TV is also referred as subscription television or premium television. Programs offered by pay TV includes movies, sport events, news channel and others. 
Pay TV technology has evolved significantly during recent years. Pay TV is a system by which television programmes are transmitted in encrypted format those who have paid for it, hence it is also called as subscription television. Pay TV includes local and premium content. Companies offering pay TV equipment are demonstrating use cases that lead to increase in workplace efficiency, productivity, and compliance, which is expected to be lucrative when the technology matures.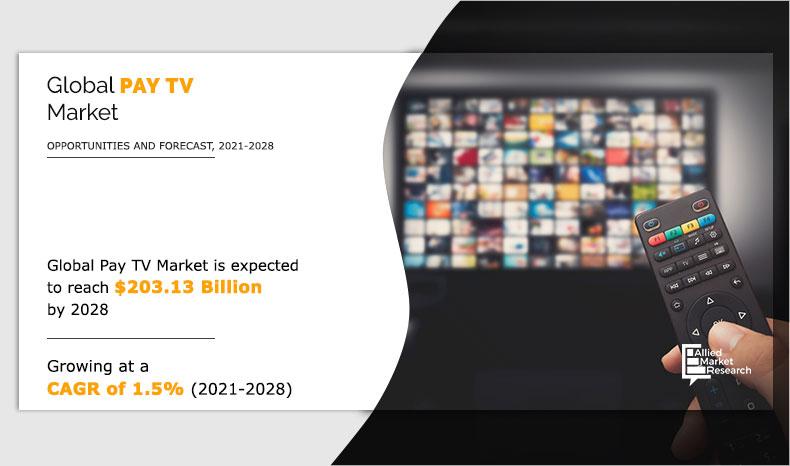 Advancements in technology and new trends are expected to generate opportunities for the pay TV market in the near future. Video on demand, personalized content and HD viewing are expected to improve and grow in usage for pay TV.  For instance,  Pay TV operators in Nigeria has increased the number of viewing options for Nigerians in the last two decades, it made global programming accessible, particularly live events such as sports and entertainment.
Increase in demand for Internet Protocol television and reduction in subscription cost are the major factors driving the global pay TV market growth. However, emerging OTT platforms and content security are expected to pose major threats for the market. Furthermore, emerging omnichannel accessibility and increasing number of new channels are expected to offer lucrative opportunity for the global pay TV market.
IPTV segment is projected to be the most lucrative segment
Segment Overview
The pay TV market is segmented based on type, application, and region. By type, the market is categorized into Cable TV, Satellite TV and IPTV. By application, the market is bifurcated into residential and commercial. Region-wise, the market is analyzed across North America, Europe, Asia-Pacific, and LAMEA along with their prominent countries.
Pay TV Market

---
By Application
Residential segment will dominate the market throughout the forecast period
Competitive Analysis 
The key players profiled in this report include Airtel Digital TV, DirecTV, DISH Network Corporation, Dish TV India Limited, Foxtel, Rostelecom, Charter Communications (Spectrum), Tata Sky, and Xfinity (Comcast Corporation). These key players have adopted strategies, such as product portfolio expansion, mergers & acquisitions, agreements, regional expansion, and collaborations, to enhance their market penetration.
LAMEA region would exhibit the highest CAGR of 5.9% during 2021 - 2028
COVID-19 Impact Analysis
The ongoing spread of COVID-19 has become one of the biggest threats to the global economy and is causing widespread concerns and economic hardship for consumers, businesses, and communities across the globe. The "new normal" that includes social distancing and working from home has created challenges with daily activities, regular work, needs, and supplies, causing delayed initiatives and missed opportunities.
The COVID-19 pandemic is impacting the society and overall economy across the globe. The impact of this outbreak is growing day-by-day as well as affecting the supply chain. It is creating uncertainty in the stock market, falling business confidence, massive slowing of supply chain, and increasing panic among customers. European countries under lockdown have suffered a major loss of business and revenue due to shutdown of manufacturing units in the region. Operations of production and manufacturing industries have been heavily impacted by the outbreak of COVID-19, which led to slowdown in growth of the pay TV market in 2020.
According to the pay TV market trends, the COVID-19 pandemic has severely impacted the media and entertainment industry, which, in turn led to decent demand for subscription. The emergence of COVID-19 resulted in smooth growth of the pay TV market in 2020, and is estimated to witness decent growth till the end of 2021. Implementation of partial or complete lockdown across various countries globally is the prime reason for this decent growth rate.
Top Impacting Factors
Notable factors positively affecting the pay TV market include increasing demand for IPTV (Internet Protocol television) and rising number of Subscribers. However, content security and emerging OTT platforms hamper the growth of the market. Furthermore, emerging omnichannel accessibility and increasing number of new channels are expected to offer lucrative opportunities for the pay TV industry growth in the coming years. 
Further, rising internet penetration worldwide has created a threat to pay TV growth as it led to increase in related services such as OTT content and platform. OTT platforms are now-a-days very popular for its content and wireless network. This factor is restricting the growth of the market. However, the increasing demand for the IPTV and reduction in the subscription charges have further contributed towards the growth of the market. 
Key Benefits For Stakeholders
This study comprises analytical depiction of the global pay TV market size along with the current trends and future estimations to depict imminent investment pockets.
The overall pay TV market analysis is determined to understand the profitable trends to gain a stronger foothold. 
The report presents information related to key drivers, restraints, and opportunities with a detailed impact analysis.
The present pay TV market forecast is quantitatively analyzed from 2020 to 2028 to benchmark the financial competency. 
Porter's five forces analysis illustrates the potency of the buyers and the suppliers in the industry.
The report includes major pay TV suppliers along with the company overview, business segments, product portfolio, and key strategic moves and development in the market.
Pay TV Market Key Segments
By Type
Cable TV
Satellite TV 
IPTV 
By Application
By Region
North America
Europe 

UK
Germany
France
Italy
Rest of Europe

Asia-Pacific

China
Japan
India
South Korea
Rest of Asia-Pacific

LAMEA

Latin America
Middle East
Africa
Key Market Players
Airtel Digital TV 
DirecTV 
DISH Network Corporation 
Dish TV India Limited 
Foxtel 
Rostelecom 
Charter Communications (Spectrum) 
Tata Sky 
Xfinity (Comcast Corporation)
 Pay TV Market Report Highlights
Aspects
Details
By TYPE

CABLE TV
SATTELITE TV
IPTV

By APPLICATION
By Region

North America (U.S., Canada, Mexico)
Europe (France, Germany, Italy, Spain, UK, Russia, Rest of Europe)
Asia-Pacific (China, Japan, India, South Korea, Australia, Thailand, Malaysia, Indonesia, Rest of Asia-Pacific)
LAMEA (Brazil, South Africa, Saudi Arabia, UAE, Argentina, Rest of LAMEA)

Key Market Players
XFINITY (COMCAST CORPORATION), FOXTEL, DISH NETWORK CORPORATION, FETCH TV, DISH TV INDIA LIMITED, CHARTER COMMUNICATIONS (SPECTRUM), DIRECTV, ROSTELECOM, AIRTEL DIGITAL TV, TATA SKY