Payday Loans Market Outlook - 2030
The global payday loans market size was valued at $32.48 billion in 2020, and is projected to reach $48.68 billion by 2030, growing at a CAGR of 4.2% from 2021 to 2030. A payday loan is a short-term unsecured loan, often characterized by high interest rates. This allows borrower to write a post-dated check to the lender for the payday salary, but receives part of that payday sum in immediate cash from the lender.
The COVID-19 pandemic has negatively impacted the payday loans market, owing to limited consumer spending caused by rise in pay cuts and job losses across the globe. In addition to this, growing interest rate by payday loan lenders and growing ban on essential and non-essential goods across the globe is adversely impacting the market growth.
Furthermore, it's easy to get approved as there are very few requirements such as borrower must be 18 years old or above and have a job, driver's license, and a bank account, these few requirements make larger number of people eligible for approval.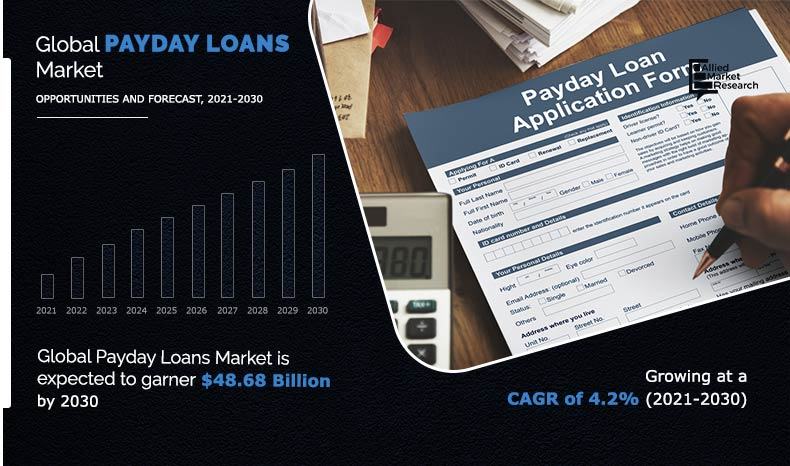 Growing awareness about the payday loan among the youth population and fast loan approval with no restriction on usage boost the growth of the global payday loans market. In addition, presence of large number of payday lenders positively impacts the payday loans market growth. However, factors such high interest rates and negative impact of payday loans on credit score are expected to hamper the market growth. On the contrary, rise in adoption of advance technology among the payday lenders is expected to offer remunerative opportunities for the expansion of the market during the forecast period.
On the basis of type, the storefront payday loans segment dominated the payday loans market share in 2020, and is expected to maintain its dominance in the upcoming years owing to growing adoption of storefront payday loans among the developing nations of Asia-Pacific and LAMEA region. In addition, the online pay day loans segment is expected to witness highest growth rate in the upcoming years, owing to its varied advantage which include faster processing speed, easier payment system and minimal paper work.
Region wise, the payday loans market was dominated by North America in 2020, and is expected to retain its position during the forecast period. This is attributed to number of factors such as penetration of new payday loans among the youth and improvement in economy. In addition, presence of large number of payday loan vendors across the U.S. and Canada is expected to provide lucrative opportunities for the market. However, Asia-Pacific is expected to witness significant growth during the forecast period, owing to wide presence of large number of payday loan enterprises, which are turning toward digital solutions to efficiently manage their business processes, particularly in developing countries such as China, India, and Singapore.
The report focuses on growth prospects, restraints, and trends of the global payday loans market analysis. The study provides Porter's five forces analysis to understand impact of various factors, such as bargaining power of suppliers, competitive intensity of competitors, threat of new entrants, threat of substitutes, and bargaining power of buyers, on the global payday loans market share.
Segment Review
The global payday loans market is segmented on the basis of type, marital status, customer age and region. By type, the market is divided storefront payday loans and online payday loans. By marital status, it is categorized as married, single and others. As per customer age, the market is bifurcated into less than 21, 21-30, 31-40, 41-50 and more than 50. Region-wise, it is analyzed across North America, Europe, Asia-Pacific, and LAMEA.
Payday Loans Market

---
By Type
Online segment is projected as one of the most lucrative segments. .
Competitive Analysis 
The key players profiled in the global payday loans industry analysis are Cashfloat, CashNetUSA, Creditstar, Lending Stream, Myjar, Silver Cloud Financial, Inc., Speedy Cash, THL Direct, Titlemax, and TMG Loan Processing. These players have adopted various strategies to increase their market penetration and strengthen their position in the industry.
COVID-19 Impact Analysis
The global payday loans market is projected to decline in the COVID 19 situation owing to millions of people are unemployed and facing financial hardship as payday are only available to employed person with a source of income. In addition, decrease in various payday loans government schemes and decline in support from different NGOs supporting the unemployed and low earners negatively impacts the growth of the market. 
For instance, according to a report by California Department of Financial Protection and Innovation in 2020, California saw a 40% decline in payday loans as compared to 2019, a drop equivalent to $1.1 billion. Almost half a million fewer people didn't rely on payday loans, a 30% drop compared to 2019. This was attributed to California's new $262.6 billion budget, with multiple programs aimed at reducing economic inequality within the state with an unprecedented $11.9 billion spent on Golden State Stimulus payments.
Payday Loans Market

---
By Martial Status
Single end-users segment accounted for the highest market share in 2020.
Top Impacting Factors
Growing Awareness about the Payday Loan among the Youth Population
Payday loans are gaining popularity among the youth as young people today are experiencing more financial instability than any other generation. In addition, it is estimated that one-third of all adults aged between 25 and 34 years have a student loan, which is the primary source of debt for members of Generation Z. This is forcing them to apply for payday loans for fast and easy loans, which is driving the growth of the market. Furthermore, due to Trump administration's CFPB proposal of putting an end to a rule that protects borrowers from loans with interest rates of 400% or more, payday lenders have started focusing on young population with attractive digital advertisements. Moreover, according to reports from Citizens Advice, up to 4 in 10 young adults will use a payday loan at some stage or another. In addition, with the rising cost of living across the globe, students who have education loans are under huge pressure to repay their debts and many youngsters are trying for online payday loans market, which is driving the growth of the market.
Large Number of Payday Lenders 
Payday lenders are gaining attraction and many lenders are following them and entering the business as it is very easy to enter. In addition, as many payday lenders that offer triple-digit balloon payment loans and are expanding their products to offer installment loans for shorter term drives the growth of the market. Furthermore, due to various regulations supporting payday lenders, more are willing to enter during the pandemic situations to provide loans to the financially unstable people, which propels the growth of the market. 
For instance, The Consumer Financial Protection Bureau (CFPB) under President Donald Trump, has weakened the consumer protection that applies to protect people who are not able to pay loans from taking any type of loan. However, with the removal of the bill, payday lenders are freer to target anybody with high interest loans and indulge them in further deeper loans. Thus, this is increasing the growth of payday loans. Furthermore, with the rising number of competitors, the loans are becoming more diverse and more affordable but still expensive as compared to any other type of loan, which is expected to drive the growth of the market in the upcoming years.
Payday Loans Market

---
By Region
Asia-Pacific would exhibit the highest CAGR of 6.1% during 2021-2030
Key Benefits For Stakeholders     
The study provides an in-depth analysis of the global payday loans market forecast along with the current trends and future estimations to explain the imminent investment pockets.
Information about key drivers, restraints, & opportunities and their impact analysis on the global payday loans market trends is provided in the report.
Porter's five forces analysis illustrates the potency of the buyers and suppliers operating in the industry.
The quantitative analysis of the market from 2021 to 2030 is provided to determine the market potential.
 Payday Loans Market Report Highlights
Aspects
Details
BY TYPE

STOREFRONT PAYDAY LOANS
ONLINE PAYDAY LOANS

BY MARITAL STATUS
BY CUSTOMER AGE

LESS THAN 21
21 TO 30
31 TO 40
41 TO 50
MORE THAN 50

BY REGION

NORTH AMERICA (US, Canada)
EUROPE (UK, Germany, France, Italy, Spain, Netherlands, Rest of Europe)
ASIA PACIFIC (China, India, Japan, South Korea, Australia, Rest of Asia Pacific)
LAMEA (Latin America, Middle East, Africa)

Key Market Players
CASHFLOAT, CASHNETUSA, CREDITSTAR, LENDING STREAM, MYJAR, SILVER CLOUD FINANCIAL, INC, SPEEDY CASH, THL DIRECT, TITLEMAX, TMG LOAN PROCESSING