Payment Gateway Market Research, 2030
The global payment gateway market was valued at $22.4 billion in 2021, and is projected to reach $98.2 billion by 2030, growing at a CAGR of 17.7% from 2022 to 2030.
The COVID-19 pandemic has led to positive impact on the payment gateway market owing to significant rise in the number of e-commerce and digital payment transactions due to growth of online shopping platforms. Additionally, consumer-to-business payments and electronic peer-to-peer transactions have become quite popular during the pandemic.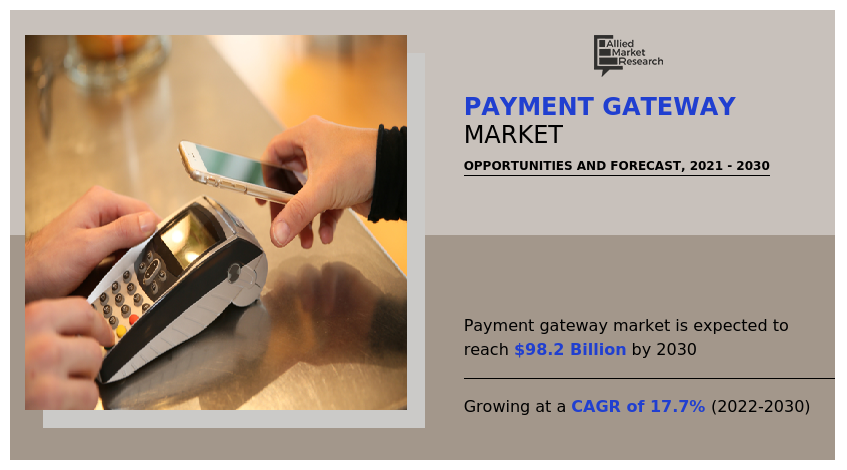 The payment gateway market is segmented into Type, Enterprise Size and End-use. 
Payment gateway is an online money operating gateway which joins customer and the merchant together through digital mode. A payment gateway authenticates the customer's card details safely, ensures enough funds availability in the bank account, and eventually enables merchants to get paid. In short, payment gateway is an online interface for money transfer between the customer and the merchant. Online payment option is an asset to any business because the online mode ensures secure & smooth payment transactions and helps in decreasing company's financial losses due to late payments.
The payment gateway market is growing as a result of the increase in big transaction data and increased usage of different online payment methods such as credit cards, debit cards, net banking, and mobile wallets. High-speed Internet's growing popularity and accessibility are further factors driving industry expansion.
Other important aspects that are projected to help the growth of the payment gateway market include increasing e-commerce sales as it saves time and increasing internet penetration internationally. Additionally, it is anticipated that the market would develop in the coming years due to the shift in merchant and client preferences toward digital channels for permitting online money transfers.
Customers' increased danger of online fraud serves as the payment gateway's primary impediment. There is a great likelihood that some socially irresponsible element may misuse the account information that must be entered in order to make an online payment on the online payment gateway application. This is the primary factor impeding the market expansion for payment gateways.
The major market players are investing a lot of their efforts and money on the research and development of smart and unique strategies to sustain their growth in the market. These strategies include product launches, mergers & acquisitions, collaborations, partnerships, and refurbishing of existing technology. For instance, according to a news published on Live Mint, an online magazine, on June 24, 2021 , Pine Labs, a market leader in providing payment solutions to its customers, announced the acquisition of Setu, fintech infrastructure provider, for $70-75 million. The main objective behind company's acquisition move is to expand its presence in online lending and on payment platforms. Such factors are anticipated to have a positive impact on payment gateway market growth.
Some of the leading payment gateway market players are PayPal Holdings, Inc., STRIPE, Visa Inc., Amazon.com Inc., FIS(Worldpay), Mastercard, PayU, BitPay, Inc., FISERV, INC.(BluePay), and JPMorgan Chase & Co.
The global payment gateway market is segmented on the basis of type, enterprise size, end-use, and region. By type, the market is sub-segmented into hosted and non hosted. By enterprise type, the market is segmented into small & medium enterprise (SME) and large enterprise. By end-use, the market is classified into travel & hospitality, BFSI, retail & ecommerce, media & entertainment and others. By region, the market is analyzed across North America, Europe, Asia-Pacific, and LAMEA.
Payment Gateway Market

---

By Type
Non Hosted sub-segment is anticipated to show most lucrative growth
By type, the non hosted sub-segment is expected to have the fastest growth. As businesses can maintain control over the entire checkout process, including the layout and design process, while offering customers a smooth purchasing experience, many merchants around the world prefer a non hosted payment gateway for their website. Merchants can allow customers to complete payments by directly entering their debit or credit card details on the checkout page using APIs. Additionally, any device can use APIs to combine non hosted gateways with online payment systems, opening up new growth prospects for the market during the course of the forecast period. These are predicted to be the major factors affecting the payment gateway market size during the forecast period too.
Payment Gateway Market

---
By Enterprise Size
Small and Medium Enterprise sub-segment is anticipated to show the fastest growth
By enterprise size, the large enterprise sub-segment dominated the global payment gateway market share in 2021. Large businesses typically receive more website traffic. Thus, they must implement efficient checkout solutions for their clients. By enabling a variety of digital payment methods, such as net banking and credit or debit cards, payment gateway systems can guarantee a simple checkout process for clients. Such applications of payment gateway in the large enterprises are bound to create a scope of growth for the sub-segment during the forecast period.
Payment Gateway Market

---
By End-use
Travel and Hospitality sub-segment is anticipated to show highest growth
By end-use, BFSI held a major share in 2021. Due to the fact that payment gateway systems offer a complete environment for financial services, the BFSI sector has adopted them widely. Complex cash flows, where money is gathered from different sources and sent to various accounts, provide difficulty for financial institutions. Financial institutions may simply control cash flow from a single dashboard thanks to gateway systems.
Payment Gateway Market

---
By Region
Asia-Pacific region is anticipated to show lucrative growth
By region, Asia-Pacific is expected to have the largest market share during the forecast period, owing to presence of emerging economies like India, China, and South Korea and increase in smartphone users in the Asian countries. Also, the e-commerce sector in countries like India are growing at a very fast pace. People like to buy things online instead of going to the store, which is creating the demand for payment gateway solutions, fuelling the growth of the market.
Impact of COVID-19 on the Global Payment Gateway Industry
Since the COVID-19 virus outbreak in December 2019, the disease has spread to almost all countries around the globe, with the WHO declaring it a public health emergency. The global impacts of the disease are already starting to be felt and expected to significantly affect the global market.

Though governments imposed lockdowns to contain spread of the virus, businesses shifted to online mode for operations and started doing financial transactions online, which boosted the payment gateway market sales.
E-commerce sales increased during the coronavirus pandemic, which contributed to growth of the payment gateway industry.
Highlights of the Report
The report provides exclusive and comprehensive analysis of the global payment gateway market

trends along with the payment gateway market forecast.

The report elucidates the payment gateway market opportunity along with key drivers and restraints of the market. It is a compilation of detailed information, inputs from industry participants and industry experts across the value chain, and quantitative and qualitative assessment by industry analysts.

Porter's five forces analysis helps analyze the potential of the buyers & suppliers and the competitive scenario of the market

for strategy building.

The report entailing the payment gateway market analysis maps the qualitative sway of various industry factors on such as payment gateway services across different geographies.
The data in this report aims on market dynamics, trends, and developments affecting the payment gateway services.
 Payment Gateway Market Report Highlights
Aspects
Details
By Type
By Enterprise Size

Large Enterprise
Small and Medium Enterprise

By End-use

Travel and Hospitality
BFSI
Retail and Ecommerce
Media and Entertainment
Others

By Region

North America (U.S., Canada, Mexico)
Europe (U.K., Germany, France, Spain, Italy, Rest of Europe)
Asia-Pacific (China, India, Japan, South Korea, Australia, Rest of Asia-Pacific)
LAMEA (Brazil, Saudi Arabia, UAE, South Africa, Rest of LAMEA)

Key Market Players
PayPal Holdings, Inc., Visa Inc., STRIPE, Amazon.com Inc., FIS(Worldpay), MASTERCARD, PayU, BitPay, Inc., FISERV, INC.(BluePay), JPMorgan Chase & Co.