Pearl Jewelry Market Research, 2031
The global pearl jewelry market was valued at $12.8 billion in 2021, and is projected to reach $42 billion by 2031, growing at a CAGR of 13.2% from 2022 to 2031.
Greater demand for pearl jewelry products among fashion conscious consumers across the world coupled with the increasingly innovative designs adopted by manufacturers of pearl jewelry is helping the market grow. Furthermore, the use of newer metals such as platinum, tungsten, and steel for production of pearl jewelry across various price points to appeal to consumers of all economic standings is expected to help the market grow exponentially.
Necklaces, earrings, rings, and other items are available in the pearl jewelry market. Pearl jewelry is created by embedding a pearl into a piece of jewelry, either alone or in conjunction with other stones, whereas pearl necklaces may also include a piece of metal entirely surrounded by pearls. The study does not cover the various colors of pearls because the color of the pearl is not always guaranteed during the manufacturing process. 
In recent years, there has been a significant rise in demand for pearl jewelry. Customers seek one-of-a-kind jewelry pieces as fashion accessories to augment their attire and sense of style. Market participants are developing innovative styles for pearl jewelry and incorporating multiple kinds of pearls into jewelry pieces. Many manufacturers in the pearl jewelry industry combine pearls with other gemstones to create color combinations and contrasting visual designs to boost the visual aesthetic of pearl jewelry pieces and also to create fashionable jewelry pieces, particularly in regions such as Europe and North America. These types of pearl jewelry are heavily endorsed as premium fashion jewelry in fashion shows and catalogues around the world, attracting a large consumer base to such jewelry pieces and encouraging the development of the pearl jewelry market. 
Cultured pearls are typically round in shape, but many manufacturers produce pearls in a variety of shapes. Pearls are commonly made in off-round, button, ringed, baroque, oval, drop, and rice shapes. Because of the non-rigid nature of the seed implanted into the mollusks, freshwater pearls are easier to shape; however, several manufacturers of cultured saltwater pearls are also using various shapes of seed to produce pearls of various shapes. Pearls are also available in various colors, including white, pink, lavender, peach, silver, black, gold, green, and others. The availability of pearls in a variety of shapes, colors, and sizes allows the consumer to choose the pearl of their preference for their pearl jewelry pieces, which is assisting the pearl jewelry market growth. 
There is a great deal of misinformation about cultured pearls in the public mind. The market is being hampered by the confusion surrounding cultured pearls. Cultured pearls are created by inserting a pearl grain inside pearl-creating mollusks to imitate the natural occurrence of pearl formation. The term cultured denotes that the pearl has been created by human intervention rather than obtained naturally. This term generates an adverse perception in the heads of customers that pearls developed through human involvement are not genuine pearls, discouraging them from purchasing these pearls. Many customers misunderstand cultured pearls with imitation pearls, which are different stones that look like pearls but possess multiple distinctive features separate from real pearls. The blending of such imitation pearls with cultured pearls by certain unethical pearl jewelry sellers generates a negative impression of cultured pearls in the minds of the consumers. The consumer's incorrect perception of cultured pearls is a major barrier to the pearl jewelry market forecast. 
Pearl jewelry has become increasingly popular as a fashion accessory in recent years. Many major jewelry manufacturers are creating various bits of fashionable pearl jewelry that are used in various fashion shows. By wearing pearl jewelry to fashion events, many famous people and fashion influencers are beginning to adopt and endorse pearl jewelry. Furthermore, many pearl jewelry manufacturers are signing celebrities as jewelry ambassadors, leading to an increase in the purchase of pearl jewelry pieces by consumers influenced by their favorite celebrities. Youth icons like Harry Styles and Emma Watson wear pearl jewelry, which influences their fan base to buy pearl jewelry. This will result in further expansion of the pearl jewelry market size in the future.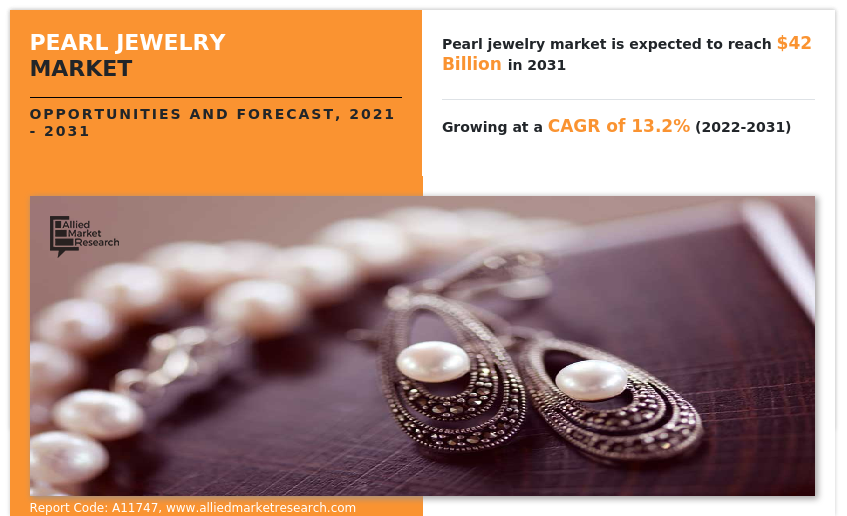 Segmental Overview 
The pearl jewelry market is segmented into Type, Pearl Nature, Distribution Channel, Pearl Source, and Material. By type, the pearl jewelry market is classified into necklace, earrings, rings, and others. Depending on material, the market is categorized into gold, silver, and others. By pearl nature, the market is divided across cultures and natural. By pearl nature, the market is divided across fresh water and salt water. According to distribution channel used for the sale of pearl jewelry, the market is segmented into offline channels and online channels. By region, the market is analyzed across North America (the U.S., Canada, and Mexico), Europe (UK, Germany, France, Italy, Spain, Netherlands, Rest of Europe), Asia-Pacific (China, Japan, India, South Korea, Australia, and rest of Asia-Pacific), and LAMEA (Brazil, Argentina, Saudi Arabia, United Arab Emirates, South Africa, and the Rest of LAMEA).
By Type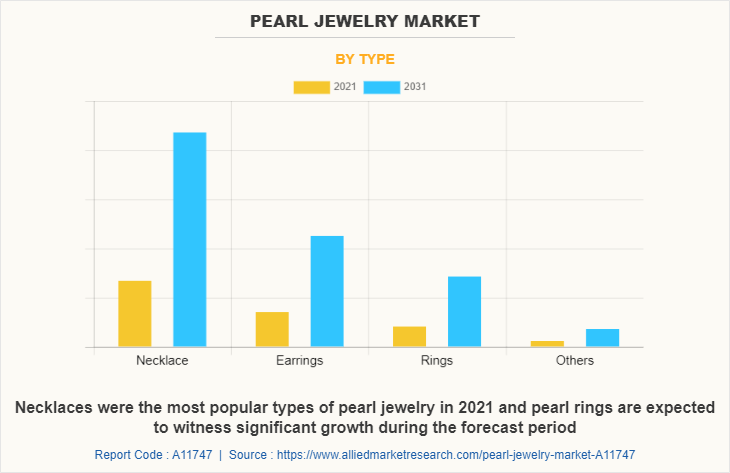 Since ancient times, pearl necklaces have been utilized as fashion accessories and as signifiers of royalty and grandeur, and they continue to be so today. Previously, pearl necklaces were purchased as gifts or for special occasions, however the increase in disposable income of consumers worldwide, in both developed and developing countries, has helped facilitate an increase in the purchase of pearl necklaces. Pearl earrings can aid in instilling a sense of grandiosity and gracefulness, which improves consumer needs for pearl earrings while still boosting the pearl jewelry market forward. The rise of the global economy, increased consumer spending, and improved designs are also expected to drive demand for pearl rings, all of which will benefit the pearl jewelry industry. Furthermore, the widespread use of pearl rings by customers who practice mystic arts such as zodiac astrology and numerology in order to find serenity and wellbeing is expected to boost the pearl jewelry market demand. Brooches, bracelets, nose rings, and hairpieces are examples of other pearl jewelry. Both male and female customers buy and wear these jewelry items. 
By Material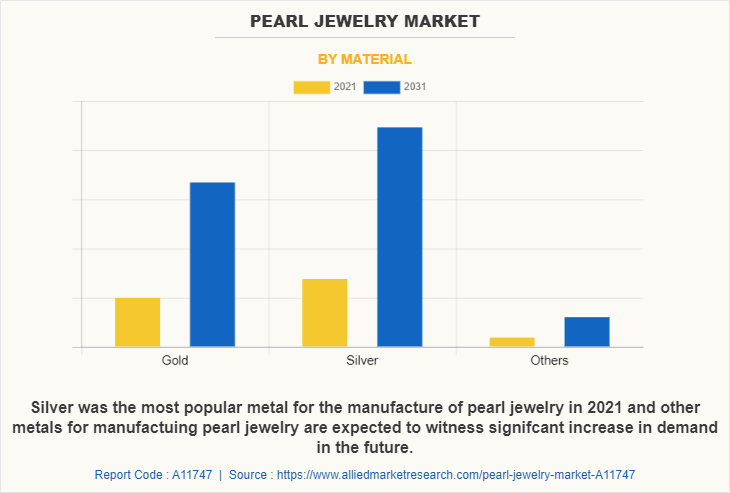 Gold is a very popular material for making jewelry. The perception of magnificence associated with gold jewelry contributes to its popularity as a material for necklaces, earrings, and brooches. Because of the various cooler combinations available when using gold with different pearl colors, the application of gold in the production of pearl jewelry is gaining traction. Silver is a popular metal for the manufacture of pearl jewelry and occupies a high pearl jewelry market share. Lower silver prices and the appealing color of silver metal, combined with lower silver prices, are appealing to consumers, making it highly sought after for pearl jewelry. Such jewelry is more readily available; thus, more customers are opting for pearl jewelry made with silver. Platinum, tungsten, and stainless steel are some other metals used in pearl jewelry. Due to variables like high price, brittleness, and lack of value, these metals are hardly used for pearl jewelry. However, the utilization of these metals to produce pearl jewelry is rising in popularity due to varying consumer demand, resulting in market growth. 
By Pearl Nature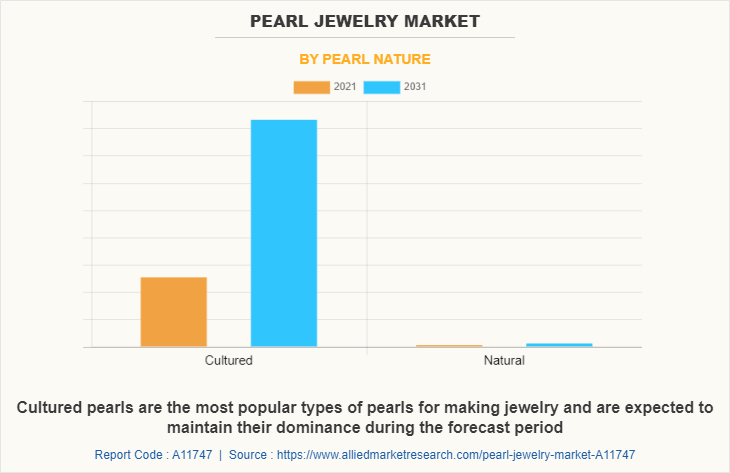 Cultured pearls are made by implanting a nucleus or membrane extracted from a retired mollusk into another mollusk to simulate the entry of an irritant inside the mollusk. This method of pearl farming contributes to a consistent supply of pearls for various applications, particularly jewelry production. These are genuine pearls, but because they are more widely available, they are less expensive. Natural pearls are formed when a particle enters a mollusk and initiates the pearl formation process. These pearls are extremely rare, and due to the scarcity of pearls, they are extremely valuable. Natural pearls are very rarely used in the production of pearl jewelry due to their extremely high price. 
By Pearl Source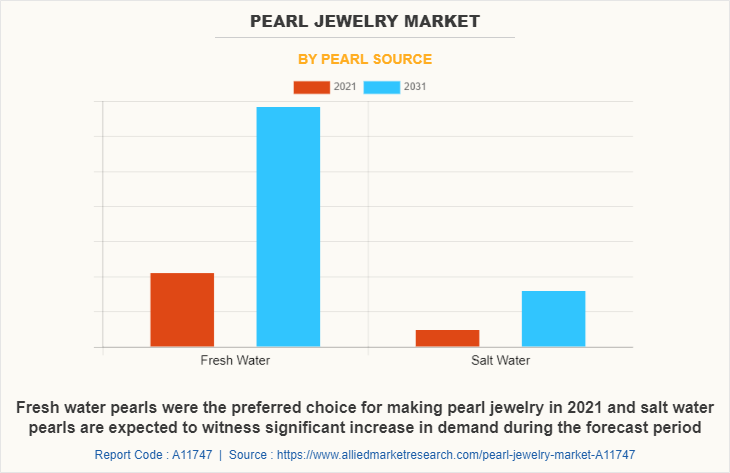 Freshwater mussels are used to make freshwater pearls. These mollusks typically produce multiple pearls within them, helping to make freshwater pearls abundant during cultivation and more readily available naturally. Freshwater pearls are most often white, off-white, and cream in color, with hints of pink, lavender, peach, and other hues. Saltwater pearls are produced by saltwater oysters. These oysters frequently yield only two to three pearls at a time, making their cultivation in large quantities difficult and extremely difficult to find them naturally. Saltwater pearls are typically white, but can also be silver, black, gold, green, and a variety of other colors. 
By Distribution Channel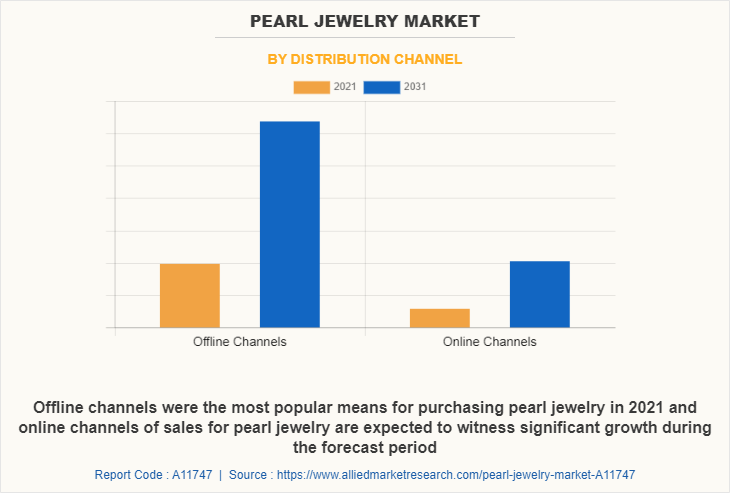 Jewelry stores, brand stores, and supermarkets are examples of offline sales channels. By going to the stores and buying the jewelry pieces of their choice, these stores focus on providing consumers with quick buying options for pearl jewelry.  Retail stores serve as an ideal platform for pearl jewelry manufacturers to reach customers and analyze their needs. By analyzing consumer behavior and purchasing patterns, producers can improve the existing products and develop new ones. Because of shifting consumer preferences, supermarkets and jewelry stores have emerged as the primary channels of distribution for pearl jewelry. Online retail channels typically involve virtual retail locations that sell goods and services via websites. Online product purchases are becoming more popular as the internet expands globally. Because of the convenience of online purchases, 24-hour customer service, and the availability of a diverse range of product options, online stores have grown in popularity among consumers. Furthermore, many businesses and brands are creating their own online storefronts to sell their products, allowing them to interact with their customers more effectively. 
By Region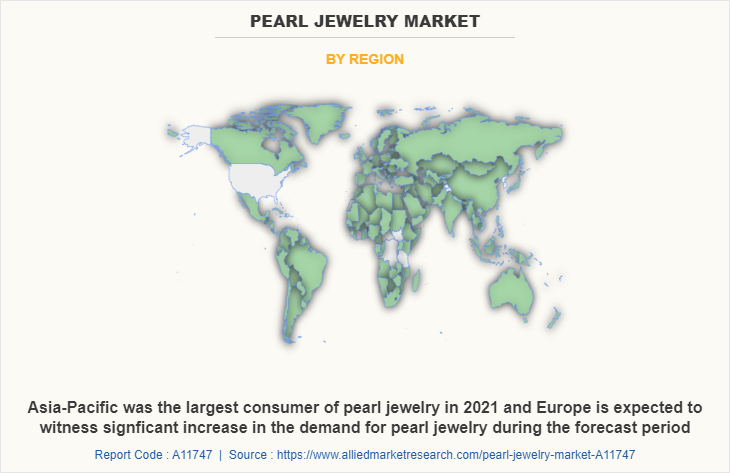 Because of the continued growth of the designer & fashionable jewelry market, North America, which is among the most developed regions in the world, has seen a significant increase in pearl jewelry demand. Leading companies functioning in the North American market are facing fierce rivalry due to rising fears about the quality and standards of jewelry. Large quantities of pearls are used in the European region to make jewelry, which is mainly utilized by the fashion market and additionally serves as a symbol of status and prestige. Freshwater and saltwater pearl cultivation is also common in the area. Pearl jewelry is extremely valuable in the Asia-Pacific region due to its association with royalty as well as its cultural and astrological significance. This region is also the world's largest producer of cultivated pearls. The innovative design, color of the pearls, and elaborate designs fashioned from precious metals are some of the main factors driving the sales of pearl jewelry in the LAMEA region. 
Competition Analysis
Some of the major players analyzed in this report are K. Mikimoto & Co., Ltd., LVMH., Isle of Wight Pearl, Pearl Paradise, Kailis , Jewelmer , CPI Luxury Group Assael, TASAKI & Co., Ltd., Pearl Falco., Wing Wo Hing Jewelry Group, Akuna Pearls, Pearl Jewelry Ito, Inc., Aquarian Pearls, Pearls of Australia, and Palas Emporio Pty Ltd. These companies have adopted strategies such as expansion, acquisition, partnership, and collaboration to strengthen their position in the market.
Examples of Expansions in the Pearl Jewelry Market:
K. Mikimoto and Co., Ltd., opened its new store in Shenyang, China. With this new store, it will expand its business presence in the country.
Examples of Acquisitions in the Pearl Jewelry Market:
LVHM acquired Pedemonte Group, which is a luxury goods and jewelry company with a presence in Italy and France. With this acquisition, it will expand its product portfolio and strengthen its business position in the jewelry market.
Examples of Partnerships in the Pearl Jewelry Market:
Kailis Jewellery partnered with Anthologie, which is a design services provider company to design and develop a new online retail experience. With this partnership, it will improve its customer experience.
Examples of Collaborations in the Pearl Jewelry Market:
K. Mikimoto and Co., Ltd., and Comme des Garçons, which is a Japanese fashion label, collaborated to launch new products including necklaces. With this launch, it has expanded its product portfolio and consumer offering.
Key Benefits For Stakeholders
This report provides a quantitative analysis of the market segments, current trends, estimations, and dynamics of the pearl jewelry market analysis from 2021 to 2031 to identify the prevailing pearl jewelry market opportunities.
The market research is offered along with information related to key drivers, restraints, and opportunities.
Porter's five forces analysis highlights the potency of buyers and suppliers to enable stakeholders make profit-oriented business decisions and strengthen their supplier-buyer network.
In-depth analysis of the pearl jewelry market segmentation assists to determine the prevailing market opportunities.
Major countries in each region are mapped according to their revenue contribution to the global market.
Market player positioning facilitates benchmarking and provides a clear understanding of the present position of the market players.
The report includes the analysis of the regional as well as global pearl jewelry market trends, key players, market segments, application areas, and market growth strategies.
 Pearl Jewelry Market Report Highlights
Aspects
Details
Market Size By 2031
USD 42 billion
Growth Rate
CAGR of 13.2%
Forecast period
2021 - 2031
Report Pages
287
By Type

Necklace
Earrings
Rings
Others

By Pearl Nature
By Distribution Channel

Offline Channels

Sub-Type

Jewelry Stores
Brand Stores
Supermarkets

Online Channels

By Pearl Source
By Material
By Region

North America (U.S., Canada, Mexico)
Europe (UK, Germany, France, Italy, Spain, Netherlands, Rest of Europe)
Asia-Pacific (China, Japan, India, South Korea, Australia, Rest of Asia-Pacific)
LAMEA (Brazil, Argentina, Saudi Arabia, United Arab Emirates, South Africa, Rest of LAMEA)

Key Market Players
Isle of Wight Pearl, Kailis Jewellery, Palas Emporio Pty Ltd., Pearl Paradise, Pearls Of Australia Pty Ltd., Wing Wo Hing Jewelry Group Ltd., Pearl Falco Corporation, K. Mikimoto & Co., Ltd., LVMH, TASAKI & Co., Ltd., Aquarian Pearls, Pearl Jewelry Ito, Inc., CPI Luxury Group, Akuna Pearls, Jewelmer
Analyst Review
According to the CXOs of several leading companies, pearl jewelry is being rapidly adopted by consumers across the world due to the newly emerging fashion trends that include several types of pearl necklaces and rings. The rising disposable incomes and rising living standards of consumers in developing countries, as well as the growing adoption of luxury products in developed countries, are major factors driving the adoption rate of pearl jewelry. The use of pearls in various shapes, sizes, and colors in jewelry with innovative looks has increased the sales of pearl jewelry. 
Due to the rarity of naturally occurring pearls, almost 98% of all pearls used globally are cultured. Cultured pearls are much more cost effective, making the jewelry pieces made with them highly affordable, which is one of the major factors boosting the pearl jewelry market. Furthermore, rapid adoption of pearl jewelry pieces like pearl necklaces by men is also leading to the proliferation of the market.  
Engaged stakeholders in the market are constantly looking to create innovative designs to suit the eclectic taste pallets of the fashion industry as well as consumers looking to purchase pearl jewelry for fashion accessories. Manufacturers are combining various colors of pearls with each other in order to create color contrasts and add diverse color dimensions to the jewelry pieces. Increasing online advertising by manufacturers of pearl jewelry as well as rapidly increasing knowledge regarding various types of pearls among consumers will lead to the proliferation of the market in the future.