Pepperoni Foods Market Research, 2032
The global pepperoni foods market was valued at $1.4 billion in 2022, and is projected to reach $3.2 billion by 2032, growing at a CAGR of 9.1% from 2023 to 2032.
Pepperoni is dried, cured and spiced sausage which is generally made from beef and pork. It is made through mixture of ground pork and beef mixed with including paprika, red pepper flakes, and garlic, which gives it its characteristic flavor and red color. Sodium Salt and sodium nitrate are  added to cure the meat which prevents the growth of unwanted microorganisms. Moreover, it is used in pizzas for toppings, sandwiches &wraps, pasta dishes, salads, snacks, and in dips and sauces. It is widely utilized in various culinary applications as it is great source of protein,  flavorful, versatile, and have delightful texture. It has become popular choice of consumers as it can be incorporated in healthy diets.       
MARKET DYNAMICS  
The Pepperoni Foods Industry has increased in recent years. This is attributed to fast pace expansion of fast food and pizza chains in recent years. Moreover, the chain capitalization on the franchising concept, has enabled broad expansion, as business owners invest in new locations. It has taken advantage of pepperoni's widespread appeal as a topping to meet consumer demand and expand the manufacturer's market share. Owing to pepperoni's savory and mildly spiciness, it has become popular topping for pizza and other fast food items. To meet the demand for convenience in modern lifestyles, standardization and globalization policies have assured consistent quality and flavor across places. The demand for pepperoni foods has also been encouraged by an increase in the adaptation of local tastes in menus across various areas as well as the preservation of strong branding and marketing initiatives. The market's attraction has been further boosted by technological integration, economies of scale, and value-driven advertising. Fast food and pizza restaurants have continued to spread across the globe due to the increase in demand for convenient and reasonably priced dining options, thus increasing the Pepperoni Foods Market Size.   
Globally, both large corporations and small businesses have seen the potential of the pepperoni foods market and have made significant expenditures in R&D to produce new and superior pepperoni foods. Moreover, the market expansion is being further fueled by innovative products with improved flavor, texture, and nutritional profiles that have been found as a result of the increased investment in this sector. In addition, the remarkable landscape of the pepperoni foods market has undergone a tremendous development as a result of the globalization of the food sector. Traditional pepperoni recipes have changed due to  the introduction of various spices, meats, and herbs from around the world as global ingredient sourcing has become more available. Furthermore, fusion food has become increasingly popular, where pepperoni is imaginatively blended with tastes from many cultures to produce new gastronomic sensations. The consumers demand for a wider variety of flavors in pepperoni foods has grown as a result of the spread of global palates, which has incresed the Pepperoni Foods Market Share. Chefs and producers have been inspired to utilize  forth novel combinations as a result.   
The market for pepperoni foods has experienced some development in restraints due to the rise in health consciousness and dietary limitations. The demand for traditional pepperoni products, which are heavy in saturated fats, sodium, and additives, has decreased due to the rise in consumers who place a priority on their health. Furthermore, health-conscious people look for healthier substitutes that perfectly suit their dietary choices, like plant-based and alternative protein solutions. Dietary limitations brought on by intolerances, allergies, and particular dietary preferences have also reduced the popularity of traditional pepperoni. The necessity for reformulation to eliminate artificial components has also been motivated by trends toward clear labels and natural ingredients. This has hampered the Pepperoni Foods Market Growth.    
In recent years, healthier toppings have posed a greater challenges to the market for pepperoni foods, which has affected Pepperoni Foods Market Demand. This is attributed to the shift in customer choice toward healthier products . The market's potential for growth has also been impacted by the growing emphasis on healthy options, which has led customers to seek for alternatives to classic high-fat and high-sodium pepperoni as well as plant-based alternatives, leaner meat options, and lower sodium varieties. In addition, the health advantages of plants and vegetables have made them an essential component of daily living. Moreover, other meat topping options  such as ham and chopped chicken are have become more popular since they are a good source of low-fat protein.   
The market for pepperoni foods has a lot of potential due to the growth of plant-based and vegan market. There is a growing market for plant-based pepperoni due to the rise in popularity of vegan diets and lifestyles. On account of many health and environmental concerns, the vegetarian consumers abstains from consuming animal-based products. The demand for plant-based pepperoni has increased as it can be used as an alternative from pepperoni made from meat. In addition, pepperoni producers have expanded their product lines by developing plant-based or vegan pepperoni varieties. An additional group of environmentally and health-conscious consumers has been drawn by the diversification.  
Pepperoni foods products are being developed in new and innovative ways as the food service industry has developed at a rapid rate. For instance, the growth in health and dietary consideration in developing countries along with increase in consumer preference for protein rich ingredients in the food products have encouraged manufacturers to explore and expand their reach globally. Moreover, the expansion in product variety, integration in functional cooking and baking products, growth in online presence along with enhanced marketing strategies have increased the demand for pepperoni foods.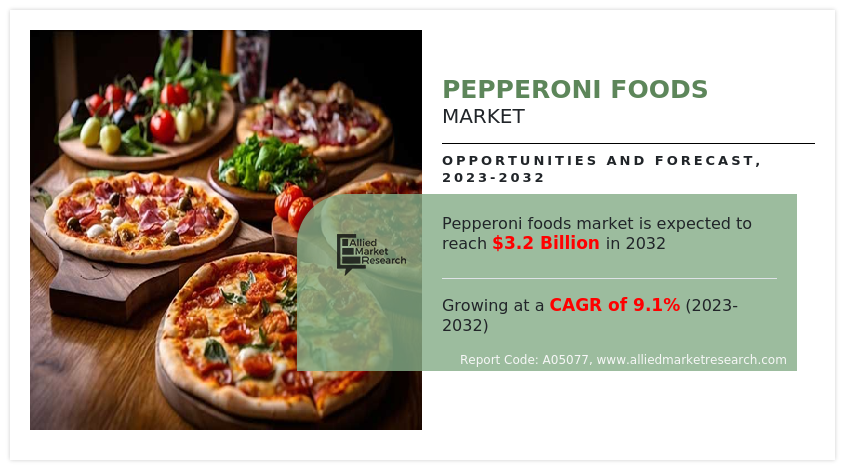 The pepperoni foods market is segmented into Type, End User and Application.
SEGMENTAL OVERVIEW   
The pepperoni foods market is analyzed on the basis of  type, end user, application and region. On the basis of type the market is divided into pork-based, pork & beef based, beef-based, plant-based, and others.  On the  basis of end user the market is segregated into food manufacturers, food service industry and retail. On the basis of application the market is categorized into pizza, sandwiches, burgers, dips & sauces and others. On the basis of region, the market is analyzed across  North America (the U.S., Canada, and Mexico), Europe (the UK, Germany, France, Italy, Spain, Russia, and the rest of Europe), Asia-Pacific (China, Japan, India, Australia, and rest of Asia-Pacific), and LAMEA (Brazil, United Arab Emirates, South Africa, Saudi Arabia, and rest of LAMEA). 
BY TYPE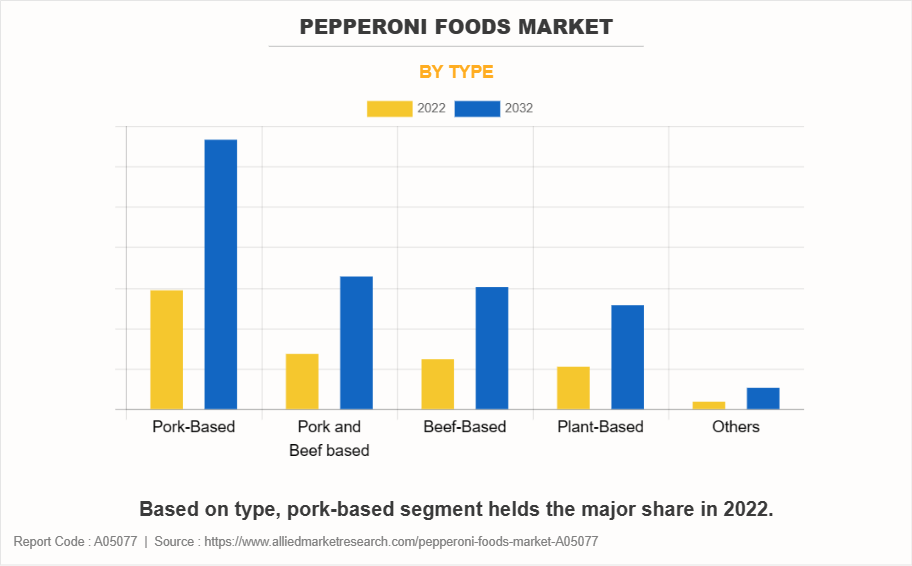 On the basis of type, the pork-based segment has dominated the pepperoni foods market in 2022 and is anticipated to maintain its dominance throughout the forecast period under the Pepperoni Foods Market Segmentation.  The popularity of  pepperoni sausages made from pork have increased as it is  used as toppings on pizza and in a variety of Italian-American cuisines. Moreover, the rise in demand for meat products, particularly in pizza and snacks, in the fast food industry has increased the demand of the pepperoni foods. In addition, pepperoni made from pork has become a popular pizza topping because of its rich, savory, and spicy flavor. It also gives a variety of foods a great, smoky, and salty flavor. Pork-based pepperoni is preferred by consumers who want to eat a healthy diet since it is a rich source of protein, which is necessary for the body's tissues to grow and recover. As this category helps to maintain a balanced diet, particularly for people trying to improve their protein intake, demand for it has grown. Furthermore, many classic and well-liked dishes, such pepperoni pizza and Italian-American food, depend on pepperoni made from pork since it provide these foods authenticity and flavor.  
BY END USER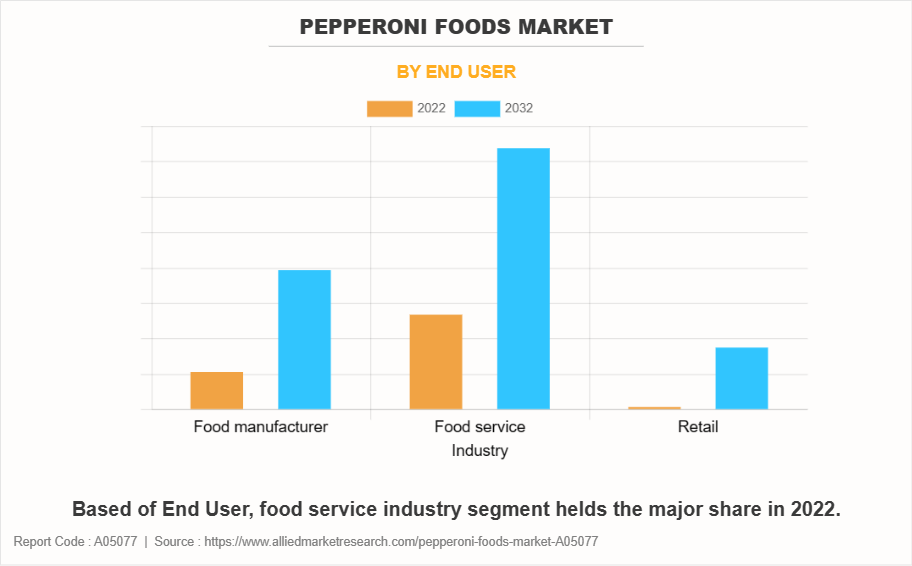 On the basis of end user, the food service industry segment has dominated the pepperoni foods market in 2022 and is anticipated to maintain its dominance throughout the Pepperoni Foods Market Forecast period. In addition, pepperoni made from beef, beef & pork, only pork, and plant-based ingredients have become more prevalent due to their distinctive flavors and claimed health advantages. As consumers have grown more health conscious and look for healthier meal options, the demand for pepperoni foods has surged in the food service industry. In the foodservice sector, pepperoni is also made into pizza, burgers, and sandwiches. The inclusion of pepperoni gives the dish more complexity and depth, luring discerning customers. Moreover,  the food service industry is extremely competitive and constantly changing to keep up with customer expectations, cultural trends, and technical developments.  
BY APPLICATION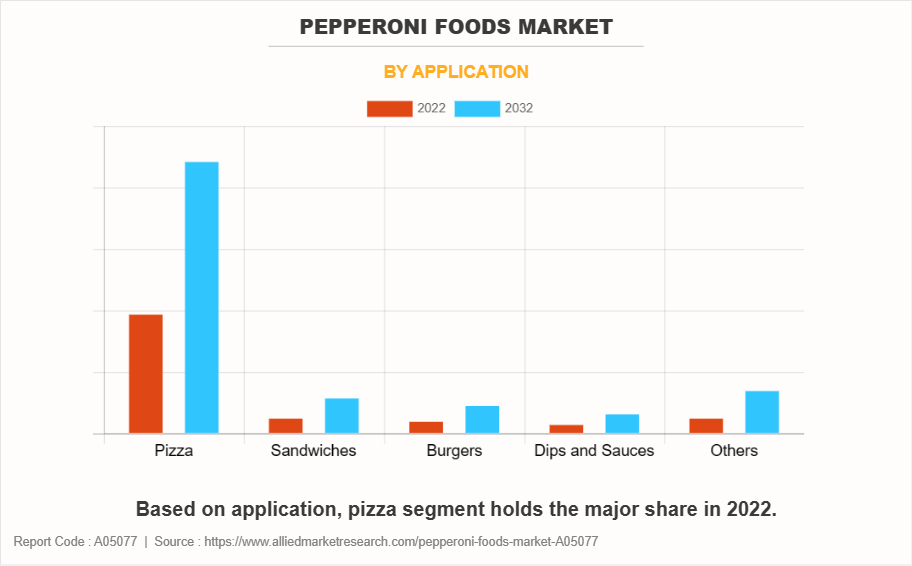 On the basis of application, the pizza segment has dominated the pepperoni foods market in 2022 and is anticipated to maintain its dominance throughout the forecast period. Widely popular among consumers, the traditional toppings of spicy, delicious pepperoni, melted cheese, and tomato sauce are an essential component of pizza menus. Pepperoni is one of the most popular pizza toppings worldwide. In addition, the market for turkey or chicken pepperoni has always expanded as health-conscious consumers seeks for alternatives that are lower in fat and calories than regular pork pepperoni. Premium and gourmet pepperoni pizzas have also become more common in upscale pizzerias and eateries as they provide a distinctive and upmarket pizza experience that caters to food connoisseurs who are ready to pay a premium by using artisanal pepperoni variants, which are frequently acquired locally or internationally. Moreover, the appeal of pepperoni pizza grows as global pizza businesses and companies  has penetrated the  new markets. The market has a new opportunity field to take advantage of due  to menu innovation and dietary preferences.    
BY REGION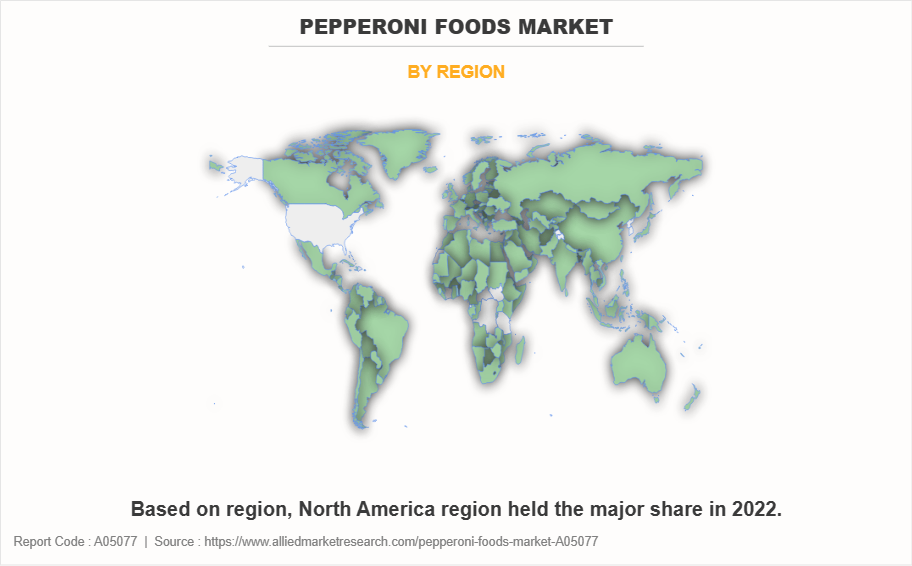 On the basis of region, North America is predicted to dominate the market with the largest share during the forecast period (2023-2032). Pepperoni foods sales have significantly increased owing to the continual expansion of the North America market. There has been a significant change in consumer behavior regarding the use pepperoni food  products in the region. In addition, a rise in North American customers who use both meat and vegan items drives a considerable increase in demand for products of pepperoni. Moreover, customers have become aware of the health advantages of utilizing plant-based food, which has contributed to the rise in demand for plant-based pepperoni. Moreover, the market in this region has grown as a result of the increased penetration of retail and online retailers as well as social media marketing tactics.    
COMPETITION ANALYSIS  
The major players analyzed for the pepperoni foods market are Hormel Food Corporation, Bridgford Foods Corporation, Boar's Head Brand, Tyson Foods, Inc., Battistoni Italian Specialty Meats,LLC, Maple Leaf Foods, WH Group Limited, Carl Budding and Company, Pocino Foods Company, and CTI Foods, LLC.    
Manufacturers of pepperoni foods are always creating new products and formulae to satisfy the change in requirements of their customers. They make investments in R&D to create novel combinations of flavors with enhanced functionality, stability, and selectivity and create new applications for existing pepperoni foods. Enhancing production methods, and navigating regulatory requirements, manufacturers of pepperoni foods frequently work with meat-based product producers, regulatory organizations, and other industry players while developing new products. Manufacturers are expected to increase their capacities, pool their knowledge, and create novel solutions through these collaborations.   
Manufacturers have improved their production capacity and cost cutting, which are expected to involve both investing in new production facilities and renovating current ones to keep up with the rise in demand for pepperoni foods. Furthermore, manufacturers of pepperoni foods are anticipated to merge with or buy other businesses to broaden their product lines, get access to new markets or technologies, or do both at the same time. Manufacturers are expected to benefit from merging and acquiring businesses by expanding their product lines, gaining a larger market share, and enhancing their economies of scale.   
The market for pepperoni foods is anticipated to expand due to the rise in fast foods and convenience food products demand, public knowledge of the advantages of meat-based products, and the development of new and effective plant-based pepperoni. In addition, factors such as innovation, collaboration, launching, and expansion are opportunistic for market growth. 
Key Benefits For Stakeholders
This report provides a quantitative analysis of the market segments, current trends, estimations, and dynamics of the pepperoni foods market analysis from 2022 to 2032 to identify the prevailing pepperoni foods market opportunities.
The market research is offered along with information related to key drivers, restraints, and opportunities.
Porter's five forces analysis highlights the potency of buyers and suppliers to enable stakeholders make profit-oriented business decisions and strengthen their supplier-buyer network.
In-depth analysis of the pepperoni foods market segmentation assists to determine the prevailing market opportunities.
Major countries in each region are mapped according to their revenue contribution to the global market.
Market player positioning facilitates benchmarking and provides a clear understanding of the present position of the market players.
The report includes the analysis of the regional as well as global pepperoni foods market trends, key players, market segments, application areas, and market growth strategies.
 Pepperoni Foods Market Report Highlights
Aspects
Details
Market Size By 2032
USD 3.2 billion
Growth Rate
CAGR of 9.1%
Forecast period
2022 - 2032
Report Pages
290
By Type

Pork-Based
Pork and Beef based
Beef-Based
Plant-Based
Others

By End User

Food manufacturer
Food service Industry
Retail

By Application

Pizza
Sandwiches
Burgers
Dips and Sauces
Others

By Region

North America (U.S., Canada, Mexico)
Europe (UK, Germany, France, Italy, Spain, Russia, Rest of Europe)
Asia-Pacific (China, Japan, India, Australia, Rest of Asia-Pacific)
LAMEA (Brazil, United Arab Emirates, South Africa, Saudi Arabia, Rest of LAMEA)

Key Market Players
Tyson Foods, Inc., Maple Leaf Foods Inc., Hormel Food Corporation, CTI Foods, Pocino Foods Company, Carl Buddig and Company, WH Group Limited, Boar's Head Brand, Bridgford Foods Corporation, Battistoni Italian Specialty Meats, LLC
Analyst Review
The perspectives of the leading CXOs in the pepperoni foods  industry are presented in this section. The pepperoni foods market is a dynamic and expanding segment of the global food industry. Moreover, fast and convenience food  businesses enhance their products by using pepperoni in their recipes for making dips, toppings, and baked items.  
The CXOs further added that increased demand for pork and beef products, the popularity of diet-based products, and an increase in the need for protein-rich and clean-labeled products are propelling the market for pepperoni foods . The demand for pepperoni foods is further driven by shift in customer preferences and market dynamics, such as the effect of the COVID-19 pandemic on the food sector.?? 
A number of well-known players are active in the pepperoni foods market, which is very competitive. Thus, companies are required to differentiate their products, cut prices, uphold high quality, and keep their consumers secure to succeed in this market. They need to focus on shifting customer tastes, shifting market dynamics, and change in regulatory frameworks related to the sales and distribution of food items around the globe.?? 
?