Permanent Magnet Motor Market Overview:
Global Permanent Magnet Motor Market is expected to garner $45.3 billion by 2020, registering a CAGR of 11.7% during the forecast period 2014-2020. Permanent magnet is an object made up of ferromagnetic material, which has magnetic properties and creates its own magnetic field. Permanent magnet motors are manufactured using permanent magnets in the rotors.
Rare earth magnets, made from rare earth metals, are powerful magnets used in PM motors. Unlike electromagnets, permanent magnets do not require continuous electrical energy to maintain their electric field, due to which PM motors are preferred over electromagnetic motors. One of the recent innovations in permanent magnets are the nanocomposite permanent magnets. The use of permanent magnets reduces the size of motors and improves performance, which can be done using nanocomposite permanent magnets. Currently, these magnets are used in magnetic storage media, biomedicine, sensors, pigments and catalysts.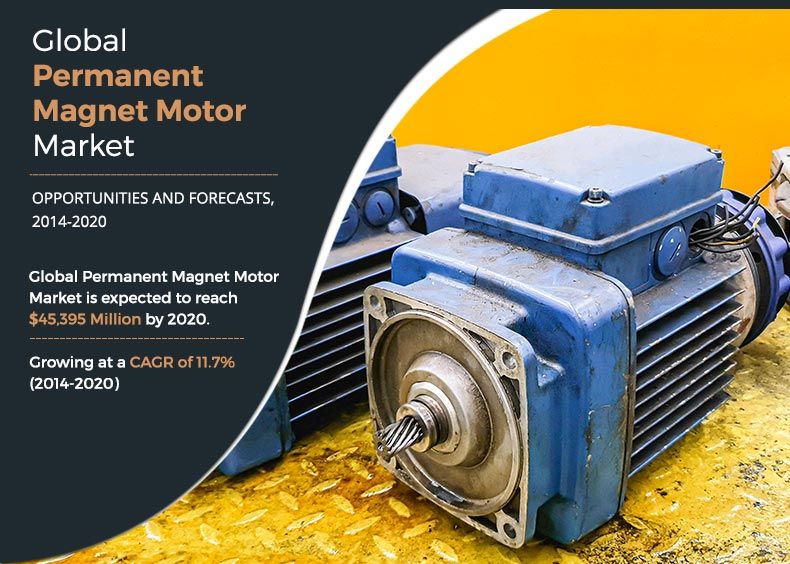 Get more information on this report : Request Sample Pages
Most permanent magnet motors are used in combination with AC or DC electric motors. These type of motors require less power, possess excellent heat dissipation property and performs with higher efficiencies as compared to other electric motors. Permanent magnet motors are used in various industrial applications, in order to improve the efficiencies of the machines. Forklifts, Robots, Blower drives, Railroad (switchers, track, crossing gates), Marine Pumps and Amusement rides, are some of the prime examples where permanent magnet motors are used. Presently, various advantages of permanent magnets such as operating capabilities at higher temperatures, (due to less rotor losses) and less bearing currents (due to larger air gaps) are driving the permanent magnet motors market. Additionally, permanent magnet synchronous motors have a 30% to 60% higher torque capacity with faster acceleration and deceleration, as compared to asynchronous type motors. On the other hand, high cost of these motors due to limited raw material sources of magnets and complex construction circuitries for some applications limits the use of these motors across various applications.  Market players are launching highly efficient and low power consuming devices, to meet the rising demands of consumers. The market is witnessing growing trend of energy efficient motors in all applications. For instance, in 2012, Hitachi launched an 11kW, high efficiency permanent magnet synchronous motor, without the use of conventional materials. This motor is compact in size, offers an operational efficiency of approximately 93% and delivers improved performance of the motor. The efficiency of motors is divided in various efficiency classes namely IE1, IE2, IE3, IE4, where IE4 being highest efficiency and IE1 being lowest. 
The global permanent magnet motors market is segmented based on motor type, magnet type, power range, applications and geography. Permanent magnet AC motors (PMAC) are efficient, render precise speed control, has higher power density, and longer bearing & insulation life over AC induction motors. These advantages drive the PMAC motors. Further, Neodymium (NdFeB), Samarium Cobalt (SmCo5 and Sm2Co17) and Ferrite are some major magnet types, discussed in this report. These magnets are used in the motor drives, magnetic pump couplings, generators, sensors, starter motors etc. Amongst all type of permanent magnet, Neodymium is popularly used magnet due to its operating ability at high temperatures and moderate cost. Further, permanent magnet motors, which are used in varied applications with application specific power range, is elaborated. Factory Automation, Consumer, Office automation, commercial, medical, lab equipment and military are some applications where application specific varied range of permanent magnet motors are used. Additionally, the global market is closely examined across North America, Europe, Asia Pacific and LAMEA. 
Get more information on this report : Request Sample Pages
Key Benefits
The study highlights the global market for permanent magnet motors  along with current market conditions and a trend/awareness forecast  to forage the prominent investment pockets in the market 
The analysis unveils the dominant aspects, viz. upsurge in demand of permanent magnet motors in industrial and agricultural sectors, which drives the global permanent magnet motor market.  Trends of the global market are outlined to determine the overall attractiveness and single out market trends and  gain a stronger foothold in the market 
A Microscopic analysis of segments is conducted to gauge the potential of the market. These segments, highlight the favorable conditions for the growth of global permanent magnet motor market
Porters five forces model helps in analyzing the potential of buyers & suppliers with a competitive sketch of the market, which helps market players in better decision making. 
Value chain analysis of the industry provides a clear view of the key intermediaries involved and elaborates their roles and value addition at every stage in the chain.
 Key Market Segments
BY MOTOR TYPE

Alternating current (AC) motors
Direct current (DC) motor
Hermetic motors

BY MAGNET TYPE

Neodymium (NdFeB)
Samarium cobalt (SmCo5 and Sm2Co17)
Ferrite

BY POWER RANGE

4.0 KW and Below
Between 4.0 and 22.0 kW
Between 22.0 and 75.0 kW
75.0 KW and above

BY APPLICATION

Factory Automation
Consumer
Office Automation
Commercial
Lab Equipment
Medical
Military/Aerospace

BY GEOGRAPHY

North America
Europe
Asia Pacific
LAMEA
 
Key Market Players
Baldor Electric Company, Inc.
Siemens AG
Rockwell Automation, Inc.
Franklin Electric Co., Inc.
Johnson Electric Holdings Ltd.
Ametek Inc.
Allied Motion Technologies, Inc.
Toshiba Corporation
Danaher Corporation
Autotrol Corporation