Permanent Magnet Synchronous Motor (PMSM) Market Overview:
Permanent Magnet Synchronous Motor (PMSM) Market is expected to garner $31.1 billion by 2022, registering a CAGR of 10.9% during the forecast period 2016-2022. Permanent magnet synchronous motors (PMSMs) are AC synchronous motors that receive field excitation by permanent magnets. These motors have sinusoidal back-EMF and are similar to brushless DC (BLDC) motors. PMSMs provide durability as well as electric stability and ensure reliable performance.
Use of permanent magnets in motors improves the efficiency of motor approximately by 10%, owing to which permanent magnet synchronous motors (PMSMs) are used in varied applications. This is the major driving factor for the PMSM market. In addition, low power consumption and improved performance capabilities are advantages associated with the use of permanent magnets in the motors due to which these motors are used in green vehicles to reduce the fuel combustion. Therefore, in addition to the features of PMSM, widespread awareness of green and electric vehicle amongst the customers further supplements the growth of PMSM market.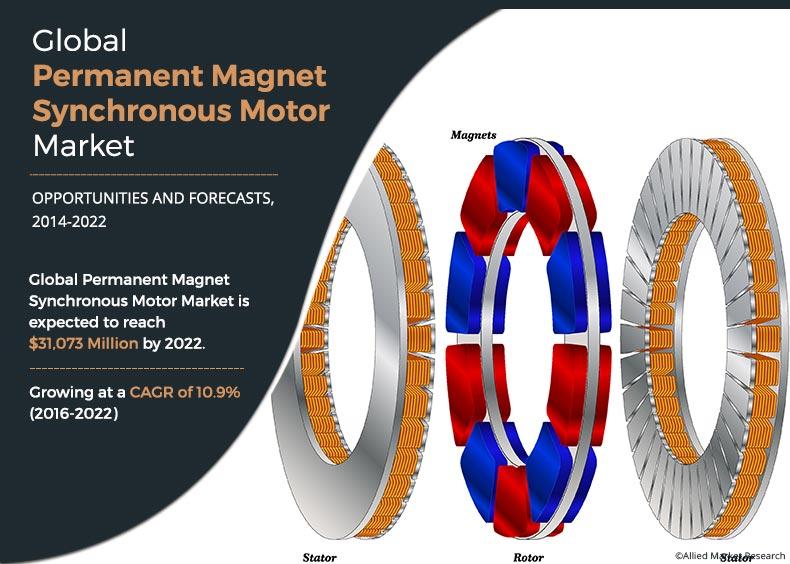 Permanent magnets used in motors provide various advantages such as low energy consumption and high-operating efficiency. The unique characteristics of permanent magnets is ultimately increasing its usage in all types of AC electric motors, which would boost the growth of the PMSM market. The PMSM market is segmented into voltage ranges, applications, and geography. The permanent magnets used in AC motors are a major source of revenue for the global PMSM market.
Major factors influencing the PMSM market growth are rising need and demand for energy-efficient low power-consuming motors, growing demand of PMSMs in industrial and agricultural sectors, and increasing awareness towards the use of green vehicles. Furthermore, increasing emphasis on the maintenance and use of standard motors is likely to create opportunities for PMSM market growth in the future.
The PMSM market is segmented by voltage range, application, and geography. The voltage range varies from above 60V, 41V–60V, 31V–40V, 21V–30V, 10V–32V, and 9V and below. Based on application, the PMSM market is categorized into permanent magnet synchronous motors used in factory automations, consumer goods, office automations, residential & commercial sector, automotive, lab equipment's, medical equipment's, and military & aerospace applications. The automation application contributes the highest revenue in the PMSM market, globally. However, lab equipment is anticipated to exhibit the fastest growth during the forecast period. Furthermore, technological advancements in motors, such as permanent magnet in brushless DC motors, are widely used in the automotive sector as well as factory automations. Increasing use of these motors in electric vehicles has created lucrative opportunities for new entrants and existing players to provide innovative, novel designs for automotive & transportation applications.
Geographically, the PMSM market is segmented into North America, Europe, Asia-Pacific, and LAMEA. Asia-Pacific held the largest market share in 2015. The increasing adoption of PMSM in countries such as China is one of the key driving factors for the expected PMSM market growth in the region. However, LAMEA is likely to witness highest growth during the forecast period owing to increase in demand for these motors.
Key PMSM market players profiled in the report include DRS Technologies, Emerson, General Electric, Siemens AG, Mitsubishi Electric Corporation, and Toshiba Corp. among others.
Key Benefits
The report provides integrated information on the major drivers, restraints, and opportunities influencing the industry growth during the forecast period.
SWOT analysis of major brands highlights their weaknesses, strengths, opportunities, and threats. The data proves effective for business owners planning on designing their marketing and branding strategies.
Region-wise business performance is likely to be valuable for enterprises planning to explore new areas.
Frameworks such as Porters Five Forces and value chain analysis, highlight the industry competitiveness and the role of the various stakeholders involved in the delivery of final product.
This study further outlines the prominent market players and their business strategies to maintain their position.
Permanent Magnet Synchronous Motor Market Key Segmentation:
The world permanent magnet synchronous motor market is divided based on voltage range, application, and geography.
By Voltage Range
Above 60V
41V60V
31V40V
21V30V
10V20V
9V and below
By Application
Automation
Consumer Electronics
Residential & Commercial
Automotive & Transportation
Lab Equipment
Medical
Military/Aerospace
By Geography
North America
Europe
Asia-Pacific
LAMEA
 Permanent Magnet Synchronous Motor (PMSM) Market Report Highlights
Aspects
Details
By APPLICATION

Automation
Consumer electronics
Residential & commercial
Lab equipment
Medical
Military/Aerospace
Automotive & transportation

By VOLTAGE RANGE

Volts and below
10V - 20V
21V - 30V
31V - 40V
41V - 60V
60V and above

By GEOGRAPHY

North America
Europe
Asia-Pacific
LAMEA

Key Market Players
DRS Technologies Inc., General Electric Company, Emerson Electric Corp., Mitsubishi Electric Corporation, Toshiba Corporation, Siemens AG, Johnson Electric, Hitachi Ltd., Rockwell Automation, Inc., Baldor Electric Company, Inc. (ABB Group)