The global personal hygiene market was valued at $508.5 billion in 2020 and is projected to reach $720.7 billion by 2030 registering a CAGR of 3.6% from 2021 to 2030.
The overall impact of COVID-19 pandemic remained positive for Personal Hygiene Market industry. The spread of COVID-19 has urged an increase in demand for cleaning & personal hygiene products due to increase awareness about hygiene and safety.
Hygiene is a series of practices performed to preserve health. According to the World Health Organization (WHO), hygiene refers to conditions and practices that help to maintain health and prevent spread of diseases. Personal hygiene refers to maintaining body's cleanliness. Practices that are generally considered under proper hygiene include showering or bathing regularly, washing hands regularly, especially before handling food, washing hair, keeping hair short or removing hair, wearing clean clothing, brushing teeth, and cutting finger nails. Some practices are gender-specific, such as among woman during menstruation.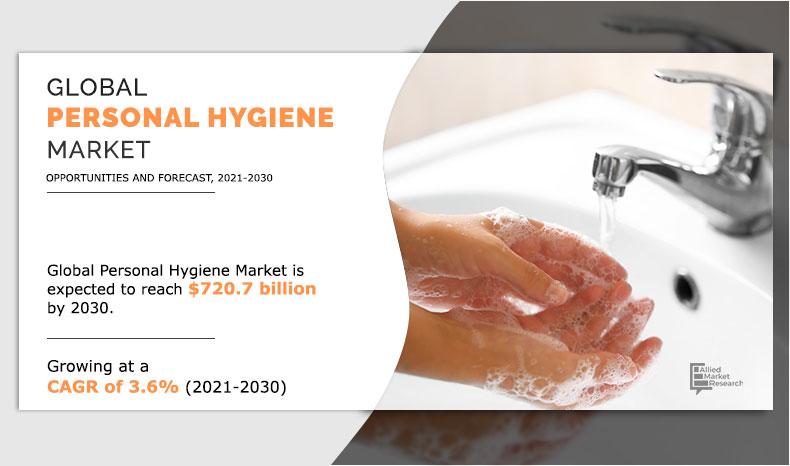 Growth of the personal hygiene market is driven by increasing awareness regarding benefits of maintaining cleanliness and personal hygiene, surge in likelihood of epidemic or pandemic outbreaks, and rise in disposable income, coupled with growing willingness to pay for these products. Furthermore, growth opportunities in emerging economics also create a lucrative opportunity for the market growth. However, introduction of organic and chemical free personal care products in the market would be a threat for development of the personal hygiene market and effectiveness of distribution channel are expected to hinder growth of the market. 
The outbreak of COVID-19 has disrupted workflows in the health care sector across the world. The disease has forced a number of industries to shut their doors temporarily, including several sub-domains of health care. However, there has also been a positive effect and surge in demand for various medical services, including personal hygiene products such as hand sanitizers and soaps. Hygiene and sanitization is on a steep rise, owing to fear related with further spread of this outbreak and ability of optimal hygiene and sanitization to curb growth of this pandemic. Pandemic of the magnitude of COVID-19 made people notice the need of personal hygiene and take steps to adopt personal hygiene practices. This realization and importance of basic hygiene practices such as washing hands dawned suddenly. Hand sanitizers, face masks, and disinfectants are crucial components of defense against virus. During early days of the pandemic, there was a surge in demand for these products that they went out of stock in no time. This rise in demand can be gauged from the fact that the hand sanitizer market witnessed a growth of 53% in February, 2020. 
Personal Hygiene Market Segmentation  
The global personal hygiene market is segmented into product, gender, distribution channel, and region. On the basis of product, the market is categorized into soaps, hand sanitizers, bath & shower products, face care products, and others. By gender, it is classified into unisex, male, and female. On the basis of distribution channel, it is segmented into retail pharmacies, hospital-based pharmacies, supermarkets, and e-commerce. Region wise, the market is analyzed across North America, Europe, Asia-Pacific, and LAMEA.
Personal Hygiene Market

---
By Product
Bath and shower products segment holds a dominant position in 2020 and would continue to maintain the lead over the forecast period.
Segment Review
By product, presently, the bath and shower product segment dominates the global market in 2020, and is anticipated to continue this trend during the forecast period. The market is primarily driven by increasing awareness about health and hygiene among people around the globe. Moreover, rise in disposable income and increasing living standards of consumers are also leading consumers to opt for more expensive and aesthetically appealing bath and shower products with different fragrances and effective ingredients.
On the basis of gender, the unisex segment is expected to account for the largest revenue during forecast period, owing to availability of wide range of products available for both male and female in the market.
On the basis of distribution channel, the supermarket segment is expected to account for the largest revenue during the forecast period, owing to various advantages of supermarket such as availability of goods under one roof and different options for same goods. The e-commerce segment is expected to be the fastest growing segment during the forecast period, owing to rise in preference for online purchasing of personal hygiene products over traditional methods, increase in awareness of e-commerce pharmacy, and rise in number of internet users.
Personal Hygiene Market

---
By Gender
Unisex segment is projected as one of the most lucrative segment.
Snapshot of the Asia-Pacific personal hygiene market  
Asia-Pacific is expected to exhibit fastest market growth during the forecast period, owing to constantly expanding healthcare infrastructure, economic development, and increasing initiatives by private & public organizations for increasing awareness about hand hygiene are projected to drive growth of the personal hygiene market in emerging countries of Asia-Pacific. In addition, Asia-Pacific is the most populous region across the globe. Increase in population is further anticipated to proliferate increased consumption of personal hygiene products, which ultimately drives the market growth. Moreover, growth in availability of affordable personal care products further drives the market growth. China & India are major markets for hand sanitizers, owing to growing awareness regarding hygiene, especially hand hygiene as well as health consciousness among population along with the outbreak of numerous diseases. In addition, surge in cases of diseases such as COVID-19 and chronic diarrhea in children due to poor sanitation and hygiene and increasing government support and awareness about hand hygiene to control these diseases further accelerate growth of the market.
The key market players profiled in the report include 3M, Johnson & Johnson, Unilever, P&G, Syndy Pharma, Colgate-Palmolive Company, B. Braun Melsungen, HARTMANN, Kimberly-Clark Corporation, and Reckitt Benckiser Group.
Personal Hygiene Market

---
By Region
Asia-Pacific region would exhibit the highest CAGR of 4.3 % during 2021-2028.
Key Benefits For Stakeholders
 The study provides an in-depth analysis of the global personal hygiene market along with the current trends and future estimations to explain the imminent investment pockets.
 A comprehensive analysis of the factors that drive and restrict the market growth is provided in the report.
 Comprehensive quantitative analysis of the industry from 2020 to 2030 is provided to enable the stakeholders to capitalize on the prevailing market opportunities.
 Extensive analysis of the key segments of the industry helps to understand the application and products of personal hygiene used across the globe.
 Key market players and their strategies have been analyzed to understand the competitive outlook of the market.
Key Market Segments
 By Product
 Soaps
 Hand Sanitizers
 Bath and Shower Products 
 Face Care Products
 Other Products 
 By Gender
 By Distribution Channel
 Retail Pharmacies
 Hospital based Pharmacies
 Supermarkets
 E-commerce 
 By Region
 North America
 Europe

 Germany
 France
 UK
 Italy
 Spain
 Rest of Europe

 Asia-Pacific

 Japan
 China 
 Australia
 India
 Rest of Asia-Pacific

 LAMEA

 Brazil
 Saudi Arabia
 South Africa
 Rest of LAMEA
 Personal Hygiene Market Report Highlights
Aspects
Details
By PRODUCT

Soaps
Hand Sanitizer
Bath and Shower Products
Face Care Products
Others Products

By GENDER
By DISTRIBUTION CHANNEL

Retail Pharmacies
Hospital-based Pharmacies
Supermarkets
E-commerce

By Region

North America (U.S., Canada, Mexico)
Europe (France, Germany, Italy, Spain, UK, Russia, Rest of Europe)
Asia-Pacific (China, Japan, India, South Korea, Australia, Thailand, Malaysia, Indonesia, Rest of Asia-Pacific)
LAMEA (Brazil, South Africa, Saudi Arabia, UAE, Argentina, Rest of LAMEA)

Key Market Players
Syndy Pharma, B. Braun Melsungen, P & G, 3M, Unilever Plc., Kimberly-Clark Corporation, Johnson & Johnson,, Colgate-Palmolive Company, Paul Hartmann AG, Reckitt Benckiser Group Plc.